Premier Guitar Week: Alternative Custom & High End guitars
Published on 10 June 2019
When most guitarists think of High-End guitars, or Custom guitars, most (us included) think immediately of Strats with unusual finishes, Les Pauls with incredible Flame-tops and museum-piece PRS guitars. The high popularity of these guitars make them the ones that spring to mind first.
At guitarguitar, we certainly love our Custom Strats and Les Pauls, but in this modern age, there are a huge number of other high-end guitar builders out there, making exceptional instruments of both traditional and contemporary inspiration.
To illustrate this, I've prepared a short collection of seven incredible examples of top-end guitar building for you to check out. The catch? I've left out the big guys! There are no Fenders, no Gibsons, no PRS and no Suhr! We love these brands dearly, but these are our most visible high-end brands: this article is about celebrating the more esoteric guitar models.
The following guitars are amongst the greatest instruments available anywhere. We think you should know about them! Remember, a lot of these will be one-off custom builds, so if you like the look of any of these, do get in touch with us to talk about how you can own one!
Nik Huber Rietbergen
Our first choice here is an exquisite model from Nik Huber. Nik and his small team of five builders hand-make each of their instruments in Rodgau, Germany, to exacting and uncompromising standards. The brand has attracted such players as the Foo Fighters' Nate Mendel and James Johnson from Biffy Clyro, such is the quality of every Nik Huber guitar and bass.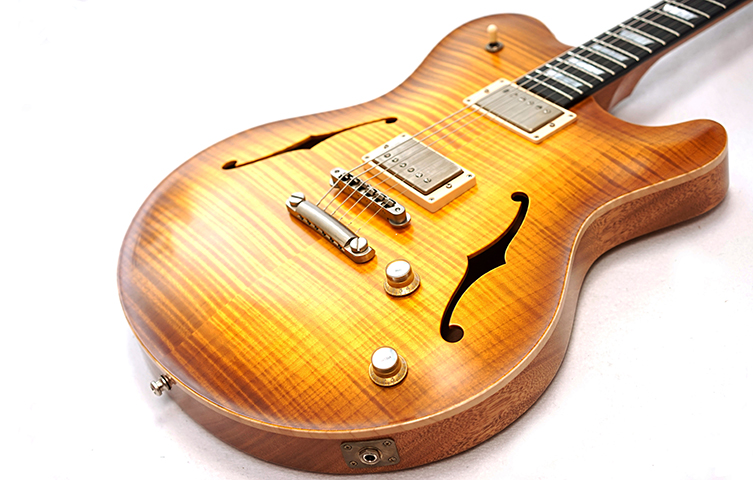 At guitarguitar, we have been Nik Huber dealers for well over a decade. We believe them to be amongst the very best guitars in the world. This selected model, the Rietbergen, is a stunning example to back up that point! This is Huber's take on the classic 'Kalamazoo'-style semi. This particular example, made with an extraordinary Flame Maple top, reminds us of classic late 50s 'Sunburst' guitars too, making this something of a marvellous hybrid design. The Ice Tea Burst nitro finish, trapezoid fingerboard inlays and covered PAF-style humbuckers with cream surrounds continue that particular look.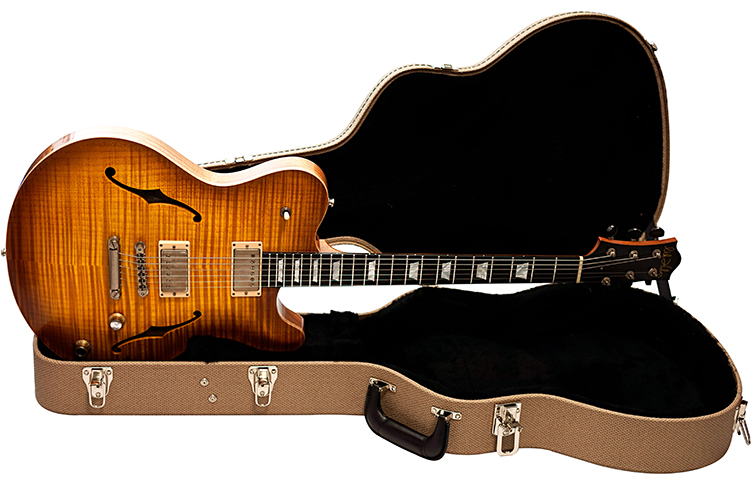 The Mahogany back is carved, and the H.Häussel humbuckers relay every nuance and detail of your playing. Versatile, fresh and bursting with quality, the Rietbergen Standard is a fantastic summary of Nik Huber's guitar craft.
Tyler Studio Elite HD
James Tyler is a Los Angeles-based luthier who changed the game for S-type guitars in the eighties. His Studio Elite brought unheard of quality levels to a familiar guitar design, whilst adding in some inspired new features. Best of all, he out-did every other custom guitar builder in the 'gonzo-graphics' stakes by introducing his now-legendary 'Schmear' finishes to the world! It is fair to say that Tyler guitars are rarely mistaken for any other brand!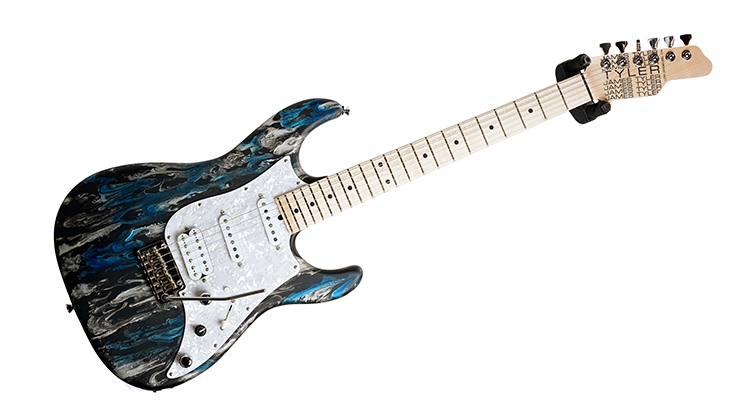 The secret behind the method of achieving the Schmear is closely guarded, but otherwise, the Tyler Studio Elite HD speaks for itself. In addition to a quartersawn neck with a carve to die for, you get hand-wound pickups, a Hipshot G2TS bridge and an effective 'secret weapon' in the form of an active mid-boost circuit. From the slinkiest of twangs to the punchiest Rock, this is all a busy session man needs to cover every musical base with sparkle and magic.
Crimson Custom Shop 207
Our next choice is a superb instrument made right here in the UK. Crimson guitars have been building an enviable reputation in recent years, with their informative and entertaining Youtube channel doing much to raise the profile of both the company and founder Ben Crowe. Located in Dorset, Ben and his team build instruments that display some wild, progressive invention. Crimson hand-wind their own pickups, reclaim timbers from local sources and even build their own luthier tools! You don't get more in-house than that!
This instrument is a 207 model from their Custom Shop collection. Aren't all Crimson guitars 'Custom', though? Well, yes, indeed they are, but there are a few tiers: the RAW series are relatively stripped back and utilitarian (to make them more affordable), the flagship Artist series are the main product range and the Custom Shop guitars have the finest woods, most custom options and also more unusual features than other Crimson guitars.
So, this Custom Shop 207 is a beautiful re-imagining of the ubiquitous single cutaway style. This wonderful guitar has its own identity entirely, from the narrow-waisted silhouette to the highly figured Burl Oak top. The set neck is made from three pieces of Maple with two thin pieces of Sapele sandwiched between. The build quality is stunning, blending strength and subtlety, whilst the feel is outrageously comfortable. The hand-wound pickups bring clarity and detail to the thick, sustaining tones available here.
With such stunning, unique and beautiful guitars being produced right here in the UK, why would you go anywhere else for your ideal Custom guitar?
Loic Le Pape 1946 Scratch Brass
This next guitar has such an incredible vibe! It looks like somebody has rescued it from the depths of the ocean! We imagine people like Tom Waits playing one of these, or even Captain Jack Sparrow! This amazing semi-acoustic is from Loic Le Pape, a French custom guitar maker who specializes in Brass, steel and Aluminium-bodied guitars. Each of their creations takes inspiration from historical classics, adding metal bodies and expertly distressing them to within inches of their lives!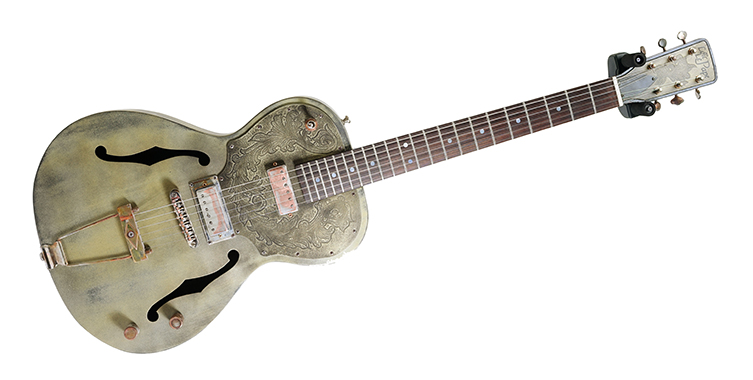 We love this particular model, with it's meticulously etched scratchplate, bejewelled trapeze tailpiece and rustically weather-worn body. The rounded profile neck is super-comfortable, while the custom-wound SP mini humbuckers bring nuance and balance to the wood 'n' metal construction. This thing really sustains! All classic cleans, crunches and gains are well-served with this charismatic Le Pape 1946 'Scratched Brass', and it has that all-important 'addictive' quality possessed by all truly great guitars. This is a guitar you'll keep eyeing up and picking up!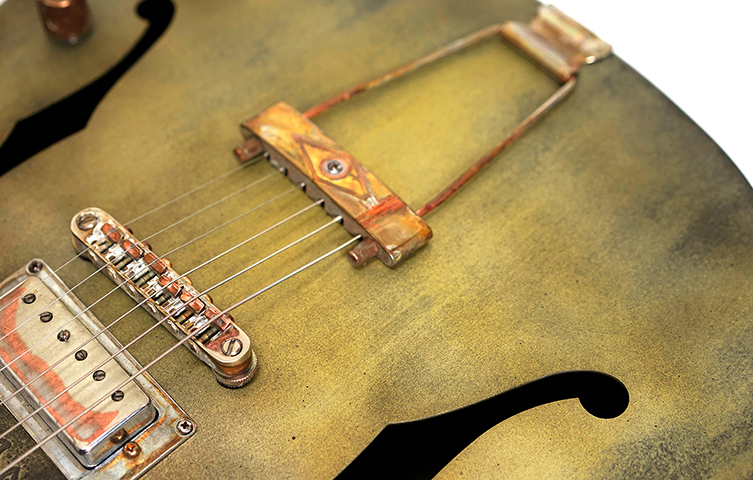 Music Man Majesty Artisan Marrone
Crossing the Atlantic for our next alternative Custom guitar choice, we find ourselves in the Sunny and idyllic town of San Luis Obispo, California. Situated roughly halfway between Los Angeles and San Francisco, this Sunny paradise is also home to Ernie Ball Music Man. Led by Sterling Ball (Ernie's son), Music Man, originally Leo Fender's company, is a company of high standards, high integrity and high originality. Almost all of their guitar and bass designs mix the traditional with the eccentric, and they have attracted many A-list musicians to their ranks over the years.
One such player is John Petrucci, lead guitarist, lyricist and producer of Prog-Metallers Dream Theater. Known as one of the world's greatest living shredders, Petrucci requires a high level of performance from his guitars, preferring tonal options to be available at his fingertips rather than from an external piece of gear. He also makes frequent use of acoustic tones too, something which he was keen to have available from an electric guitar. A stable tremolo system and a unique look were also high on the agenda. Not much to ask!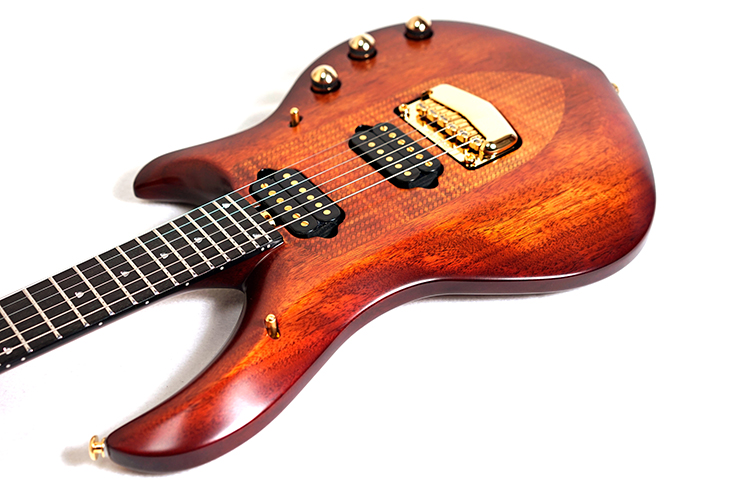 With the Majesty, Music Man proved they were worthy of the challenge and then some! This through-neck beauty is an ergonomic, innovative, aesthetic masterpiece. Inside this sleek and futuristic body lies a set of Petrucci's signature DiMarzio Illuminator pickups, a piezo pickup for those acoustic tones, a passive gain boost for solos and a playing experience that is unrivalled anywhere. This is a guitar for excursions into the outer limits of playing!
We opted for the Artisan Marrone model here, with its African Mahogany body, Maple top and Mahogany through neck providing a wealth of rich, sustaining tones. Stainless Steel frets, a 17" fingerboard radius and a custom design tremolo system all help John achieve the guitar mastery he's known for. Quite apart from Dream Theater, though, this guitar will appeal to all creative guitarists looking for an instrument that travels further 'out there' than other electric guitars. This Artisan Majesty blends traditional elegance and futuristic design in a wonderfully balanced package.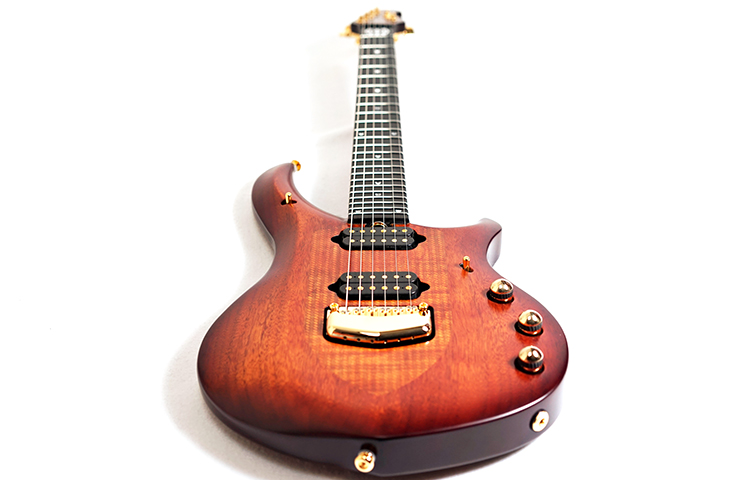 Sadowsky Archtop
Roger Sadowsky is one of New York City's finest luthiers. People like Lou Reed came to him for their custom guitars, such is the reputation he holds for sheer quality.
As well-known for their basses as they are for their guitars, Sadowsky put their own distinctive, well-considered take on everything they do. This includes their semi-hollow archtop guitars, like this incredible example here.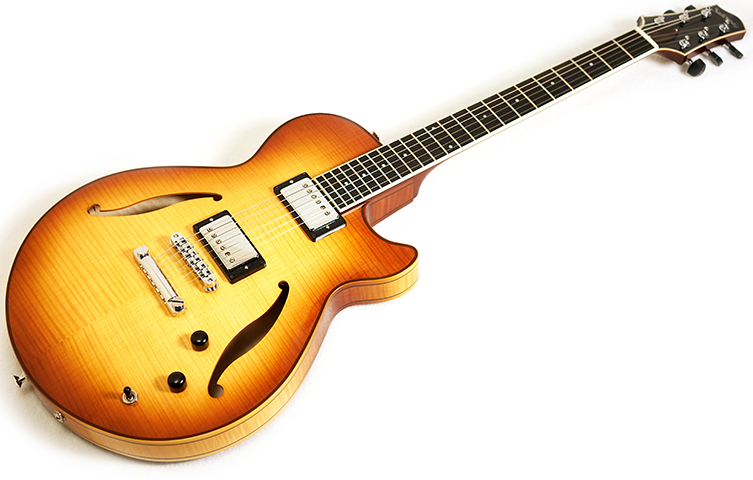 Clean, elegant, beautiful and highly practical, the Sadowsky Archtop is a guitar for refined players who want the highest quality, most versatile semi for Jazz and plenty of other styles. Made with 5 plies of Flame Maple, this Sadowsky oozes high-end charm. Mahogany and Ebony are used for the neck, masterfully sculpted and angled for a superior feel. This guitar also has a chambered Spruce centre block to help eliminate feedback and provide a solid platform for using overdrive and volume. The tone is as deep and detailed as you could hope for, with this added ability to go 'further' than fully hollow jazz guitars. Progressive players of all stripes and Fusion fans will be in seventh heaven as they pick this beautiful instrument up!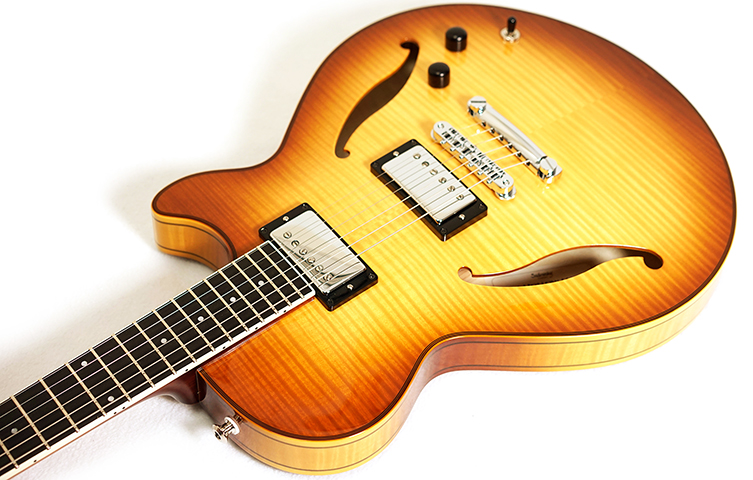 Mayones Regius 7 Gothic Red Grain
Hopping back across the Atlantic for our final Custom guitar choice, we're now heading over to Poland for a guitar that is designed and assigned to give a superlative modern Rock performance.
Based in Gdansk, Mayones (pronounced like 'Mayonnaise' but with an 'ezz' at the end) have been expertly crafting hand-made guitars since 1982. They are best known these days for their attention-grabbing Duvall, Regius and Setius guitars, all made with stunningly figured tone woods and eye-popping translucent finishes. Theirs is a style of refined quality, ranking easily as equals to any Custom Shop in the world. We have always been extremely impressed with the guitars coming from Mayones' workshop: their increasing visibility and success is entirely justified.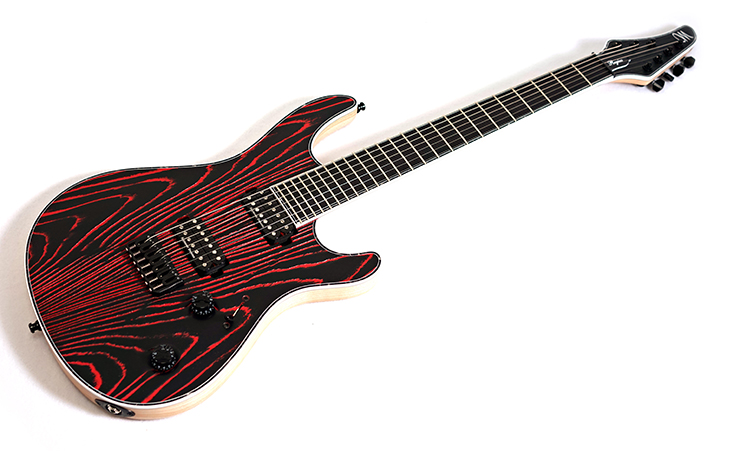 Today, we've opted to highlight a stunning 7 string Regius model. The Regius is a carved-top double cutaway guitar with a shape that lies somewhere between an S-type and an offset model. The guitar has a through-neck and a body with a very stylised Ash top. The grain has been highlighted with a coat of Red paint, with Black dry-brushed over the top to create a bold two-tone effect. It's pretty mean looking, making it perfect for the down-tuned 7 string styles it has been designed for!
Seymour Duncan pickups and Hipshot hardware increase the quality again, proving that Mayones understand how to complement their own stringent quality control to build an instrument of beauty and high performance.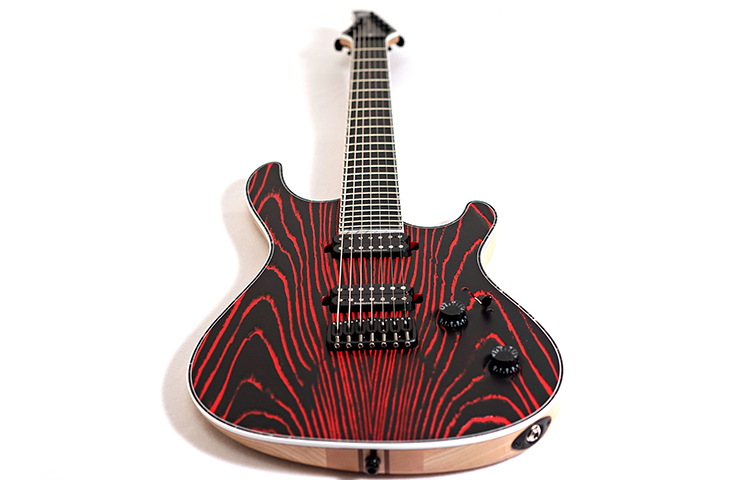 Conclusion
Whilst we dearly love the Custom creations we see coming from the bigger manufacturers, it's excellent to see so much creativity happening elsewhere too. Some people will only ever have eyes for those 'heritage' brands and we fully understand that: they have stuck around for 60+ years for a reason!
Having said that, for some players, the whole idea of owning a high-end, Custom guitar is to pick something that is unusual, unique and with its own personality! If that sounds like you, then we hope to have introduced you to some interesting, beautiful and top-quality builders here. They are all fairly different and they all offer lots in the way of creative options and diversity: it's not just what we've shown here! Indeed, this blog is only chipping away at the edge of a huge iceberg. Part of the fun is exploring!
So, in the spirit of that explorative nature, please have a good look around our website: click the 'brands A-Z' tab at the very top and look for names you don't recognise! We are here to help at every step of the process. We can assist you in spec'ing up your own custom guitar with any of the brands we've mentioned today, as well as the Custom departments of the major brands we carry. We love them all and can't wait to join you in your quest for the ultimate Custom guitar for YOU!
Ray McClelland