Events: PRS VIP Weekend at guitarguitar Camden
Published on 12 June 2019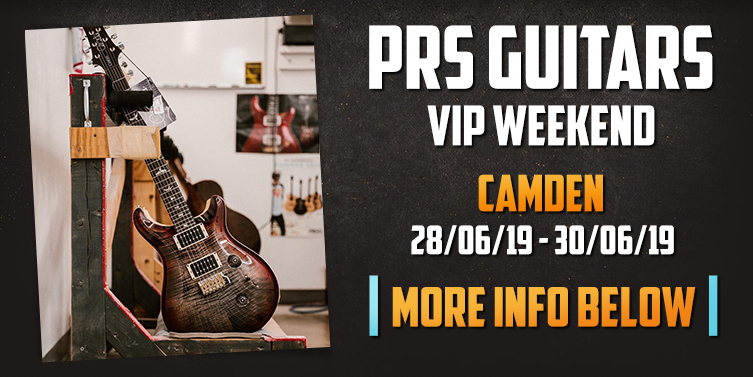 There aren't many manufacturers who've made quite the impact that PRS have and with a forward thinking, for the player ethos that we wholeheartedly admire, they really are some of the finest instruments on the planet. No matter what style you play, their guitars feel unbelievable and the craftsmanship and quality they boast is truly exceptional.
If you're yet to try one out for yourself then we'd thoroughly recommend stopping by your local store to experience just how great they sound and feel but be warned, you might just fall in love. I mean, we haven't even talked about the aesthetics yet... Flaunting some of the most eye-catching and jaw-droppingly beautiful finishes and tops of any brand on the market, no one can deny how breathtaking PRS' designs are. We've lost count of the amount of times they've wowed us, so we figured we'd give you guys the chance to check out some of their most special models...

From 28/06/19 - 30/06/19, we're very pleased to share that the PRS VIP Weekend is back and this time it's coming to guitarguitar Camden! That's right, we're giving our London customers the chance to check out some of the most stunning examples of PRS' incredible guitars and trust us when we say this is not an event you want to miss.
PRS expert Jez Ayscough will be joining us from 2:00PM on the 28th and all day on the 29th to show off the unbelievable range and answer any questions you have about the models, so if you've ever thought about taking one home for yourself, this is the perfect chance to get the low down on what they can do. This will be the largest selection of PRS under one roof with Special Ltd Editions, Private Stock models, Artist Packs and many more exciting one-off guitars you won't see anywhere else. Of course, we encourage you to try out the range and get a feel for them, so stop by and have a jam on some of the most exclusive, rare and magnificent guitars the brand has got to offer. We'll be rocking all weekend and would love to see you!

There's no need to reserve your space, simply head along to the store on from 2:00PM on 28/06/19 - 7:00PM on 30/06/19 to get involved!


Can't wait for the event? Take a look below to see what Paul Reed Smith himself had to say when he visited our Camden store!