Premier Guitar Week: Bank Breakers - the World's Most Expensive Guitars
Published on 13 June 2019
What is the World's most expensive guitar?
Everyone wants to know that, even if they don't play!
It's an often-asked question for sure, and we suppose the answer depends of whether you mean the most expensive at retail cost or as-sold in auction. We figure you'd want to know about both, so this article aims to arm you with the info!
This blog goes out ahead of David Gilmour's history-making (we presume) clear-out of his most famed and prized guitars, happening in London next month. One or more of his guitars may well become the most expensive guitar ever, who knows? As the moment, we can only speculate and have a peruse of how other notable instruments have fared at auction...
We expect you'll not be too surprised at some of the entries on this list: the most well-loved guitars are those associated with the most well-loved guitarists. The intrinsic value is important too but, as we'll see, it isn't just vintage guitars in here! We'll tackle the auction guitars fist and then briefly check out some scandalously expensive guitars with no link to artists, just for good measure! Hide your credit cards now...
Most Expensive At Auction
The most expensive guitars sold at auction typically share two common traits: they are often vintage in age (over 25 years old at least and generally over 50 years old these days, in fact) and they have been owned, used and played by famous players. It's a triple whammy if that famous player played the guitar in question during a particularly iconic performance, as we'll see soon with a certain White Stratocaster.
Since we are from the UK, we've adjusted the prices to be in pounds, and the guitars are not necessarily in order of value. There are no less than three Eric Clapton guitars here, so we've grouped them together, for example.
Without further preamble, let's check out these dream machines!
Keith Richards' '59 Gibson Les Paul Standard
Keef's beautiful Holy Grail Les Paul is a supreme example of the 'Artist Association + Already Valuable Guitar = Outrageous Price' equation. The '59 LP is already the most sought-after electric guitar in the history of the instrument. Surviving models easily fetch hundreds of thousands of pounds as and when they turn up for sale.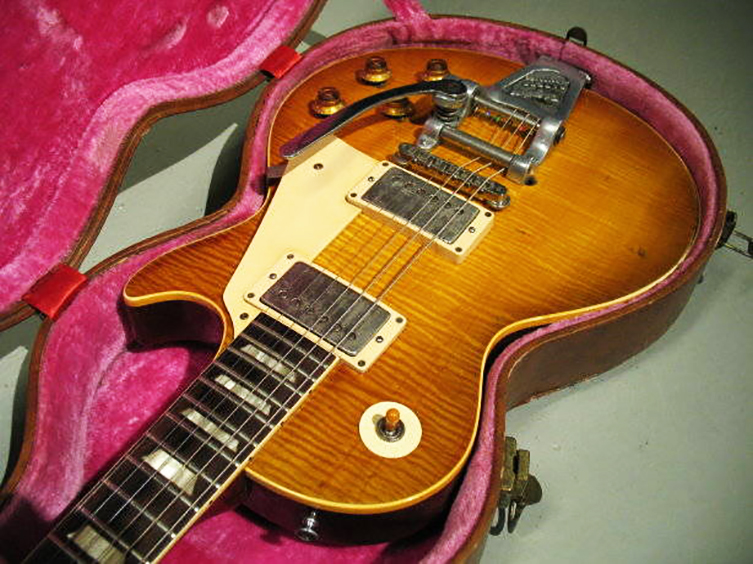 This guitar, fitted with a Bigsby vibrato by a previous owner (Richards bought it in a London guitar shop in 1962, when it was 'merely' a second-hand Gibson) has lots of proof of use by its famous owner: pictures of Keith (and fellow Stone Mick Taylor) wielding it on stage are easy to find, and even television footage of Keef on the US Ed Sullivan Show provide ample evidence of this guitar's provenance.
It has been in a few famous hands since, and fetched a cool million pounds when last sold at Christie's New York in 2003.
Bob Dylan's '64 Stratocaster
'Judas!' Yes, that Stratocaster. Dylan's puritan hippy fanbase took major umbrage to their hero's shocking decision to play on a...gasp! electric guitar during the 1965 Newport Folk Festival. They booed. They hissed. They shouted 'traitor!' and 'Judas!' at him in something of an overstatement. Peace and love indeed.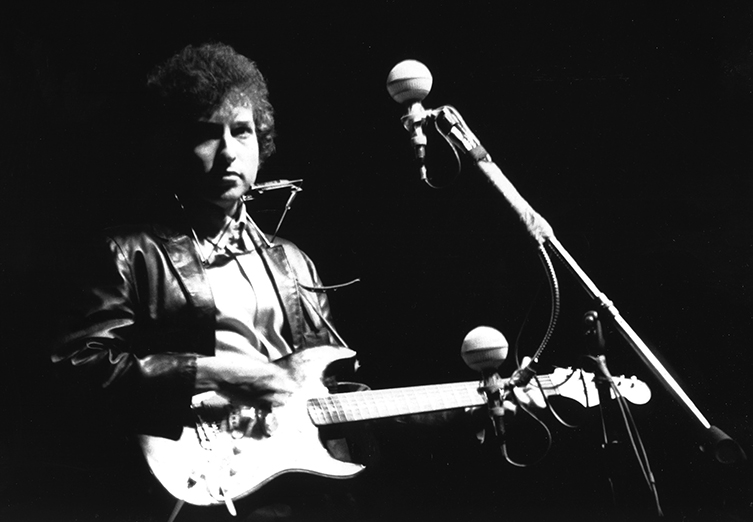 This here Stratocaster was the cause of their ire. It's a '64 model, Sunburst with a Rosewood fingerboard. Nothing worth getting offended by, certainly. As the story goes, Bob accidentally left the guitar on a plane and, when asked by the pilot what to do with it, Dylan's management declined to respond. Hand-written lyrics found within the case proved the connection and the guitar was sold in 2013 for an impressive £590,432. Payback!
Bob Marley's Washburn Hawk
Reggae-legend Bob Marley seemed to be a fan of solid body instruments like this. Alongside the Les Paul Special most of us associate with him, Marley also favoured a Yamaha SG1000, a Fender Strat and this 22 series Washburn Hawk.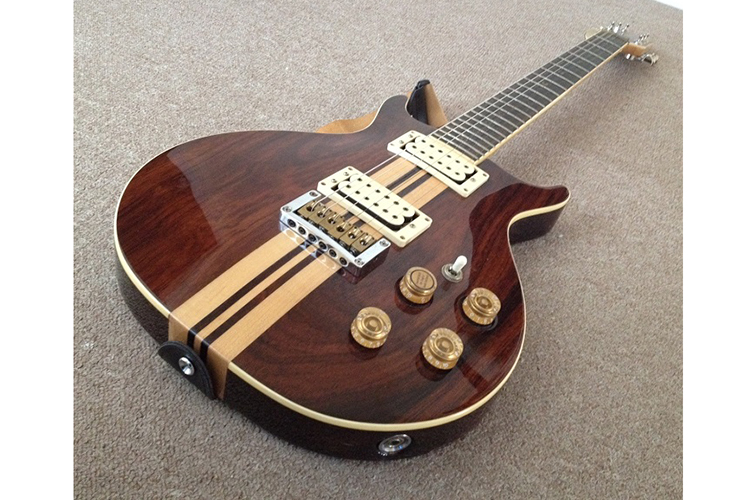 Some reports suggest that this was custom made for Marley by the US company. Normally, such an instrument would not command serious money, since it is not in itself a desirable vintage catch. The value here is all based on its iconic owner. Bob Marley is one of the most famous musicians who ever walked the Earth, so anything connected personally with him has astronomical comparative value. This is inflated even more in Marley's case since he died at the tragically young age of only 36. The lack of personal artefacts available drives the prices skyward.
Apparently, Bob only owned seven guitars, all of which have been preserved by the Jamaican government as National Assets, to be looked after in the interests of history. They purchased this guitar too, for a price that reports suggest veer anywhere between £946k and £1.576 million.
John Lennon's Gibson J-160
As we mentioned with Bob Marley, the ghoulish notion of premature deaths is like money in the bank for collectors. This is true of head-Beatle John Lennon, who was murdered in 1980, aged only 40. During his lifetime, he was at least as revered as Bob Marley in terms of influence and songwriting ability, and it is no overstatement to say that every single band you love have themselves, in some way, been influenced by the Beatles. We know all this! They were the biggest band in history!
One of Lennon's main songwriting tools was a Gibson J-160E acoustic guitar. This distinctive guitar was finished in Sunburst and featured a distinctive pickup system which included a single coil pickup (usually found nowhere near acoustic guitars!) and two control knobs mounted directly to the surface.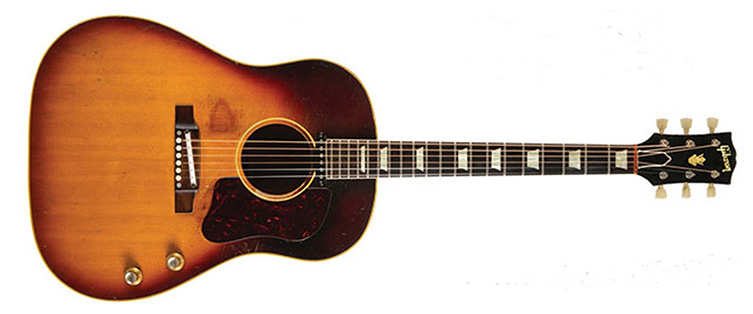 As the story goes, John and George (Harrison, like it needed clarifying) both owned identical Gibsons, and used them to write early classics like 'She Loves You'. Lennon's guitar was lost by a roadie, to his eternal shame, and the guitar was MIA for over 4 years before turning up at a pawn shop and bought by a local musician. Thus it remained for the next four decades, sitting in a wardrobe, until a chance event at a guitar lesson changed everything. Noticing a similar guitar in a guitar magazine (in the hands of Harrison, no less), the owner got in touch with Beatles expert Andy Babuik, who confirmed the guitar's authenticity. Overjoyed, and somewhat apprehensive, he promptly moved it on for £1.9 million in a 2015 auction.
Jimi Hendrix's Woodstock Stratocaster
To this day, the most popular finish for a new Stratocaster is Olympic White with a Maple fingerboard. There is one simple reason for this: Jimi at Woodstock. This was the day that James Marshall Hendrix utterly owned electric guitar playing forever. His sublime, expressive and passionate performance changed the world.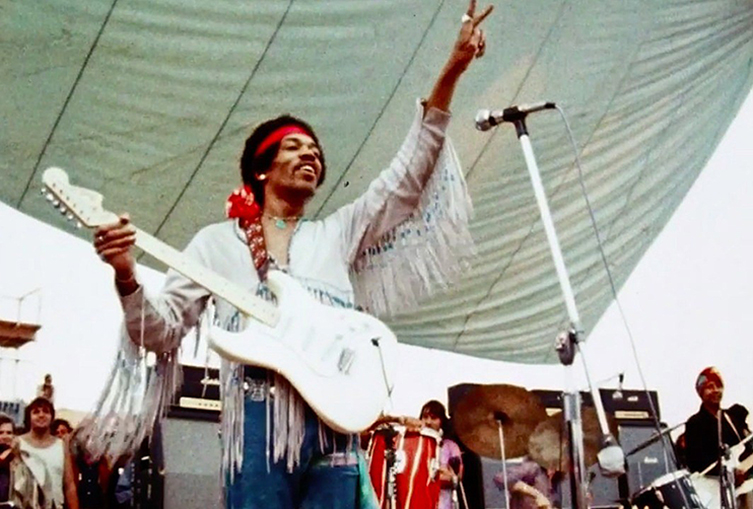 We all have our favourite guitarists, but no player before or since has commanded such unanimous approval from every guitarist in the world the way Hendrix has.
His performance at Woodstock at 9 in the morning is something for the history books, not least because of his 'protest' performance of the American National Anthem, the Star Spangled Banner. Jimi used his swooping dive-bomb fuzz guitar sound to express his disapproval of the ongoing Vietnam war, voicing the opinions felt by many people thorugh the best means he knew: his guitar. He took a lot of heat for it afterwards, but the fact that Jimi had the courage to perform this is huge. The fact that he was himself an ex-serviceman says plenty. It was a defining statement that is as potent today, over fifty years later, as it was that morning when he took to the stage.
This apocalyptic-yet eloquent cry for peace was performed on an Olympic White Fender Stratocaster, a 1968 model. After Jimi's death, drummer Mitch Mitchell kept the guitar, offering it up for auction in 1990. Since that sale, it has been owned by a few people and now resides in the EMP museum in Jimi's hometown of Seattle, Washington.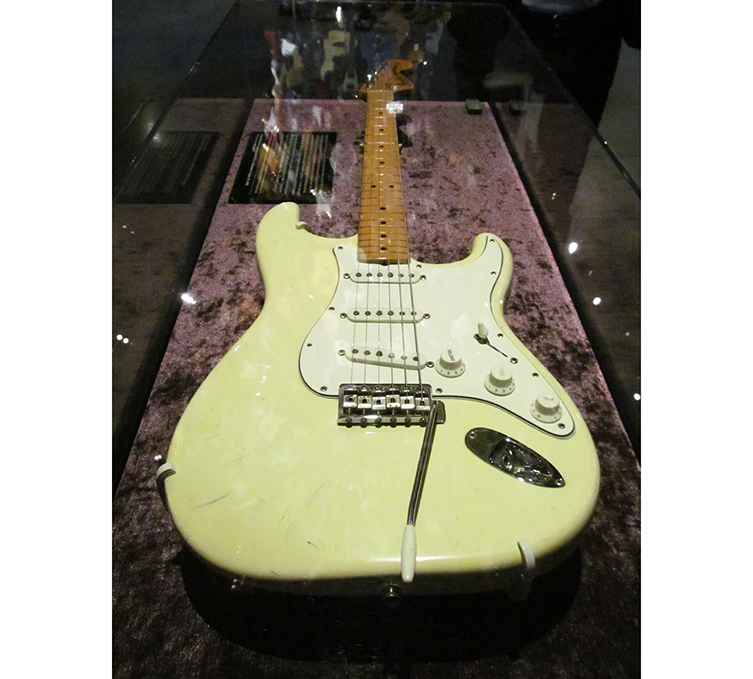 The current owner (who presumably has loaned it to the museum...) is none other than Paul Allen from Microsoft, who paid a rumoured sum of over £1.6 million (over $2million) to own this guitar. And to think, Jimi used to just give his Fenders away to friends and acquaintances...

Peter Green's '59 Les Paul
One legendary guitar which has more than earned its rent over the years is this fabled '59 Les Paul Standard. It's a very well-regarded guitar indeed. From the backwards pickup cover to the mis-matching control knobs to the faded Sunburst 'Lemon Drop' finish (this is the original Lemon/Faded Honeyburst etc etc finish that loads of companies replicate/pay tribute to and was originally a standard Sunburst colour until the Cherry faded), this is the Les Paul to end all Les Pauls!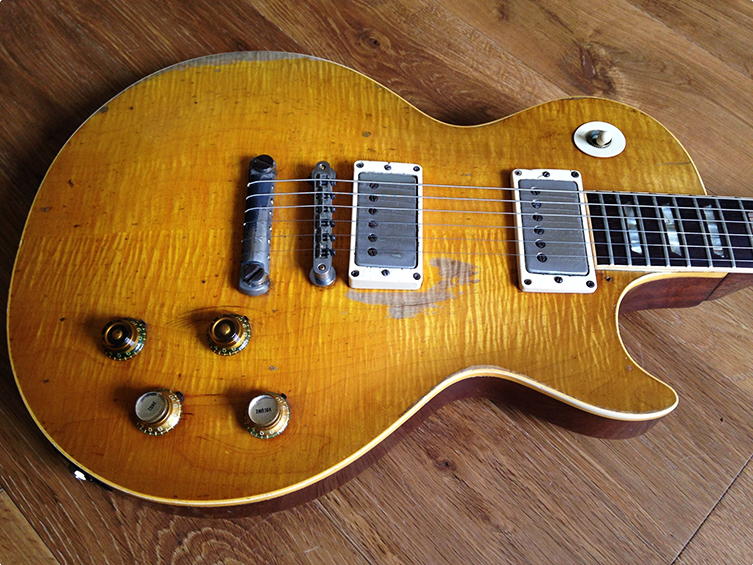 It's already a '59 model, so mythical levels of tone and playability come built in! On top of that, the original owner (of note at least) was Peter Green, early-era Fleetwood Mac's guitar genius. Hits like Oh Well and Black Magic Woman were likely performed on this special instrument. Legend has it that the neck pickup was wired accidentally out of phase, contributing to a slightly nasal, sweet tone that set it apart from other Les Pauls. Green himself disputes this, and in fact further analysis has shown that the neck pickup's constituent coils were in fact out of phase with each other (one magnet was pointed north-to-south, the other south-to-north), but we digress!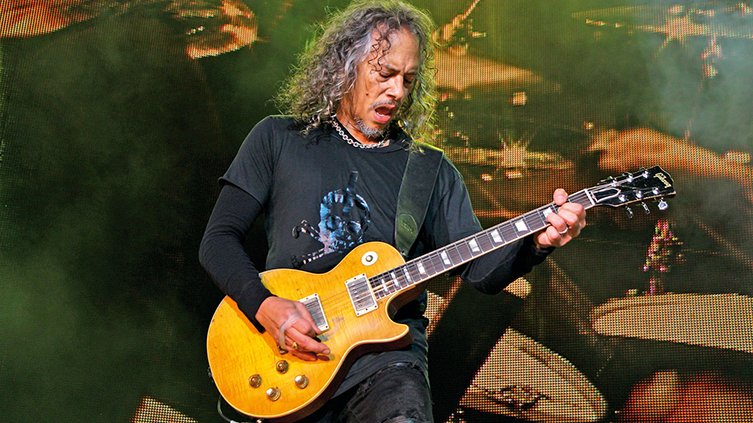 Blues Rock legend Gary Moore purchased the guitar from Green in the early Seventies, making his own history with it before selling it on in 2006. Some eight years later, Metallica guitarist Kirk Hammett purchased it, for a reported £1.6 million ($2 million) and actually has it out on tour with him as this piece is being written, playing it every night! We have to salute his attitude: guitars are for playing, after all! Can a 60 year old vintage Les Paul adequately summon up the musical might of Metallica's crunchiest guitar parts? Of course it can.
Eric Clapton's Guitars
The man they call 'Slowhand', 'God' and other epithets has certainly ingrained himself in the consciousness of music fans. The quintessential Blues Rock guitar hero, Eric Clapton has long been copied, studied and praised as one of the greatest players ever. Second perhaps only to Hendrix in the eyes of many, the seismic effect of Cream-era Clapton slaying it with his '59 Les Paul (it pops up again!), ES-335 or Black Strat of later years inspires dedication and obsession to this day.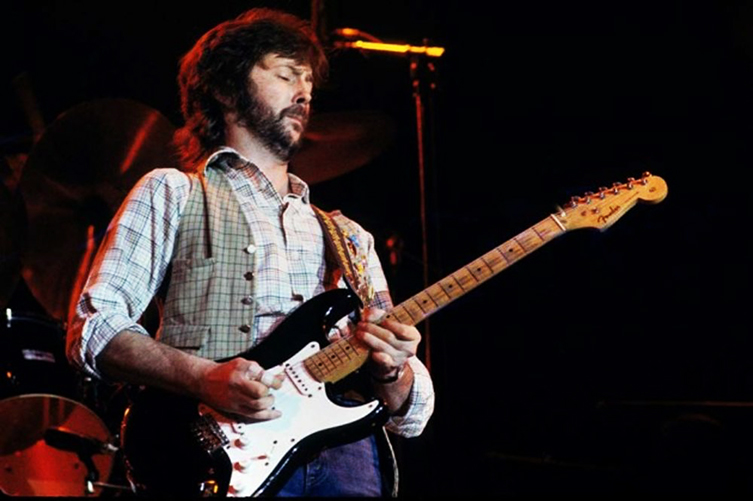 Blackie
So it is that ol' Eric has no less than three guitars showing up here on this list! His most famous is probably 'Blackie', pictured above and below. This workhorse partscaster was assembled from his favourite parts of six different 1950s Fender Strats, all purchased in one extravagant day in Nashville. People like George Harrison and Pete Townshend each received the (hopefully re-assembled) rejects with Clapton taking his prized Black Frankenstrat as his go-to axe for decades afterwards.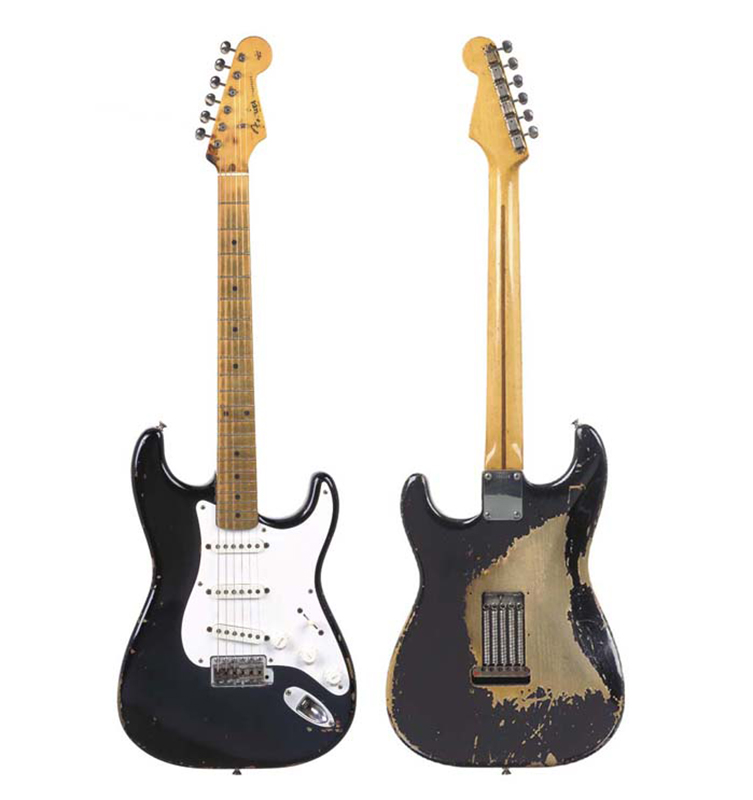 Clapton auctioned Blackie in 2004 to raise funds for his Crossroads addiction treatment centre in Antigua. At the time, it fetched the highest sum of money ever for a guitar in auction: £757k. This is the guitar that Clapton's signature Fender production model is based on.
'Crossroads' Gibson ES-335
Clapton's Cream-era ES-335 is a 1964 model with small block inlays and a Cherry Red finish. It has been seen relatively frequently on stage with Eric over the years and is a well-loved instrument by his fans. This was offered up for auction at the same time as Blackie and was sold for the equivalent of £668k, not too far behind his iconic Strat!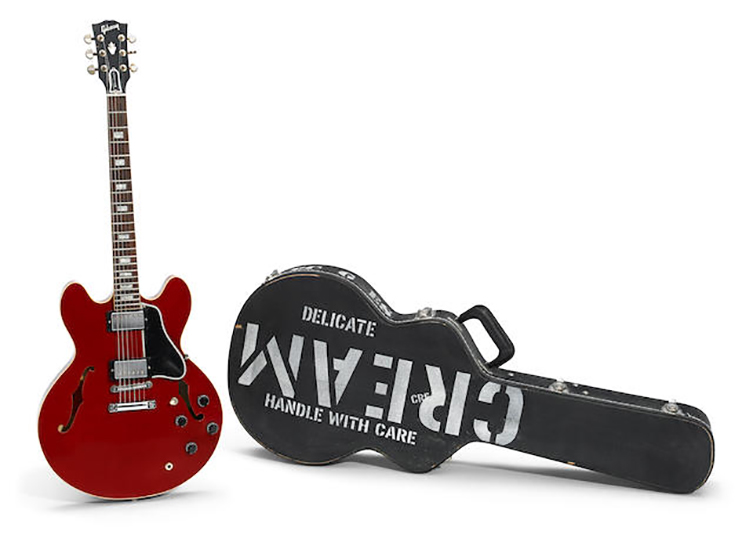 Martin 'Unplugged' 000-42
Clapton's unplugged album is one of his best-selling records, and his main guitar for it was a 1939 Martin 000-42. Restored fully before the performance and used extensively by Eric, this is the guitar that most fans associate with songs like 'Tears in Heaven'.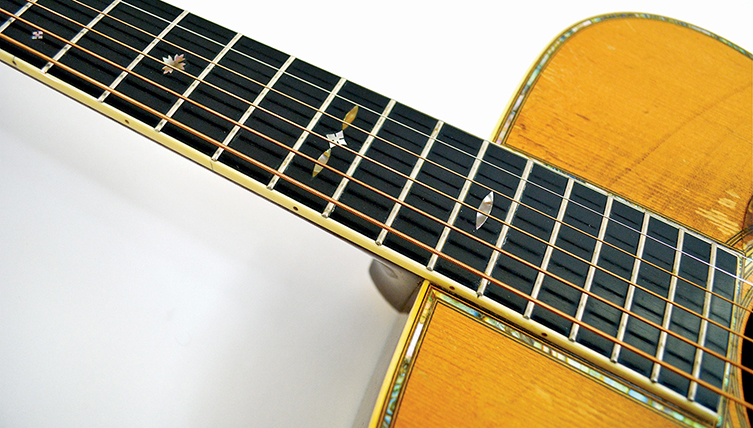 The Martin 000-42 has a smaller body than a dreadnought and features subtle details like 'snowflake' inlays and abalone & pearl inlays around the sound-hole and top binding. Again, this type of Pre-War American acoustic guitar from an iconic manufacturer ensures the high value of this museum-worthy instrument. Compound this with its extremely visible attachment to a world-famous star and it's no surprise that this fetched a reported £625k at auction in 2004 to a private bidder.
'Reach Out to Asia' Fender Stratocaster
Here's an example of a guitar with no real intrinsic value (it is not a vintage guitar, just a regular Strat) or agreed cultural value (nobody famous ever owned or even really played it) but is still extremely valuable. It is, in fact, the most expensive guitar ever auctioned in history!
Why?
This Strat, known as the 'Reach Out to Asia' Strat, has been signed by everybody. Organised by Bryan Adams, this guitar was auctioned in 2005 to raise funds for the tsunami victim support charity Reach Out to Asia. The guitar, sold in Qatar for just over £2.12 million, was hand-signed by these guys:
David Gilmour
Jimmy Page
Keith Richards
Eric Clapton
Mick Jagger
Brian May
Jeff Beck
Tony Iommi
Angus Young
Malcolm Young
Mark Knopfler
Sting
Paul McCartney
Ritchie Blackmore
Ray Davis
Ronnie Wood
Def Leppard (not sure who exactly)
Bryan Adams
Liam Gallagher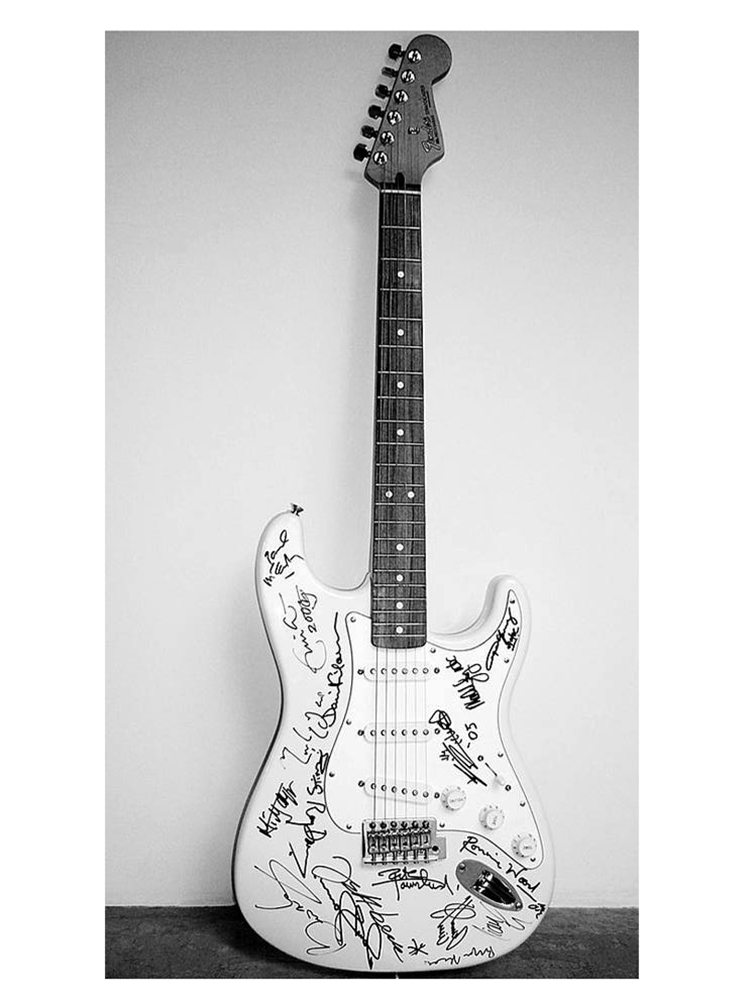 Not bad for collectors: get all your guitar heroes (and Liam Gallagher) together in one feel swoop! This remains the most expensive guitar ever sold.
Most Expensive Retail-Price guitars
All of the above guitars could be described as 'off the shelf' instruments that have enjoyed close association with legendary players. They have survived the decades and their provenance is what awards them such distinction and high value. The fact is, a set of Hendrix's guitar strings would go for thousands!
This next brief section looks at some of the most expensive instruments ever made at retail. These are special, super limited showpieces designed to demonstrate the skills of artisans. These guitars may be made in very small runs or, more likely, complete one-offs. Whether these guitars retain such high value in future decades remains to be seen, but for now, here are some of the more costly new guitars on the planet...
PRS Dragon Models
The fabled PRS Dragon guitars were actually the first thing we thought of when it came to uber-exclusive, super-expensive production guitars. They are made infrequently for special occasions, starting back in 1992. These early Dragon guitars are now valued at around tens times' their original $8k price tag, and so have been seen as good investment opportunities by lots of well-heeled guitar aficionados.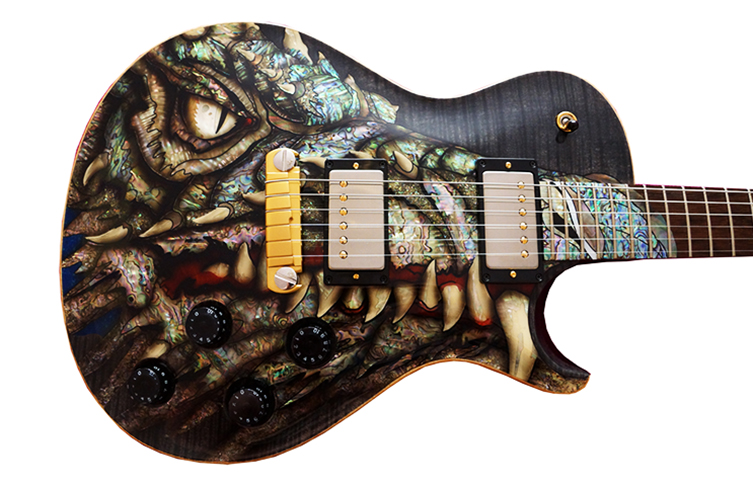 The stupendous inlay work is actually carried out by another company, Pearlworks, so the Dragons could be seen as collaborative instruments rather than straight-out PRS guitars. Either way, they have their own dedicated legions of fans, and have even earned themselves several exhibitions!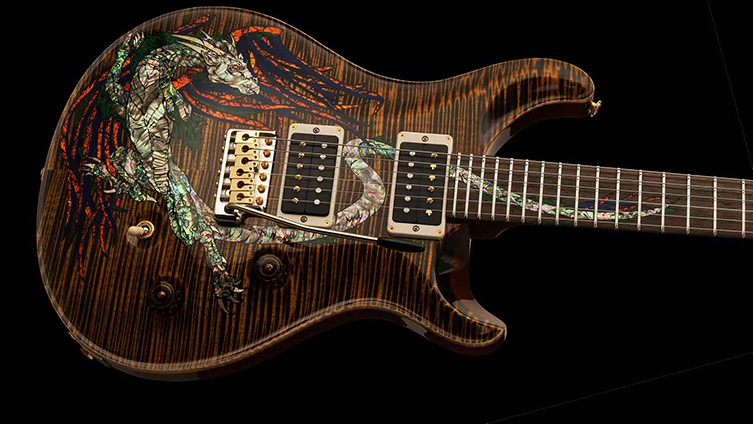 The designs are often outsourced to leading fantasy artists who work with companies like "Wizards of the Coast", otherwise known as the makers of the Dungeons & Dragons tabletop games.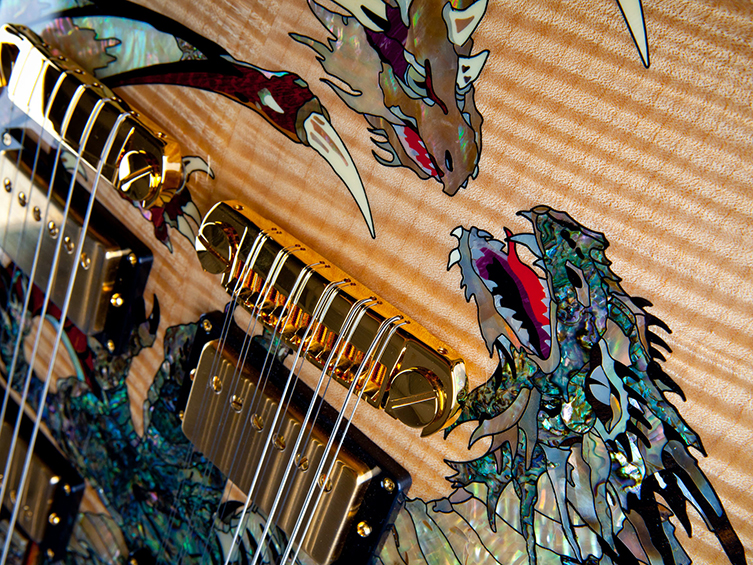 Every PRS Dragon is a special piece of course (they are typically made in runs of 100 or less and take a huge number of man-hours to complete since the inlays regularly feature over 200 individual pieces on pearl and abalone) but jaws were truly dropped when PRS started making DOUBLE-NECK models! Goodness gracious! The cost for each Dragon is usually between £15-24k, so you may need to loot Smaug's treasure horde to help pay for one.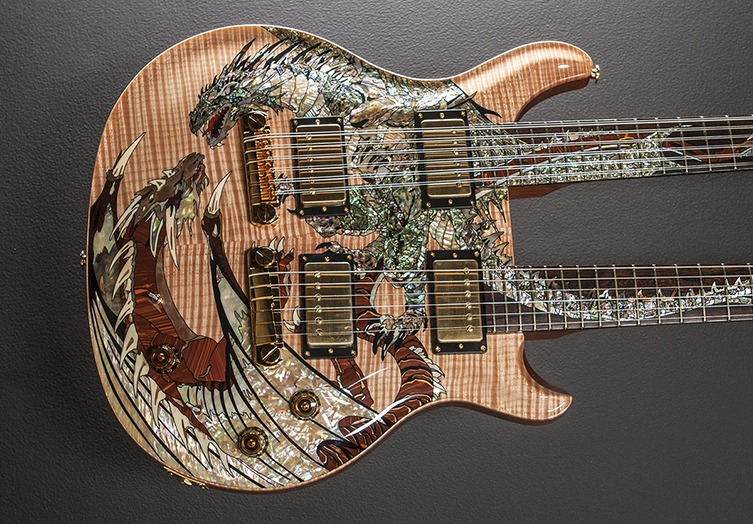 Fender Game of Thrones Sigil Collection
Keeping to a theme here, Fender's Custom Shop recently released a trio of special instruments commemorating the final season of TV fantasy sensation Game of Thrones. Choosing a Jaguar, Telecaster and Strat respectively for Houses Lannister, Stark and Targeryen, they designed some wonderfully specific Custom creations! Just check out these breathtaking pieces of craftsmanship!

Fender's Custom Shop collaborated with the show's creators to bring the Game of Thrones Sigil Collection to life. Each guitar bears the signature hallmarks of the show's main Houses, from the silver purfling and steel pickguard of House Stark's Telecaster, to the 24k gold leaf of the more ostentatious House Lannister and the 'dragon hide' body of House Targaryen.

These are stunning works of art, each with plenty of specific details relative to the show. Aside from the immense amount of decorative work applied to every guitar, it's worth remembering that these are Fender Custom Shop guitars, so they sound and play as invincible as they look. Each of these amazing creations can be yours for between £20-£27.5k, depending on your House allegiance!

Martin D-100
If a 24k gold-plated Jaguar isn't quite ostentatious enough for you, let us please direct you towards the Martin D-100. Now, normally we'd describe Martin as being rather understated in terms of their design sensibilities, but this D-100 has to be one of the most over-the-top looking dreadnoughts we've ever come across! It is almost literally dripping with magical decoration!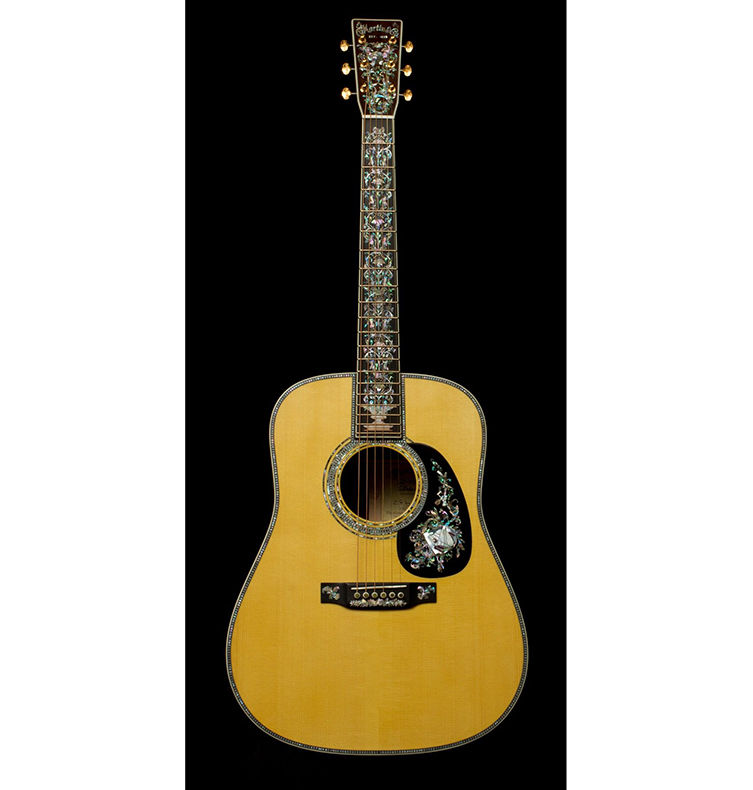 With unbelievable amounts of abalone and astounding amounts of pearl, this Martin almost beggars belief. We could mention details like how the top is made with Adirondack Spruce and the body with Brazilian Rosewood, but that's hardly the point, is it? This thing is Bling City and it's pretty thrilling to look at! We have never come across inlay art as detailed and meticulous.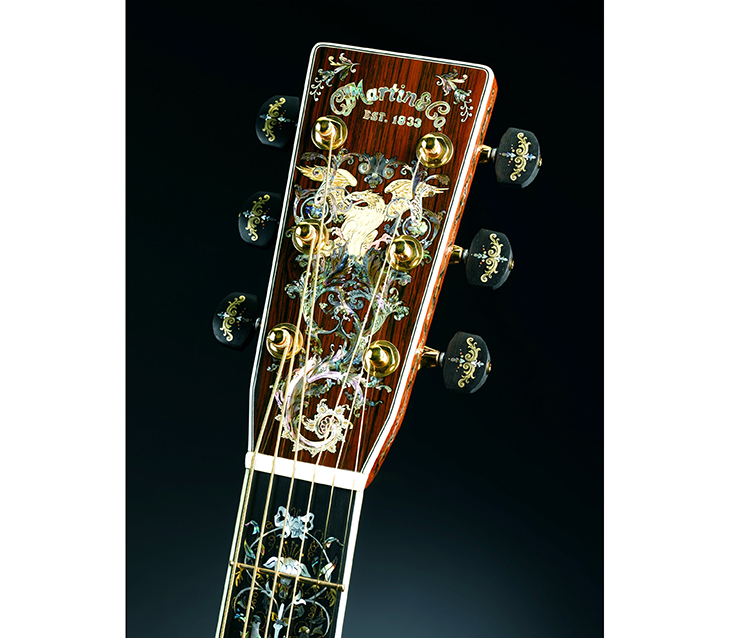 We actually aren't too sure who this D-100 is aimed at, but we'd like to meet them whoever they are! The level of detail on the headstock, fingerboard, front and back is astonishing. This is simply a masterpiece of skill and precision. If you have a spare NINETY THOUSAND POUNDS, you can admire it from the vantage of your own home. Treat yourself!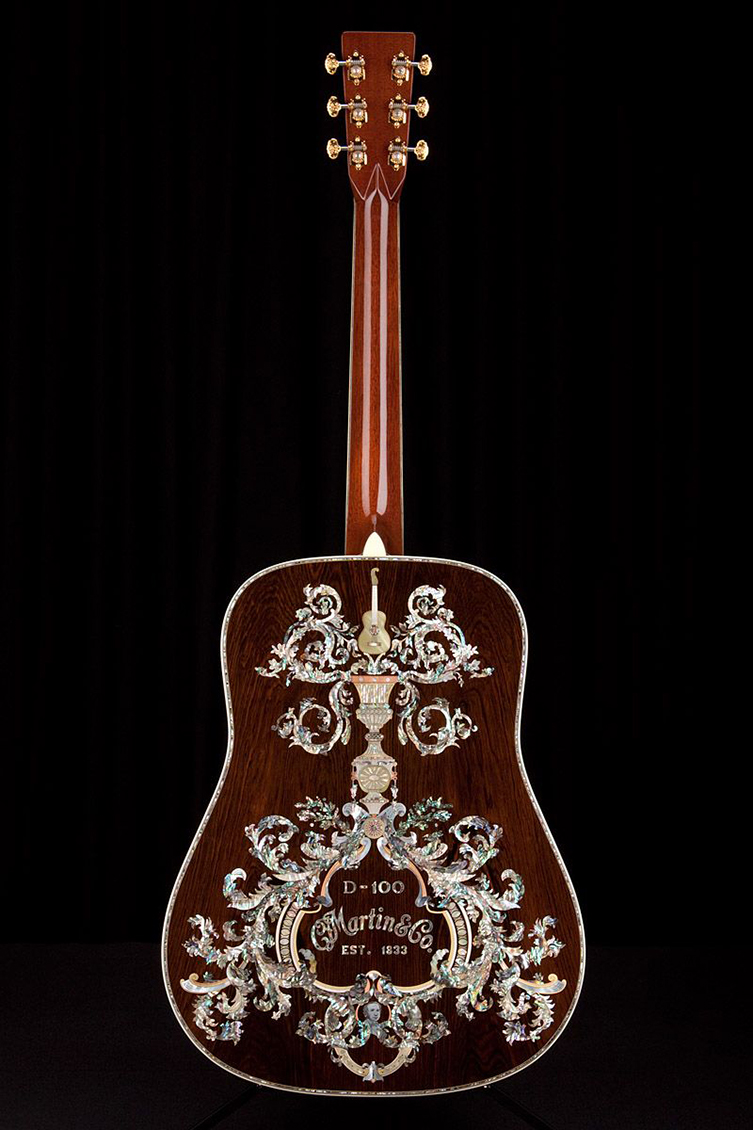 Gibson 'Eden of Coronet' SG
This final guitar is officially the world's most valuable guitar. You can tell by looking at it, can't you? This Gibson SG is in fact a three-way collaboration with jewellery designer Aaron Shum and designer Mark Lui.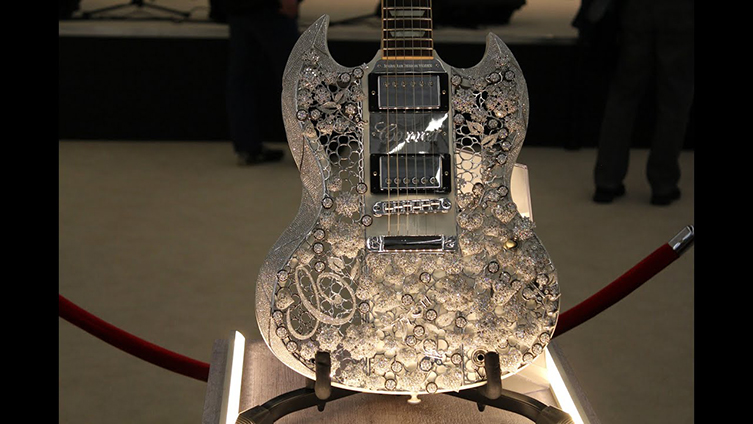 Says Lui of the landmark project: "before the collaboration, the SG model was perceived as a very masculine guitar, but when you look at it from a different angle, it actually has a very feminine structure and curves which allowed me to open up my creativity and explore a new arena in the design space of the guitar." We kind of see what he means!
This most flamboyant of electric guitars must weight a ton, despite its semi see-through construction: it has roughly 1.6kg of 18 carat gold attached to it as well as a lush encrusting of 400 carat diamonds. Presumably it sounds great but we have to wonder if anyone has ever even plugged it in!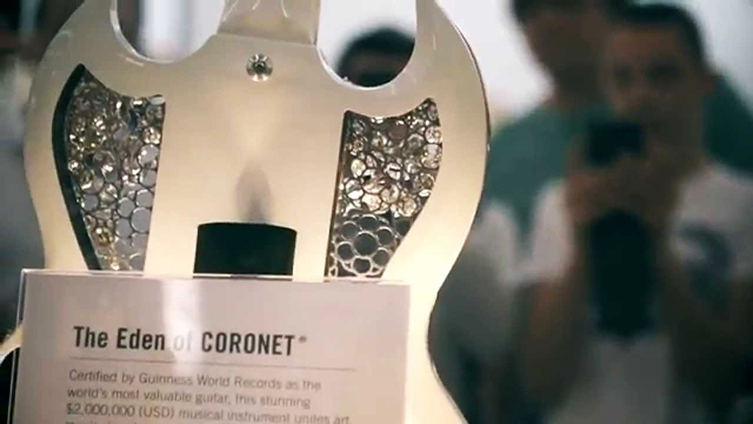 This unbelievable SG makes those Dragon guitars seem pretty low-rent, doesn't it? And is it just us or would an Ebony fingerboard not have looked MUCH better? Hey, who are we to say? Either way, this Gibson is valued at two million dollars (£1.57 million in today's UK pocket change) and has been verified by Guinness as the most valuable guitar in the world.
Final Thoughts
We've looked at a great number of guitars here, all with astronomical price tags attached. There are others out there and no doubt there will continue to be more, but it seems that the take-away from this whole article is that all of the most legendary, history-making instruments started life as regular, off-the-shelf guitars. It's almost like the most legendary guitarists out there were happy to play whatever they could get their hands on, often gifting their prized guitars away or flat-out forgetting about them!
The immortal works created on these tools are what imbue them with value. This is worth remembering as you look at these forty-thousand-pound Dragon inlaid guitars: they are exclusive works of art, not necessarily machines for making history on. The guitars you currently play will serve you as Jimi's Strat served him and Lennon's dreadnought served him!
Having said that, it is important to have the correct tool for the job. The musician makes the music: the instrument supplies the means. We're here every day to help ensure you get the right tools in your hands to make your art the way you want to make it. Take inspiration from the legendary figures above and follow in their footsteps: we'll be with you every step, ensuring you always have what you need.
Ray McClelland