Events: Felix Martin Clinic at guitarguitar Birmingham
Published on 14 June 2019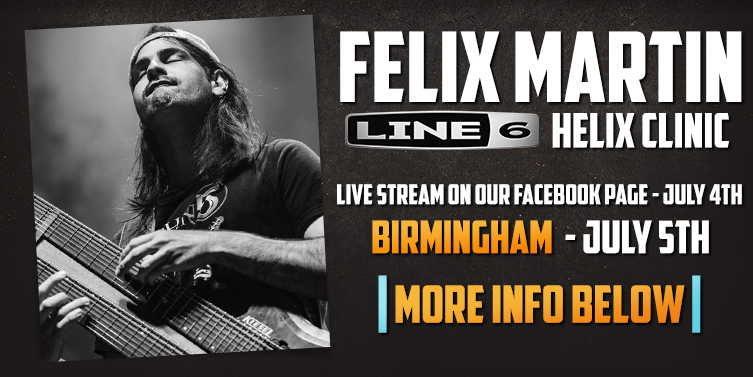 Every now and then, guitarists come along who have such a unique style that they make our jaws collectively drop, even after 15 years in the industry. Felix Martin is very much one of these players. Hailing from Venezuela, Felix grew up without access to traditional tuition and had to develop his own ways of playing the guitar. Practising tirelessly and developing both hands to work them into his distinctive playing, he began experimenting with two traditional 6 string guitars at the same time.
This then led to the development of not only an utterly one of a kind take on playing the instrument but also his own signature model through Kiesel. Using 14 or 16 strings to put together some utterly astonishing performances and pieces of music, Felix has since gathered a dedicated following online while playing festivals and gigs worldwide and even opening for none other than Steve Vai. We've been following Felix for a while now and after having our minds blown time and time again, we just knew we had to invite him along so we could see his playing in the flesh!

On the 5th of July at 2:00PM, we're very pleased to share that Felix Martin is joining us in our Birmingham store for a clinic on the fantastic Line 6 Helix. Breaking down not only some of his unbelievable playing techniques but also how he makes use of the Helix in a live environment, this promises to be a pretty spectacular display and we cannot wait to see what Felix has in store for us. His playing covers everything from rock and metal, to Latin and jazz and we see him as one of the most forward-thinking and progressive guitarists in the game right now. If you fancy learning more about the Line 6 Helix, or even just checking out a frighteningly talented guitarist, bag your ticket now and join us for an evening we're seriously excited for!
Can't make it along? Not to worry, Felix is stopping by our Epsom store the evening before to spend some time with the team and we're live streaming the full thing on our Facebook page! Click here to head over there now.

Click here to book your FREE ticket now.

Can't wait for the event? Check out Felix doing what he does best below!