Events: Micky Crystal Clinic at guitarguitar Newcastle
Published on 17 June 2019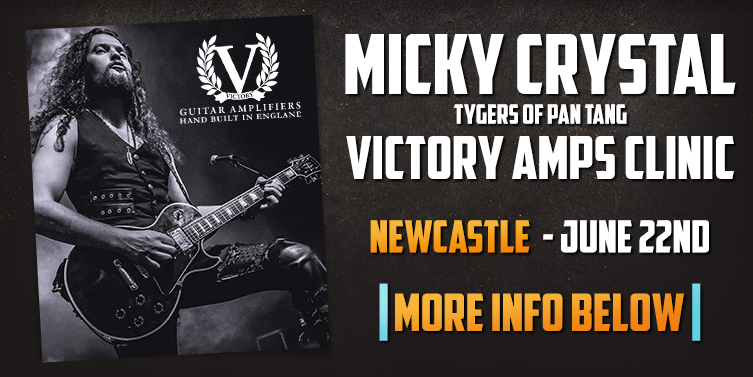 Amp Week is in full effect and we're cranking our stacks loud to celebrate guitarguitar's 15th Anniversary! There's nothing that quite says Amp Week quite like some no holds barred, 80's inspired shred, so we've been rolling up the high gain and getting our tapping fingers warmed up in preparation. But it wouldn't be complete without a special guest would it...?
Well, lucky for you guys, Tygers of Pan Tang axeman Micky Crystal is as hyped up as us and is dying to let loose a few mighty licks. Taking over as guitarist for the band in 2013, Micky has toured worldwide and played alongside some of the biggest names in metal. With a style that blurs the line between modern technical playing, classic rock and metal, Micky is the driving force behind the bands high octane sound, wielding a Les Paul and rattling out seemingly impossible solos that will transport you right back to the glory days of bandannas and motorbikes. So, who better to rock out with on Amp Week!?

This Saturday (22/06/19, 12:00PM) we're very pleased to share that Micky Crystal is joining us at guitarguitar Newcastle for a Victory Amps clinic! There aren't many players who know the true meaning of turning it up like Micky does and we cannot wait to see what he's got planned for us.
Breaking down some of his jaw-dropping techniques, discussing his gigging setup, giving us a look at his gear and, of course, playing through some tracks, this promises to be an absolutely incredible afternoon and we're seriously excited. Not only is he a total rocker, but Micky's also an accomplished teacher so make sure you stop by to learn a few new tricks. Demonstrating the frightfully powerful tones that Victory are known for and taking no prisoners while he's at it, this is not to be missed - bag your ticket now and get ready to get shreddy, you might even get your hands on some free goodies just for coming along!

Click here to book your FREE tickets now!

Can't wait for the weekend? Take a look at what Micky can do below!