Festival Week: Festivals That Changed the World
Published on 25 June 2019
World Changing Musical Events can often be seen in hindsight as cultural barometers. History sees them as iconic moments to be looked back on, snapshots that help make sense of the era. As Woodstock defined the late 60s hippy movement, so the scandalous Fyre festival sums up our current, troubled times.
There are more music festivals happening annually on the planet now than ever before. Does this mean there is more good music now than ever before? We'll keep our answer to ourselves, but it does mean that more live music is getting out to more people than ever before. The potential for culturally significant moments is high!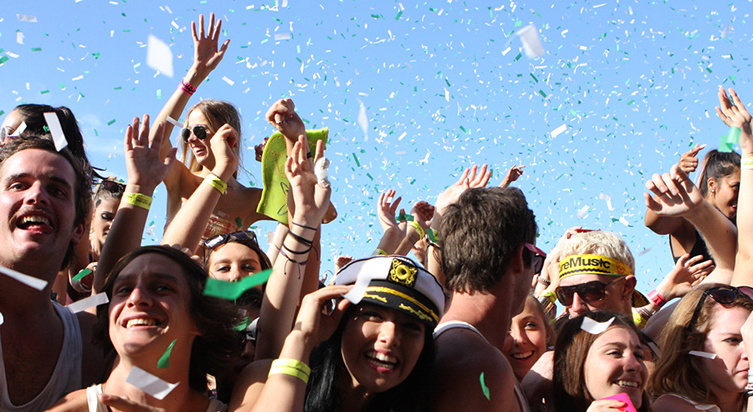 In this article, we'll take a short skip through history to pinpoint some significant festival events. Be they moments that have turned the collective head of the planet, or more subtle ripples that accumulated as they travelled, we'll take in some incredible festivals and some of their most memorable moments.
This blog is not so much about particular line-ups (though there will be a bit of that of course!) but more about the cultural perspective of the shows and what they have meant to music fans around the world. These are in no particular order, either of chronology or significance: let's mix it up!
Woodstock
Woodstock, 'An Aquarian Exposition: 3 Days of Peace and Music' is the mother of all iconic festivals. It took place in August 1969, at the height of the Hippy movement and the war in Vietnam. Americans were disillusioned with their government, and music seemed to be providing an alternative voice. People were listening! Woodstock provided them with a place to congregate among other like-minded people, artist and audience alike.
Even the sheer size of the audience beggars belief: if you imagine that a large Glastonbury audience (more of which later) is around 100,000, Woodstock was around four to five times bigger, depending of which report you go with! That's an entire city full of people, all like-minded and there for the experience of a lifetime.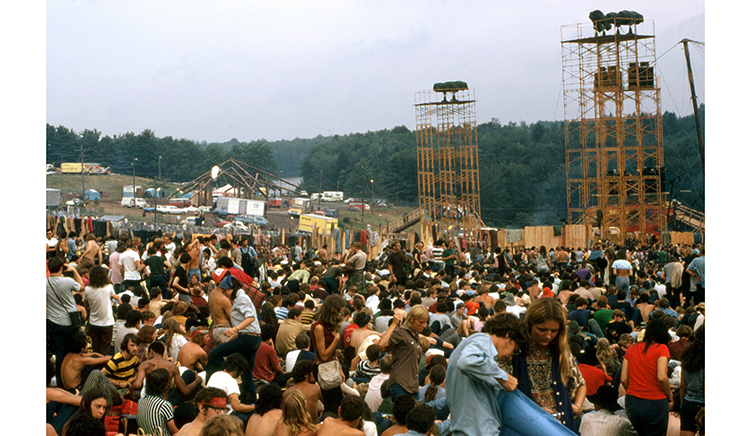 Joni Mitchell perhaps put it best: "Woodstock was a spark of beauty" where everyone in attendance "saw that they were part of a greater organism'".
Woodstock, as most people know, was not actually located in the Catskills town of Woodstock at all: it was, in fact, held in the grounds of a dairy farm in the town of Bethel, some 46 miles from Woodstock. The locals tried to object but the show went ahead regardless, with the bedraggled organisers being forced to make the event free after audiences marched through in their tens of thousands.
There was only one stage at Woodstock. The three-day festival had only 33 acts performing, but when those acts included The Who, The Band, Sly and the Family Stone, CSN&Y, a career making set from Santana and a legend-making set from Jimi Hendrix, who needed more?
Woodstock set the pace for peace, co-existence and a true celebration of freedom. Subsequent festivals using the Woodstock name have not necessarily withheld the same virtues. Several fires were lit during the Red Hot Chili Peppers' performance, reports of sexual assaults were made during Limp Bizkit's set and MTV host Kurt Loder reported feeling "...waves of hatred bouncing around the pace...it was like a concentration camp...there was a palpable mood of anger". Not exactly Peace 'n' Love!
The original, however, stands tall as a testament to the power of music, unity and freedom.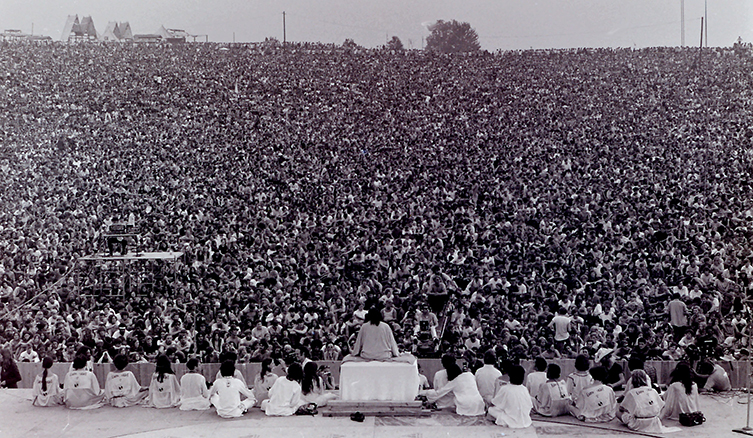 Isle of Wight
The Isle of Wight Festival is an event that continues to this day (re-invigorated in 2002 after a 32 year hiatus) but it's the three years of festivals between 1968 and 1970 that will forever serve as the defining moments.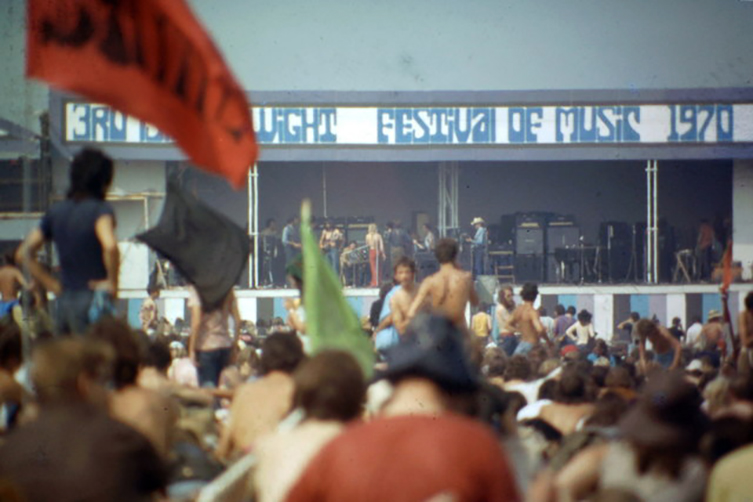 The attendance of the 1970 event in particular (where the Who's famous live album comes from) is perhaps the only time in festival history that the promoter has talked down the numbers of attendees rather than fluffing them up! Indeed, official reports suggest that an astronomical 600,000 to 700,000 people flooded to the tiny Isle of Wight, filling ferries and trains to beyond bursting point. The predictably curmudgeonly government responded by invoking a ban on overnight gatherings of more than 5000 people on the island. Spoilsports!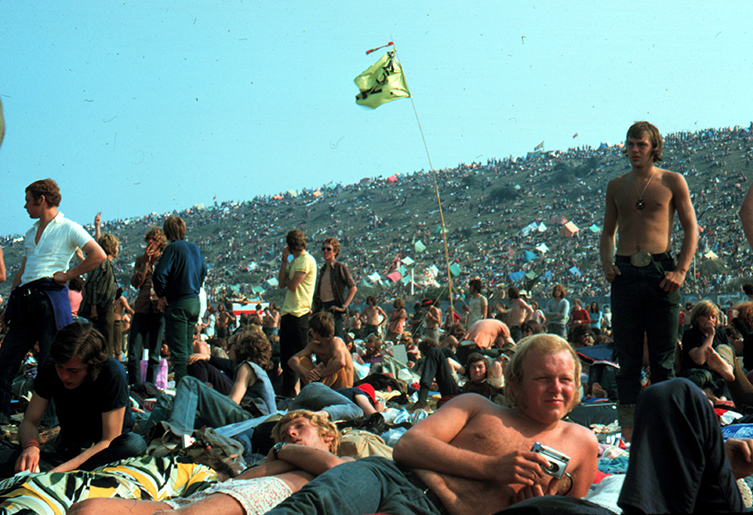 Those who attended this historic event were treated to some of the greatest musical acts in the world. Check out this for a selective line-up: The Doors, Jimi Hendrix, The Who, Free, Joni Mitchell, Miles Davis, Leonard Cohen, Joan Baez and Emerson, Lake & Palmer, to cherry pick a few!
The event today is still a major draw, bringing audiences of between 50,000 and 75,000 every year to the small Island two miles off the coast of Hampshire.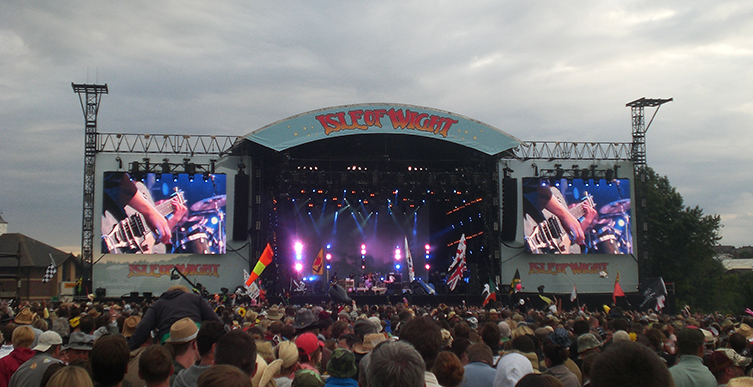 Stonehenge Free Festival
Stonehenge is a Neolithic circle of giant standing stones. Placed near one if the UK's energetic ley lines (these run beneath certain areas under all the land masses of earth), Stonehenge is at least as old as Ancient Egypt and is surrounded by mystery. Who built it? No one knows. How old is it really? No one knows for sure, but it's at least 5000 years old. What is it for? No one knows for sure, though guesses about it being both a necropolis and a star-gazing monument have been put forward over the years, as have ties to King Arthur, the Devil and countless other colourful characters. How did the stones themselves get there when there are no sources of the requisite silicified sarsen sandstone and bluestone in the local area?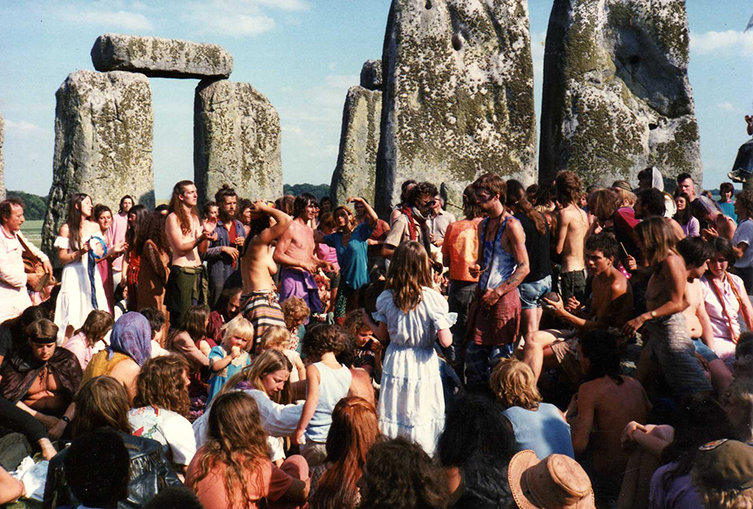 Spinal Tap's guitar hero Nigel Tufnel sums it up thusly: "No one knows who they were or...what they were doing, but their legacy remains, hewn into the living rock of Stone'ennnge".
The Stonehenge Free Festival started in 1974 as a celebration of Summer Solstice. Immediately prior to this, another Free Festival in Windsor had been brutally shut down by the police, resulting in lots of negative publicity, court cases and so on. The 'Man' was clamping down on these fearful gatherings!
The people who attended these festivals needed somewhere else to meet up, share ideas and celebrate. Where would be a more appropriate place than the most mystical prehistoric, megalithic site in the country?
Needless to say, such an enigmatic place has proved popular with progressive and esoteric types. In addition to radicals, free thinkers and astronomers, the Stonehenge Free Festival attracted many people associated with squatting, commune-living and other counter-culture lifestyles that were deemed something of a threat to the establishment. This festival continually attracted monks, New Age Travellers and various other sub-cultures, all remnants from the late 60s Hippy movement.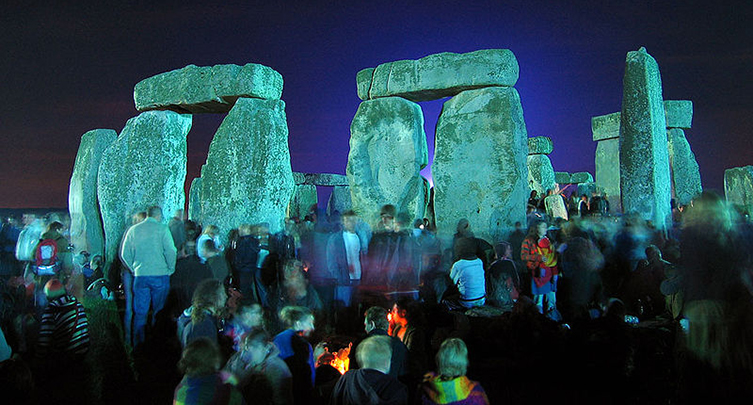 Musicians naturally fitted right in to these audiences! Over the years, progressive thinking bands like Gong, Hawkwind, Crass, Killing Joke and Joe Strummer all attended and performed at the festival. Other bans like Ozric Tentacles actually met and formed there!
Unfortunately, the authorities got hot under the collar about this festival too. In 1985, violent oppression (later known as the 'Battle of the Beanfield' and the biggest mass arrest of civilians since World War II) brought an end to the Stonehenge Free Festival.
As an indicator of British progressive culture, of the voice of a counterculture Britain, and of a time before the Capitalisation of festivals, the Stonehenge Free Festival stands as an important and defiant example for the ages.
Glastonbury Festival of Contemporary Performing Arts
Continuing the mystical vibe started by the Stonehenge Free Festival, Glastonbury's roots are steeped in Arthurian legend. The festival itself is held in Worthy Farm, located between two small villages (Pilton and Pylle) in the none-more-mystical 'Vale of Avalon'. Nearby is Glastonbury Tor (Tor is simply 'hill', from the Old English torr), an area believed by some to be the Isle of Avalon (the tor was once surrounded by water) in Arthurian mythology.
Needless to say, the Glastonbury festival attracts lots of the same progressive, New-Age thinking crowds of the Stonehenge Free Festival. Important ley lines lie beneath the ground here too, making this an area rich in folklore and tradition. Indeed, the festival is heavily influenced by this type of thinking: the main stage, known as the Pyramid Stage, is a scale replica of the Great Pyramid in Giza, one of the most widely debated and mysterious monuments on the planet.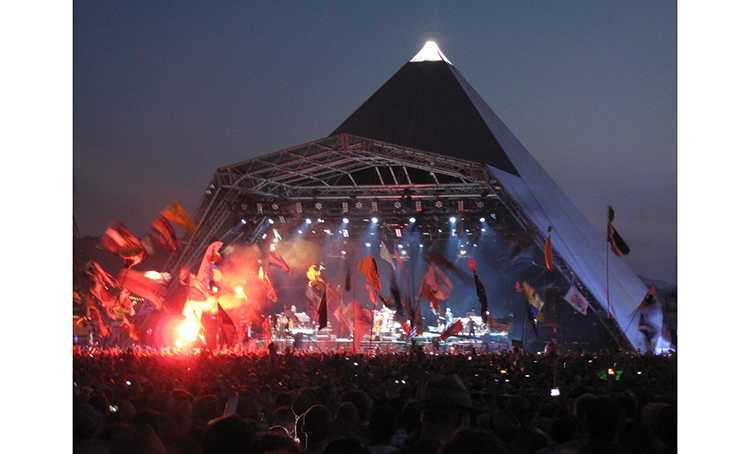 The Glastonbury festival was started in 1970 by Michael Eavis, who still runs the show today. Back in the day, audiences totalled around 30,000 but that has long since swelled to over 100,000. This has necessitated the purchase of the neighbouring farm in order to facilitate the masses of revellers.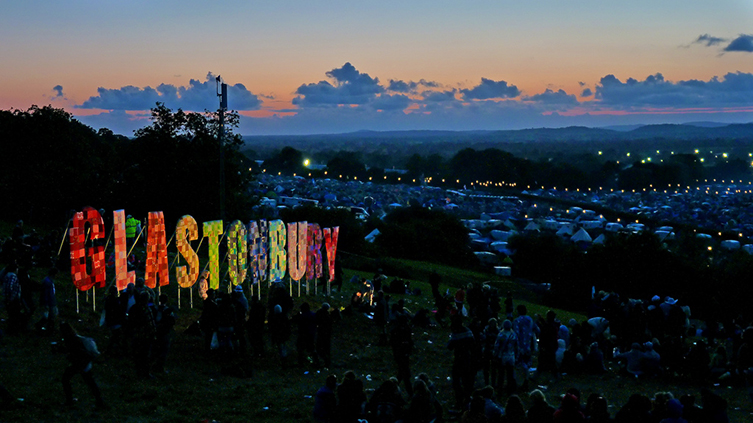 'Unofficial' stages is something of a tradition at Glastonbury. In addition to the Pyramid Stage, the Other Stage, West Holts Stage, the John Peel Stage, the Park Stage, the Acoustic Stage, the Avalon Stage, the Unfairground, the Left Field, Blok 9, Shangri-La, the Glade, the Common, the Field of Avalon and roughly ten other stages (!!!) there are a host of small, impromptu sound systems that pop up under the radar all over the site. These can be anywhere, from the camp site to the surrounding woodland, powered by small generators and playing all kinds of music from Dub Reggae to Gabber hardcore. This is the true spirit of Glastonbury in effect: people having fun, dancing and playing by their own rules.
Glastonbury continues to be the most significant festival in the UK, and its commitment to environmental issues and sustainability helps keep these important matters highly visible.
Lollapalooza
America's famous travelling festival, Lollapalooza, was conceived by Perry Farrell, lead singer of 'out-there' LA rockers Jane's Addiction. Conceived as a grand way for the band to say goodbye (infighting and enthusiastic heroin consumption had taken more than its toll by this point), Lollapalooza is significant not just for its recognition as a touring entity but also as a cultural melting point of genres. Though it was primarily a heavy rock event filled with Grunge bands (this was early 90s America), Lollapalooza's line up always included rap/hip hop artists and, in later years, electronic acts.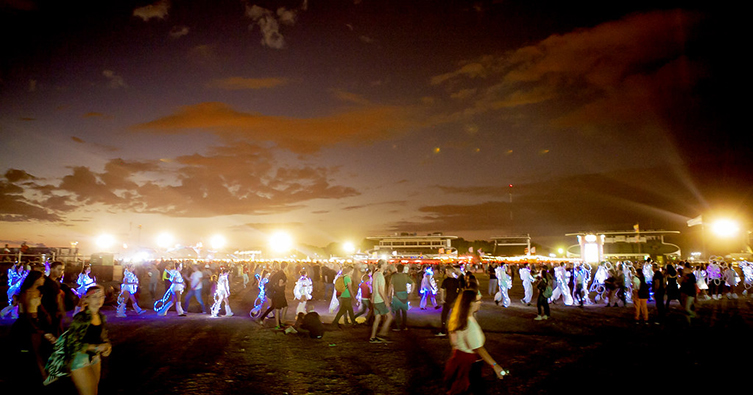 All of these acts, which would often be as disparate as Ice-T, Siouxsie & the Banshees and Nine Inch Nails, all shared a commonly unorthodox stance, something Farrell rounded together in his term 'alternative nation'. This putting-together of a specifically curated roster of artists was significant in bringing together lots of 90s music genres like Alternative Rock and Nu Metal, furthering the reach of each sub-scene and srengthening Alternative music in general.
Lollapalooza also carried the iconoclastic, culturally diverse sensibilities of Glastonbury by including lot of non-musical performers, from visual artists, to environmental speakers, to circus contortionists and even Shaolin Monks, pre-dating the Wu Tang Clan's Kung Fu obsessions by some years.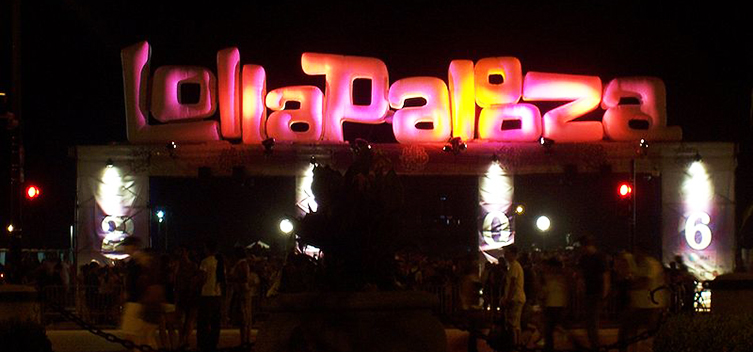 Lollapalooza has continued sporadically in the years since its 90s heyday and has also expanded out into a number of other countries throughout the world. Some have claimed that mass culture, high ticket prices and increasingly mainstream associations have diluted the counter-culture impact of the festival. Whether that is true or not does not deny the seismic impact of the mad travelling circus that brought alternative culture to all corners of 90s America and beyond. The glory of Lollapalooza endures.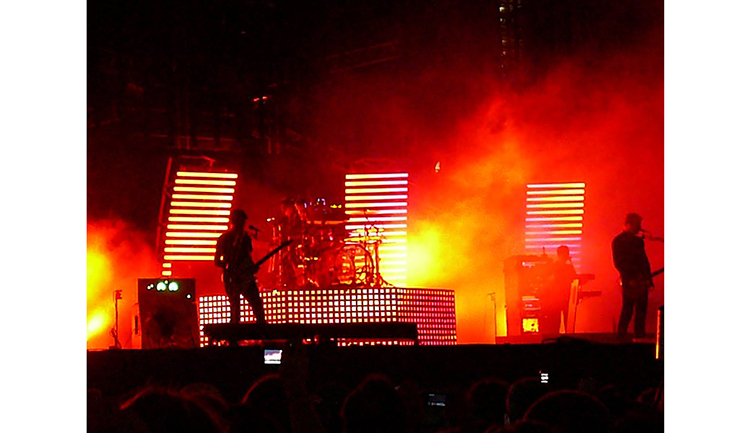 Donington Monsters of Rock
These days, it goes by the somewhat inpenetrable name of Download (there were downloadable songs available from codes on festival tickets originally), but back in the 80s, this festival had an altogether mightier name: MONSTERS OF ROCK.
They weren't joking either. The first Monsters of Rock was in 1980 and had Judas Priest, the Scorpions and Saxon rocking the rafters. Not a bad set of monsters! Check out the 1988 line-up, though: Guns 'n' Roses, Megadeth, David Lee Roth (so that means Steve Vai would be playing), Kiss AND the headliners, Iron Maiden!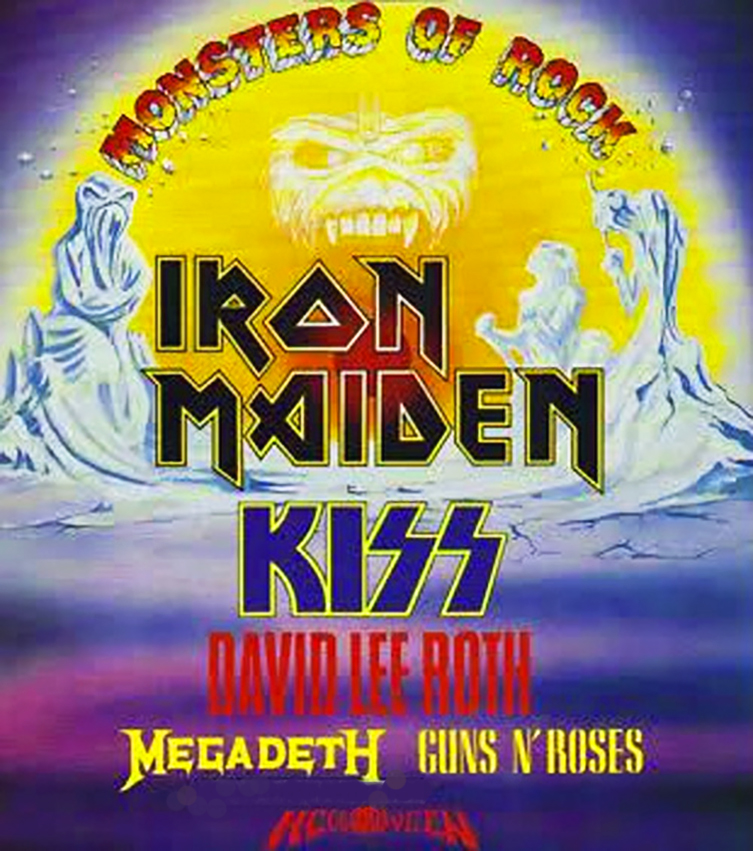 That's quite a line-up.
This epic event was a one-day festival, overshadowed by Castle Donington, presumably to enhance the Metal credentials of the whole affair. Crowds at the 1988 event reached a record 135,000. Every year brought huge acts to this tiny town in Leicestershire. From year to year, you'd see Metallica, AC/DC, ZZ Top, Ozzy Osbourne, Bon Jovi and many more.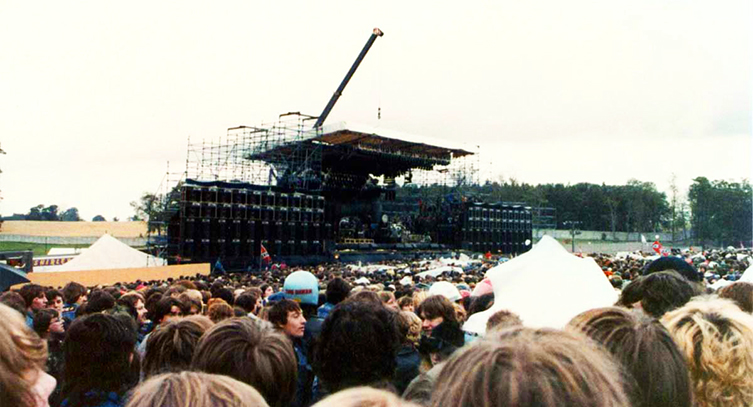 For the glory of Rock and Metal throughout the 80s and 90s, Donington was hallowed ground indeed.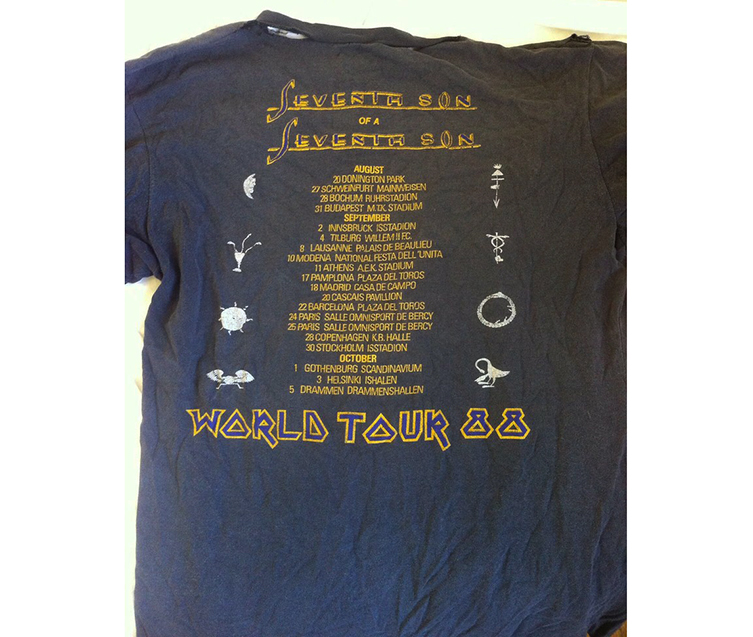 Burning Man
Have you ever wondered what it would be like to be Mad Max? To live in a post-apocalyptic desert, where you and your friends all had highly modded cars and highly suspect attire? Have you ever wanted to make art in public and then set fire to it as crowds of people watch, dance and cackle like maniacs?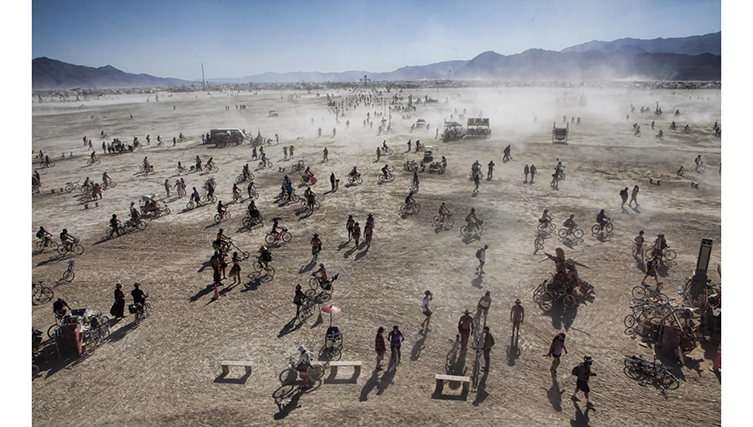 Good news! The world has caught up with you. Head over to Black Rock 'City' in the Nevada desert during late August and embrace the all-inclusive madness! Highly principled, self-consciously eccentric and exceedingly creative, Burning Man is the only place to go if you are good-looking, well-heeled and in the market for a festival experience unlike any other.
You'll see lots of home-made fashions, body paint, customised vehicles, moving pieces of art, circus performers, sun-baked acid casualties and lots of electronic music. Burning Man looks and feels as if 50,000 extras from a rave scene in a mainstream American film have suddenly broken free and flocked towards the open emptiness of the desert.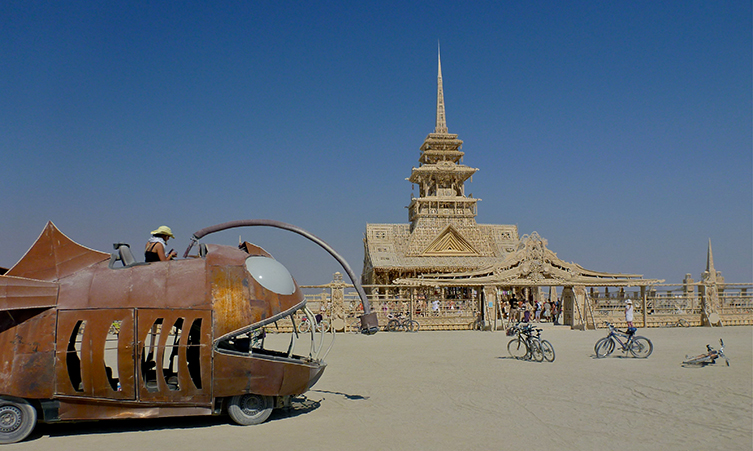 We may sound slightly critical but, in all honesty, Burning Man looks like exceptional fun indeed. Effigies are burnt, tribes of elaborately decorated humans dance and 'express' in the desert sand and an air of consenting permissiveness abounds. Even Oscar-winning actors like Susan Sarandon get in on the fun, as you can see below.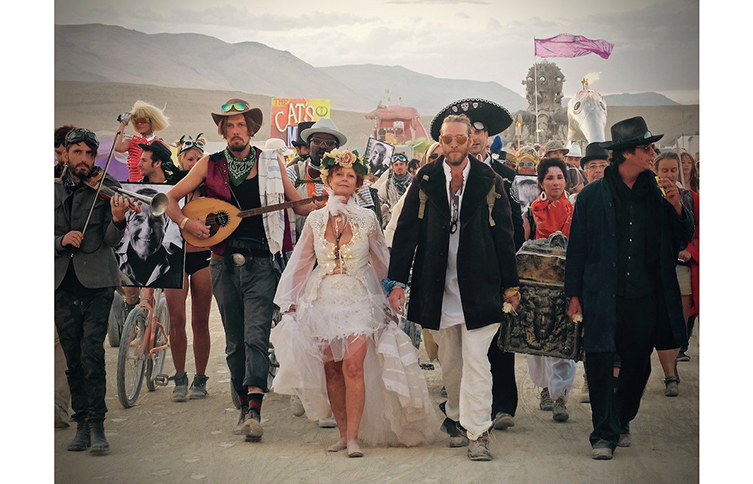 As we mentioned, Burning Man is expensive. Ticket prices are almost $500, and that's before you price up your mad costumes, art materials, vehicle customising and living expenses. Also factor in four months at the gym to get the appropriate '90s Dance video' look upon which to apply your fluorescent body paint. We're jealous of you already.
Coachella Valley Music and Arts Festival
Talking about festivals in the desert, Coachella is a significant event for sure. Whilst it does now have something of a reputation for 'look at me' posers and celebrities desperate for credibility, Coahella still has a formidable reputation.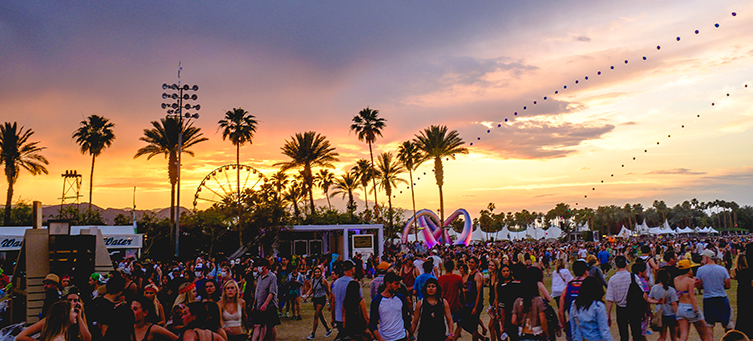 Located in Coachella, a town out near Palm Springs in California, the Coachella festival started out as an alternative gig venue for Grunge-Godfathers Pearl Jam. At the time (1999), they were in a bitter dispute with ticketing behemoths Ticketmaster over their jumped-up prices and money-grabbing mentality. Looking for non-Ticketmaster dominated locations to play, they chose the somewhat obscure Empire Polo Grounds in Indio, right in the centre of the Coachella valley.
It was a major success, proving that audiences were quite happy to travel to non-central locations if the resulting show was worthwhile.
Since then, the venue has played host to the Coachella festival, an eclectic weekend of indie, hip hop, pop and electronic music. One notable element of Coachella has been to have cult or semi-legendary bands re-form especially for the event. Witness At the Drive-in, The Refused, Bauhaus (Pete Murphy hanging upside down from the rigging), The Stooges, Rage Against the Machine and the Pixies: these bands and more have re-united for epic Coachella performances.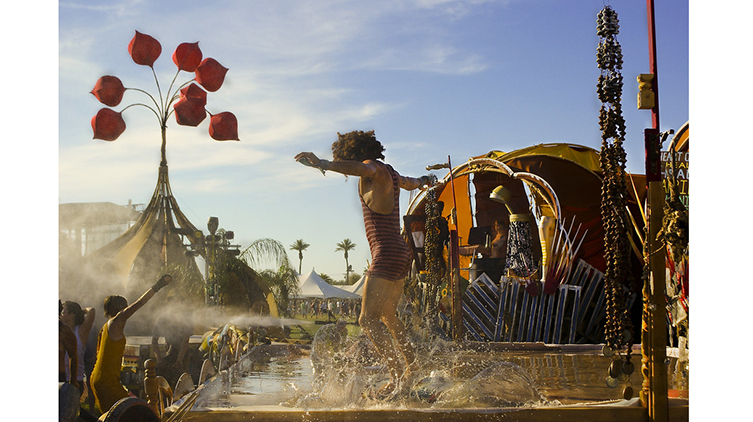 Yes, there is a great video online of airheaded posers being asked about made-up bands and responding with faux-authority, but there is definitely something happening out there in the desert. Ignore the 'influencer' distractions and you'll find some of the best line-ups available anywhere.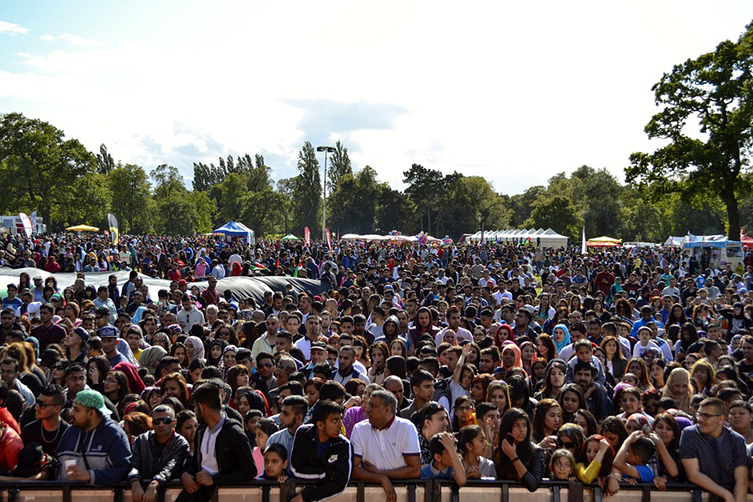 SXSW South by Southwest
Austin has long been a significant melting pot for musicians. For many decades, this city has been a beacon of music in this vast area of the USA, bringing touring bands of all types to its vibey, happening venues.
South by Southwest is a showcase festival that takes place during Spring Break (March, to those who aren't American) and lasts for normally 9 or 10 days. No normal festival, SXSW (as it is abbreviated) takes place among the countless existing music venues throughout Austin. As such, SXSW can boast an incomparable 2000+ acts performing in any given year! More than 30,000 acts applied to play last year, despite the fact that they are required to pay for their own travel and lodgings. Given SXSW's reputation of being a place to make and break new acts, it is seen as a real badge of honour to have played there.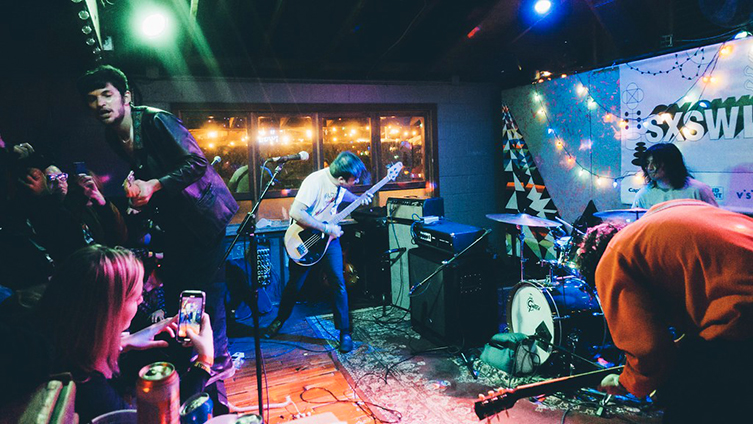 Recent years have expanded the scope of the festival to include film premiers, documentaries and even interactive media demonstrations. It is fast becoming a defining cultural event with relevance to the wider world. Hollywood premieres at a music festival in Texas? Yep, it's a thing!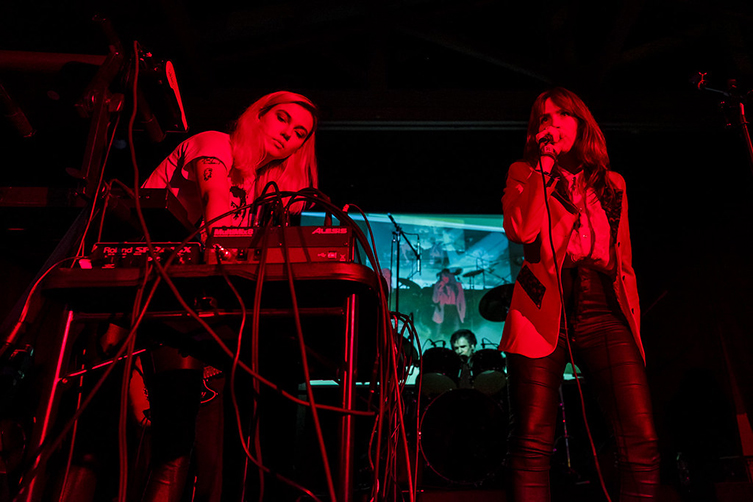 SXSW has been happening since 1986 and has grown in both scope and capacity each year. Now TV shows are pitched, business startups are too, and video games are given awards at the SXSW Gaming event. Most of these events are held at the Austin Convention Center, with the local music venues providing the spaces for live music.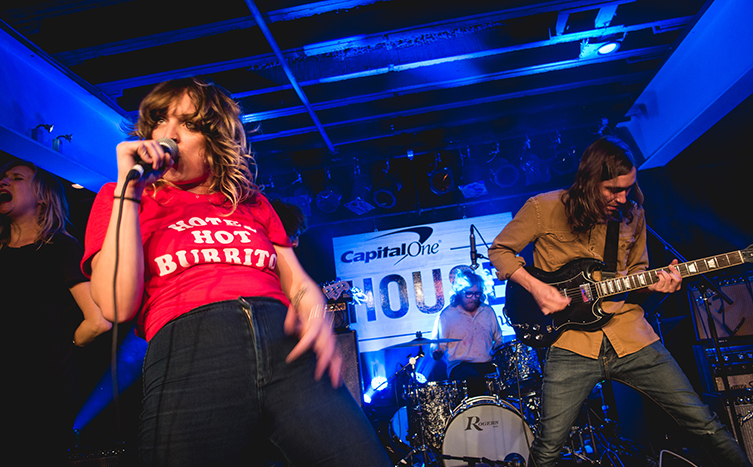 SXSW is an event like no other. No festival has a wider focus, or such potential for undiscovered bands.
Fyre Festival
Oh dear, oh dear, oh dear. This sour joke of an event gets our final place in the list due to its quite staggering levels of front, failure and, frankly, BS. The Fyre (non)festival is only two years old and it is already the most notorious example of an absolute disaster of a venture. If it weren't so hilarious it would be horrifying.
We actually don't have enough space in this blog to go into enough details about everything that went wrong! We'll try to summarize it, though we do suggest finding the related documentary on Netflix: it's quite a watch!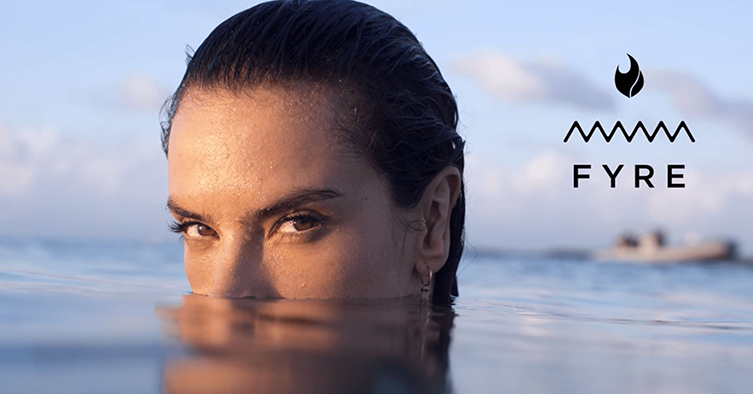 The 'Masterminds' behind the Fyre festival were arrogant college dropout Billy McFarland (he's now in jail) and rapper Ja Rule, who had already done time for gun possession and tax evasion. The idea was to make an app (the Fyre app) and use the most beautiful women in the world to advertise and therefore pre-sell tickets to a forthcoming 'luxury' festival in a Caribbean island. Aiming for the rich only, they advertised the idea of lying back in hammocks with supermodels, sipping cocktails out of coconuts and seeing some world-class musical entertainment.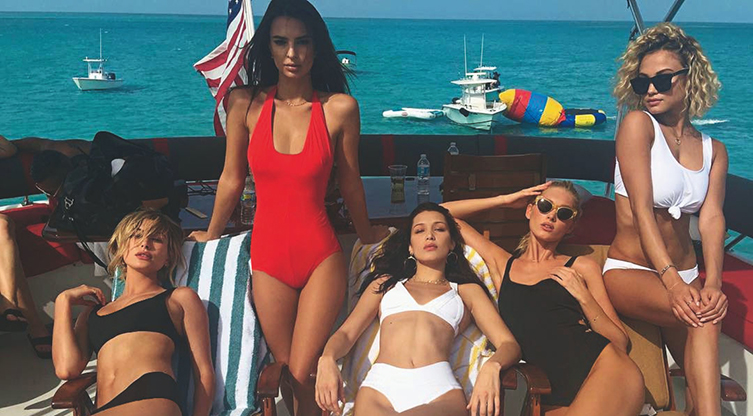 Sounded good!
The trouble was, neither of these men had any idea what they were doing. They made promises about acts and facilities that they had no notion about delivering, and they continued to bluff more and more capital from trusting investors. Thousands of people, duped by the models and 'influencers' attached to the Fyre app & social media channels, snapped up the expensive tickets ($500-$1500 for 'standard' tickets, a shocking $12k for the luxury tents) and began organising their time in paradise.
Except it wasn't really paradise. The organisers didn't know where they were going to set up shop, eventually settling on a granite and breeze-block section of Great Exuma, right next to a Sandals resort. A Caribbean island, yes, but not exactly the 'private island owned by Pablo Escobar' as customers were led to believe.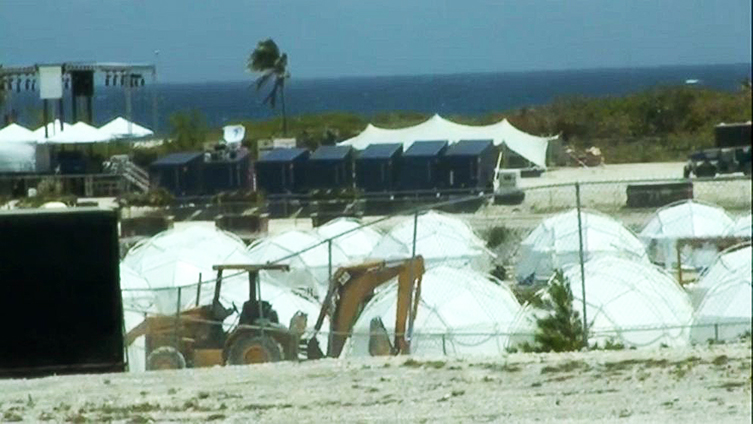 As the organisation spiralled further away from acceptability (they couldn't get the stage they wanted, the tents and villas that they promised, the acts they advertised...), McFarland and Rule started cutting back on their spending to save their rapidly haemorrhaging money. Food was cut back to a minimum, the luxury Bedouin-style tents became FEMA-camp dwellings (!) and other factors like security and even shuttle transport went out the window.
By the time guests started showing up on the island on planes from Miami, there were no bands (they'd all pulled out, smelling a considerable rat), no luxury accommodation (the local hotel could only take so many people and the luxury condos had been long since 86'd) and nothing but an impromptu DJ set and endless booze was left available to placate the angry hordes.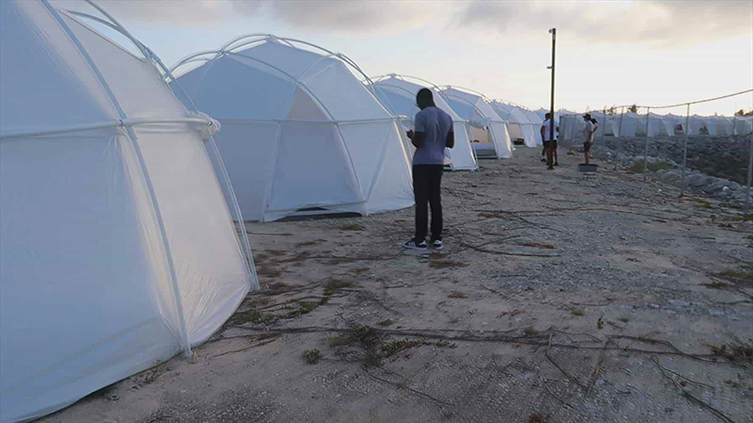 This went on for over 6 hours before the game was up and people started accepting that there would be no Fyre festival. Even the matresses that had been left outside next to the FEMA tents were sodden from a torrential downpour, so there was literally nothing to do and nowhere to go. The site, built hastily by hundreds of locals, was never completed. There weren't any toilets. Luggage was stolen, people were sleeping rough, there was no phone signal, no running water, and the little security that was there was criticized as being excessive and heavy-handed.
There was not even access to an ATM (Fyre festival was a 'cashless' event) so customers couldn't even dig themselves out of their own hole by grabbing some cash and running.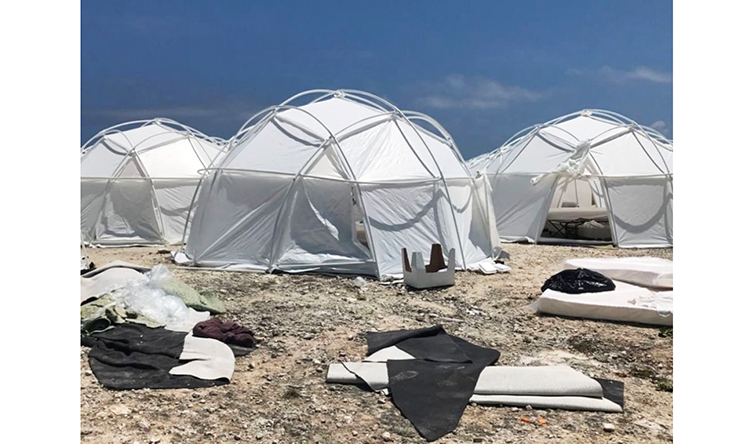 The aftermath of all of this was pretty big: 6 years in jail for Billy McFarland, a $100 million lawsuit served on behalf of 150 justifiably angry plaintiffs, the end of Ja Rule's dubious career (after excellent Tweets of "it was NOT A SCAM" and "this is NOT MY FAULT", though he did manage to dodge jail unlike McFarland) and the very word 'Fyre' provoking laughter and derision from all fronts. Even the models and 'influencers' faced legitimate threats of prosecution for not adequately owning up to the fact that they were being paid to advertise the Fyre debacle. Tweets and Instagram posts were hastily deleted, and embarrassed laughter was the only comment from most parties involved.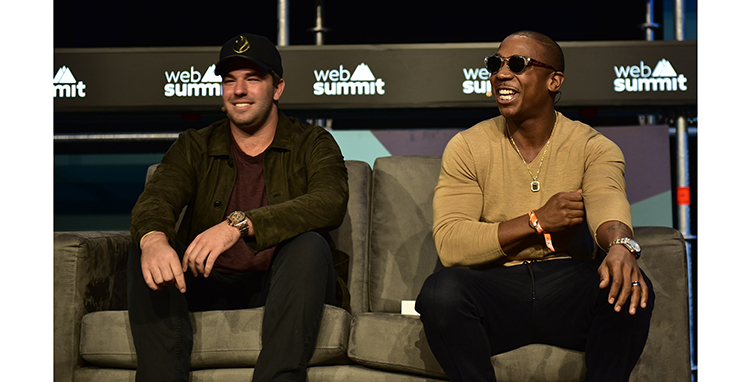 With madness like this to contend with, music didn't even get a look in. It's indicative of our times indeed: the need to be seen in exclusive circumstances, the power of so-called influencers (the only real power they have is when we pay attention, let us not forget) and the short-distance arrogance of the 'startup' mentality. It'll be fun to see what Billy McFarland gets up to once he's served his time. In the meantime, the documentary contains details we couldn't include here: we'll say no more!
Final Thoughts
It does seem that festivals are good indicator of culture at any given point in history. Comparing Woodstock to the Fyre festival is arguably unfair but it's interesting to note that Fyre was all about grabbing money up front and not being able to provide even a basic service, whilst Woodstock was (eventually and accidentally) made free and gave people unforgettable, positive memories.
Subsequent Woodstock festival failures have also put things in perspective in terms of commerce ruining the atmosphere of a large get-together. Adding in the police hostility to the Stonehenge Free Festival (and indeed much of Rave culture in the 80s and early 90s) paints a picture of dissonance between freedom and order. Those in charge seem not to like large gatherings of people, regardless of the context.
Having said that, music has always been about rebellion as much as it has been about expression and celebration. Is it not completely appropriate that the great festivals of this world not only reflect this but magnify it?
Here's to many more festivals of all types!
Ray McClelland