Events: Teenage Engineering Demo Day
Published on 01 July 2019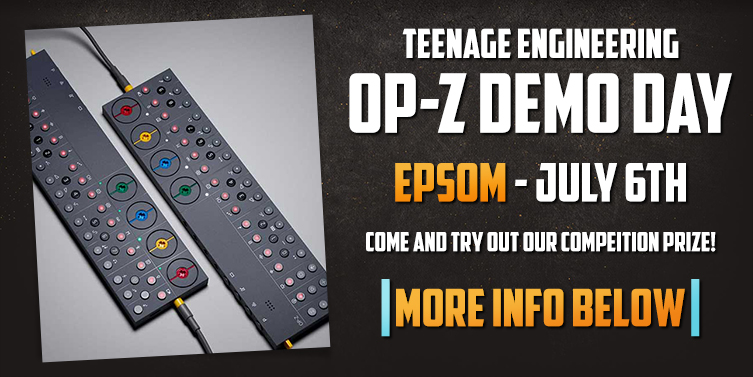 Never ones to follow or conform, Teenage Engineering have always done things their own way and we absolutely love them for it. With some seriously innovative pieces of kit, that are as zany, weird and wonderful as you could ever imagine, they really are leaders of the pack. If you've yet to try out any of their gear then take it from us, it's an absolute pleasure to get stuck into some of their equipment and we're particularly big fans of the unorthodox OP-Z synths which are up for grabs in this week's giveaway! These little synths are totally addictive and don't just sound fantastic but also offer some really interesting sequencing options where you can even hook them up with lighting and 3D graphics. Totally breaking boundaries in all of the right ways, we thought it was only right we give you guys a chance to check these out in all of their glory, so we're going to do exactly that!

This Saturday (06/07/19, 10AM - 5:30PM), we welcome Matt from Teenage Engineering into our Epsom store for a OP-Z Demo Day! Breaking down exactly what makes these units so special and giving you all the chance to dive in and experiment with them for yourself, this is a fantastic chance to try out one of the most out-there and progressive synths on the market. Trust us when we say you won't have experienced anything like what Teenage Engineering bring to the table! With the opportunity to win one for yourself in our latest 15th Anniversary giveaway just by visiting the store, there's no reason not to stop by and get a feel for the OP-Z. They're an absolute must-try for any producer who loves to do things differently, so head down and get stuck into some sounds with us!

There's no need to reserve your space, simply head down to guitarguitar Epsom this Saturday to spend some time with Matt.

Can't wait til Saturday? Take a look at the advanced sequencing capabilities of the OP-Z below: