Events: Presonus Demo Day at guitarguitar Epsom
Published on 01 July 2019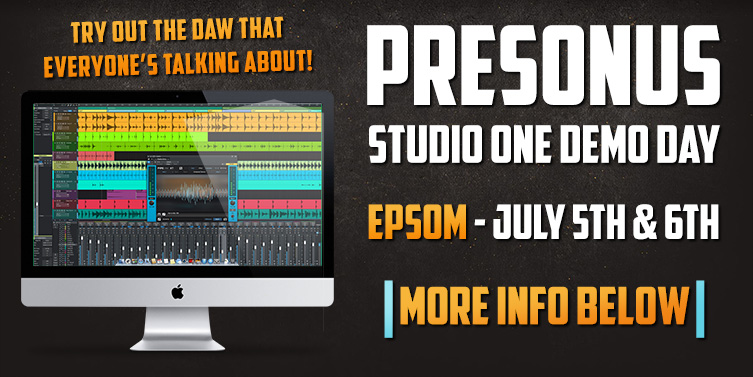 Among the most highly regarded brands on the planet for recording and live sound solutions, we're huge Presonus fans at guitarguitar. With a huge range of products which are consistently reliable, excellent sounding and offering flawless build quality, what's not to love? Whether it's an interface, a mixing desk or a set of monitors, Presonus have always delivered unbelievably well thought out pieces of studio gear and they're among our first choices when it comes to home recording.
However, it's not just their hardware that demands your attention. Their own DAW, Presonus Studio One 4, is seriously impressive in its own right and we'd thoroughly recommend trying it out if you haven't already done so. With some incredibly useful and advanced features for recording or producing music, it's quickly becoming a favourite of ours so we thought we'd invite you in to check it out!

On the 5th and 6th of July (05/07/19 - 06/07/19), we'll be joined in our Epsom store by Lee from Presonus to showcase what Presonus Studio One can do. This intuitive DAW has quickly become one of our favourite pieces of studio software and we're not the only ones. Building a loyal following of producers all over the world, Studio One is the real deal and a must try for anyone serious about home recording. On top of that, there are several copies up for grabs in this weeks giveaway so this is a great time to dip your toe in the water.
Lee also knows the full Presonus range inside and out, so if you've been keen to learn more about one of their products, come and have a chat with him and leave an expert. With an incredible selection of mixers, interfaces and more available to demo alongside the software, there's plenty for you to try out!

There's no need to book your space, just show up at the store and Lee will be ready and waiting!

Curious about what Studio One can do? Take a look at some of its features below: