Events: The Aristocrats at the Liquid Rooms, Edinburgh
Published on 25 June 2019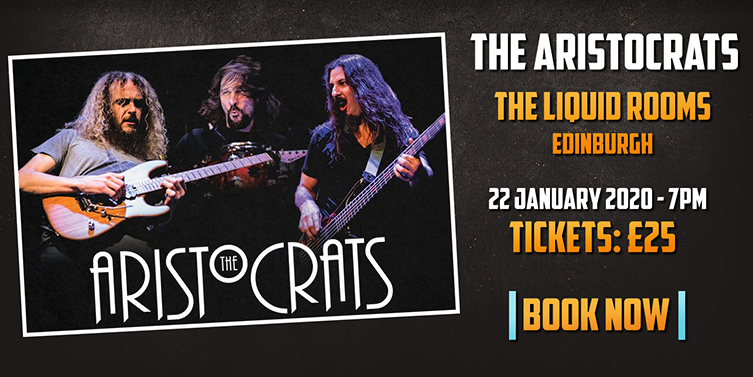 There aren't many guitarists who've had quite the impact of Guthrie Govan. A technical wizard who's capable of not only dazzling with lightning-fast licks but summoning sounds you wouldn't think possible from a traditional guitar, Guthrie truly is one of the best of all time. Combining an almost overwhelming variety of genres, playing styles with an arsenal of unheard of techniques, his playing is extraordinary, baffling and inspirational all at once. He's by no means just a shredder either (although make no mistake, he's got that covered) and has an incredible depth to his playing that's every bit as fascinating. Backed up by The Aristocrats, an absolutely deadly band of players who've shared stages with the likes of Joe Satriani and Steven Wilson, his live performances are pretty spectacular and we're very pleased to have the band join us in the Liquid Rooms, Edinburgh as part of their European Tour!

On the 22nd of January 2020, join us in Edinburgh to check out some of the most talented musicians on the planet: the Aristocrats. If you've ever been to one of Guthrie's gigs before, you'll already know just how mind-blowing it is to see him play live but if not, take our word for it - you're in for a treat. The band are every bit as impressive and we cannot wait to see what they've got in store for us. Touring their brand new album 'You Know What..?' and giving you the chance to hear all of their latest tracks along with some old favourites, this promises to be one seriously epic evening of music.
Tickets are now available, so bag yours quickly to avoid disappointment. It's not often you get the chance to check out musicians of this calibre and trust us when we say you do not want to miss it!
Please note, this event is over 18s only.

Tickets are £25 and are available now. Click here to book yours!

Check out a sampler of the Aristocrats new album 'You Know What..?' below: