Roland Week: Building Your Pedalboard Like a Pro
Published on 21 July 2019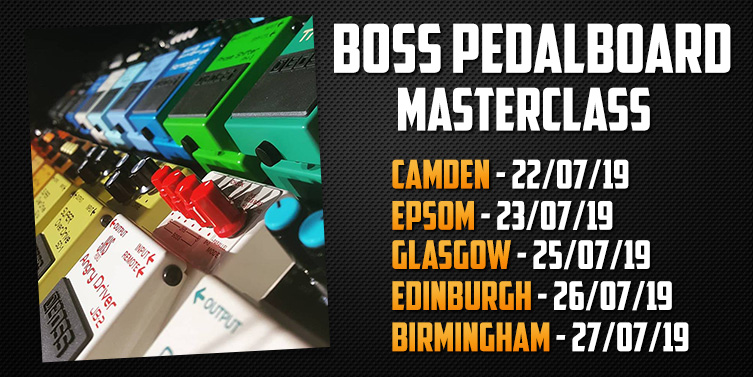 Brightening up pedalboards of such a variety of legends, we'd go on all day if we tried to list them, BOSS compact pedals have certainly made their mark on the guitar industry. With units such as the DS-1 giving us that iconic dirt and the lush sounds of the DD-7 Delay providing hypnotic magic, every guitarist should plug into a BOSS compact at some point in their playing career. In fact, we don't know many who haven't had one on their board at one point or another! So, as part of our upcoming Roland week, we knew we had to give you the chance to try a few out... Read on to find out how you can do exactly that at your local store!

Next week we're joined by BOSS pedal specialist Mark Harley to give you a masterclass in setting up your own pedalboard. Whether you're a gigging musician or just a bedroom player, pedals are essential to your tone and we want to help demystify the process of setting them up on your board. Mark knows the compact lineup inside out along with all of their nuances and subtleties so there really is noone better to help you find that dream tone.
Simply drop by your local store and he'll give you a one to one breakdown on setting up a board like the pros and achieving your dream sound. He'll also show you plenty of tricks and pedal hacks while you're at it! If you've felt a little lost in the world of effects, or just feel like your board needs a bit of a revamp, don't miss this chance to show it the love it deserves!