Events: Nord Takeover Day at guitarguitar Glasgow
Published on 18 July 2019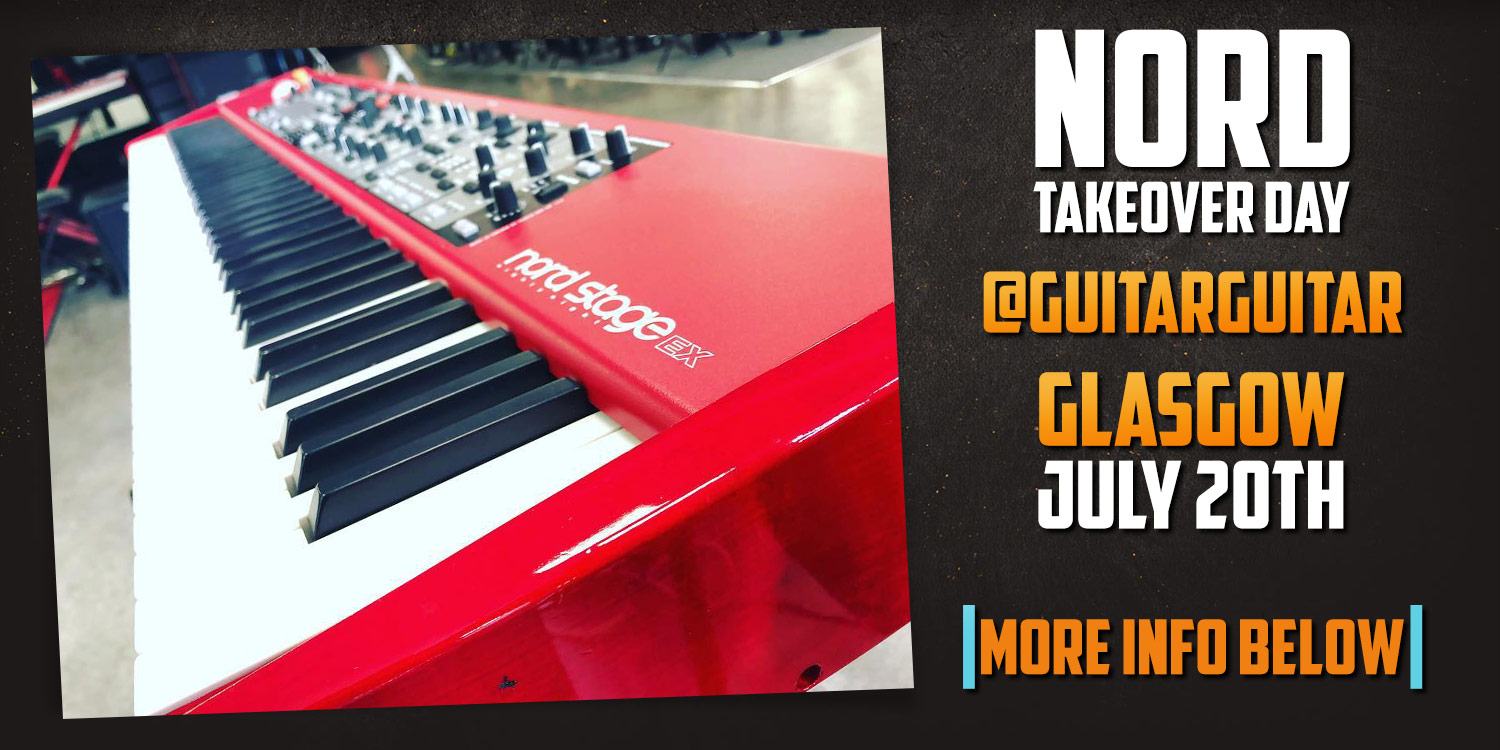 With advances on music tech rattling along at a frightening pace, there's never been a better time to be a keyboard player or producer. Gone are the days when your options were limited to clunky sets of keys reminiscent of your music lessons in school and instead, we're proud to be able to say that our stores are packed with some of the most forward-thinking pieces of gear on the market. If you love to experiment with your instruments and try out new things, then come and pay us a visit and our staff will take great pleasure in showing you some of the latest arrivals.
A lot of our most requested sets of keys come from the great minds of Nord, a company that we see as being at the forefront of a lot of the new ideas in the industry. Whether you're looking for a solid onstage setup that you can guarantee won't let you down, or fancy pushing yourself to play differently and explore the potential of fresh tech, these guys have got an arsenal of products that have legitimately blown our minds time and time again. We've been really keen to show you all the potential of Nords's incredible gear, so we're pleased to share that we're giving you the chance to try it all out for yourself!

On Saturday 20th of July (20/07/19, 10:30 AM - 5:00 PM), we'd like to invite you guys along to our Glasgow Digital store to try out our full range of gear from Nord. We'll be joined by Nord specialist Rob Wallace who will be taking 1 to 1 appointments to help you understand what Nord can do. It doesn't matter if you've never tried the gear out or if your studio is already kitted out with it, this is a fantastic opportunity learn how to unlock the full potential behind these innovative keys and learn some new tricks while you're at it. If you're a producer or keen keyboard player, particularly one who loves playing live, this is the perfect chance to step your game up. Come along and see what all the fuss is about!

To book an appointment with Rob, simply get in touch with the guys in store on 0141 552 3402or digital@guitarguitar.co.uk. Alternatively, feel free to simply drop by the store between 10:30 AM - 5:00 PM - we'll have plenty of gear set up for you guys to get stuck into and would love to see you.