Events: Chris Buck Clinic @ guitarguitar Glasgow
Published on 25 July 2019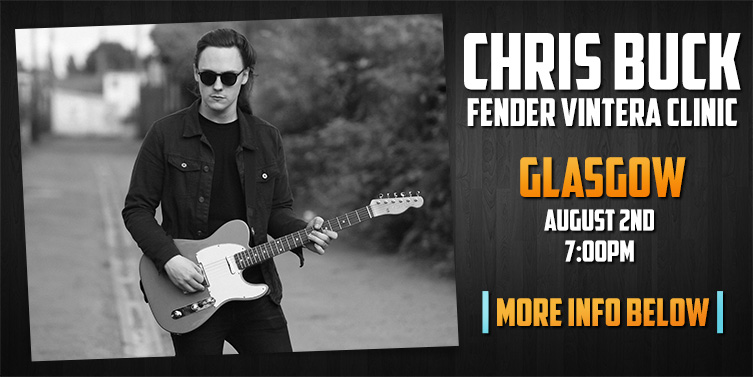 Taking the internet by storm and showcasing some frighteningly impressive playing, Chris Buck has been on our radar for quite some time. His capabilities are absolutely mind-blowing and with a loyal following on his YouTube channel, he's a true force of modern guitar. Despite his phenomenal playing skills, he's not just a showman either and his knowledge of the instrument and indeed the industry runs pretty deep, even penning a monthly column for Guitar Interactive Magazine. Constantly writing and playing as part of Buck and Evans, his work ethic is as impressive as his music and we really admire Chris' attitude to the guitar and being an artist in the modern age. He's absolutely full of knowledge on pretty much every aspect of contemporary guitar and we've been dying for the opportunity to pick his brain, so when we finally got the chance, it was only right to invite you all along...

On the 2nd of August (7:00PM - 9:00PM), we're over the moon to share that Chris Buck is joining us in Glasgow for a clinic on Fender's brand new Vintera series! We've been blown away by these guitars since they started to arrive and who better to showcase them than one of the most exciting guitarists in the game? If you've been curious about the range and fancy seeing what they can do, or even just feel like hearing a seriously talented artist play and chat about their experience in the industry, you won't want to miss this. Chris will be discussing the new models, some of his techniques and taking plenty of questions - we can't decide if we're more excited to check out the new range or to see Chris play live! Fender fans, trust us, this is a must for you. Book your tickets now to avoid disappointment!

Click here to book your FREE tickets now.

Can't wait for the event? Check out the video below for a taste of Chris' soulful playing!