A Closer Look: Fender Vintera Series
Published on 30 July 2019
When a new Fender series drops, we're on high alert for the new models. What does this new series bring? What do we have to look forward to? Well, the Vintera series have landed and we have to say, we're impressed. Updating the brand's Classic Series, Classic Player & Road Worn models, the Vintera range gives players a selection of guitars inspired by Fender's most revered eras of production. Essentially picking out the most iconic features from each decade, Fender have put together a whole range of 50's, 60's and 70's models which not only look like their vintage counterparts but actually sound and feel like them too.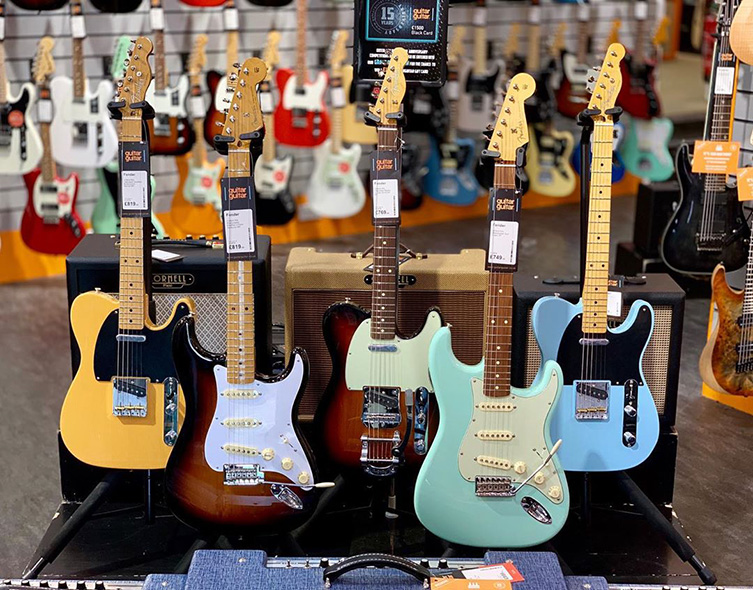 In terms of the specs, the most significant change from the Classic series is the addition of pickups designed by Tim Shaw, Fender's resident pickup master. Purpose-built to provide as close a sound as possible to the actual vintage models, these are capable of some absolutely unbelievable tones that transport you right back to your chosen era.

The range also come sporting reshaped necks which again have been designed in accordance to vintage specs to give players an accurate era-specific feel. Fender have kept things fairly simple here and we think they've hit the nail on the head by putting together some absolutely gorgeous vintage-inspired guitars with a few clever upgrades and a whole host of new colours.
However, quite possibly the most exciting announcement for us is the addition of modified models which take the classic feel of these guitars and bring them up to date with some modern appointments for the contemporary player. That means vintage-inspired guitars with features such as hot-wound pickups and modern C-shape necks. Essentially giving players the best of both worlds, we've fallen in love with more than a few of these already and reckon they're a must-try for any gigging musician who loves the classic looks of Fenders guitars.

With all of the usual shapes ranging from Strats, to Teles, to Jazzmasters, Jazz Basses and everything in between, the selection are a force to be reckoned with and we think Fender have knocked it out of the park with the Vintera series.

Favourites of ours include the 60s Strat in Surf Green, 60s Jazzmaster Modified in 3-Color Sunburst, the 50s P Bass in Sea Foam Green and the unspeakably cool 60s Telecaster Bigsby in White Blonde... I mean come on, who doesn't love a Tele with a Bigsby!? Stop by your local store to check out the range now and choose your favourites!