Gigging Week: Yamaha Live Sound Demo Day at guitarguitar Glasgow
Published on 07 August 2019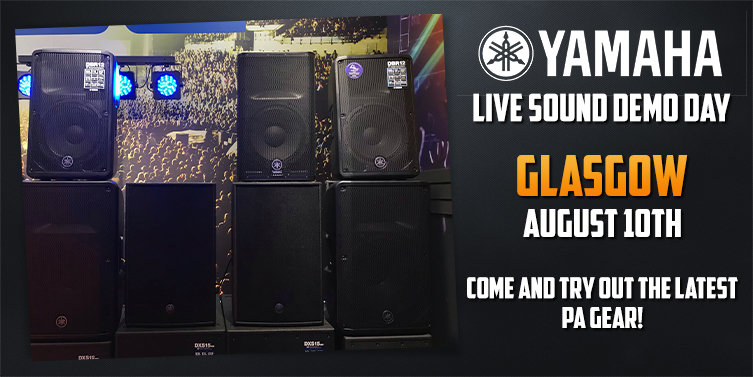 Live sound can be a tricky business and we fully understand that it's a daunting task kitting out your band, or indeed your venue with a whole new sound setup. The last thing you want to do is shell out for a PA setup that sounds anything less than perfect and with so many options it can be hard to know where to begin. With a wide range of products suited to pretty much every venue type and budget, Yamaha are a great place to start and we're always recommending them to customers who are looking to upgrade their gear. Yamaha are known for their outstanding build quality and innovative approaches to live sound, consistently designing kit that we instantly fall in love with. We were blown away when we tried out the new DZR range and the same is true of their fantastic desks and particularly the utterly outstanding sounding STAGEPAS column system. In fact, we've been dying for the opportunity to invite you all down to check out the latest from Yamaha and Gigging Week seems like the perfect opportunity to do just that...

This Saturday (10/08/19, 10:00am - 4:00pm), we're very pleased to share that Yamaha specialist Chris Irvine will be joining us in our Glasgow Digital store to guide you through their extensive selection of PA and live sound gear. Chris will be looking at everything we've mentioned already, including the DZR speakers, STAGEPAS and TF range of Digital desks, along with anything else that catches your eye (or ear). That's not all though, he's also an expert in setting up gear for venues and will be happy to answer any questions you have on mixing live sound, mic placement or anything else that's been bugging you! If you fancy checking out some new gear, finding the perfect fit for your band or venue or just would like to learn a little more about playing live, stop by and have a chat with Chris, we'd love to see you!

There's no need to reserve a place, simply head along to the store.