15th Anniversary: Lefty Week
Published on 12 August 2019
We're celebrating our 15th Anniversary with Lefty Week at guitarguitar!
Hendrix, Kurt, Iommi... Some of the most legendary guitarists ever to grace the earth and what do they have in common? Well, for a start they're all total badasses but you don't need us to point that out. They are, in fact, all left-handed players. That's right, these pillars of rock are all southpaws and the list doesn't end there. Despite often being marginalised by the guitar industry, lefties are a huge part of rock history and we want to give them their well deserved time in the spotlight. Now, we've long been supporting our loyal lefty customers with the largest selection of left-handed guitars in the UK but this week we're really going all out...

All of this week, it's time for the lefties to shine and we've got a whole range of tantalising prizes for you to get your (left) hands on, along with some awesome in-store events! That's right, no longer shall southpaws be swept to the side - we're celebrating all things lefty and we want you to get involved. To kick things off, we're offering beginners lessons to left-handed players in all of our stores! If you've ever thought about picking up the guitar or DID in fact pick up the guitar but never stuck with it, this is the perfect chance to learn some basics and become the next Tim Armstrong! Our expert staff will be taking appointments all week to get you trained up, so drop by if you're a southpaw who longs to rock.
That's not all, we're also offering FREE restrings for any left-handed players who happen to visit their local store this week! Bring in your axe and our team will get you laced up with a new set of Ernie Ball strings, with absolutely zero charge. Simply call or email us to book your space.
But what about our giveaway? Surely not yet another Lefty Black Strat? Oh no, we've got some seriously stunning guitars lined up with no less than FOUR chances to win. You don't see these every day if you're a southpaw so get down to your local store to enter and be in with the chance to win a Gretsch G5420TGLH-59 Electromatic, a Godin A6, a Squier Classic Vibe 60s Jazzmaster or an Ibanez SR300EL-IPT bass! That's an incredible selection of instruments and you don't want to miss out. Head down this week to get your hat in the ring!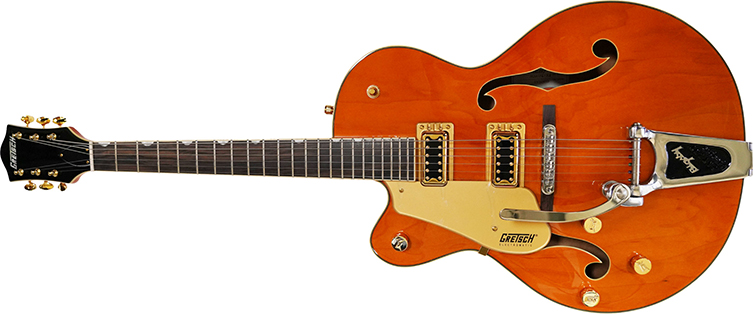 As with all of our 15th Anniversary giveaways, all you have to do to be in with the chance to win is stop by your local store this week (12/08/19 - 18/08/19) and fill out an entry ticket. These will also be entered into a grand prize draw where one lucky winner will take home a guitarguitar gift card worth £1500 at the end of the 15 weeks!

The Lefty Week giveaway will run from 12/08/19 until close of business on 18/08/19, only entries within these dates will be valid.
Entries for all 15 Week Anniversary promotions are limited to one entry per person each week.
For full terms and conditions click here to visit our 15th Anniversary page.