Lefty Week: Closet Lefty Legends
Published on 13 August 2019
So, last time out we highlighted some of the greatest left-handed guitarists who have dedicated themselves to playing fully left-handed. Their guitars were either left-handed models, or they were flipped over and restrung.
Now, as we know, life is never so simple. There are lots of left-handed guitarists out there who simply chose to learn on a right-handed instrument. There are a few good reasons for doing this, and a few downsides, but we'll save that for another article. Today, we aim to collect the most inspiring, creative and influential lefty guitarists out there who play right-handed guitars!
Faux lefties, closet southpaws, call them what you will but the fact is, some of the very best players on the planet are secret lefties. Let's name these wonderful fraudsters!
Mark Knopfler
The player's player himself, Mr Dire Straits has a tone and touch envied by all. Whether he's spanking a Swinging Strat in the manner of a Sultan or using his '59 Les Paul to get some Money for Nothing, Knopfler puts that left hand to good use on his guitar's fingerboard. Were he to use a plectrum, he'd have it in his right hand.
Knopfler is rightly regarded as one of the best sounding and most tasteful players ever, with a style that lends itself to melodic lead playing, intricate rhythm work and soulful acoustic playing.
David Bowie
David Bowie is, of course, a legendary singer and songwriter, but this multi-instrumentalist (piano, saxophone, various other things) was an underrated guitarist, and a lefty to boot!
The guitar riff on Rebel Rebel? That's him! ALL of the guitar playing on the Diamond Dogs album? David! Songwriters could learn loads just by studying his inventive and quite unusual chord progressions. He hired some of the best players around to contribute to his records (see Robert Fripp below), but he was no slouch himself!
In his early days, David favoured 12 string dreadnoughts for writing on. For electrics, he has been seen with a few, though in later years his favourites were a pair of old white Supro Dual Tone guitars. These were eventually made as a tribute David Bowie signature model in 2017.
Duane Allman
Duane Allman's control and execution of slide playing was sublime. With an old medicine bottle serving as a bottleneck, Duane played slide on his Les Paul Standard with a touch to die for. Could his left hand's dominance have played a role in this? Perhaps.
As a guitar player, he proved influential to a number of prominent musicians, not least Eric Clapton. We all know the story about how the main riff to Layla is actually played by Duane Allman, right? Good. He also plays those singing slide parts at the end.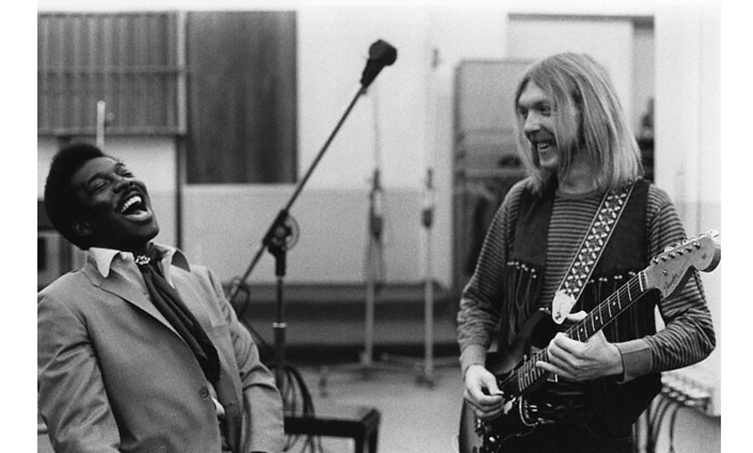 In other words, all the good bits.
A motorcycle crash robbed the world of Duane's beautiful talents, but what he did leave is amongst the very best examples of guitar playing there is.
Billy Corgan
It has taken a while, but Smashing Pumpkins lead guitarist and frontman Billy Corgan is finally starting to get some recognition for his soulful and incendiary playing. From the early 90s till today, Billy's frenetic and expressive solos have been a centrepiece to the Pumpkins' grand, multi-faceted sound.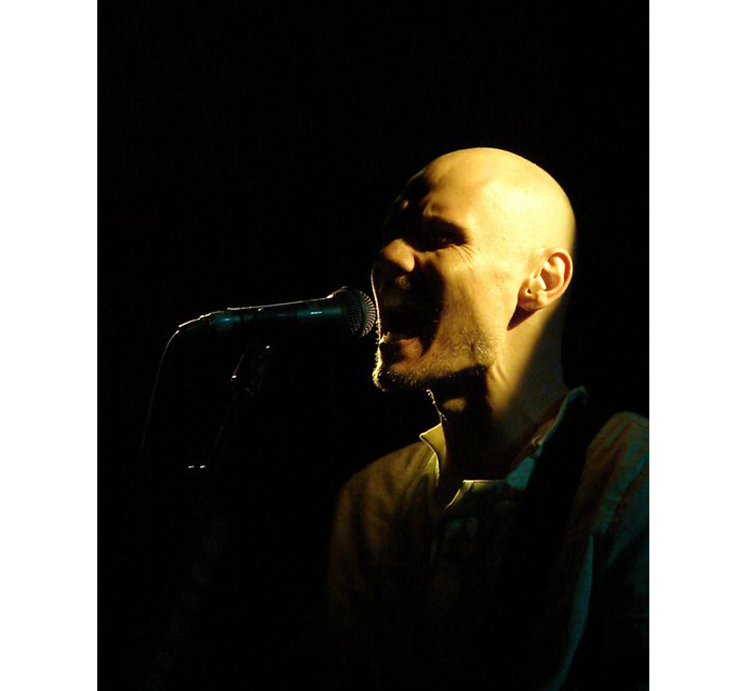 Originally a Strat man, Billy in fact plays a wide range of electrics, from Les Paul Juniors to Reverends and even baritone Schecter models! His signature tone is highly distorted with texture, compression and a distinctive mix of wide bends and furious hammer-on flurries. Though the Pumpkins now sport three guitarists, Corgan is known by everyone to be the band's primary six-stringer. In our recent interview, he jokingly referred to his left-handed orientation as making him a 'poor rhythm player', something we couldn't disagree with more!
Robert Fripp
The thinking man's shredder, King Crimson's King axeman is another lefty who plays guitars the 'normal' way around. Fripp's adventurous, spirited playing is often at the very edges of avant-garde Rock and Jazz, utilising noise, texture and juxtaposition alongside 'out of the box' note choice. His playing, sometimes beautiful, sometimes ugly, is always inspired and frequently challenging.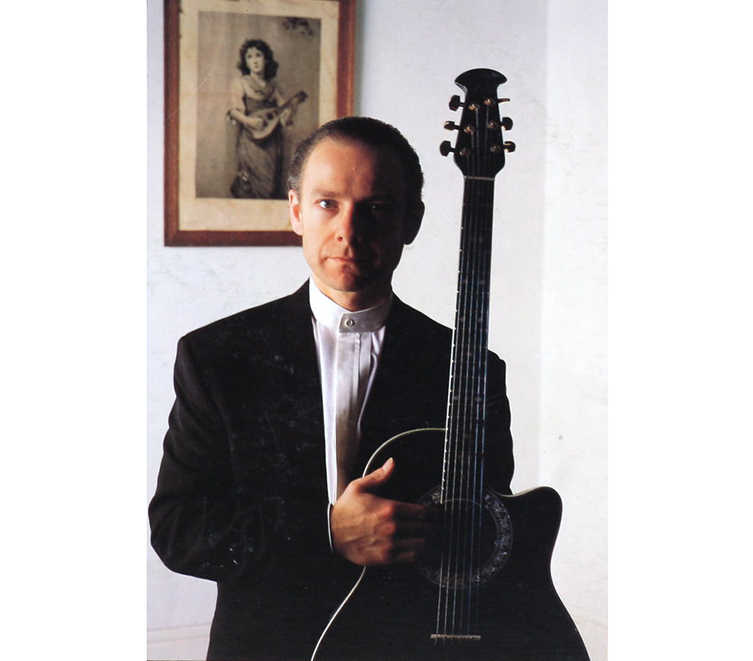 An early adopter of MIDI-guitar devices, Fripp has developed his own language on the guitar. This extends to an entirely new tuning, which reads, low to high: C, G, D, A, E, G. This tuning (lower 4 strings are in 5ths, the top two being minor 3rds) effectively obliterates all of your repertoire and vocabulary, meaning the guitar becomes an altogether new instrument.
Alongside Crimson's inspiring Prog adventures, Fripp's playing can be heard on collaborations with Brian Eno, as well as some superbly savage work on David Bowie's albums 'Heroes' and 'Scary Monsters'.
Joe Perry
Aerosmith's hunky six-string spanker my play a tasty selection of right-handed Strats, Les Pauls and Teles, but when it comes to everything else, the boy's a lefty!
Seeing the Beatles perform on the Ed Sullivan show sealed the deal for a young Joe, who went on to drink up every British Invasion influence he could before forming Aerosmtih with fellow 'Toxic Twin' Steve Tyler.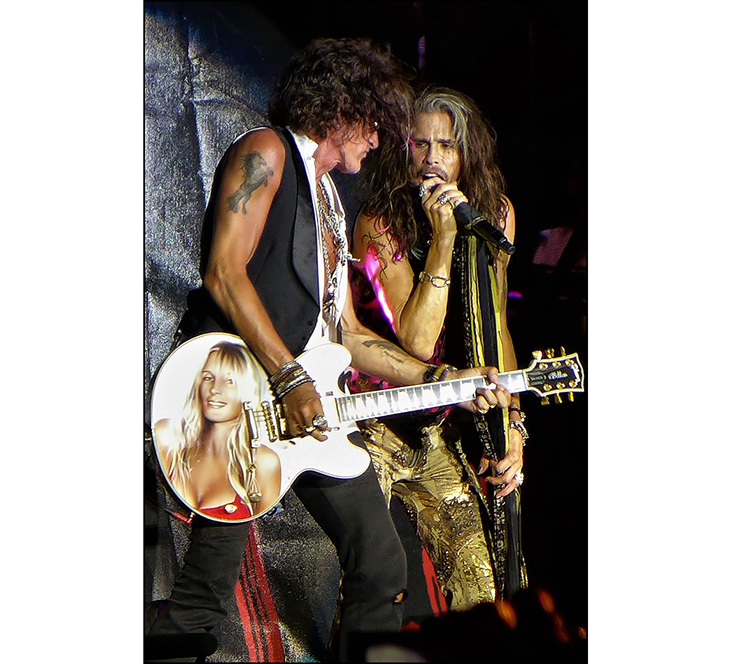 Perry's playing is an impressive melting pot of all classic Rock styles, making him quite the archetypical guitar hero. With an impressive number of signature Gibson Les Paul models to his name, he's a Rock legend through and through. He reportedly owns over 600 guitars (!) and has an ES-335 nicknamed 'Billie', since it has a graphic of his wife on it. Bless!
Gary Moore
Ferocious Blues Rock master Gary Moore was another lefty in right-handed clothing, to stretch a metaphor slightly. His explosive, lava-like playing made deft use of his left hand by utilising amazing vibrato techniques. This is arguably something a left-handed guitarist has greater advantage of, particularly in this right-hand guitar context. For solos, Gary's dominant hand is supplying much of the 'touch', bringing an extra depth to his playing that enthrals.
Gary Moore enjoyed a stint in Thin Lizzy before launching into a successful solo career. Whether it was Blues, Rock or Pop, Moore attacked it head-on, with a passion and ferocity than remains unmatched.
Gary Moore, for a long time, owned and used Peter Green's famous '59 Les Paul Standard. This near mythical guitar is now in the hands of Metallica's Kirk Hammett, but you can hear Moore putting it through its paces in the album Blues For Greeny, a covers album that featured mainly Fleetwood Mac covers, all played on Green's magical old Gibson.
Johnny Winters
The late, great Texan Bluesman Johnny Winters is our final closet-lefty. The Gibson Firebird-loving guitar mangler had a highly distinctive, high-energy style that blended in well with the Blues. His choice for guitar was due, partly at least, to the mini humbuckers:
"The Firebird is the best of all worlds. It feels like a Gibson, but it sounds closer to a Fender than most other Gibsons. I was never a big fan of humbucking pickups, but the mini humbuckers on the Firebird have more bite and treble".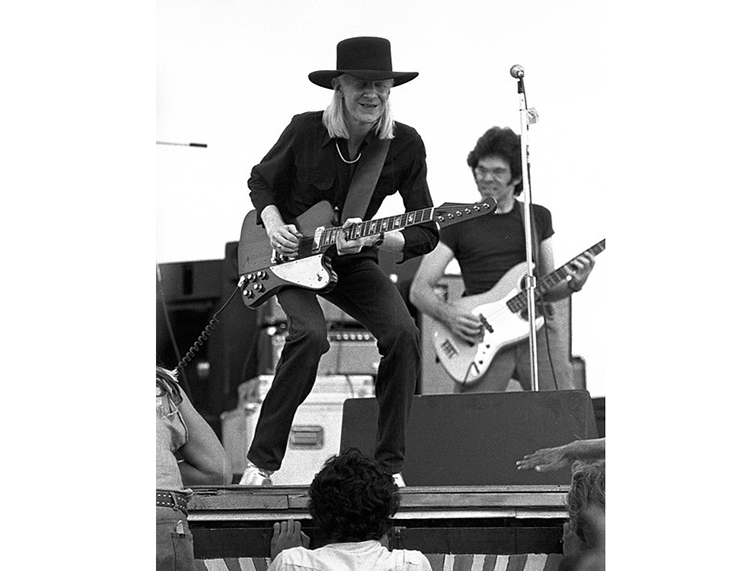 Johnny Winters not only put out his own records, he produced three for Muddy Waters, all of which were nominated for Grammies. He was inducted into both the Blues Hall of fame and the Rock 'n' Roll Hal of Fame. He was out there gigging right up until his death in 2014 at the age of 70.
Final Thoughts
As with last time, this is a diverse list, though it is interesting to note how many 'Bluesy' lead guitarists there are on this list! The notable exceptions are of course Bowie, Fripp and Corgan. Could it be that the extra hand pressure of the stronger left hand helps express those blue notes better?
We aren't too sure.
What we can tell though is that the contributions given by Left handed artists, be they true or closet lefties, is pretty staggering. The guitar-making industry could perhaps recognise this a little more and offer more in terms of diversity, though we'll see in a forthcoming blog that there are plenty of interesting lefty guitars out there to choose from!
Who did we miss this time? Noel Gallagher? Elvis Costello? Yeah, we know, it was on purpose.
Just as little joke, of course! Those artists and plenty more deserve recognition and respect. Out small list highlights only a chosen few.
Thanks for reading and, as always, we'll see you next time.
Ray McClelland