Martin Week: An Evening of Martin History
Published on 02 September 2019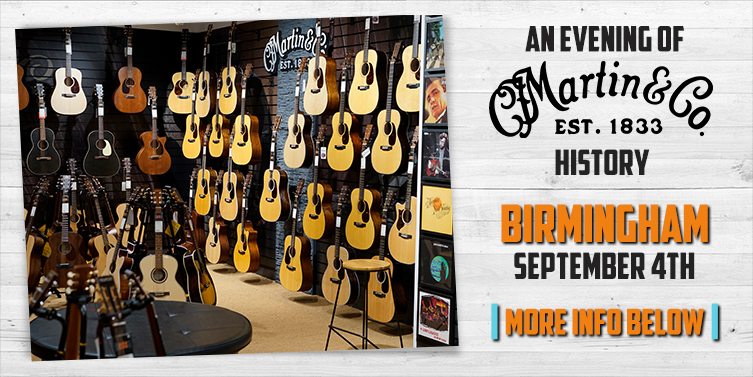 When it comes to history, there aren't many brands who can boast the rich heritage that Martin can. Their guitars are deeply connected to the development of modern music, whether that's pop, rock, folk or anything in between and as a result, their instruments are longed for and cherished by guitarists all over the world. We love guitars with a story and stories don't come much better than Martins. Their journey began roughly two centuries ago in 1833 but their ethos and commitment to building exceptional instruments has never faltered. Responsible for the dreadnought guitar, among countless other innovations, the brand remain as forward-thinking as ever in 2019 and their guitars are still among the most exceptionally built and well designed on the planet.
We've recently built a stunning Martin room in our Birmingham store dedicated to these awesome instruments and the history of the brand. Perfect for trying out a range of models from our huge selection, there's nowhere better to experience what Martin have got to offer. We love nothing more than getting the opportunity to geek out on the amazing story behind their guitars and we thought it was only right we invite you guys along for a strum to celebrate the new room while we were at it! If you find their guitars as alluring as us then read on to find out how you can join us to learn all about them!

On Wednesday the 4th of September (04/09/19, 7:00PM - 8:30PM) we invite you all to our Birmingham store to enjoy an Evening of Martin History and celebrate the launch of our new Martin room. We'll be joined by Martin Guitar Specialists Greig Dunning and Tommy McGinley to run through the brand's incredible back story and its impact on both the industry and music in general. Focusing on Martin's fascinating beginnings and the groundbreaking developments they've made to the acoustic guitar over the years, this promises to be a fun and interesting evening and we're really excited to learn more about one of our very favourite guitar brands. If you play their guitars, or simply find them as impressive and awe-inspiring as we do then you don't want to miss this laid back and relaxed look at how they've developed over the years. Reserve your space for free now and we'll see you there!

Click here to book your FREE space now.

Can't wait for the event? Check out Martin's Ballad of the Dreadnought documentary below to get you in the mood!