Lefty Week: 5 Lefty Guitars that Aren't Black Strats
Published on 14 August 2019
Sometimes you'll hear left-handed guitarists bemoaning the lack of interesting choices in their neck of the woods. Right-handed players get the Gold Sparkles, the Silverbursts, the Pink Paisley. Lefties get...Black Strats.

Black Strats are classic guitars, no question! Where would we be without them? But there's more to life that that, right? Guitar playing is about expression and individuality. Well, we think it should be!
Today we aim to prove that being a Southpaw guitar-mangler is no excuse for not getting a beautiful, charismatic axe round your neck! There are LOADS of awesome looking lefty electrics available! Here are five!
Hagstrom Fantomen White LH
This is the type of guitar that suggests you adopt certain poses straight away. Legs at least three feet apart, guitar strap extended as far as it will possibly go, optional foot on monitor if such a thing is available.
This Hagstrom Fantomen is a guitar for rocking hard and riffing out on. It's the kind of guitar that buzzes with rock energy, whether you launch into a face-melting shred-fest or simply ride on repeated bashings of an open G chord. It's bold, bold and quite unsubtle.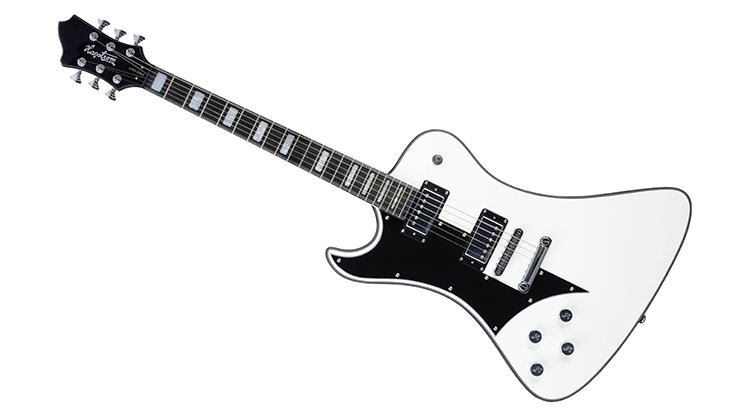 We love it!
This is a strange signature guitar: it's for that larger-than-life Pop Metal band Ghost, but all of their musicians are anonymous, so it's kind of unclear whose signature this is!
Regardless of the unknown player behind the mask, this large slab of mahogany is a delight for all fans of chunky, quality tones and advanced posing.
Fender American Pro Jazzmaster Mystic Seafoam LH
It's a sign of popularity for a Fender model when it not only gets a lefty model, but it gets a lefty model in this superb finish! Jazzmasters were once relatively niche guitars, but that's hardly the case now: we see more offsets on stages these days than Strats!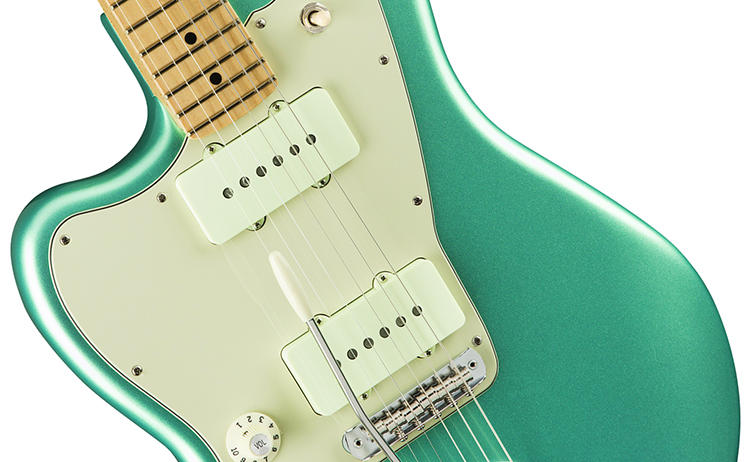 Lefties can enjoy one of Fender's best iterations of the Jazzmaster with this American Pro model. Sticklers for tradition will moan about the 'simplified' circuit (think of it as being normal, rather than needlessly complex, and you'll be on the same page as us) but players will just love the deep 'C' neck and Michael Frank-designed pickups. You can cover a huge amount of ground with a Jazzmaster, just by working the pickup selector and control knobs. It's a real player's guitar!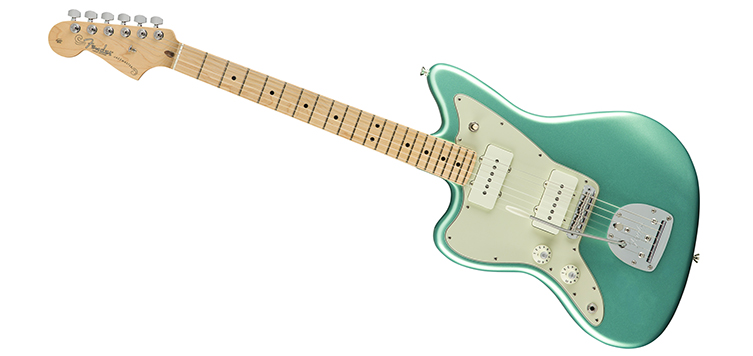 Also, that Mystic Seafoam finish is beyond gorgeous! Fenders have always suited 'aquatic' colours as part of their surf-charm, and this is a particularly successful example!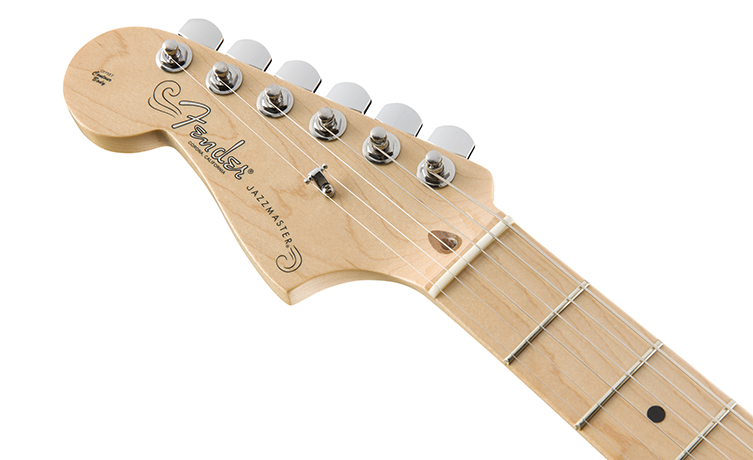 Gretsch G6136T White Falcon LH
Let's face it: there is hardly a guitar on the planet that can out-cool a White Falcon. They are simply beautiful and full of swagger. Gretsch have a particular look, feel and sound that is all their own, and the White Falcon is the bird on the top branch of that tree for sure.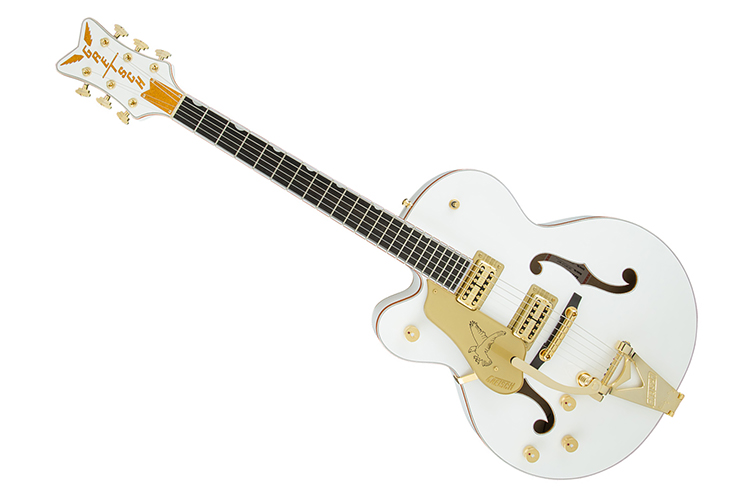 It's huge, hollow, easy to play and also kind of dictates to you a little: versatility is not really the point with Gretsch! Massive amount of gain will make this Falcon howl, but then maybe that's part of your agenda? A little bit of gain to let the sound 'bite' and some spring reverb will put you firmly into Gretsch-zone, though, and that is a wonderful, inspiring place to be! The Bigsby tremolo is another part of the picture that gets you closer to twang-heaven.
The White Falcon looks great in its backwards guise here, all gold, ebony and white with sparkly orange binding (of course) and is one of those 'moreish' guitars that begs to be picked up and played. Imagine how good you'll feel bringing this one out of its case and strapping it round your neck!
Chapman Ghost Fret Iris LH
Leaping across the vast chasm of vintage-style hollow-body to something altogether more mosh-friendly. The Ghost Fret is Chapman's take on the explorer style, albeit more overtly 'Metal'. All of the Chapman range are well-presented and have top features for the price range. Our Pro Series model here has a Flamed Maple top, an Ebony fingerboard and stainless steel frets, all elements that usually add zeroes to a guitar's price!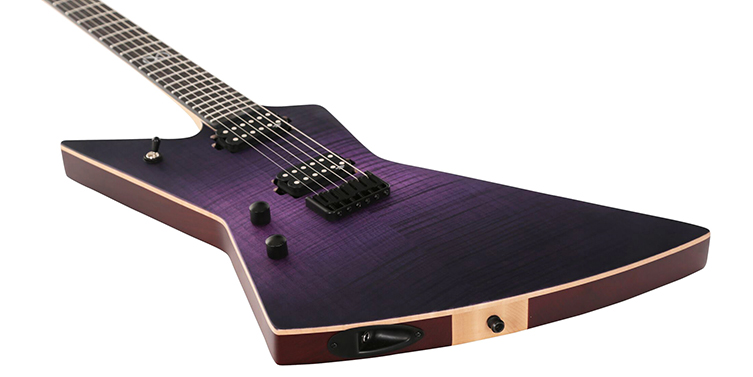 The Chapman Ghost Fret is the perfect head-turner for shreddy guitar players who want to make a dark and serious statement on stage: there is plenty of attitude to the Ghost Fret, with a style and spec that's perfect for technical players.

Tyler Studio Elite Shmear LH
Heading towards the very top end of the market, James Tyler's famously bold S-types have long been heralded as some of the greatest guitars available. Distinctive isn't the word: look at that insane 'Shmear' finish on this lefty Studio Elite! Tyler uses dyes and chemicals to achieve this, and so every one is a little bit different. On top of that, you have the custom pickguard shape and singularly recognisable headstock all combining to produce a very outlandish take on the superstrat.

A mid-boost circuit, a fantastic tremolo, hand-wound pickups and a neck to die for ensure that this is by no means a guitar that's just about looks. It happens to look spectacular but the real fireworks are to be found in the playing experience. Still, it's worth taking an extra second to get an eyeful of that fantabulous finish...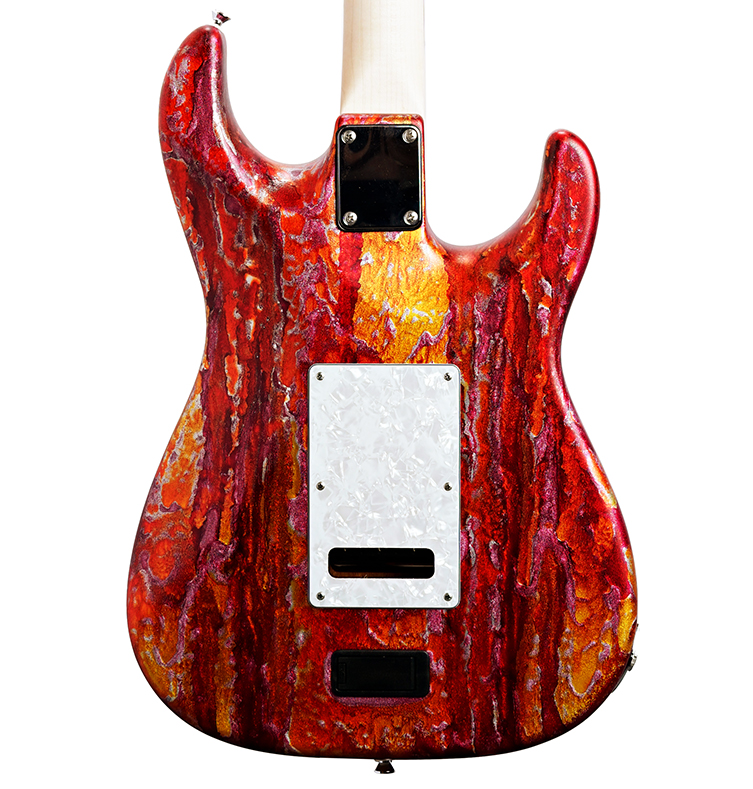 Final Thoughts
Hopefully our findings today prove that, far form there being little in the way of choice for laft-handed players, there is in fact a huge kaleidoscope of guitars to pick out and enjoy. There's a style for everyone: jazzers, technical guys, classic single cuts, classic bolt-ons, modern hybrids...it's all oout there! And much of it is available at your local guitarguitar.
Okay, it's definitely not equal billing: we do realise that there is significantly less choice, but what is out there is pretty awesome! And it's not all just black Strats! Visit us, check out our left-handed guitars and make sure you have a good shot on them. It's a beautiful world out there.
Until next time, thanks for reading
Ray McClelland