Events: Phil Demmel Jackson Clinics
Published on 23 August 2019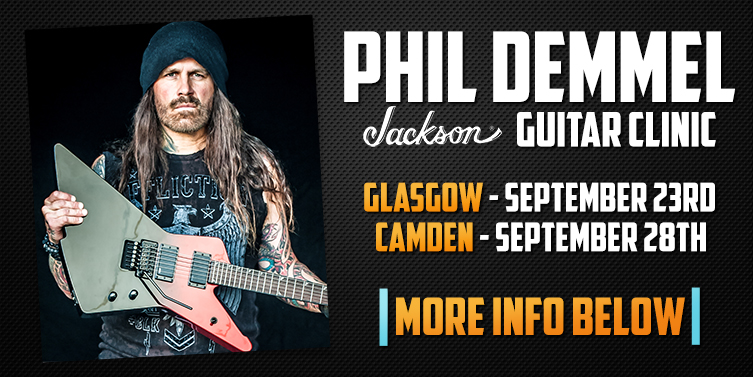 Among the most well-known metal guitarists in the game, Phil Demmel's instantly recognisable, savagely heavy playing has had us looking on in awe for as long as we can remember. Not only is Phil a master of creating crushing tones that make you stand up and take notice but his brutal riffs were the driving force of Machine Head for years, playing on huge lineups all over the world and recording with them on some of their most well-regarded albums. Also a member of Vio-lence and Torque, Phil has served his time in the metal scene and there aren't many guitarists capable of the dazzling licks and monster riffs that Phil can effortlessly create! A proud Jackson slinger, Phil's always had a killer lineup of guitars and his signature models are great playing, deadly looking instruments that we've become rather fond of! We've been looking for an excuse to show them off so when we heard Phil fancied paying us a visit we knew that we had to make it happen...

We're very pleased to share that Phil Demmel himself is joining us in our Glasgow and Camden stores for Jackson guitar clinics! We're seriously hyped to have him drop by and can't wait to pick his brain about some of his techniques and gear! He'll be doing plenty of playing, taking questions and giving you all the chance to grab a picture with him or get something signed so this is the perfect opportunity to learn from a master of his craft and get some of your Machine Head albums immortalised at the same time! Whether you're a die-hard fan or just a metal player who fancies picking up a few new tricks, these events are is not to be missed. Book your space now via the link below and join us for what we already know are going to be a couple of HEAVY nights!


Are you as excited as us for the event? Check out Phil's rundown of his Jackson signature models in the video below!