Offers: Blackstar ID Core
Published on 26 August 2019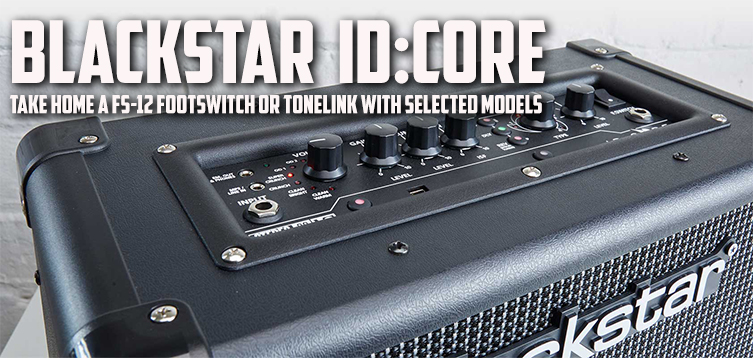 When it comes to rocking out, there aren't many brands who offer quite the selection of hulking tone monsters that Blackstar have in their weaponry. They're always a first choice of ours when we want to dish out some dirty classic rock or metal tones and if you haven't tried one out, you really need to pay us a visit. A favourite of rockers such as Jared James Nichols and Gus G, you can always rely on Blackstar for some tough tones ... But don't think that means you need a huge tower of power to achieve them.
We're particularly fond of Blackstar's ID Core range which give players from all backgrounds and budgets a great platform for letting loose some big riffs. Ranging from a modest 10-watt model, right through to a 150-watt combo, there really is something for everyone and the full lineup sound magnificent. Boasting sparkling cleans alongside Blackstar's signature dirt, these amps are really versatile and we're constantly recommending them to guitarists in our stores who aren't sure what their next amp should be. If you've been in the market for a new partner in crime yourself, read on to find out why there's never been a better time to pick up a new Blackstar!

As part of our current offer, we're giving away some awesome Blackstar gear alongside models from their ID Core series. This is the perfect opportunity to try out their gear and bag yourself a little something extra to go with it, so if you haven't already done so, head to your local store and get plugged in to the range!
Up for grabs is an awesome Tonelink Audio Reciever if you buy an ID Core 20 V2 or ID Core 40 V2. These little gadgets give you the power to turn any amp into a Bluetooth speaker and are ideal for home practice, so if you've been looking for something for around the house, look no further. Don't worry though, we've got you gigging players covered too and anyone who picks up an ID Core 100 or ID Core 150 will bag themselves a Blackstar FS-12 footswitch. Allowing you to control the full capabilities of your amps built in effects, these compliment the ID core units really well and this is a great chance to take one home at no extra cost.
What are you waiting for? head down to your closest store and try out the ID core range today!

Curious about how the ID Core range sound? Check out a demo in the video below!