Offers: Save up to £80 on Ableton Live Upgrades
Published on 05 March 2020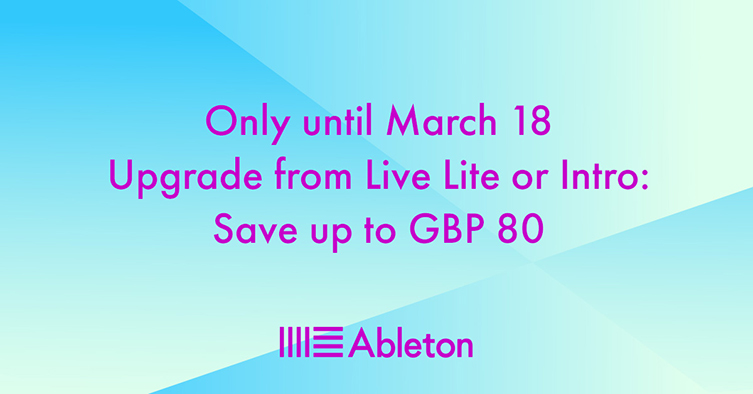 Ableton's Live music studio software or DAW (Digital Audio Workstation) is now the go-to software for creating and recording electronic music.
With that said, Live is far from a one-trick pony. It's one of the most versatile music software packages available. Often used by DJ's and by rock bands for running backing tracks and loops.
It's real-time beat matching and time-stretching capabilities have made it an indispensable part of many live shows.
Live's reputation for being an intuitive and great sounding recording solution has also seen it work its way into many a record producers arsenal.
With a great range of built-in sounds, plugins and synths. As well as the ability to chop and change parts with minimal effort and even giving the ability to write and record in more than one approach. Producers know they can rely on Live to handle everything each individual project demands.
Many Audio interfaces and controllers come packaged with Ableton Live Intro and Live Lite.
Select models made by Focusrite, Roland, Novation and Ableton's own Push come bundled with an introductory version of Live.
While Live Lite and Live Intro are both excellent ways to get a taste of what Live is about. They only scratch the surface of what is capable with Live 10 Standard and Suite editions.
Ableton Live 10 Standard and the flagship Suite edition each offer a massive amount of potential. Jam-packed with instruments, effects and loops.
Suite edition also includes Max for Live. An integrated version of the legendary modular synthesis software favoured by artists on Warp Records roster.

With the top two versions of Live having so much to offer, wouldn't it be great if there was some sort of incentive to upgrade?
Well great news! You can now save up to £80 when upgrading to Live Standard and Live Suite from both Live Intro and Live Lite.
So if you've already got a copy of Live Lite or Live Intro, now is the time to upgrade!
Or if you don't already have Lite or Intro. This is the optimum time to put together a package with an audio interface or DAW controller and a Live upgrade.

The upgrades are already discounted, simply add the relevant upgrade to your cart and proceed with the payment. We'll then email you the upgrade code to entered into your Ableton account.
Offer not available on Educational and Multi Licenses.