15th Anniversary: Martin Week
Published on 02 September 2019

When you think of the acoustic guitar, you think of Martin, a name synonymous with quality and style. Among the most well-reputed and sought after acoustics in the world, Martin's incredible instruments have been at the forefront of popular music since their humble beginnings roughly two centuries ago. Favoured by every strummer from Willie Nelson, to Neil Young, to Kurt Cobain, they've played a big part in defining the sound of the modern acoustic and take it from us, they more than live up to the hype. In fact, to this day they're still innovating and designing exciting new instruments so we knew we had to spend a week focussing on their fantastic guitars.

All of this week, we're celebrating the world's most iconic acoustic brand, Martin! We've got absolutely loads for you to get involved in with some awesome events in our stores along with a HUGE giveaway so let's get right down to it...
Events
We're kicking things off by hosting Authentic Acoustic Restring Days at our Birmingham and Edinburgh stores. Not content with just designing phenomenal guitars, Martin also have a fantastic selection of strings so we're giving you the chance to have the Martin experts lace up your guitar with a fresh set! We rate their Authentic Acoustic range as some of the best playing, hardest wearing strings on the market and this is the perfect opportunity to try them out for yourself.
If you love checking out live music, you'll be glad to hear that the immensely talented John Goldie is joining us in Glasgow. John is an outstanding player and we're really excited to see what he's got lined up for us in this intimate event. Click here to book your tickets now.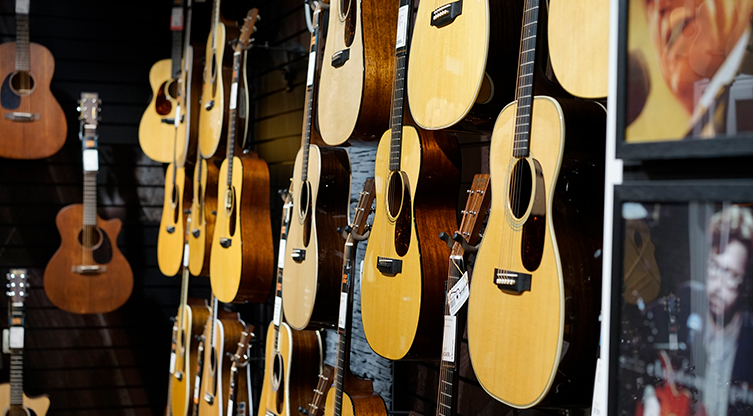 Next up, we're proud to officially launch the new Martin Room in our Birmingham store with An Evening of Martin History! We'll be joined by Martin Guitar Specialists Greig Dunning and Tommy McGinley to run through the brand's incredible back story and its impact on both the industry and music in general.
Our Edinburgh store has also just been kitted out with a brand new Martin room so we had to invite you all along to check it out too! We're celebrating the occasion by hosting a Launch Party where one lucky winner will take home a Martin LX1E just for coming along!
Free Authentic Acoustic Strings
Fancy trying something new but can't make it to our restring days? As part of Martin Week we're giving away a free set of Martin's Authentic Acoustic strings to the first 20 customers in each store who treat themselves to an acoustic! Why not stop by and see what all of the fuss is about?
Win a guitar signed by Noel Gallagher
This week's prize is an absolute belter, so if you haven't won already, Don't Look Back in Anger and Stop Crying Your Heart Out, cause this could just be your week... We've got a Martin Dreadnought Junior Sapele SIGNED by the one and only Noel Gallagher to give away to one lucky winner! Some Might Say this is our best prize yet so enter online or in-store for your chance to take home this awesome guitar!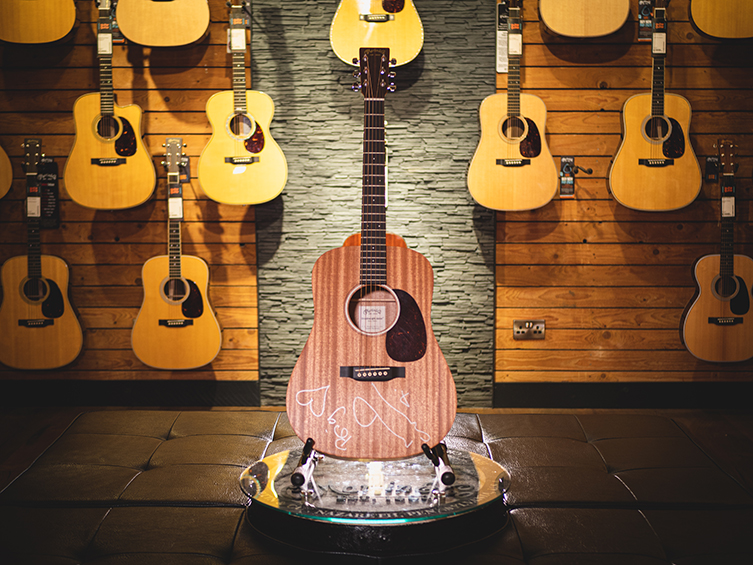 As with all of our 15th Anniversary giveaways, all you have to do to be in with the chance to win is stop by your local store this week (02/09/19 - 08/09/19) and fill out an entry ticket. These will also be entered into a grand prize draw where one lucky winner will take home a guitarguitar gift card worth £1500 at the end of the 15 weeks! You can also now enter online! Simply click HERE and follow the instructions on the entry page.

The Acoustic Week giveaway will run from 02/09/19 until close of business on 08/09/19, only entries within these dates will be valid.
Entries for all 15 Week Anniversary promotions are limited to one entry per person each week.
For full terms and conditions click here to visit our 15th Anniversary page.