Events: Roland New Product Launch Day
Published on 05 September 2019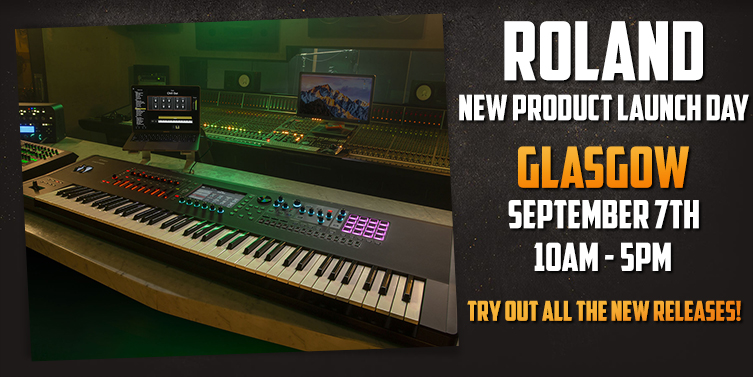 The latest DJ, production and performance gear is more accessible than ever and with more and more up and coming artists becoming masters of their chosen synths and integrating live elements into their mixes, it really is a great time to be a DJ or producer. We've seen mothership-esque live setups recently that have absolutely boggled our minds and when you see an artist who can really take control of their chosen gear it's seriously impressive, resulting in a totally one of a kind, unique performance. Roland have done plenty to help with this thanks to their advanced Aira lineup and countless other desk-sized synths, drum machines and more that sound exceptional on stage.
In fact, today sees the release of some seriously exciting Roland gear that harks back to quite possibly the brand's most cherished era, along with some brand new pieces of kit. With a new series of Fantom workstations giving keyboard players an unbelievably advanced platform to work from and the return of the legendary MC-101 and MC-707 in awesome grooveboxes, Roland are giving the people what they want and we couldn't be more hyped about it. On top of that, they've brought back the Jupiter with a new X series AND resurrected the sweet sound of the JUNO in a brand new JU-06A model so we knew we had to get all of you DJs, producers and noisemakers along to see how they sound!

On the 7th of September (07/09/19, 10AM-5PM), we're inviting you all to come along to our Glasgow Digital store to check out all of the latest DJ and synth gear from Roland! We'll be joined by Roland Specialist Andy Pimblott who's an absolute master of all things electronic and is hyped up to show off some of the brand's new tech. Andy plans on showcasing the brand new DJ-707, Fantom, JU-06, MC-101 and MC-707 along with any other Roland gear you fancy getting stuck into! On top of that, we've loads of giveaways and promos on the day including the chance to win a pair of Roland/Puma 808 Trainers, V-MODA Crossfade M-100 headphones or a Roland T-Shirt. If you love geeking out on all of the latest DJ gear, you won't get a better chance than this to see what Roland bring to the table. There's no need to book your space, simply come and join us!

Take a look at the brand new Roland Fantom in the video below: