Events: Takamine Restring and Clinic at guitarguitar Camden
Published on 10 September 2019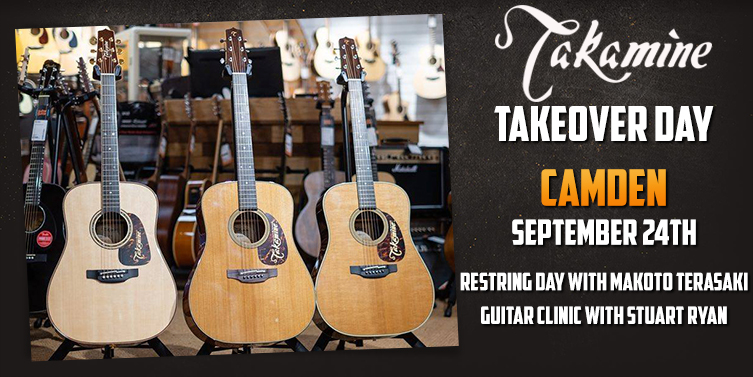 Among the most recognisable names in acoustic guitar, Takamine have been a favourite of strummers for years, but their story is every bit as impressive as their guitars. Starting out as a family business in 1959 at the base of mount Takamine, the brand have gone on to become one of the most highly regarded brands in the industry, designing instruments which continue to push boundaries even today. Let's be real here - if everyone from Springsteen to Simon Neil are on board with their incredible acoustics, they must be doing something right! We've long been in awe of their stunning craftsmanship, impeccable builds and forward-thinking designs and we're pleased to be able to bring something really special to guitarguitar for all you Takamine owners...

On the 24th of September, Makoto Terasaki, General Manager of Takamine, is joining us in guitarguitar Camden to restring and setup your Takamine guitar absolutely free of charge! Makoto is a master luthier who has been behind some of the brand's most well-regarded designs and to have him get hands-on with your own model is a truly incredible opportunity. His attention to detail is second to none and since he's an aficionado of tone and nothing short of an expert on Takamine, there's no one who could do a better job at getting your guitar sounding and feeling fantastic. Spaces will fill up fast so reserve yours ASAP to avoid disappointment!
On top of that, we thought we'd finish the day off with a Masterclass exhibiting what the brand has to offer and will be welcoming the extremely talented Stuart Ryan to run through all of their latest releases along with some of our old favourites. Stuart's an exceptional player who will be demonstrating plenty of his playing techniques and talking all things Takamine so we've no doubt this will be an outstanding night of music! On top of that you can get your hands on loads of awesome goodies just for coming along, including a KORG Tuner while stocks last. Why not join us to learn about one of our very favourite acoustic brands?

To reserve your restring appointment, call or email guitarguitar Camden on 0203 675 9100 or camden@guitarguitar.co.uk