First Look: New gear from Roland
Published on 05 September 2019
It's always an exciting time when Roland drops a new product. Roland have a long history of music technology innovation and their synthesizers and drum machines have birthed whole genres. So when something new is unleashed, musicians take notice.
Well musicians and producers take notice because today, Roland has unveiled not one, but a whole new line of awesome looking products!
Let's have a rundown of what's new.
Fantom Series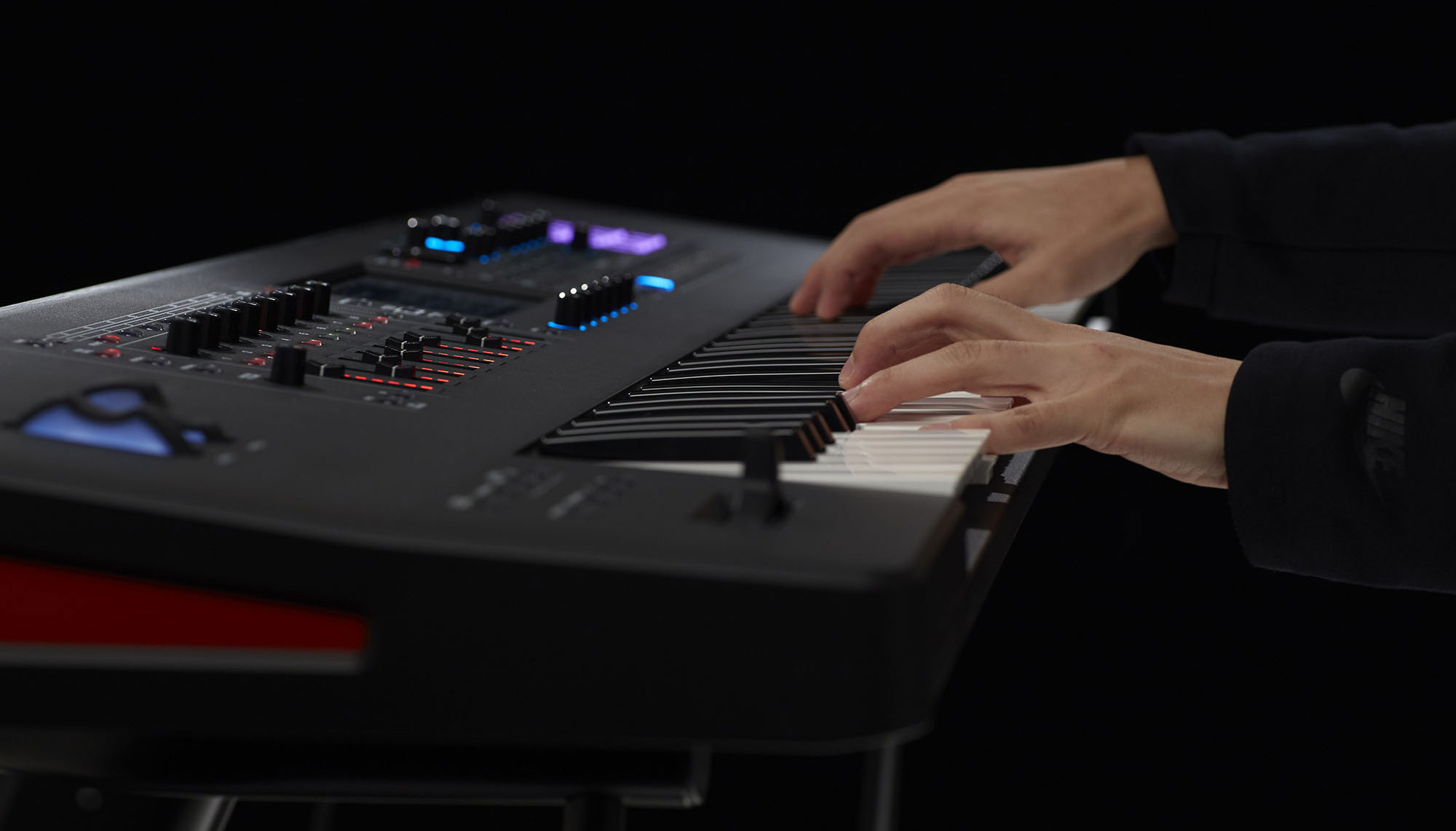 The Fantom is Roland's new flagship workstation. Taking a giant leap from where the FA-08 left off, Fantom ads some serious firepower under the hood.
Fantom is going to be a dream for professional musicians, producers and songwriters to use. It's packed full of amazing sounds, including the classic tones you'd expect from Roland. New sounds can easily be crafted thanks to an intuitive user interface, there are also a huge selection of effects to choose from and even an analog filter to throw into the mix.
There are also some amazing sequencing and composing options. Several different sequencing formats are available at your disposal, including using a piano roll and 808 style step sequencing to create patterns. While patterns can be chained together to create songs, we're excited to see the inclusion of a Live style clip launch mode. Laughing clips to play and remix your tracks on the fly is a process many of us will be familiar with and it's great to be able to do this without having to rely on a computer.
Fantom is available in three sizes. Semi-weighted 61 and 76 key versions and a fully weighted 88 key model.
What we've mentioned above is merely scratching the surface of what the new Fantom is capable of. It really is one synth to rule them all!
Groovebox Series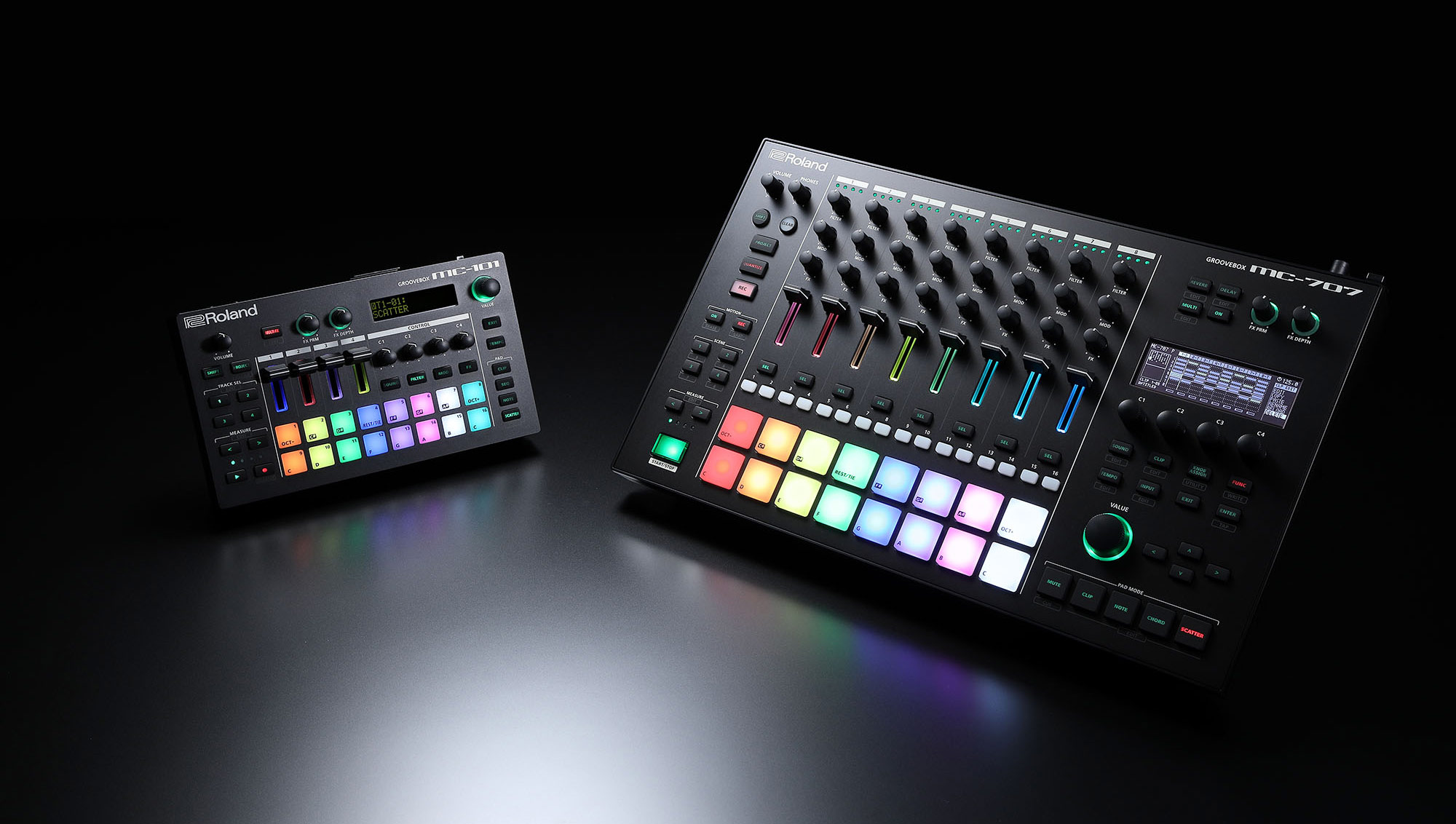 Groove boxes were seriously popular through the 90s and early 2000s. Their popularity sagged as people moved over to programs like Maschine and Ableton Live.
While relying on controllers for software is common for live use, people are starting to realise that computers still aren't reliable enough in the gig setting. Maybe sequencing hardware really was the best approach?
Step up the new Roland MC Grooveboxes!
Bringing the Roland groovebox concept (which started with the iconic MC-303) bang up to date. The MC-101 and MC-707 both offer a huge range of electronic music possibilities.
With multitrack audio and midi recording, synthesis, sampling, sequencing effects and more. You're free to create, jam, remix and mash-up tracks on the fly in high-quality audio on a system that isn't going to crash or glitch when you push it to the max.
Jupiter-X Series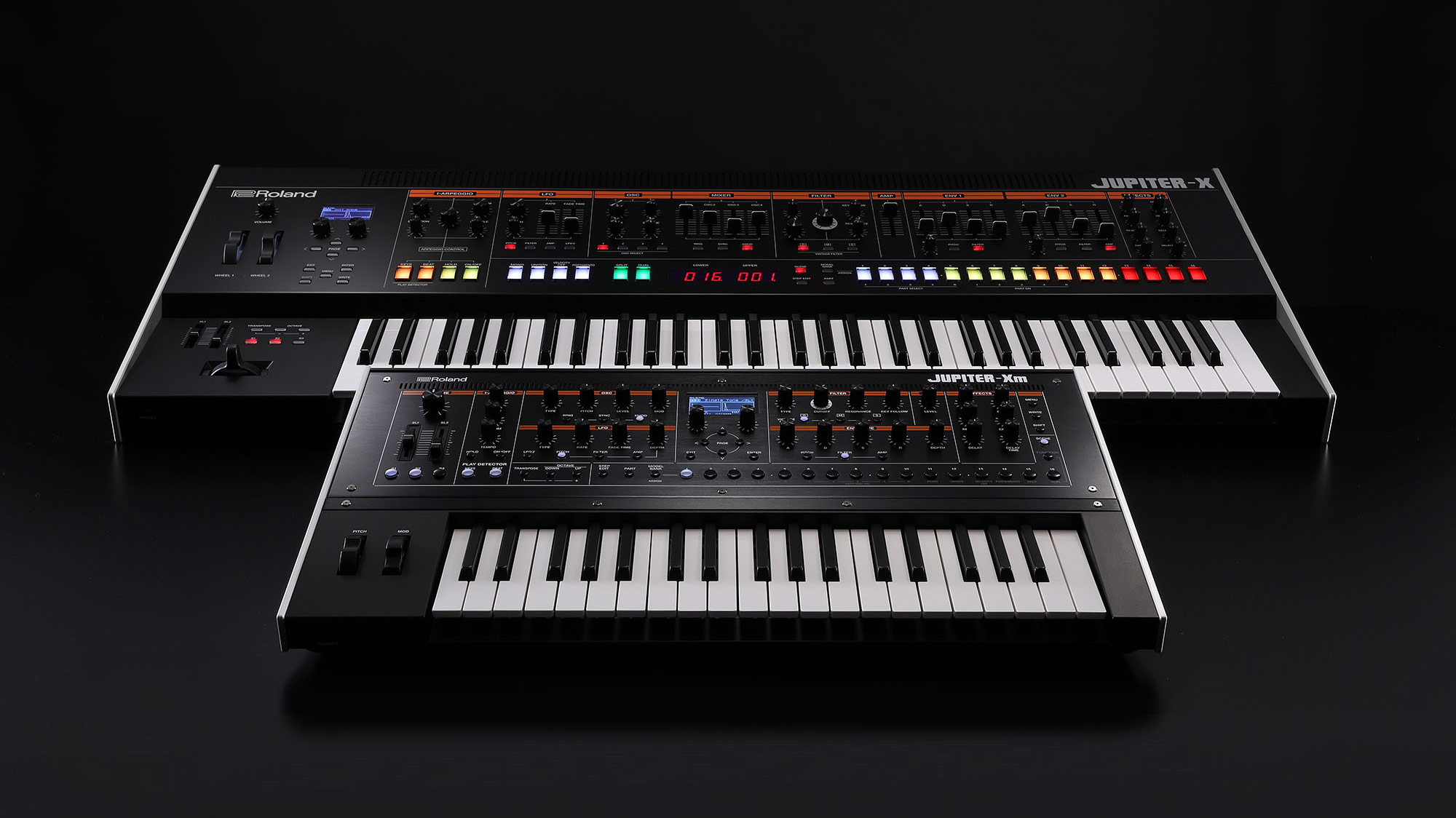 The original Jupiter synthesizers are stuff of legend. Countless massive hits have been created using them and they trade on the second hand market for thousands.
The new Jupiter-X continues the Jupiter tradition of featuring the best technology and construction to give you a true powerhouse of an instrument.
At your disposal is virtually every Roland synth sound from the last 40 years, including the original Jupiters, Junos, the SH-101, JX-8P and even the RD line of digital pianos. Classic drum machines like the TR-808, TR-909 and CR-78 are also included.
One of the truly unique features we're keen to test on the new Jupiter is the I-Arpeggio. This uses artificial intelligence that reads what you're playing to generate drum parts, basslines, chords and arpeggiated lines in real-time! Is it just us or does that sound absolutely insane?
The full size 61-note Jupiter-X and 37-note slimline Jupiter-XM definitely have that iconic Jupiter look and after seeing the spec, it definitely looks like they're going to continue the legacy in an honourable fashion.
JU-06A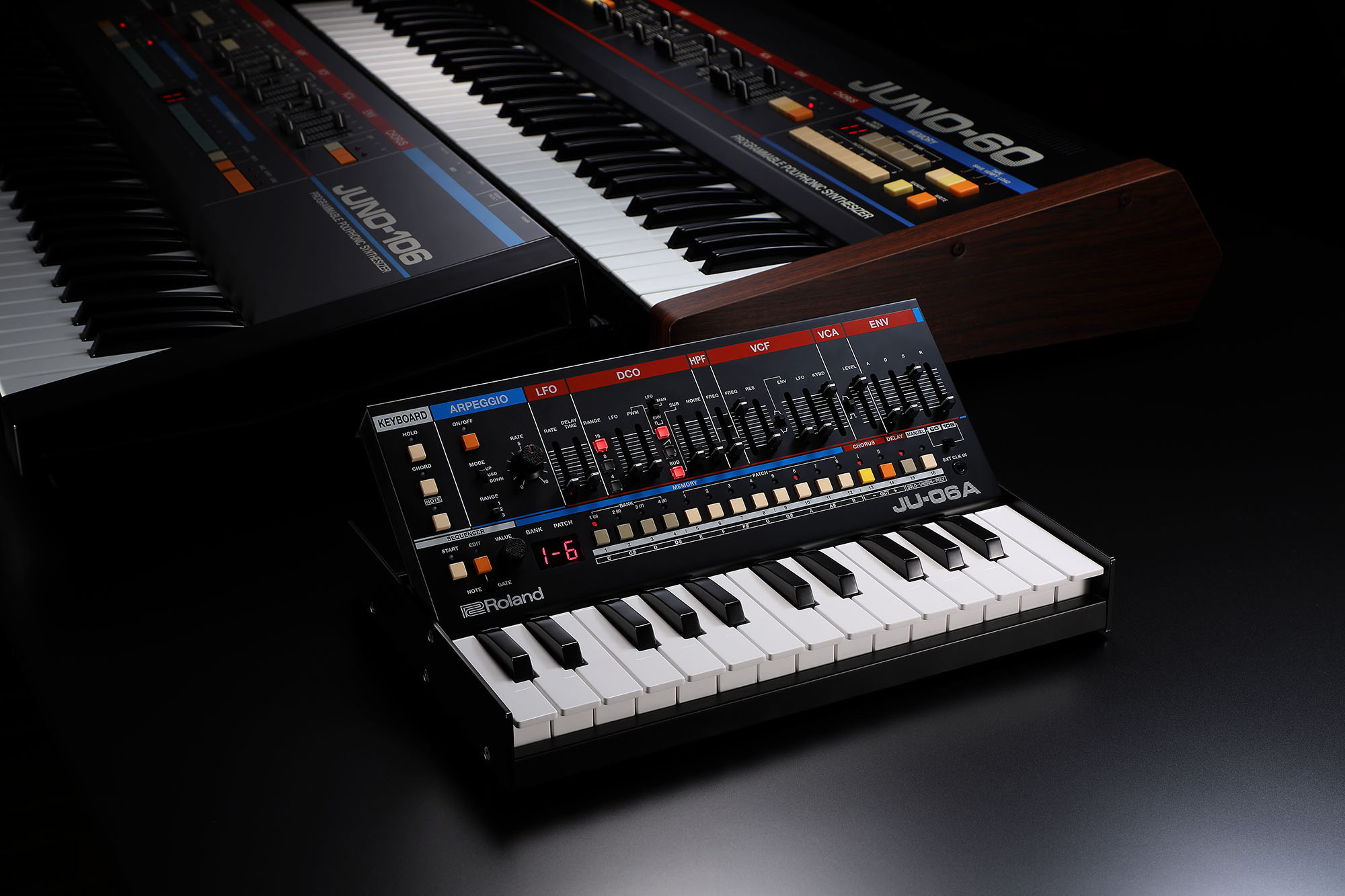 When Roland released their original line of limited edition Boutique synthesizers, we don't think they realised quite how popular the JU-06 was going to be. The JU-06 combined what was great about the JUNO-60 and JUNO-106 and distilled it down into a tiny package.
That JUNO sound is still very common in popular music today, so when people had the chance to access that iconic sound for a few hundred pounds they jumped at the chance. The JU-06 sold almost instantly and has gone on to trade for almost double its original price on the second-hand market.
As an answer to the demand for that classic JUNO sound, Roland are announcing the updated JU-06A.
It's not just sporting a new paint job, the JU-06A also has an improved sequencer, interface, trigger in, arpeggiator and more.
If you're looking for that JUNO sound in a compact form. Here's your chance!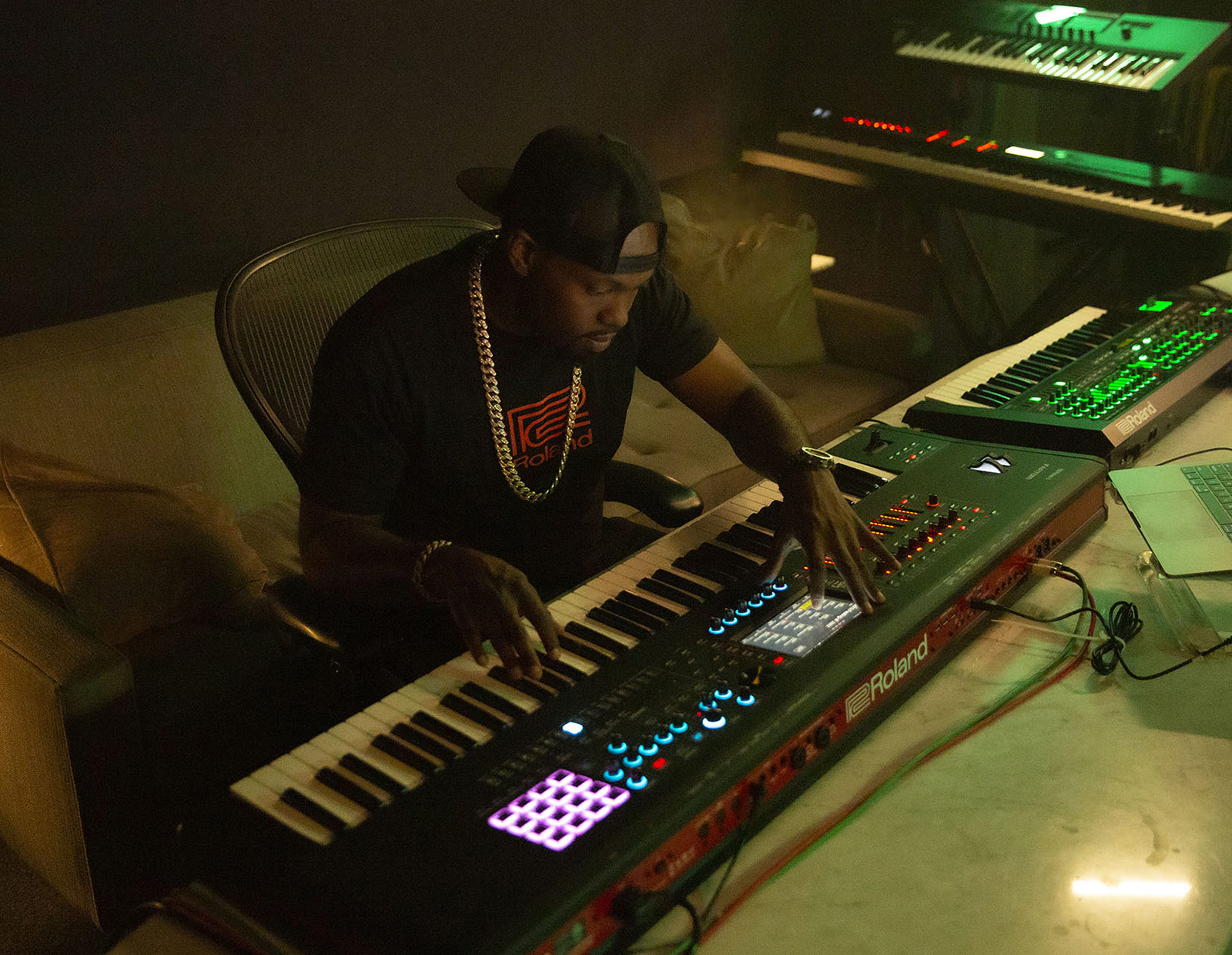 We're sure you'll agree that this is a very exciting line up of products coming from Roland. While most are available for pre-order and due to arrive before the end of the year. We're extremely surprised that the Fantom is available right away!
With this this many great products unleashed in one go, we really can't wait to see what's next in line from Roland!