Martin Week: Notable Martins
Published on 06 September 2019
As we continue our week-long celebration of all things Martin, we thought it would be interesting to look at some of the more notable Martin instruments that have come into existence over the years. These are not artist-related guitars, since we've looked at that type of thing already. The Martins here are limited run special editions or indeed one-off instruments that have caught our attention. Martin's artisans in Nazareth, Pennsylvania are some of the most skilled in the world and today's picks show these skills off admirably!
Most of our choices are relatively modern, but our first is from the very dawn of Martin guitars, and indeed 'guitars' in general...
Oldest Surviving Martin Guitar
Now this is one reissue we'd like to see! This guitar is the oldest surviving example of C.F. Martin's hand-made guitars. This example is from 1834, a mere year after he set up shop in the US. The amazing shape and details are influenced by a style of guitar attributed to Vienna-based Italian luthier Luigi Legnani.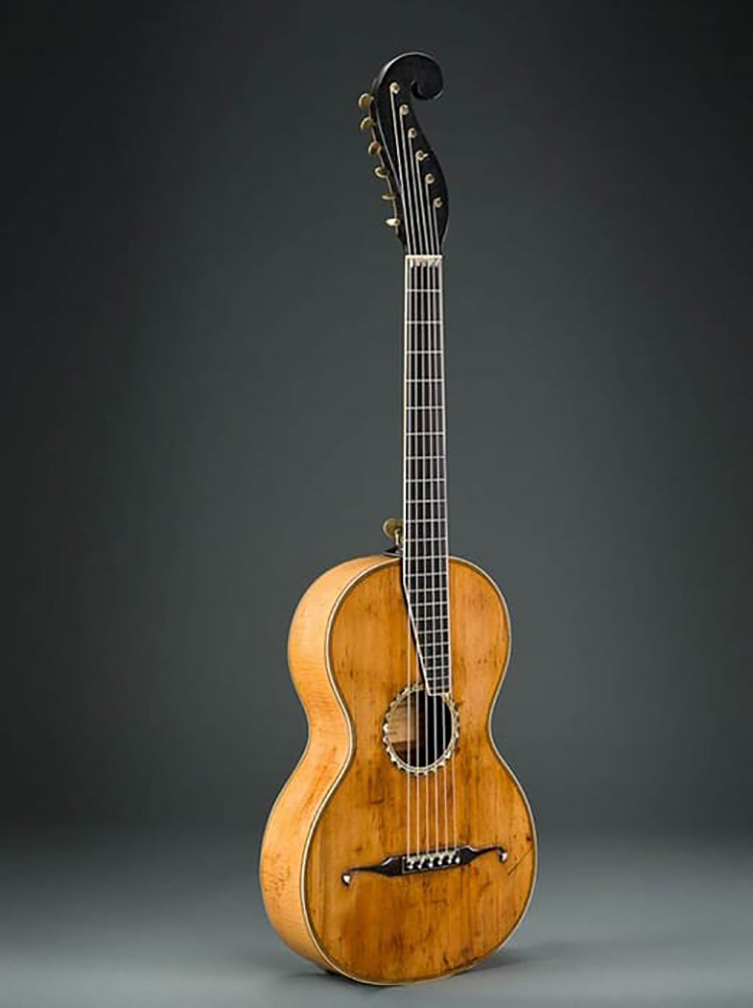 This is the oldest American acoustic guitar in existence. Examples like this are super-rare and show off the wonderful imagination (and skills!) of luthiers like Christian Martin. This looks like the type of guitar Salvador Dalí would strum of an evening! The smaller body pre-dates even parlour styles and shows how much guitar builders were influenced by not only lutes but also cellos and other orchestral string instruments. More like this please!
Millionth Martin
Anybody who thinks that Martin guitars are often on the more 'subtle' side of the visual spectrum need to get a load of this beauty! This is Martin's millionth guitar, made in 2004.
There may be more opulent guitars in existence, but if there is, we don't think we've come across them! If we'd been making guitars for 171 years, this is how we'd like to imagine celebrating it!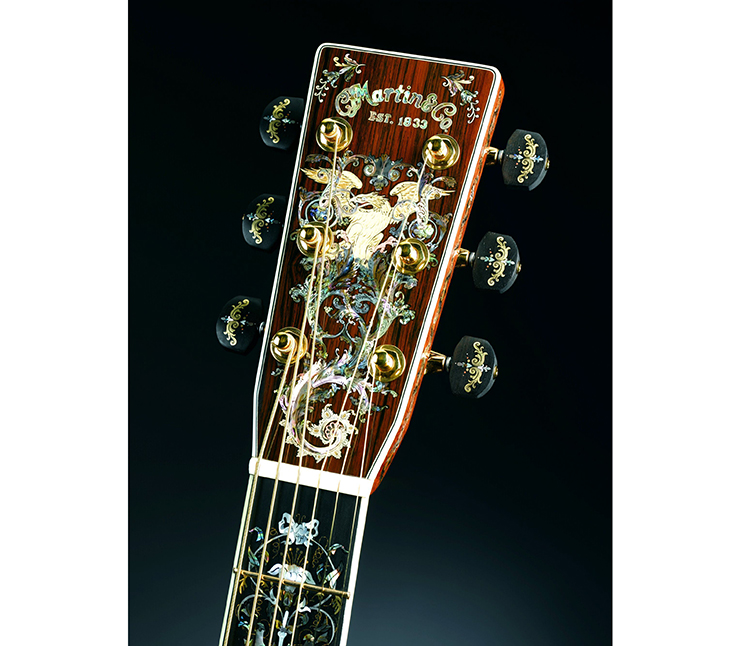 Now, we know that it's perhaps not intrinsic to the guitar's appeal, but you may as well know that it's made from Adirondack Spruce, Brazilian Rosewood, Mahogany and Black African Ebony. In other words, the best tone-woods available on planet.
On top of that, you also have Sea Snail (we nod our heads and pretend we know what that means in inlay terms), Abalone, Mother of Pearl, White Gold, 18-karat gold, diamonds, emeralds, rubies, sapphires and aquamarines. It's basically an entire pirate's treasure chest poured over a museum-quality Martin dreadnought. Suffice to say, we find it quite gobsmacking, and if you don't, you are entirely too hard to impress.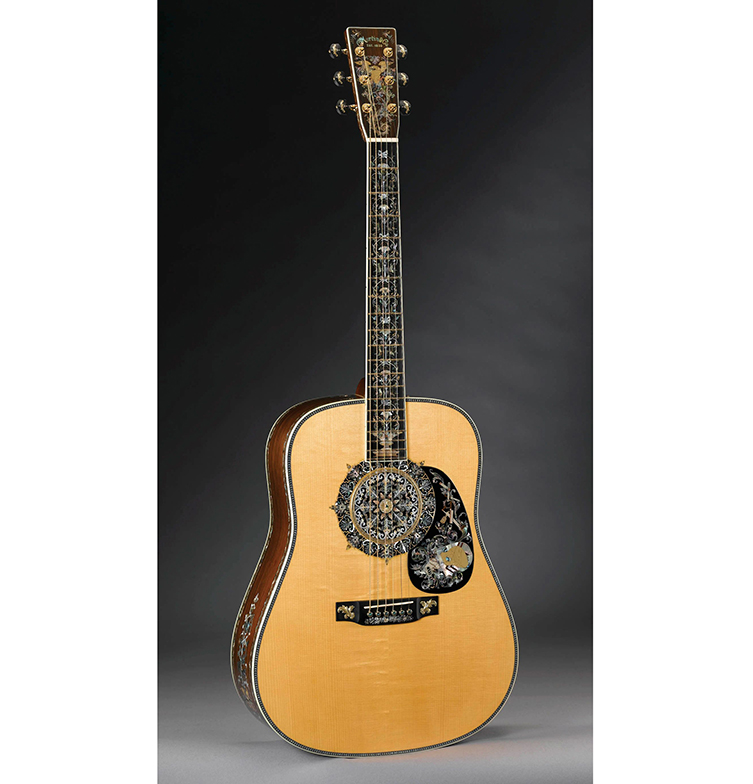 Mona Lisa Martin
A mere seven years later, Martin were celebrating their 1.5 millionth guitar build! Incredible! To properly bring in this milestone, Martin's artists turned to the man who is indisputably one of the world's true geniuses: Leonardo da Vinci.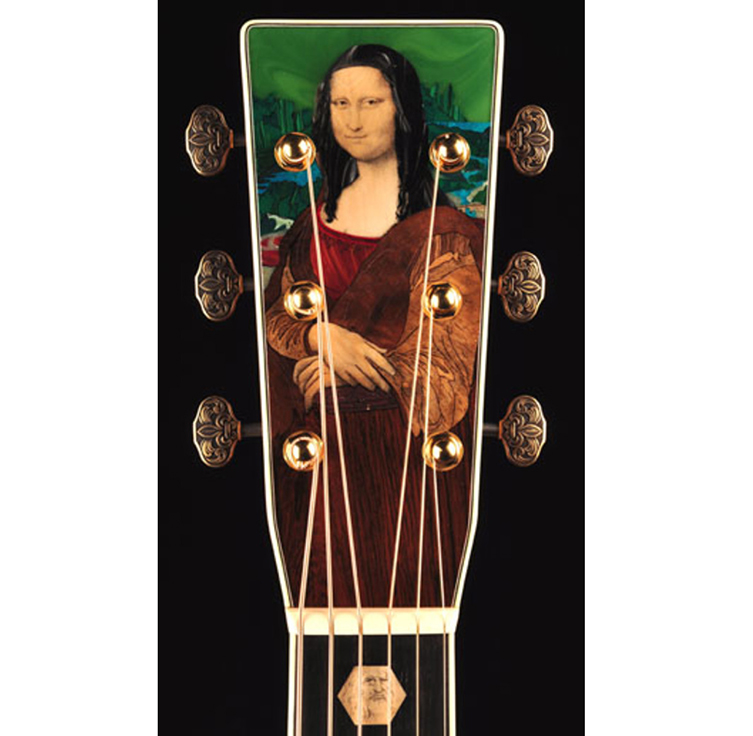 Now, we'll be honest here: we don't really understand what connection the 15th century Italian Renaissance Master has with the 19th century American guitar maker, but let's not spoil the fun! This spectacular D-45 is festooned with detailed references to Leonardo's best-known works. It's actually quite a strange concept to type the following sentence, but here it is...this guitar has a detailed headstock inlay of the Mona Lisa, a colourful inlaid pickguard of The Last Supper and a large inlay on the back of Leonardo's Vitruvian Man!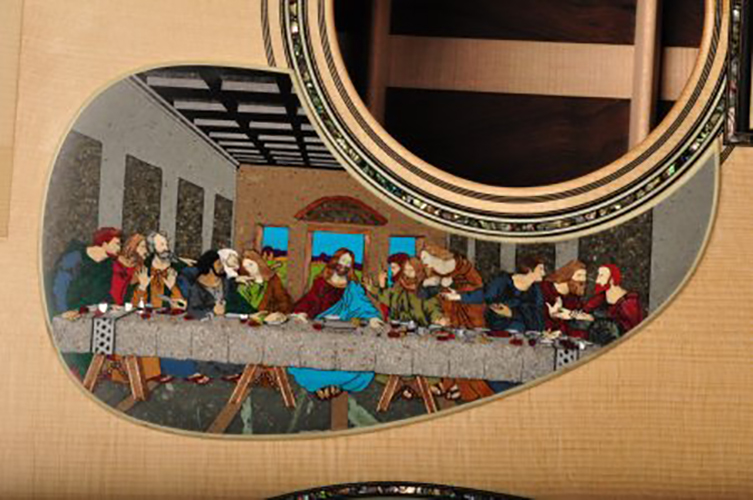 The maestro himself appears on the inlay to the 1st fret, alongside recreations from his famous sketchbooks on subsequent fret markers. Have you ever seen the likes of this before? Even the gold tuning pegs took 25 hours EACH to make!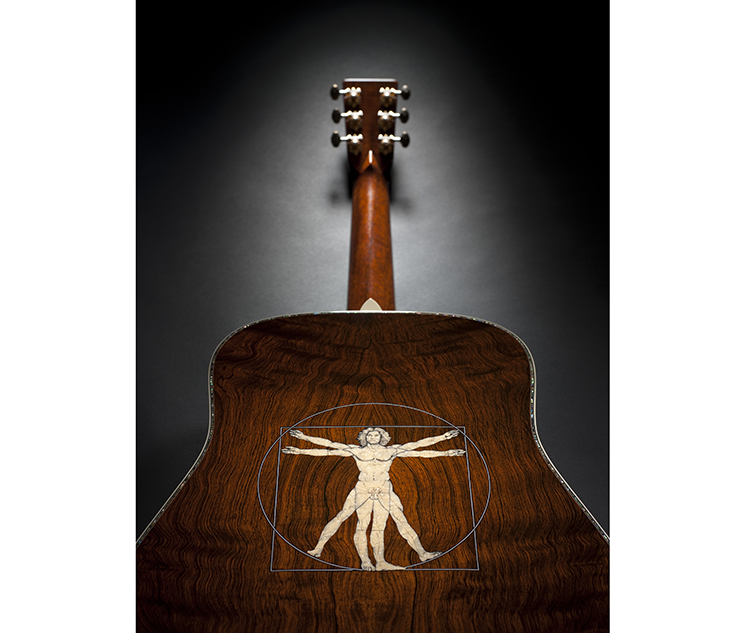 A labour of love, indeed. Leonardo would be proud. Thankfully, there is no sign of Dan Brown...
D-45 Excalibur
As with the Leonardo-tribute instrument we just looked at, we aren't quite sure how closely tied the American (Germanic originally, we concede) Martin guitar company is to this most Celtic/British of Legends, but it matters not a jot when we get to check out inlaid dragons!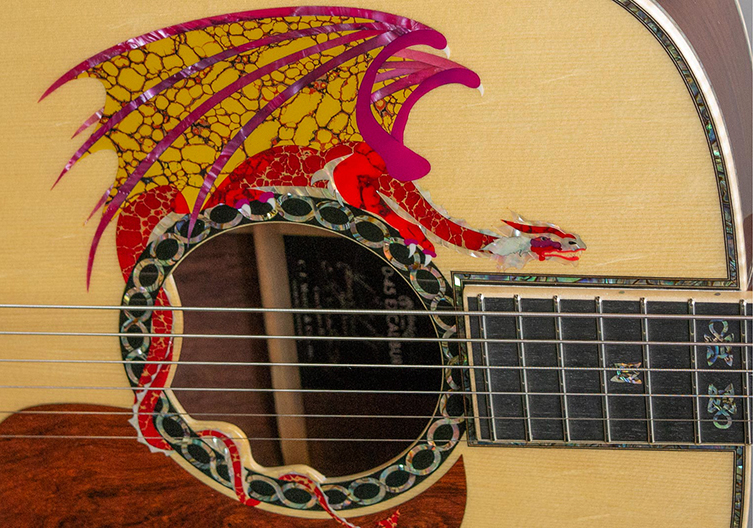 So, why is there a Dragon on this guitar? Well, whilst we wouldn't say we were particular experts on Arthurian mythology, we have read our share of Mallory's Dark Ages epic, and we also don't remember the legendary sword being hidden in a dragon's tail like Martin say...it was pulled from an anvil or a stone, right?
Never mind. Some stories talk about a dragon breathing on the blade, thus giving it it's supernatural power. Excalibur shows up here pretty spectacularly, in the most appropriate place, considering its dimensions: right down the fingerboard! The headstock bears a detailed inlay of the hilt, itself entwined with another serpent.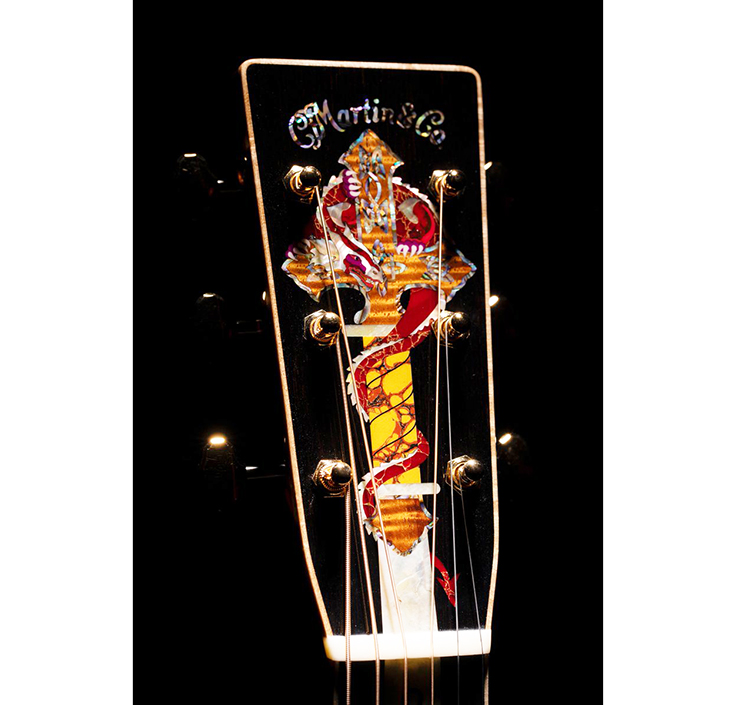 The main dragon perches on the sound hole, with some exceptional inlay work by Harvey Leach. A further creature is inlaid on the back, and the instrument is heavily 'abalone'd' and 'mother of pearled' in all of the more usual places. Englemann Spruce and Madagascan Rosewood round off the supremely high spec of this guitar, an instrument fit for the Once and Future King indeed.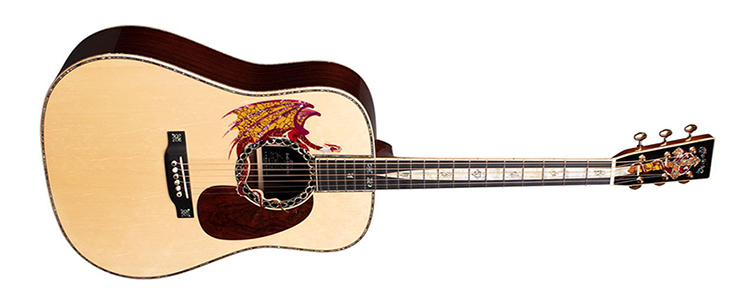 2 Millionth Guitar
Did you ever fancy having a guitar with a watch in it?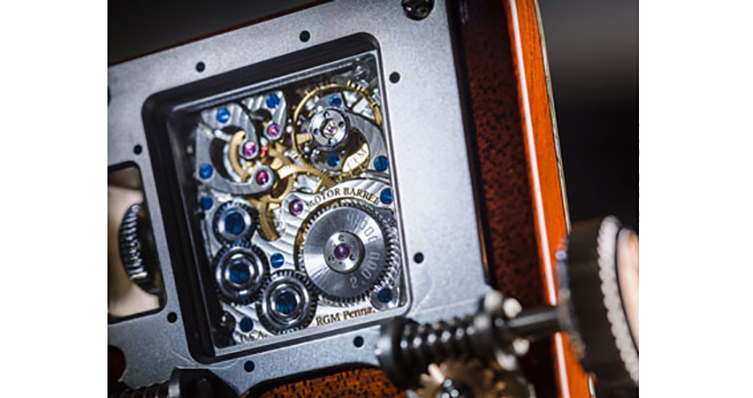 Eh...well, here's one anyway! It's Martin's 2 millionth guitar. This time, the treasure trove of riches on display is a collaboration with Pennsylvanian watchmakers RGM. This vision is ostensibly a D-45 with Englemann Spruce, Brazillian Rosewood and a working watch built into the headstock.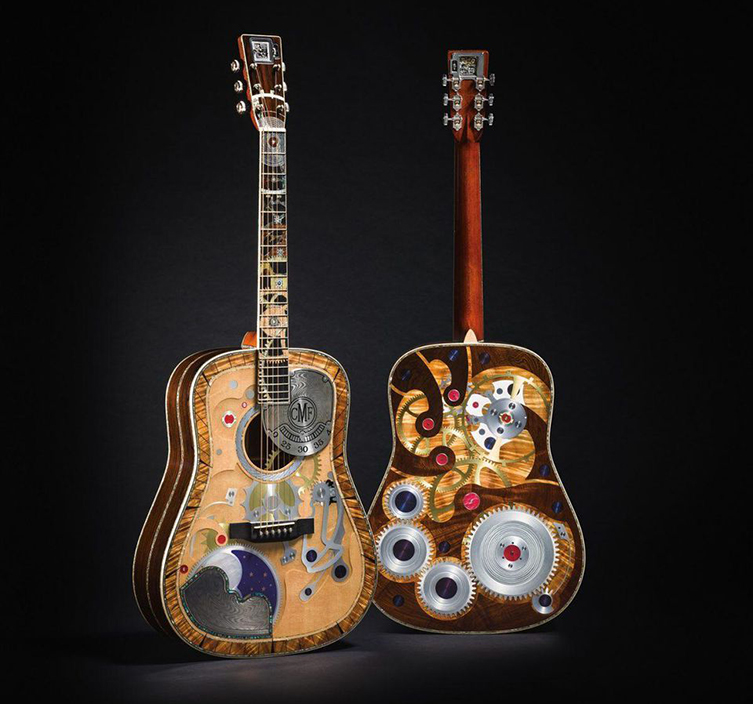 This is, presumably, to make the guitar double as an unfeasibly ornate wall clock when hung from a wall hanger, but, as you've no doubt noticed with this parade of ostentatious special edition guitars, 'why' doesn't often factor into Martin's plans!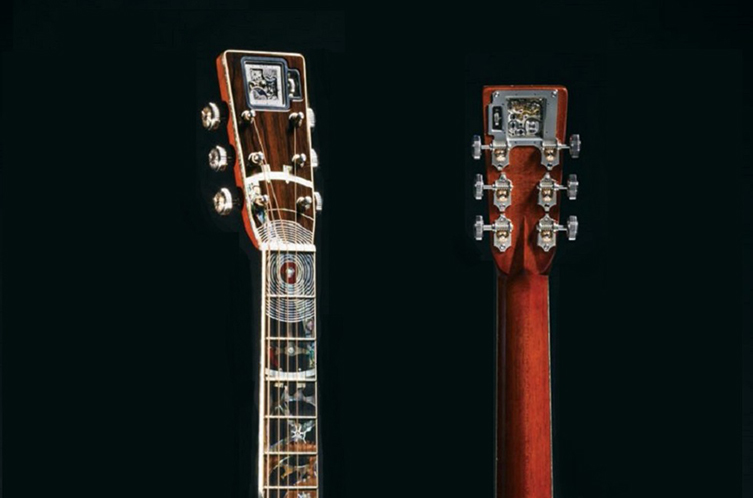 There is also the Deluxe D-200 ('Deluxe' being quite the understatement), which is another collab with RGM watches. Lots of engraved metal (called guilloché, we learned), flamed Koa, ebony and pearl adorn this ever-so-slightly more subtle Martin. 50 of these were made, compared to the one-off of the 2 Millionth guitar. No working watch on this one.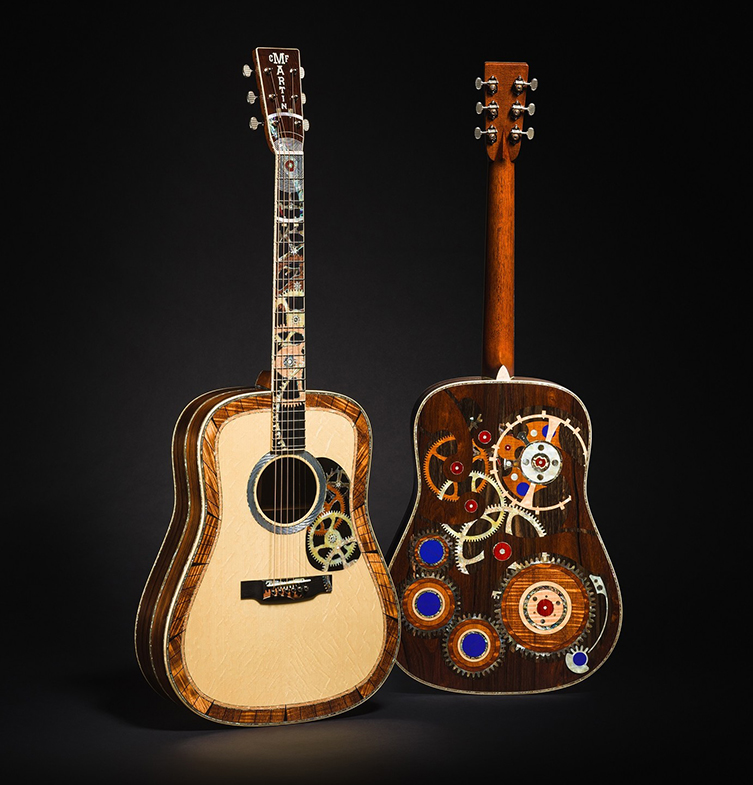 DX Woodstock 50th Anniversary
Our last choice is something of a curveball, considering what we've just seen!
Martin are celebrating the half-centenary of hippy culture's high watermark with a couple of limited-edition dreadnoughts. This is the bolder of the two and, surprisingly, the most affordable.
X series Martin guitars are made in Mexico and are more economically built in order to come in to the customer at a cheaper price. Nevertheless, the DX (D for Dreadnought) Woodstock has a large red graphic print of the famous poster from back in 1969 emblazoned across the entire top of the guitar. There can be no mistaking the theme here!

The guitar's body and top are entirely made from High-Pressure Laminate, a standard choice for X series bodies but an unusual choice for soundboard. A Fishman pickup system guarantees a quality plugged in sound, for whenever you need to get your message of peace and love out to a bigger audience!
Final Thoughts
We hope this short article has demonstrated some of the more arcane, esoteric and highly talented examples of work being carried out up in those hills in Pennsylvania. Martin are the original American acoustic guitar brand, and their special edition guitars are some of the most impressive - if unorthodox - designs in existence. For a company unfairly criticised for being relatively 'plain jane' when compared with brands like Gibson, Martin have shown that, in fact, the very opposite is often true!
We can't wait to see what they come up with next.
Until next time
Ray McClelland