Events: Jeff Berlin Cort Bass Clinics
Published on 11 September 2019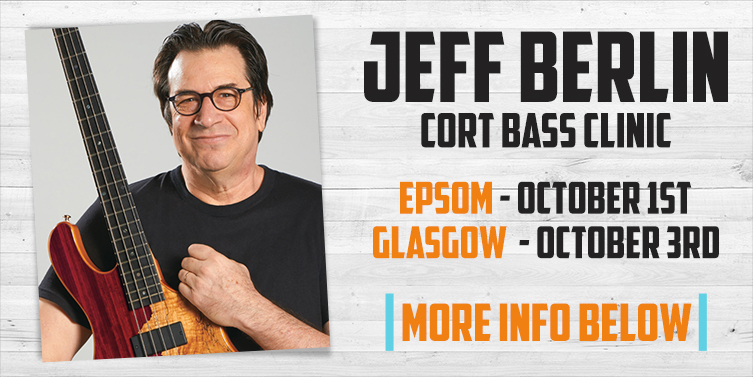 As much as guitarists often steal the limelight, there's nothing more important than a solid bass player. A good bass player really is an artist. Someone who can command the stage and seize every performance, making heads nod, bodies move and songs come to life. It's a tough thing to master and it requires as much restraint as it does showmanship.
One player who knows this all too well is the incredibly talented Jeff Berlin. A true expert in every sense when it comes to pretty much all aspects of bass guitar, Jeff is an outstanding player who's knowledge of his instrument is absolutely unmatched. With years of experience in teaching and performing, we've been desperate to get Jeff along to one of our stores for some time and we're very pleased to share that he's joining us for clinics this October!

In association with Cort Guitars, Jeff Berlin is hosting clinics at our Glasgow and Epsom stores and we're seriously excited! Jeff's an extraordinary player whose spent countless years teaching, playing live and writing music so we'd thoroughly recommend checking this out if you're a bass player. We're massive fans of his and of Cort's awesome basses so it'd be a drastic understatement to say we're a little bit hyped up for the events. Jeff will be running through some techniques, discussing his rig and bass guitars and of course doing plenty of playing. If you fancy learning a few new tricks from a true master, or even just hearing some great playing, bag your tickets now and come along!

Click HERE to book your tickets for our clinic at guitarguitar Epsom on 01/10/19
Click HERE to book your tickets for our clinic at guitarguitar Glasgow on 03/10/19

Can't wait for the event? Check out a couple of tips from Jeff in the video below!