Epiphone Limited Editions
Published on 16 September 2019
New Epiphones!
We have some brand new, fresh Epiphones to share with you today!
Not only that, they are all Limited Editions!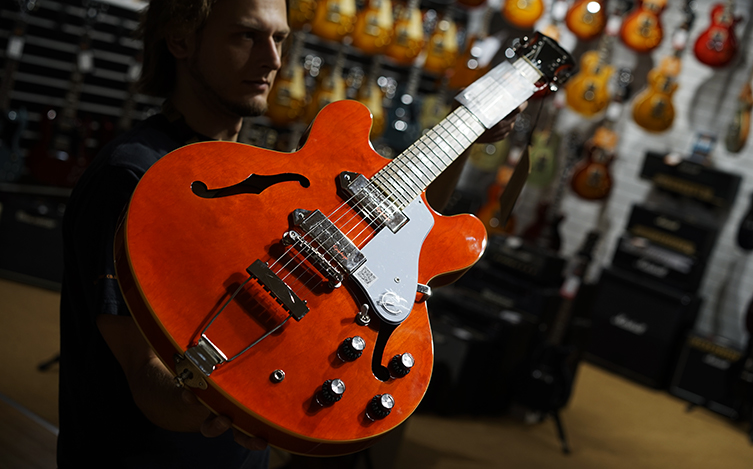 Gibson's sibling brand tend to be very effective at combining vintage guitar designs with modern features and colours. They keep their plans within the parameters you'd expect, whilst being relatively bold within those parameters. The result is often excellent, as this delivery of Limited Edition guitars able proves.
Why don't we have a little look-see?...
Les Paul Lite
We have new Les Paul models, both Standards and a Custom, in a new 'Lite' style. But what does that even mean? Simply put, the bodies are chambered for weight relief. In other words, the main mass of the body, made with Mahogany, has large areas scooped out and emptied before the top wood (Maple on the Standard, Mahogany on the Custom) gets fixed down.
It's not 'skinnier' in either dimension or sound, so don't worry about that! The thick signature Les Paul tone is still here, with perhaps an ever-so-slight shift in the midrange.
The Epiphone Les Paul Standard Lite is available in Ebony and Cherry Sunburst, whilst the Custom model is available in Alpine White.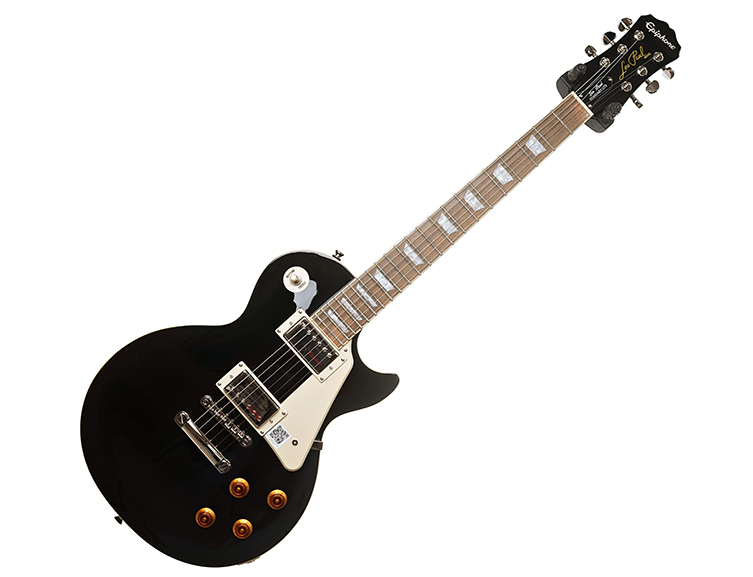 These models are great for gigging players who want the look, sound and vibe of a Les Paul but not the weight. They are, like all Epiphone guitars, excellent value.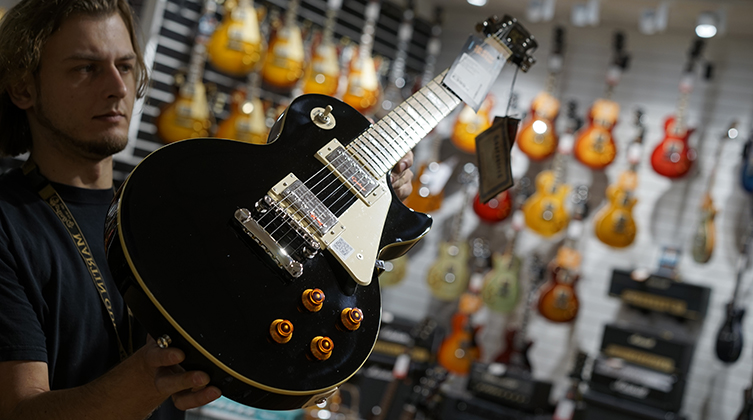 SG G-400 Deluxe
Everyone loves an SG. They deliver a good mix of thickness and bite, with a classic 'Rock' look that summons up everything from Sabbath through Ackka-Dackka to Zappa!
These Limited Edition Deluxe G-400 models from Epiphone are a pretty joyful combination of features. On top of the usual G-400 spec (set neck, full Mahogany build), you get upgraded alnico pickups and a gorgeous slice of AAA flame maple on the guitar's top!

So, the pickups are a significant upgrade: Epiphone's Alnico Pros have been heavily researched and modelled on vintage PAF units to get a sound that's well above the guitar's humble price tag. These units are even coil-splittable via a set of push/pull controls in the knobs, so you can thin out your sound for cleaner, skinner funk & arpeggio tones.
In addition to the lovely flame top, you get a few new colours (including Translucent Blue, Honeyburst and Translucent Red), upgraded tuners and gold hardware to boot!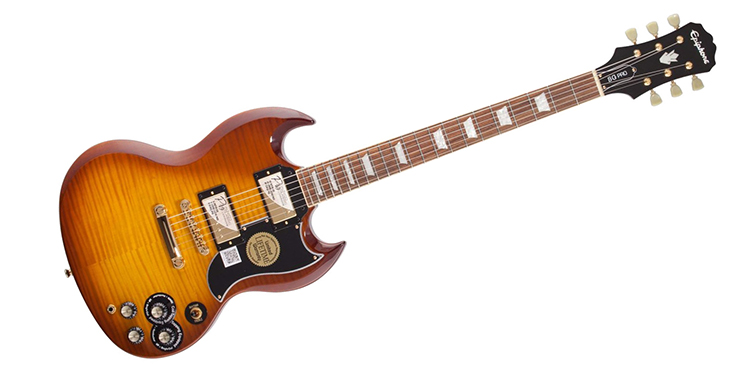 How can you fail?
Les Paul Traditional Pro-III
This is pretty special.
At first glance, this is simply a good-looking Les Paul Standard. But dig a little deeper and the quality features of the Les Paul Traditional Pro-III start revealing themselves.
The most notable, in our opinion, is the inclusion of Gibson USA pickups! We're talking proper, real-deal Gibson humbuckers here: a '57 at the neck and a Super 57 at the bridge. This are very similar (though not exactly the same) as '57 Classics, the models made to Seth Lover's exact design. PAF-tastic!
There are push/pull coil taps here, too, along with a push/pull out-of-phase option (very distinctive, especially on an LP) and, brilliantly, an active 15dB boost! You power this with a battery and there's a dedicated compartment in the back of the guitar. This feature is great for solo boosts.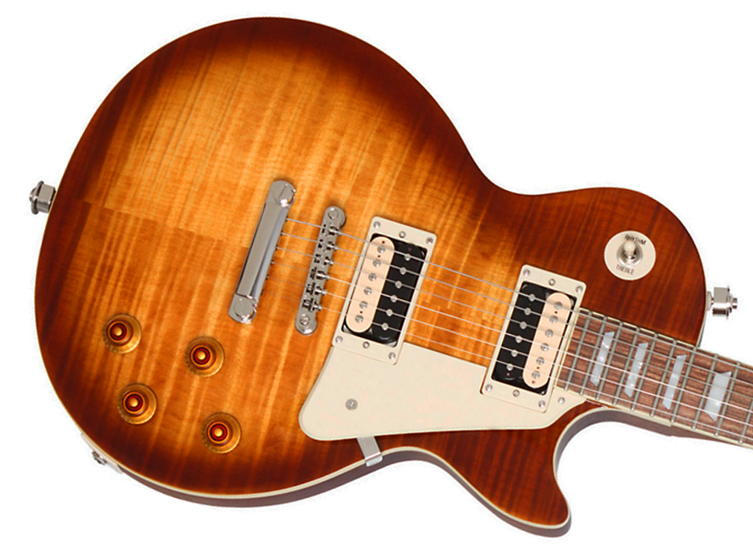 As with the G-400, this Les Paul has a veneer of AAA Flame Maple to achieve that famous Tiger stripe look. Available in two appropriate burst finishes, these are quite stunning instruments.
335 Pro
Epiphone's best-selling electric weighs in with a lovely Limited Edition model of its own. Available in Vintage Sunburst and Cherry, this Epiphone 335 Pro brings with it small Block mother-of-pearl fretboard inlays and those excellent Alnico Classic Pro pickups. Additionally, there are separate coil splits for getting some skinnier, single-coil sounds.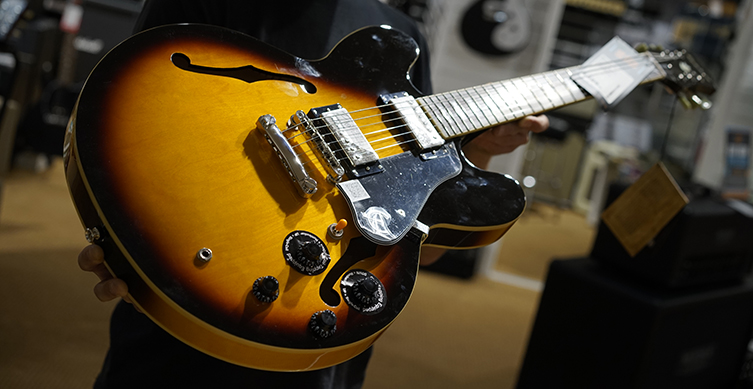 Wilkinson tuners are good upgrades too, with a suitable vintage look to increase the charm.
335-style guitars are some of the most versatile out there, and this particular model, with the spec-to-price ratio that is has, is an atom-smasher of a deal.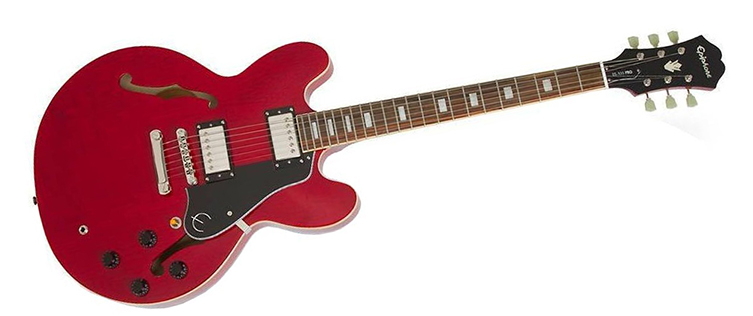 Also
Two further limited edition guitars make up this special run. First of is a newly reissued EJ-160E electro-acoustic. This guitar is often nicknamed the 'John Lennon' due to the association with the head Beatle. This guitar now sports a solid Spruce top and an upgraded pickup.

The solid top allows a higher quality tone from the get-go, with a sound that will mature and develop as the instrument ages. It's a marked difference to a ply-top. The pickup system, the Epiphone Stacked P-100, is a single coil magnetic pickup with hum-cancelling properties. Gigging singer-songwriters can enjoy an excellent sound all wrapped up in a historic package!
Lastly, and equally Beatle-esque, is the Casino. Epiphone's most authentically styled semi is no Gibson licensed design: Epiphones were what John, Paul and George actually used back in the day!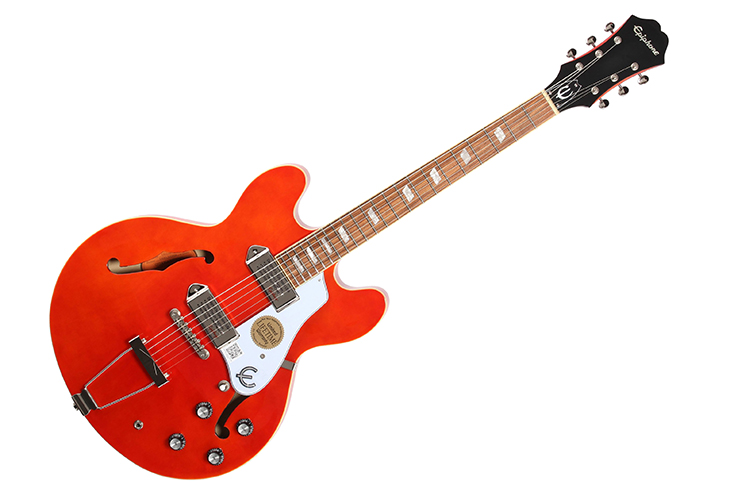 The Casino is Epiphone's entirely hollow, double P90 pickup guitar and there isn't much that needs changed here apart from an exciting new Sunrise Orange finish! It's a beaut!
Final Words
These are guitars to get excited by! They bear all the hallmarks of classic electrics, plus they pack in the features and come in elegant, eye-catching new colours!
These fabulous new Epiphones are available now and are in our stores now! They are, as you'd expect, selling fast and are in limited supply! Get in quick to secure yours and enjoy these special Limited Edition Epiphone guitars!
Ray McClelland