Events: Gretsch Saturdays
Published on 30 September 2019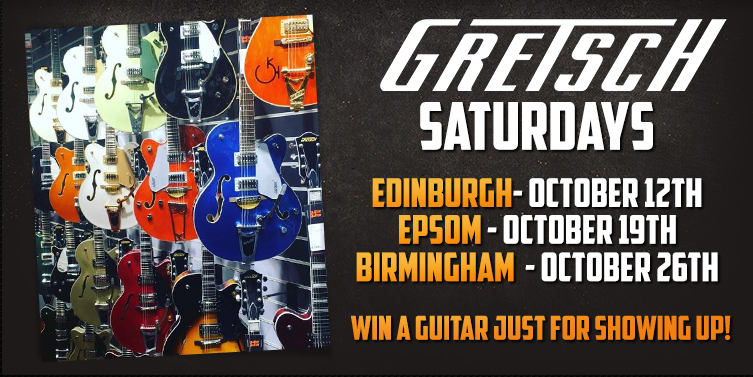 There aren't many guitars that ooze class and style quite like a Gretsch. Every single model from their more affordable guitars to the pinnacle of their production lines is an elegant beauty that has a distinctive charm and vibe. In any of our stores, the Gretsch wall is one of the first things to catch your eye with rows upon rows of gleaming, curvy axes that you fall in love with before you even play them. But then you play them and you REALLY understand just how incredible they are. Looks aren't everything folks and thankfully Gretsch always make sure they have the tone and playability to match.
If you haven't tried out one of their guitars for yourself, you're really missing out on something special. Not only do they sound fantastic, but they're also frighteningly versatile. Let's be honest, they're favoured by everyone from Brian Setzer to Tim Armstrong - so they can cover a lot of ground! We've been dying for an excuse to invite you all along to check them out but we've done even better than that, we're giving you the opportunity to win one for yourself...

We're throwing a series of Gretsch Saturdays events in our Edinburgh, Epsom and Birmingham stores where you can try out all of their latest guitars, along with plenty of old favourites! Gretsch specialist Damon Chivers will be joining us to talk you through the range and help you on your journey to find the perfect guitar. We'll have a huge selection for you to check out including plenty of rare and one of a kind models that you won't find anywhere else. If you've had your eye on a particular guitar, or simply feel like browsing the full range then you won't get a better chance than this to try them out and get schooled on them by a true Gretsch expert.
That's not all though, we're giving you the chance to win a brand new Gretsch 5420T Electromatic just for coming along! These are seriously beautiful guitars that sound every bit as good as they look and you could take one home just for getting involved. To enter, all you have to do is either play any Gretsch guitar at your closest store (Edinburgh, Epsom & Birmingham only) in the week leading up to the event OR simply turn up for their Gretsch Saturday! We'll give you a competition slip to fill in and you'll be in with the chance to bag yourself a new guitar - it couldn't be easier. We have one to give away at each event so there are plenty of chances to win. Come down and enter!


There's no need to reserve your space, simply head to the store to get involved.