Events: Luke Juby Yamaha Demo Weekend
Published on 24 September 2019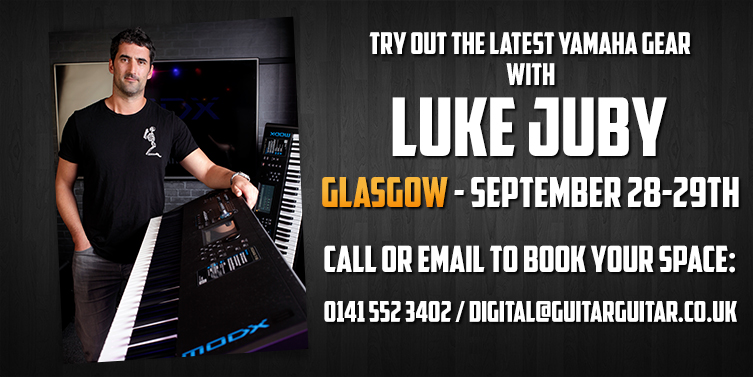 Absolutely on top of their game when it comes to keyboards and synths, Yamaha's innovative equipment has always been a first choice of ours when it comes to playing in the studio or on stage. It's no secret that their gear is among the most well built on the market but not only that, it consistently sounds and feels awesome and is seriously reliable. The models in their acclaimed Montage range are easily up there with the most advanced workstations available and are favourites of gigging keyboard players all of the world. When you also consider the frighteningly powerful MODX and CP series then you start to get an idea of just how much Yamaha have got to offer! The brand have just released an update to their already outstanding operating systems to make their capabilities even more extensive and we're seriously excited to check it out. We've been desperate to get you all involved and we have a great day lined up where you can do exactly that!

We're pleased to invite you to join us in checking out all of the latest gear from Yamaha as we welcome keyboard aficionado Luke Juby to our Glasgow Digital store! Luke will be hosting one to one sessions all weekend where you can get stuck into the brand's incredible range of keyboards and experience what they can do. With a long career in the industry as a session musician for artists such as Leona Lewis and Olly Murs and a songwriter for everyone from Emeli Sandé to Professor Green, Luke is a seriously talented player and an absolute font of knowledge when it comes to Yamaha keyboards. On top of that, he's just finished a worldwide tour with the Script and has been a member of Mike & the Mechanics for the last 8 years, so it's safe to say that he knows his way around the stage!
If you've been meaning to check out the latest gear from the brand, or need a little advice on gigging or recording then there's no one better to help you out. Head down and spend some time with Luke - you might even get your hands on some free goodies just for coming along!

To book your space with Luke, simply call or email the store on 0141 552 3402 or digital@guitarguitar.co.uk