Events: Keith Merrow & Nick Johnston Schecter Clinic
Published on 30 September 2019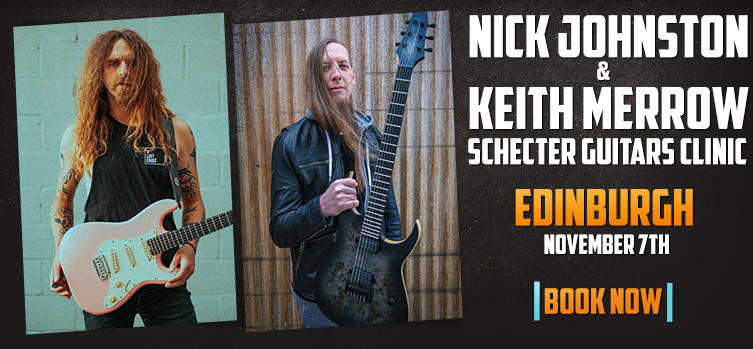 As you may have noticed, we love seizing any opportunity we can to get you guys involved in picking the brains of some of the most prolific guitar players, manufacturers and builders in the industry, and it really has been amazing to hear so many different perspectives on our very favorite instrument. We've been super lucky to have had such an amazing array of talent in our stores recently, and we are continuing to pull out the big guns with our next guests Nick Johnston and Keith Merrow. Nick's progressive and thematic playing has made him a real star in the guitar world, and Keith's technical heavy performances have turned him into a visionary artist ahead of the game. This event will be a unique opportunity to be in the presence of two exceptional talents and true modern guitar heroes! Double the talent, double the face-melting!

On Thursday 7th of November, we are very pleased to share that both Keith Merrow and Nick Johnston will be joining us in Edinburgh for an exclusive clinic in association with Schecter Guitars at the Voodoo Rooms. We are super excited to have not one, but two astounding guitar players join us to chat all things guitars, gear and of course, hearing them both play in their distinctive styles. We are incredibly lucky to have two exceptional talents join us for this event and it would be a massive understatement to say we're a little bit hyped up for this event. Both players with be running through their signature techniques, discussing gear, all things Schecter guitars and of course doing plenty of playing. Book your place now!

Click HERE to book your FREE tickets now.

Can't wait for the event? Check out Nick's playing below!