Fender Special Run guitarguitar Exclusive!
Published on 21 October 2019
Do these two guitars remind you of anything?
We bet they do!
These two gorgeous morsels are a pair of Fender Special Run guitars and they are exclusive to guitarguitar. We'd like to say that we came up with these two fetching colourways all by ourselves, but we all know that there are some particularly well-known influences at work here. Now, we will not actually come out and say it, but there is definitely the whiff of familiarity about these lovely Strats...
So, the first one, the black Strat, is quite a mysterious guitar. Mysterious like the Giza pyramids, or maybe a triangular glass prism, shooting colourful light at oblique angles like some sort of crazy diamond. It's the type of instrument you can imagine playing in a surreal dream, with you standing in an empty Pompeii, reaching for those screaming notes that descend into a wave of Echoes. In the distance, you can hear the delicate sound of thunder, and off beyond the horizon, a faint Division bell chimes...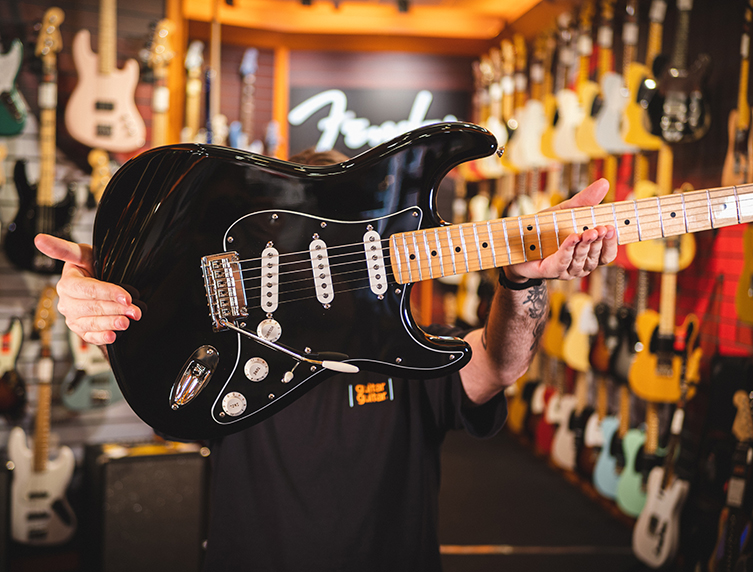 Wow, what an evocative dream! We wish you were there with us! This Fender FSR Strat obviously has some supernatural power.
The other instrument has an equally powerful and yet entirely different charm. This beautiful Stratocaster is glorious, resplendent in Fiesta Red with gold hardware. We are suddenly reminded of evocative images from the romantic 50s: hot-rodded cars with tailfins, varsity jackets, Prom Queens and Summer nights with stacked-up surfboards, campfires and the promise of romance in the Californian sunset. Twangy, reverb-soaked guitar lines glide out to us from the hazy, distant past: a row of besuited, bequiffed and smiling musicians adopt a carefully choreographed pose as a teenage audience screams in delight...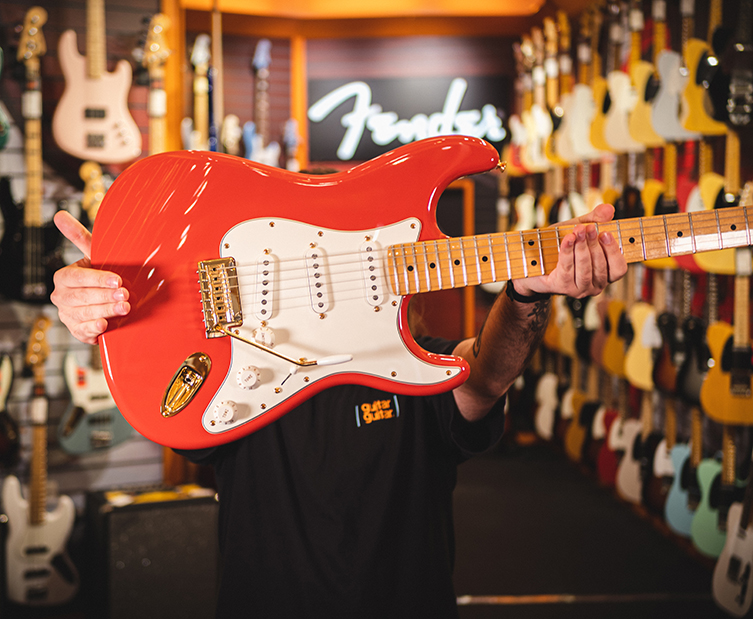 Both of these limited-edition Fenders are powerful totems. They harness potent emotional reference points from the history of popular music and present them in a form that is useful to modern musicians. They are spec'd up for a 21st century audience, but they evoke highly desirable musical pasts. These have been 'designed' (how can you really 'design' a Strat? We picked the colours and hardware) by us to give players of all wallet sizes the opportunity to own a quality Stratocaster that's just a little different. A Strat that just nods a little towards some iconic axes.
These are not signature models and are not tribute models. These instruments are made to play all kinds of music on, so we've made sure that the spec reflects this.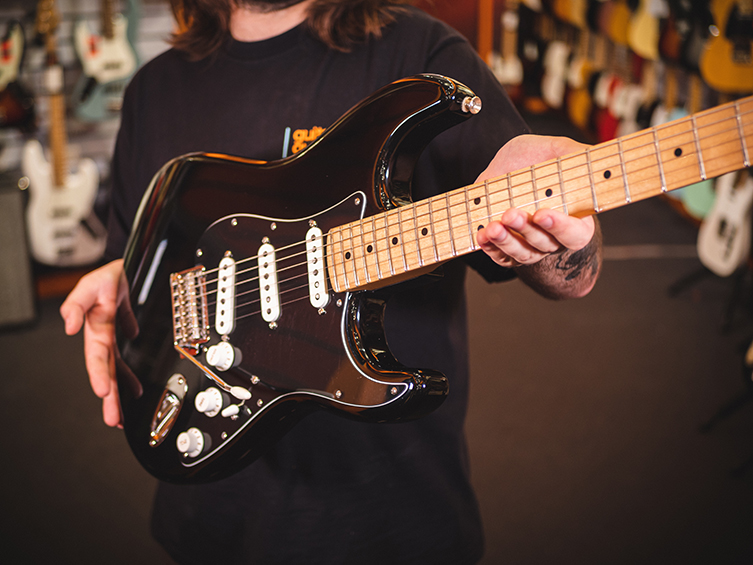 The most notable feature of these FSRs are the pickups. Each model is fitted with a set of genuine Fender Custom Shop Fat 50s single coil pickups. This raises the bar immeasurably, putting these guitars straight into pro-tone territory! Fat 50s pickups are hand made with low numbers of windings to create a clear, clean chiming tone. Whether you are currently considering the sound of a certain Native American-styled melody or indeed a particular 'Shine on Syd arpeggio', these guitars will deliver the tones you need. Their 'Fatness' is relative: they fit in with a modern musical context but definitely have that 'origin tone' of great vintage Fenders.
These FSR Fenders have 9.5" radius fingerboards on 22 fret necks that have a Modern-C profile to suit pretty much everybody. One cool additional feature is the dedicated tone control for the bridge pickup, letting you have control over both that and the neck/middle pickup via the other Tone control.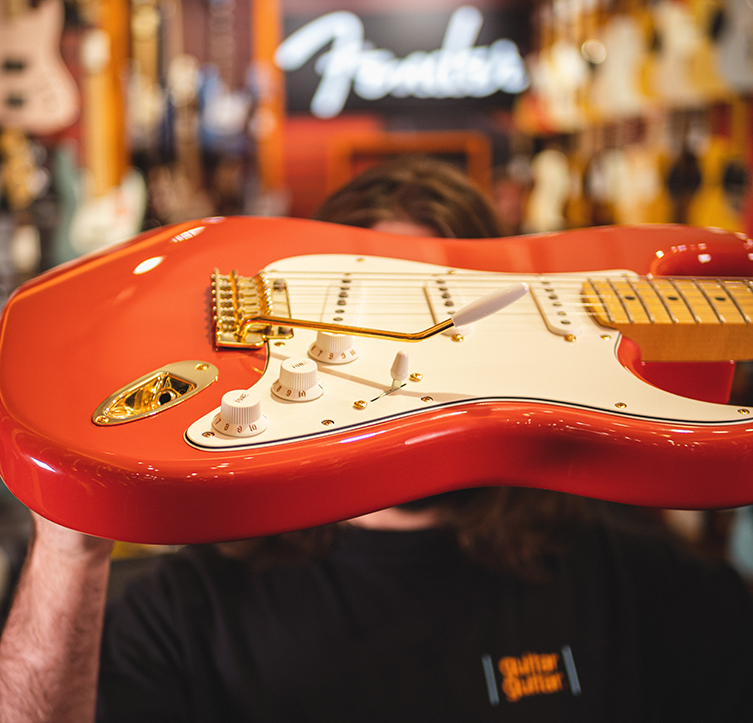 We have 50 guitars of each colour due in our stores very soon! These are not available anywhere else in the world!
They are priced perfectly for gigging players who want a Strat with exceptional pickups. Choose your allegiance and order yours before they all go to that Great Gig in the Sky!