Events: D'Addario XT clinic tour with Yvette Young & Mike Dawes
Published on 25 October 2019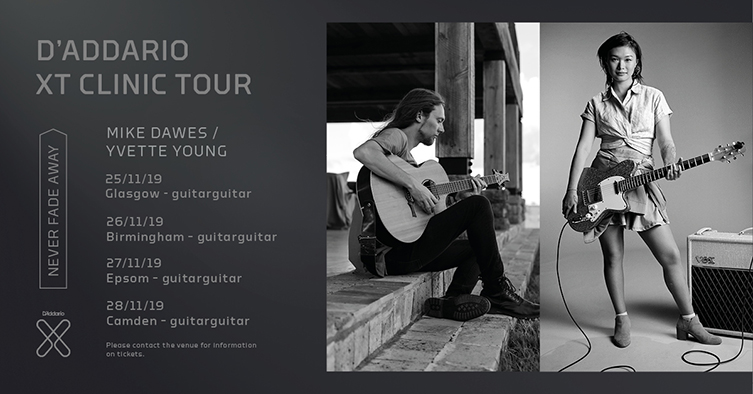 As any guitarist knows, when you find the right strings... something just clicks. It can be hard to turn your back on a winning setup but you don't want to miss out on the latest innovations in the guitar world! Recently we had the chance to try out D'Addario's fantastic new line of strings, the XT series, and were absolutely blown away. Designed to last longer than ever without sacrificing on the awesome sound and feel the brand are known for, the XT range are game-changers and no matter what your preference is - we'd thoroughly recommend trying them out. Recently, we've been super lucky to have quite an array of talent join us for exclusive clinics throughout our stores, so we figured, what better way is there to introduce you to the XT lineup?
Our next guests, math-rock queen Yvette Young and fingerstyle wizard Mike Dawes, will be touring four of our stores in an exciting run of events to show off our D'Addario XT selection. With Yvettes acrobatic finger-tapping guitar work and Mike's unique tones and textures, this is a great opportunity to see these strings in action!

In November, we are very pleased to announce that we're hosting events at our Glasgow, Birmingham, Epsom, and Camden stores in association with D'Addario. We are super excited to have both Yvette Young and Mike Dawes join us for these events to chat about all things guitars, gear and of course, hearing them both play in their distinctive styles. We are incredibly lucky to have two exceptional talents to join us for this event, and are looking forward to hearing all about why D'Addario are always their strings of choice. This is the perfect chance to learn about what makes these strings so special and hear two incredibly talented players while you're at it. On top of that, a free set of XT's are included in your ticket price so that you can try them out on your own guitar! It's going to be a great event, so grab your tickets and secure your set now!

| | | |
| --- | --- | --- |
| guitarguitar Glasgow | 25/11/19, 7:00PM - 9:00PM | Book now |
| ACM Birmingham | 26/11/19, 7:00PM - 9:00PM | Book now |
| guitarguitar Epsom | 27/11/19, 7:00PM - 9:00PM | Book now |
| guitarguitar Camden | 28/11/19, 7:00PM - 9:00PM | Book now |

Can't wait for the event? Check out Mike and Yvette's playing below!