Events: Dunlop System Guitar Care
Published on 28 October 2019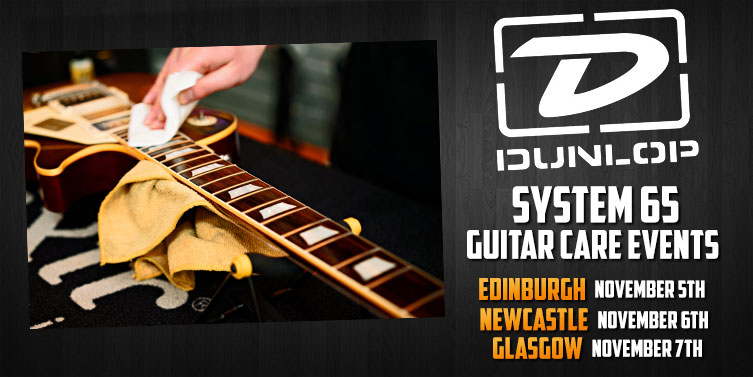 Guitars go through a lot. We're talking blood, sweat, and tears. And, without proper care and maintenance, they can get pretty grubby fast. Whether you're spending an hour or two a week practicing, or you are busting out face-melting solos on the regular, looking after and caring for your guitar is one of the most important things you can do to keep your instrument sounding and looking sweet and we want to do our bit to help.

Dunlop are our go-to brand when it comes to guitar accessories, so we're super excited to be hosting events to help you get the most out of your guitar. Join us at our Edinburgh, Newcastle, and Glasgow stores in November for a series of Dunlop System Guitar Care events. We'll have a technician in-store to provide some next level TLC to your instrument and breathe some life back into your guitar. We'll be using products from the Dunlop System 65 care set to complete the job. With high-quality polish and oil, we'll remove all that grime from your guitar and return your fretboards original luster, leaving it with a genuine, no-shine reside.
That's not all though, after we've given it a good going over, the Dunlop experts will lace your axe up with a fresh set of strings from their Electric, Acoustic & Bass selection. This is a fantastic opportunity to give your guitar some much needed TLC and bag yourself a free set of strings while you're at it. Reserve your space now to avoid disappointment!

Simply call or email to reserve your space.
guitarguitar Edinburgh 5/11/19 FULLY BOOKED
guitarguitar Newcastle 6/11/19 FULLY BOOKED
guitarguitar Glasgow 7/11/19 FULLY BOOKED

One slot per customer.
One guitar per customer.
We reserve the right to not undertake work on an instrument that is seen to be faulty or damaged.
Fret-dressing or any other major guitar adjustment is also not offered as part of this promotion.