Events: In-store Halloween Extravaganza
Published on 22 October 2019

It's the most wonderful time of the year. No, not Christmas... Halloween! Carve your pumpkins, bubble up your cauldron, get those bats out of the cave and have your broomstick at the ready!
We'd love for you to get your freak on this Halloween in-store at your local guitarguitar. This year in the lead up to the day, we're super excited to be hosting spooktacular events across all our stores, which is definitely something you'll want to get your fangs stuck into. We love Halloween more than most, so we're really looking forward to the all spooky vibes and inviting you down to our lair of scare.
On Saturday 26th and Sunday 27th October, we are inviting you down to join us for a fang-tastic Halloween party at your local guitarguitar. Get your thinking caps on for suitably rockin' costumes because we're even hosting a Best Dressed competition and the prize is not too be missed! The Best Dressed lucky winner will receive a Pedal Board starter Kit, consisting of a Tourtech Pedal Board, Landlord Effects Lock In Tuner pedal, Power Supply and 5 Way Daisy Chain. Sounds good, right?
That's not all, our staff will be dressed up too (well the ones who aren't too cool for costumes...). So, expect to be chatting all things guitar with Frankenstein, The Mummy, and if last year is anything to go by, a giant lion! There will be managers special deals on, along with plenty of drinks, nibbles and creepy treats so this is the perfect chance to get spooky with us in our haunted guitar stores...
Trick or treat!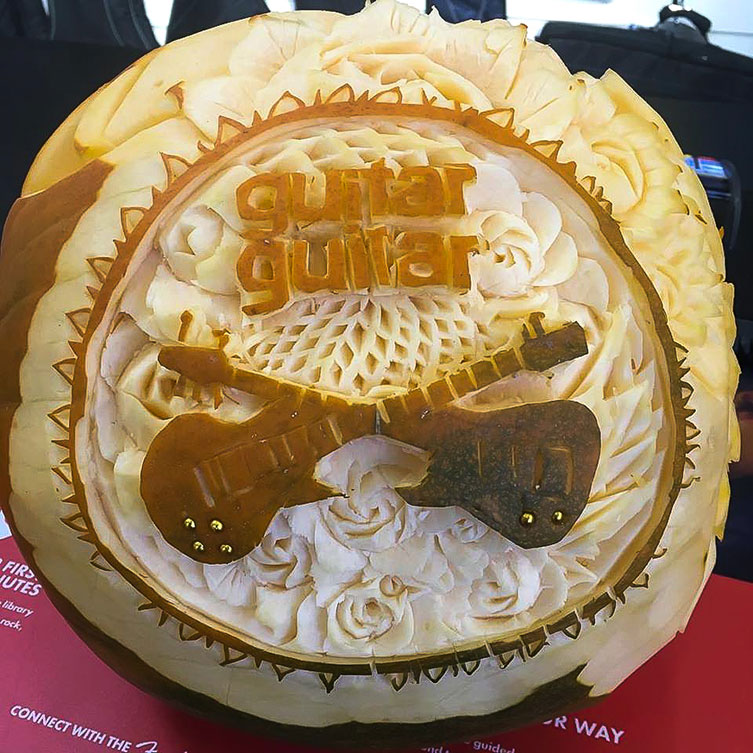 Thanks to Birmingham regular David Loh for carving us the most impressive pumpkin we've ever laid eyes on!