Offers: Free Presonus HD7 Headphones with Studio-C interface
Published on 01 November 2019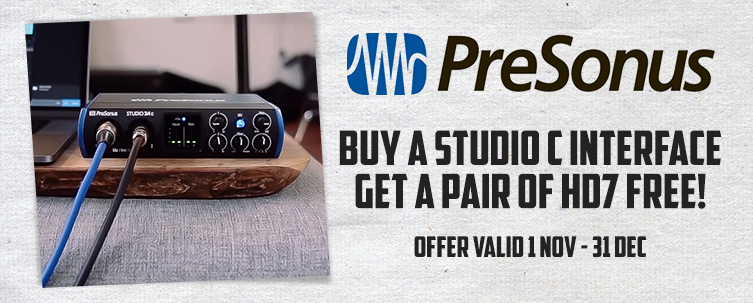 It's no secret that Presonus make some of the most advanced production gear on the market. Whether it's a mixing desk, interface or a set of monitors, their products are always of exceptionally high quality and perform incredibly well in a studio or live setup. Most definitely among our most recommended brands, their gear is excellent for everything from entry-level setups straight through to fully professional with a huge range of equipment to suit every need and budget. While we could chat about Presonus huge selection of awesome kit all day, it's the C Series we want to focus on, an advanced range of USB interfaces which offer some really cool features. Sturdy and compact enough to take on the road and offering professional quality recording at really reasonable prices, this series of interfaces absolutely blew away our expectations and we're very pleased to share that we have an awesome promo for you to get stuck into!

From the 1st of November, right through to the 31st of December, if you buy any Presonus Studio C Series interface, we'll give you a free set of HD& headphones to go with it! These interfaces really are some of the most advanced in their price range and we'd thoroughly recommend taking advantage of this promo and giving your studio setup some much needed TLC. No matter if you're a guitarist, singer, producer or anything in between, this gear will make a fantastic addition to your setup so head down to the store to find out more about them today or bag your new interface online now!
Models included:

Want to learn more about the C Series? Check out Presonus' rundown of the range below!