Events: Win a Jackson Guitar at our Glasgow & Newcastle Stores
Published on 04 November 2019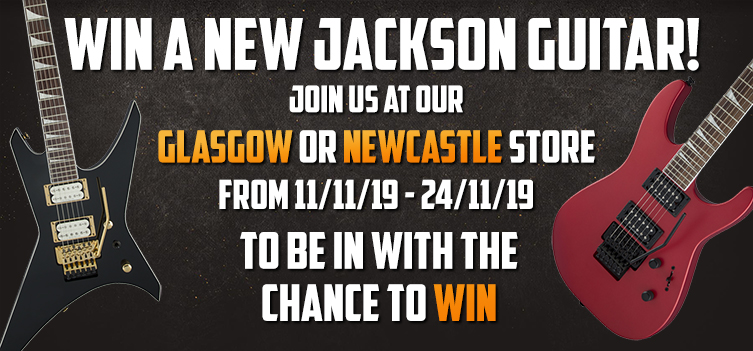 If you've ever been into one of our stores and spotted an outrageous looking guitar (in all the best ways possible of course), it's most likely going to be from Jackson. Jackson guitars are giants in the hard rock and metal world, with their innovative and pioneering designs providing unique identities for metal players of all styles. Crafted for heavy rockers and shredders in mind, these-high performance guitars are equipt to stand the most demanding techniques and styles, so it's no secret why artists such as metal royalty Phil Demmel is loyal to Jackson guitars.

To celebrate all things metal, for two weeks we'll be hosting a Jackson event at our Glasgow and Newcastle stores where you can try out all of their latest guitars, along with plenty of old favourites. Our knowledgable staff will be on hand to answer any questions you may have about the guitars and help you on your journey to find the perfect shredding partner! If you've always wanted to try out one of these deadly looking instruments or if you have your eye on a particular axe, this is a great opportunity to try out some of the best metal guitars on the market.
Wait...that's not all! We're giving you the chance to win a brand new Jackson guitar to live out all your shredding dreams, just for coming along. To enter, all you have to do is pop down to either our Glasgow or Newcastle store and play any Jackson guitar - we'll give you a competition slip to fill in and you'll be in with the chance to bag yourself a new, shiny guitar - simple! We'll be giving away the Jackson Warrior WRX24 (Glasgow), and the Jackson SLX Satin Red Pearl (Newcastle) so be sure to come down and enter!

guitarguitar Glasgow Competition dates: 11/11/19 - 24/11/19
guitarguitar Newcastle Competition dates: 11/11/19 - 24/11/19

There's no need to reserve your space, simply head to the store to get involved.