A Closer Look: Behringer RD-8
Published on 06 November 2019
Whether you're a hip hop head, or a house fanatic; programmed drum sounds don't come much more iconic than the 808. Shaping modern music as we know it, the fat punchy kicks and sharp claps we've come to consider as staples of so many different genres still sound as fresh as ever. Even the most experienced audiophiles will still stand to attention when they hear an 808 groove and rightly so. No matter how hard you hunt, no matter what murky depths of your sample banks you plunder, there's just nothing that quite compares. The countless times an 808 kit has been the driving groove and focal point of an iconic track means it has earned its place among drum machine royalty and with a brand new unit from Behringer stepping in to continue its legacy, the timeless sound just got even more accessible... Meet the Behringer RD-8.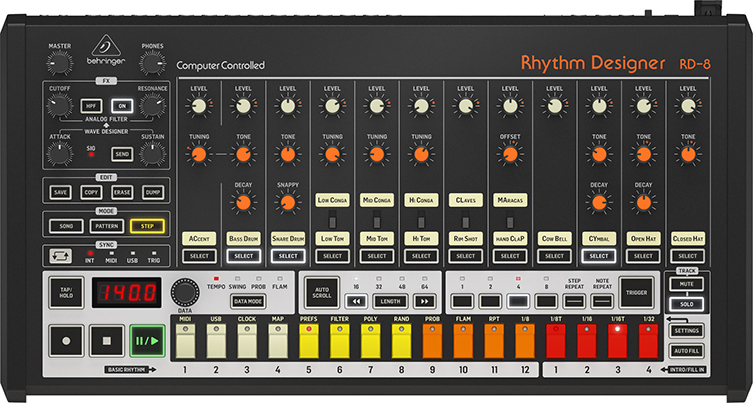 Following on from the excellent Model D, where Behringer took inspiration from the classic synth and built their own version with alarming accuracy, the RD-8 looks to be their next step in bringing timeless sounds to a new generation. The RD-8 has a similar look and feel to its predecessor but comes in at under £300, making it a great value alternative to buying a vintage unit. In fact, we'd even go as far as to say it's faithful in just about every way to the style, feel and playability that made the original 808 such a popular and versatile machine. One of the most cherished features of these drum machines was how easy they were to set up and get awesome results from and Behringer have recreated that to a T. They've also given us 16 songs and 256 patterns to play with, making these a seriously powerful tool for performance, or even just for taking your beats on the move.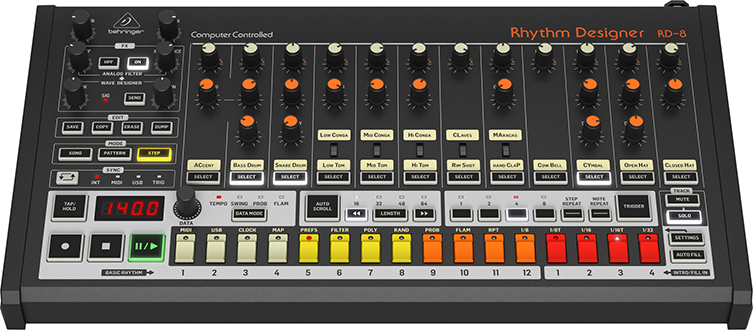 Song mode allows you to chain patterns together which, if you've ever performed live with a drum machine, you'll understand is incredibly useful! Its 64-step drum sequencer supports poly-meter, step-repeat, note-repeat, real-time triggering, track-mute and track-solo, so it's a seriously intuitive machine that has loads of potential for improvisation. An Autoscroll feature contributes to how user-friendly the RD-8 is and allows you to quickly run through your grooves without missing a beat... literally. On top of that, the connectivity of the RD-8 is absolutely insane with no less than 11 independent analog outputs.

This gives you tons of options for hooking up effects and mixing, again harking back to the vibe of the original 808. Speaking of which, the assignable attack and sustain control allow you to get into the nitty-gritty of manipulating each sound and a dual-mode Analog Filter allows for some really cool manipulation of your beats.
Essentially bringing a classic drum machine into the modern age and breathing some new life into it, the RD-8 is loyal to its timeless design while also introducing some awesome modern features that allow it to hold its own in a contemporary studio or stage setup. It's built in the UK and as with all Behringer gear, boasts an outstanding build quality that won't let you down. We've been seriously excited for it to arrive so we'd thoroughly recommend stopping by to try one out for yourself. We can practically guarantee you'll be transported back to a simpler, more groovy time the second you do!