Offers: PRS 24 Months 0% Finance in November
Published on 01 November 2019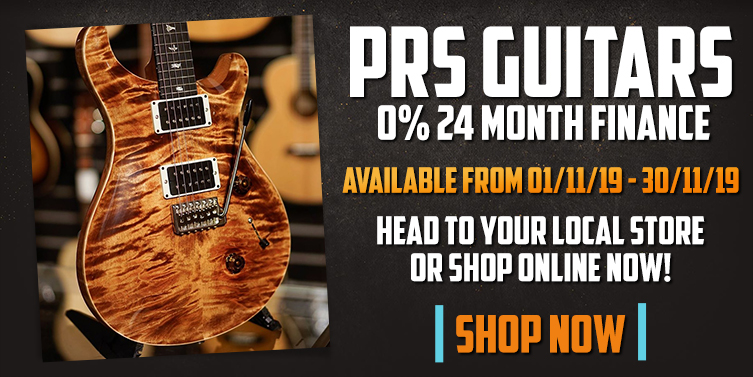 PRS guitars are some of the most versatile, best-sounding and undoubtedly beautiful guitars in the world. They combine rich guitar building heritage with modern craftsmanship to deliver outstanding quality guitars. Distinguished for their incredibly figured wood top, fretboard inlays, and exotic colours, PRS guitars are built with uncompromised tone, playability, and beauty in mind.
Arguably the only guitar style to truly bridge the gap between 'the big two', PRS models like the Custom 24 have given adventurous and expressive guitarists a platform to create their own combinations of sounds that any single traditional instrument cannot. The balance between vintage and modern sensibilities is perfect so players from all backgrounds can find common ground with PRS' exquisite creations. Favoured by world-class artists such as John Mayer, Carlos Santana and Mark Tremonti to name a few, they are known as one of the world's most luxurious guitar brands - a reputation that is definitely deserved.

All of that sound tempting? Well, for a limited time, we are offering 24 months 0% finance on any new PRS model over £999.
So, if you've been listing after one of these stunning guitars, do not miss this amazing opportunity. This is your chance to take your dream guitar and pay for it with hassle-free fixed monthly payments.
Offer available from 01/11/19 to 30/11/19. Please note that pre-owned guitars are NOT included in this offer.