A Closer Look: Bose T8S ToneMatch Mixer
Published on 02 December 2019
If you're a gigging player, then being confident in your mix is absolutely essential. Remember, it's not just a tongue lashing from the rest of the band you have to worry about - the full venue is relying on you to sound spot on so you want to make sure you're on top of things. While that seems like a lot of pressure, having a reliable mixing unit that you're confident in using is half the battle and helps to make things as straightforward as possible on the night. But where do you start looking? With so many options on the market, it can be a little daunting to dive in, so we thought we'd highlight a product that we've been particularly impressed by, the fantastic Bose ToneMatch T8S.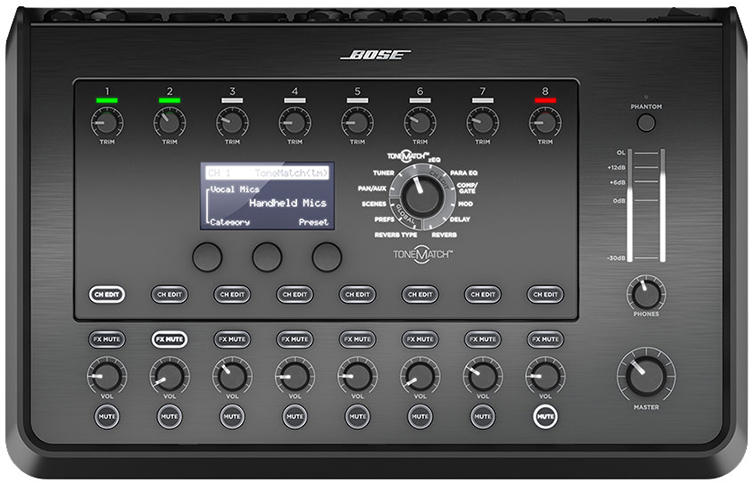 Imagine you could have each member of your band on their own individual mixer channel and have hands-on control over all of their instruments on stage... Sound terrifying? Don't panic! The ToneMatch T8S actually makes things remarkably easy and once you get used to having that power at your fingertips you'll wonder how you ever survived without it. With an extremely user-friendly and straightforward interface, this mixer is perfect for bands and we've fallen completely in love with it. Featuring 8 channels for you to play with, each easily accessible and with their own dedicated effects, the T8S packs a lot into its compact frame. It's geared towards players just like you, who need to make adjustments and tweaks on the fly and it couldn't be simpler to get stuck into your mix and do exactly that.

So, what makes it so special? Well, for a start, the amount of connectivity that Bose have squeezed into such a small space is pretty unbelievable. With no less than 8 main channels, each with their own high-quality audio preamps, along with XLR combo jacks, USB connectivity and a headphone jack, this is the perfect tool for getting your band sounding on point. Its onboard effects include a compressor, limiter, de-esser, noise gate, chorus, flanger, phaser, tremolo, delay and reverb so there are loads of options for manipulating your sound and the T8S even features a tap tempo delay. That's not the only feature that guitarists will love, this little mixer actually has a built-in tuner which should free up a little space on your board for a new toy!

However, it's the recallable scenes that really convinced us how great this unit is. You can essentially save your favourite presets and access them quickly and easily onstage. There's nothing quite like feeling fully in control of your own sound and having your preferences saved up and accessible at the touch of a button is a seriously powerful tool. All those grumbles about venues engineers will be a thing of the past when you find that sweet spot you've been searching for since you started playing live. As if that isn't enough, it hooks up with the acclaimed Bose PA gear perfectly and of course, features their coveted ToneMatch technology which adapts to your instrument and ensures you get the best sound possible. There's a 4 channel model that we rate highly as well but the connectivity options of the T8S make it a winner in our eyes.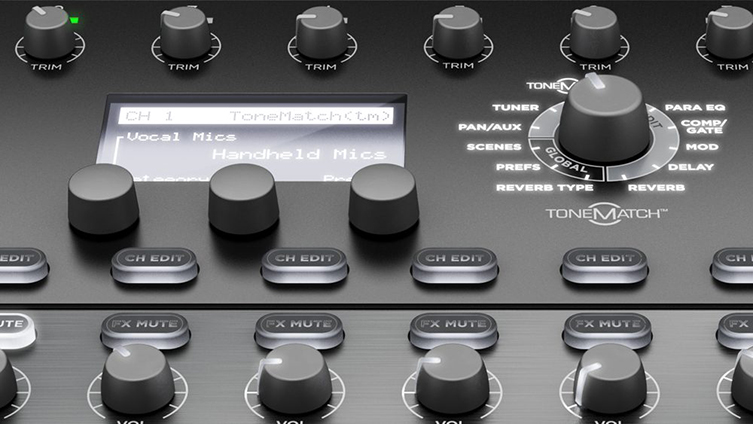 Once you factor all of that in, PLUS how well built and rock-solid this little unit is AND the fact it can be mounted on stage for easy accessibility, the T8S is about as impressive as they come. We couldn't believe how much this little guy could do and we'd thoroughly recommend heading down to your local store to experiment with it for yourself. Relying on sub-par sound thanks to engineers who don't know your band doesn't need to be an issue anymore, try out the ToneMatch T8S and say goodbye to those problems forever!