Squier Packs: Guitars and Basses
Published on 18 November 2019
New musicians!
Yes, you!
You're looking for an electric guitar or bass, aren't you?
You've heard of Squier, haven't you?
Other musicians have recommended them as being a sound first choice.
But which Squier? And why Squier? And who are Squier?
The answers to these questions lie within this brief and informative trip through our specially chosen Squier packs! Whether you fancy yourself as a Future-Hendrix or Flea, we have what you need to get going! We'll start with Squier as a brand and then look at a great bass pack, followed by the famous Stratocaster and even a smaller-sized electric guitar for pint-sized punks!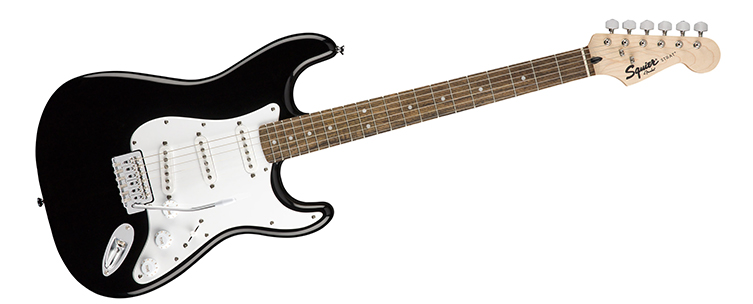 Squier
Squier, as you may or may not already know, are a sister company to Fender. Fender, of course, are the world's biggest electric guitar company. Not only are they the biggest, they are also responsible for inventing many of the most famous electric guitar designs in history. Fender's Stratocaster is the design we all think about when someone says: 'electric guitar'. Their two main bass models, the Jazz bass and the Precision (nicknamed simply 'P') Bass, are the most replicated in history. Simply put, Fender were there at the start, they wrote the rulebook and they are still one of the very best guitar makers around.
Squier came around as a subsidiary brand of in the 1980s. The need for official affordable takes on Fender's classic designs became apparent when many Far-Eastern guitar builders began releasing their own ultra-affordable takes on Fender's instruments.
Squier quickly became known as the way to begin your path as a guitarist or bassist. It wasn't just beginners, either. Squier guitars quickly gained acceptance by gigging players and even a few pros! Squier guitars used the same designs and dimensions as their more expensive Fender siblings, allowing players on a tighter budget the opportunity to experience something of that real Fender magic.
Nowadays, Squier are properly revered in their own right. More upmarket models and exclusive designs have elevated Squier's profile further, with even artist signature models appearing! In terms of value, features and authenticity, Squier are particularly difficult to beat!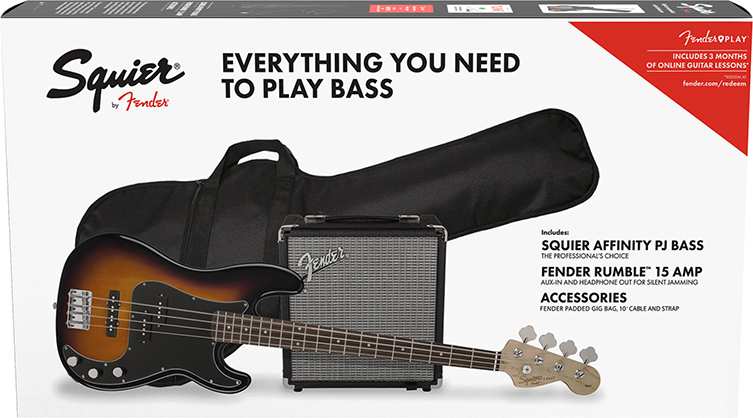 Affinity Series PJ Bass Pack
Bassists first, then! Squier's 'PJ' Bass is a superb, versatile choice for the beginner bassist. With the body shape of a Jazz Bass, the PJ gets its name from the layout of its pickups. Each of Squier's main bass designs (as with Fender) has its own type of pickup device for 'picking up' the sound from the string. The Jazz bass has two single coil pickups, whereas the P-bass has one split-coil pickup. The PJ, therefore, has one of each – a 'P' and a 'J' – making sense of the PJ name and bringing a wealth of tones to your playing.
This great bass is available in two colours – Black and Brown Sunburst – and comes complete with everything you need to start playing straight away. This includes a quality Fender Rumble 15 amplifier, a soft case, strap and cable! Get everything you need in one box!

Affinity Stratocaster Pack
All hail the almighty Stratocaster! Leo Fender's most famous design is truly timeless. This guitar design can do it all, with a sound that is instantly recognisable. Squier's Affinity range brings together a selection of Squier's most popular models and makes them extremely affordable. Quality is still very high, though, and these Stratocasters make excellent companions for players at the learning stage right through to the world's stages!
The Squier Affinity Stratocaster's three single coil pickups bring you a world of sounds, from Pop to Blues, Indie to Hard Rock. Choosing this guitar means choosing a comfortable instrument that plays well and sounds great! We have packs available in Brown Sunburst and Black, complete with a great Fender Frontman 15G amplifier, soft case, cable, strap and plectrums!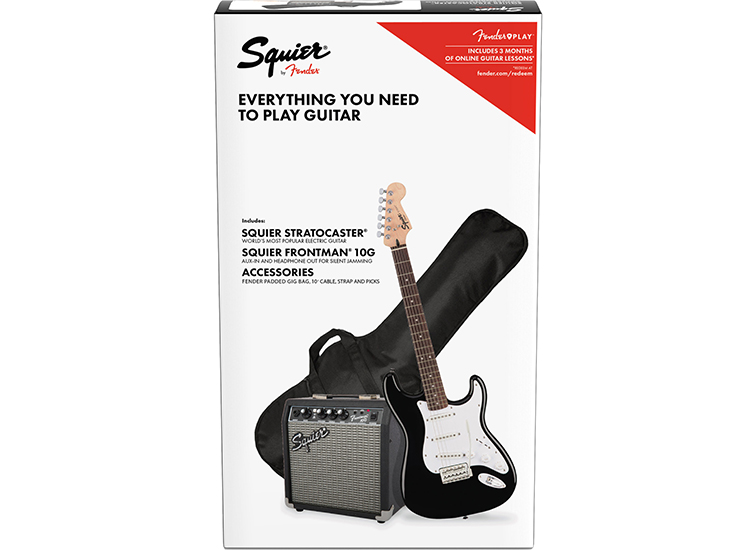 HSS Stratocaster Pack
We have another Stratocaster model available in pack form, too. This is one for the Rockers! The Strat (as it's often abbreviated) traditionally has three single coil pickups. This gives that famous twang sound. However, some players feel the need for a little more output for more distorted, Rock and Metal sounds. The type of pickup needed for this type of sound is a 'humbucker', which looks a bit like two single coil pickups pushed together. This 'HSS' Strat has one of these mounted at the bridge position for a bigger, more aggressive sound. HSS just refers to the pickup configuration: Humbucker-Single coil-Single coil.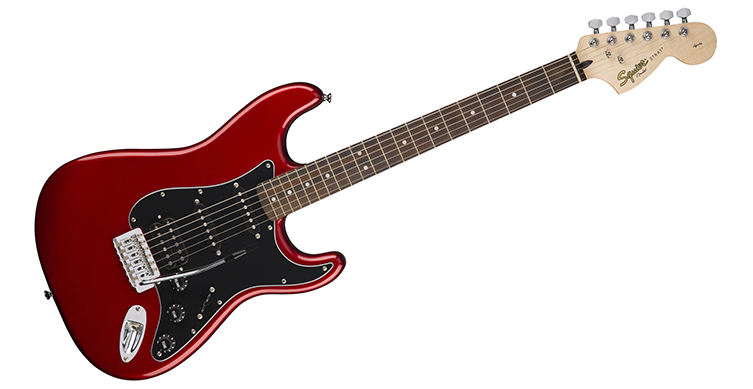 We recommend this model for those who may want to veer into slightly heavier musical styles. The great news is, all those other great Strat sounds are still available from the other pickups! That means that this may very well be the most versatile guitar design ever!
As with the other packs, this pack contains a Fender Frontman 15G amplifier, a soft case, a strap, a cable and plectrums. The Squier HSS Strat is finished in a cool Candy Apple Red colour.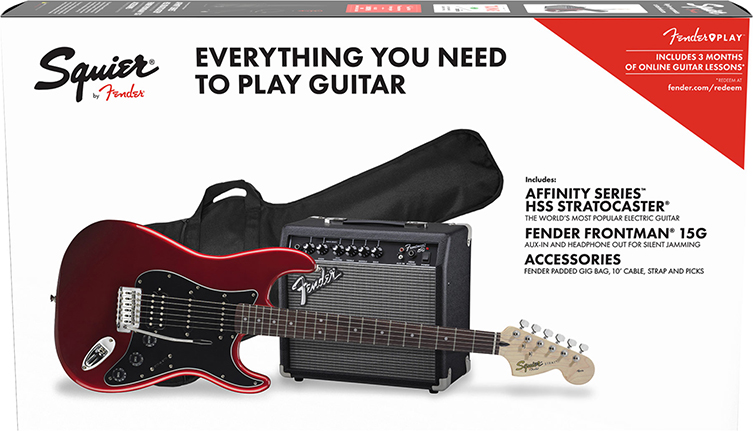 Short Scale Strat
If you find that full-sized electric guitars are a little on the large side, you may well strike gold by checking out the Squier Short Scale Strat! It's a 'proper' Stratocaster, but with a smaller body and shorter-length neck. This means that younger and smaller players can stick get stuck into playing, with an instrument that is not a compromise. It looks like a Strat, it sounds like a Strat – it IS a Strat – but it's a little easier for smaller hands to get to grips with.
This Strat is still, to be accurate, a 'full-sized' guitar, but the 24" scale length is an inch and a half shorter than Squier's standard. This may not sound like much but in fact makes a bit difference to how the instrument feels and plays.

Available, like some of our other guitars here, in both Black and Brown Sunburst, the Squier Short Scale Strat is boxed up with a Fender Frontman 10G amplifier, a cable, strap and plectrums.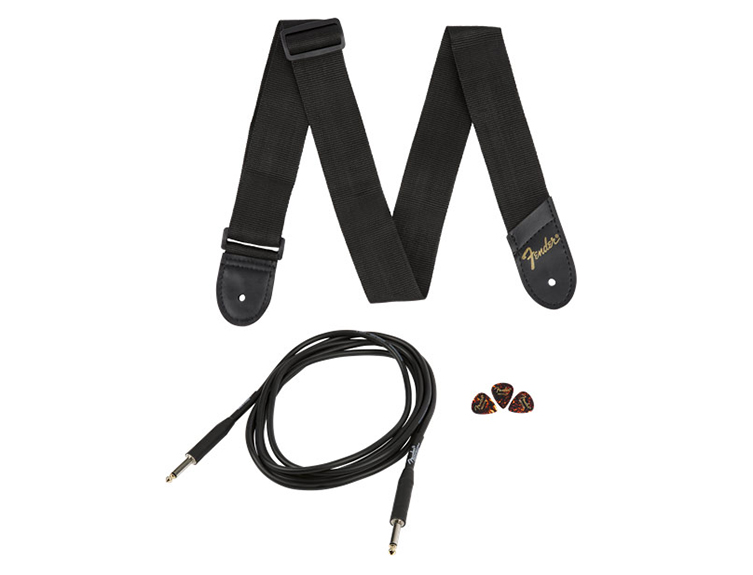 Final Thoughts
Choosing a Squier pack takes all of the hassle out of buying a first electric guitar or bass. These are tried and tested instruments, from a company with a reputation for delivering the goods at the most important of price points. Each Squier pack we sell has been chosen by our team because we know you'll get a great value box of magic. It'll be exciting to pick up, plug in and play! We want you to love playing the guitar because we want to see you back in our stores year after year. We think that giving you a great start is a good sign of how things will progress for you.
Choosing any of these packs is an instant win.
Visit us today to try the guitars and get in touch if you have questions for us!
Thanks for reading.