Meet Your Maker: Balaguer Guitars
Published on 18 December 2019
Balaguer guitars are an exciting new brand of electric guitars from Pennsylvania in the USA. Company owner Joe Balaguer and his small team of artisans hand make the company's US-made instruments, winding their own pickups and creating some incredible finishes to coat their classic-yet-idiosyncratic guitars. They caught our eye recently and, upon learning that they offer multiple tiers of instrument, including some superb value guitars made in China, we had to know more!
These Balaguer guitars are so charismatic and full of rockstar vibe, we love them! Offset shapes, Metallic and pastel finishes, quality hardware...we couldn't wait to get our hands on these!
In the meantime, we got in touch with Joe over in the States to see if we could pick his brain about everything Balaguer. Joe was happy to take part! Here, therefore, is our email Q+A, with lots of detail about the background of the brand, plus info on pickups and construction.

Guitarguitar: Joe, what was life before Balaguer guitars for you? What did you do prior to starting this company and how might that have informed what you do now?
Joe Balaguer: Prior to starting Balaguer Guitars, I worked for a few other guitar companies and also did vintage guitar repair/restoration out of Southern California. When I wasn't working for other guitar companies I was pursuing music as a session guitarist. After living in Los Angeles for a bit and gaining a decent amount of experience within the industry as both a player and a luthier, I decided to move back to Pennsylvania and start my own company.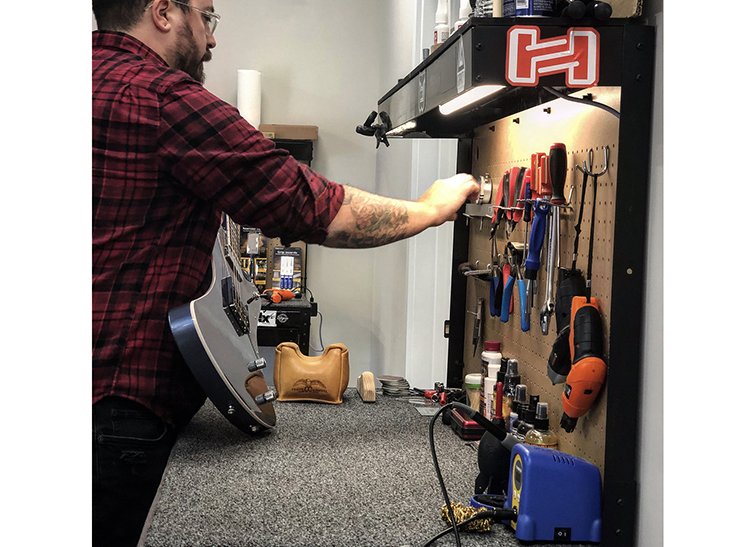 GG: What made you want to make your own guitars?
JB: I began tinkering with my own guitars in high school and college out of necessity and curiosity really. I would buy affordable guitars but install new pickups or swap out hardware until I was happy with it. Since I was never 100% satisfied, I began looking into how I could make my own. It wasn't until I was in my early 20's that I really became obsessed with luthiery and the idea of having the ability to pull inspiration from the guitars I loved over the years to create an amalgamation of them all.

GG: What challenges did you face when you started out?
JB: I graduated luthiery school back in 2009, so unfortunately it was the height of the recession in the US. The only places hiring were large manufacturers who wanted to pay a very low wage to "set-up" 60+ guitars a day. I was 22 years old and didn't really see the value in that, so I just focused on repair and my skillset until I could afford to launch my own company. Luckily when I launched my company in late 2014, I was able to raise money via an Indiegogo campaign. This allowed me to get some guitars out there to folks while also securing more tools and a workshop.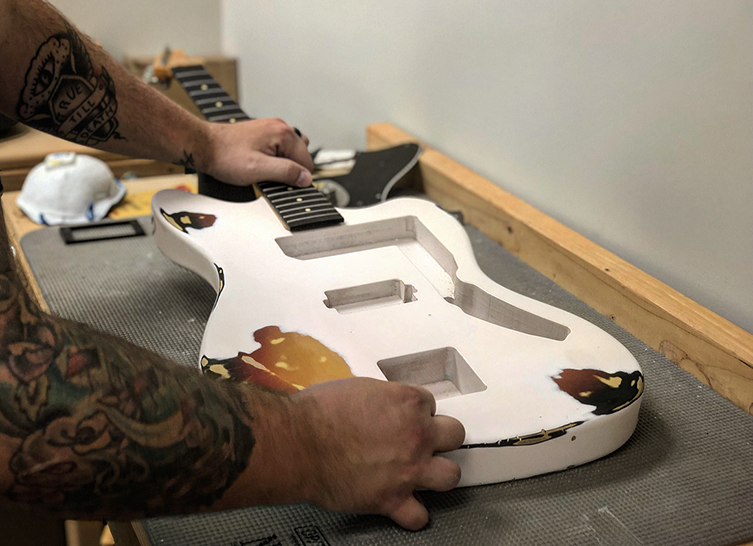 GG: You're based in Pennsylvania. Is Pottstown a small rural town? Is this where you grew up? What is it like to be a music fan and business owner here?
JB: Yep, it is very rural but only 45 minutes from Philadelphia, so we're not too far from folks in the city as well as New Jersey and Delaware. I grew up in Norristown, which is another small rural town just adjacent to Pottstown. Our little chunk of suburbia has a decent music scene which spans from the areas West of Philadelphia all the way up to an area called Lancaster. A lot of great local artists/bands come out of our small stretch of suburbia! I've seen a lot of small businesses popping up in the surrounding areas of Pottstown too, which I think is great.
GG: Balaguer guitars are a very satisfying blend of original design and vintage, established designs with a twist. Was this the main idea in terms of design?
JB: I'm glad to hear you think that, thanks! Yeah, I suppose I'm a traditionalist at heart but my mind tends to gravitate towards ergonomic innovation and how I can incorporate modern design within tradition/vintage inspiration.
GG: Were there specific problems with existing guitars that you wanted to address with your own builds?
JB: Very much so but I think Leo and a few others got most of that stuff right from the get-go. My own opinions/preference are what drive how I approach my designs. So instead of a blocky heel joint, I'll opt for a contoured heel with countersunk bolts sans block plate. Beyond the obvious modern design twists, I also prefer to use locking tuners and Graphtech nuts because I think certain aspects of the guitar's functionality can and should be improved.

GG: Is there Spanish or Latin heritage behind Balaguer? Not only with the name Balaguer itself, but also the model names of the guitars Toro (Bull) and Espada (Sword)...
JB: Yep my surname Balaguer is also the name of a small capital within Catalonia, Spain. My Great Grandfather on my Mother's side was from the Dominican Republic and his family migrated there from Spain. I enjoy that part of my family's heritage so I tend to pull inspiration from it, not just for some of my guitar models but also for pickup names as well!
GG: In terms of your personal taste, what kind of shape, specs and hardware to you like in an electric guitar?
JB: Whether it is a guitar or bass, I tend to gravitate towards more vintage aesthetics but with modern appointments/hardware. So, if I were to build a guitar for myself, it would most likely have an aged Nitro finish but with a modern style bridge like a Hipshot or Mastery tremolo and hotter pickups.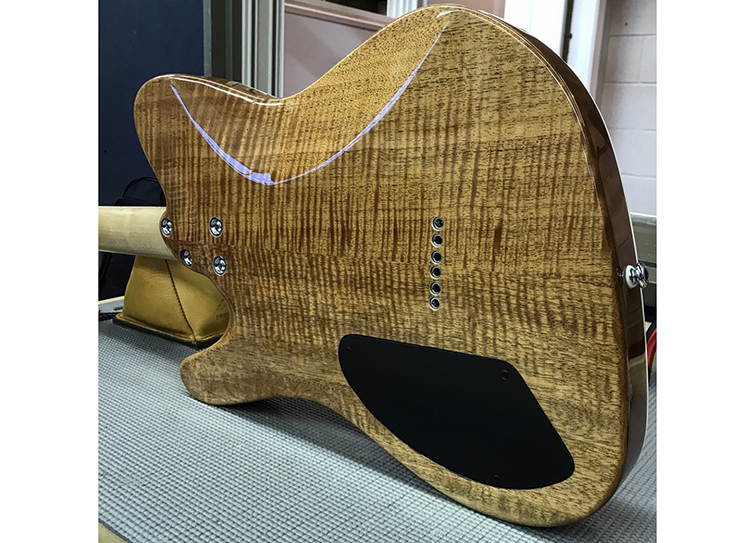 GG: Is there such a thing as a typical Balaguer guitarist?
JB: Folks who enjoy the fusion between vintage aesthetics and modern design influences are usually the typical Balaguer guitarist. Someone who likes a "hot-rodded" or "modded" vintage inspired guitar tends to be our "typical Balaguer guitarist". Though with that said, we also offer some modern shapes as well (Archetype, Tartarus, and a few others), so if you want a multi-scale 7-string with Fishman Pickups...we've done that too!
GG: I see finish options with names like 'Nightmare Burst' and 'Cthulhu Burst', which are awesome names for guitar colours! Are you a big horror fan? And does that feed into the vibe of the company?
JB: I wouldn't say I'm a big horror fan, but maybe more so a fan of Sci-Fi? Though the Cthulhu Burst became a thing because one of our customers requested a custom burst for his Archetype Select Custom and he had a thing for Cthulhu, so it just fit and we added it to our finish options.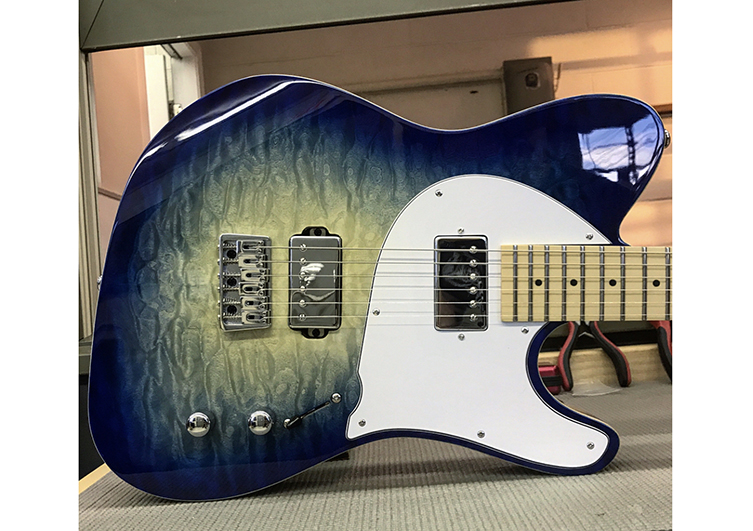 GG: Your Custom options are pretty comprehensive: is this (and the online builder software) one of the main attractions for people new to Balaguer guitars?
JB: Yeah it definitely helps when folks can see a graphic representation of the guitar they plan on ordering and having a decent list of options. I believe the main attractions to what we do span from having the online builder for both guitar and bass, an active/strong online community, our growing Artist Roster, and that we pride ourselves on exceptional customer service.
GG: The Standard Range is made in China by a small team of skilled artisans. Apart from the country on manufacture, what are the most significant differences between a US-made Balaguer guitar and a Chinese-made model?
JB: The Standard Series is made in China at a larger shop, same shop that makes Dingwall Basses, Gretsch, etc. Our Select Series and Select-Custom Series are made in South Korea by a small team of luthiers, and the USA-made Heritage Series are made by myself and my team here in the USA. The differences you'll find between our USA built guitars vs. Our Standard Series (Chinese) guitars mostly come down to the fact that we hand pick the woods we use for the USA builds and that there is a handcrafted care that goes into the fit/finish and fretwork of the USA guitars that you'd expect from a boutique guitar vs. a production guitar.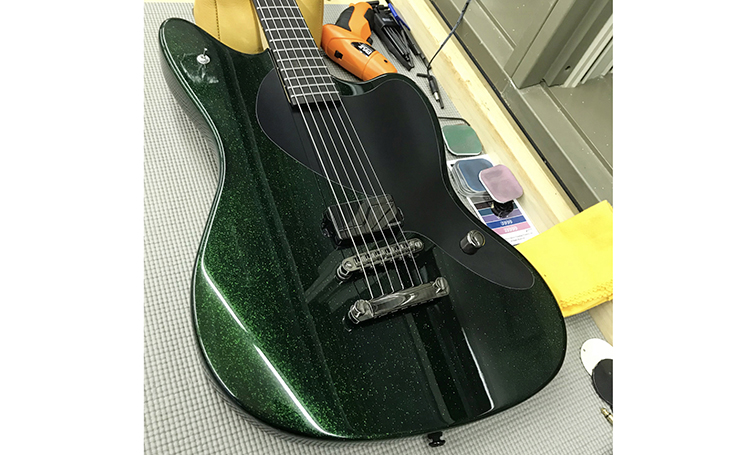 GG: The Heritage Range lies in between these two ranges, is that correct?
JB: The Heritage Series is our USA-made Series, and then you have our Select-Custom Series made in South Korea (online builder), our Select Series which is the premium limited production runs from that Korean custom workshop, and finally our Standard Series from China.
GG: Balaguer make their own pickups: could you talk to us a little about the different models?
JP: Sure, here is quick breakdown/summary:
Humbuckers:
Evergreen Humbucker – Our medium output humbuckers, best suited for a classic rock/hard rock overdriven tone. These are rated at 8.9k in the bridge position, and 7.9k in the neck position using Alnico V magnets.
Feral Humbucker – The Feral humbucker caters to the modern metal player, at 12.5K output for the bridge humbucker, it adds additional depth and texture to the Evergreen Humbucker tone.
Truenobucker – The Truenobucker is our newest humbucker, best suited for down-tuned metal or even jazz, hence the name (trueno is Spanish for thunder). Rated at 16K for the bridge humbucker and 11.2k for the neck humbucker, they sound awesome split!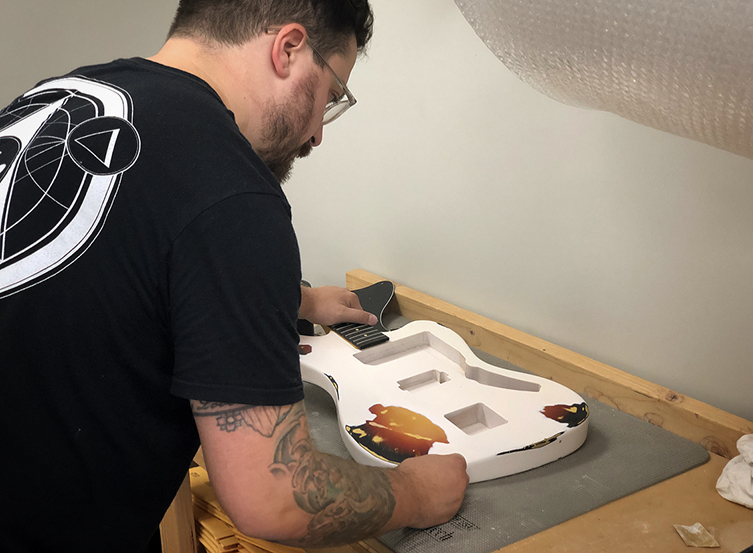 P90's:
Backwoods P90 – Our take on the classic oversized single-coil design, but with added output. This set is rated 10.2k in the bridge position and 8.2k in the neck position.
Single Coils:
Austral Single Coils – The classic SS setup, T-style tone. The word "Austral" means "of or relating to the south". We really wanted to capture the snap and twang of a country-style single coil set. This set is rated at 7.3k in the bridge position and 6.9k in the neck position, and is built with Alnico IV magnets.
Ebb Single Coil Set – Meant for a SSS setup, The Ebb single coils are evenly balanced and pair great with the Evergreen Humbucker (bridge position) as an HSS setup. This set is rated at 6.4k in the bridge position, and 5.6k in the middle and neck positions.
Monolith Single Coil Set – Our brand new stacked noiseless single coils which are wired together to cancel out hum, but still retain single coil characteristics due to using Alnico V magnets. This set comes in at 8.6k in the bridge position, 8.7k in the middle position, and finally 8.8k in the neck position.
Mini-Humbuckers:
Atombucker – Voiced to be a midrange-heavy rock n' roll pickup that still retains enough bass response and chord/note clarity. This set is rated at 7.8K in the bridge position, and 6.6K in the neck position, both using Alnico II magnets.
GG: Finally, are there any exciting new plans or models in the pipeline? Anything you can tell us about?
JP: Besides the fact that you can now try our instruments at guitarguitar?! We do have some exciting stuff in the pipeline which entails bringing back a discontinued model that folks have been beating my door down about, some exciting Artist announcements, and more options for our online builder!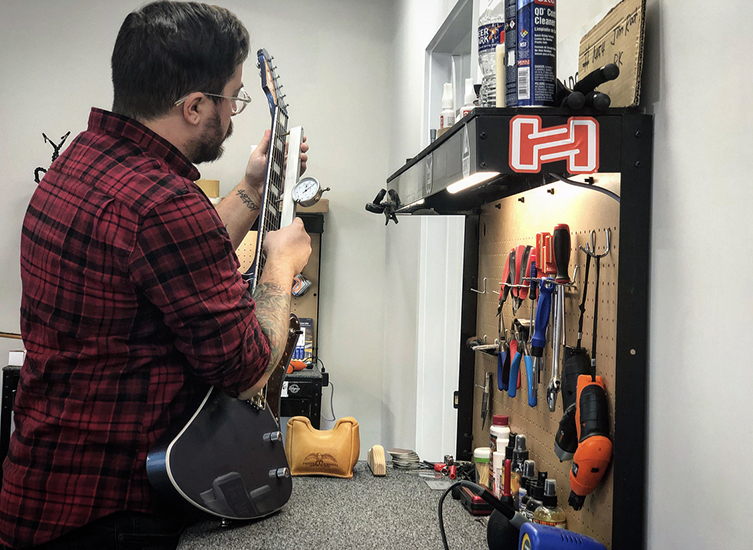 There is some serious buzz surrounding Balaguer guitars right now. They offer a lot of guitar for the money, with a style that's familliar and fresh at the same time. We're very glad to have Joe and his team aboard, and invite you to check out Balaguer guitars on our site or in store at your earliest convenience!
We'd like to thank Joe for taking some time out to take part in this interview!
Until next time
Ray McClelland