Choosing Your Next Suhr
Published on 28 November 2019
Suhr are a brand that many of us know about.
We associate Suhr with beautiful, high-quality, hand-made electric guitars that look and sound dazzling.
Some of us also think instantly of their boutique effects pedals.
A few of us are clued into their hand-wired valve amps, too.
What we don't really talk about is how this one company does all of those things! Under one roof in California, all of the Suhr guitars are designed and built, whilst the pedals are also put together and the amps are constructed. All in one place.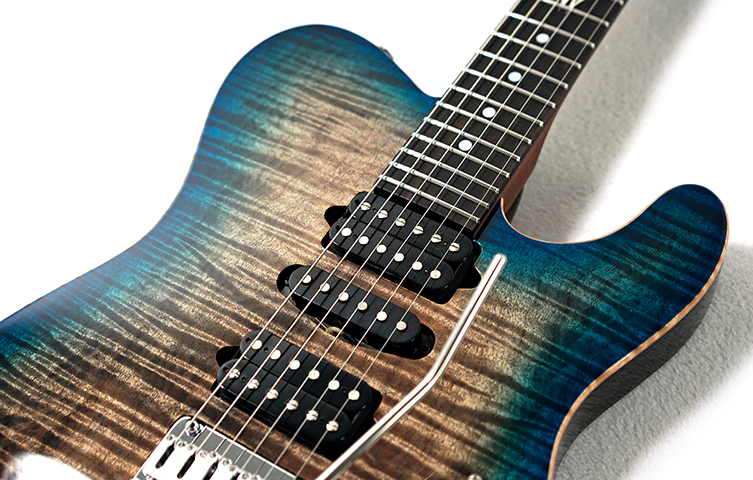 Most companies, if they are really good, excel at one of these disciplines. It's pretty rare to encounter a company that consistently hits home runs in each department.
Welcome to Suhr!
Suhr are such a company, and it's worth celebrating that! We've been fans, dealers and champions of Suhr for many years, but it never hurts to take a second and glance across the wide range of products that they offer, reflecting on what makes them special in the first place!
Let's do just that!
John Suhr
It all begins with the man at the top, John Suhr. We had the pleasure of speaking to John, via a slightly wonky Skype set up, a couple of Winters ago. You can watch that below, and you'll get the origin story from the horse's mouth, as it were, along with extra input from Suhr endorsee Pete Thorn!
In a nutshell though, John started as a guitar repair man, before setting up business in NYC as part of Pensa-Suhr. After making guitars for people like Mark Knopfler and Lou Reed, John left to go into amp design. He then worked for Fender's Custom Shop for a while, and then struck out on his own.
Suhr guitars have made their home in Lake Elsinore, California. The workshop there now boasts over 50 employees, spread throughout the various departments of guitars, amps and electronics. It's still effectively a small business, when compared to other guitar companies, but the size still allows for the highest quality control standards available, across the board.
Let's check out a few of the guitars...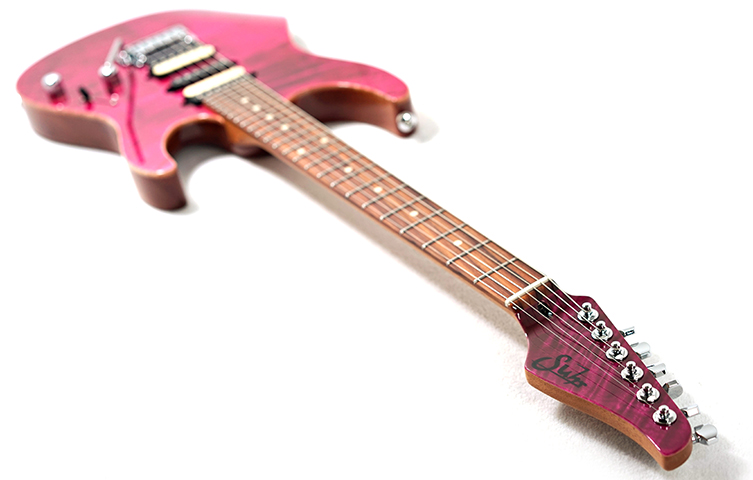 Guitars
Suhr electric guitars take their inspiration mainly from classic Californian bolt-on designs. In John's opinion, there is no such thing as 'mojo': if an instrument has a stand-out quality, then it will be a quality that is detectable, understandable and repeatable. Therein lies the magic.
Though there are many Suhr guitar models, certain factors are constant. These include:
Hand-wound Suhr pickups: Suhr design and make a range of their own humbuckers and single coil pickups, including several artist models. These are available as aftermarket upgrades in addition to being in every Suhr guitar.
Stainless Steel Frets: A real sign of quality, Stainless Steel frets virtually never wear out, become damaged or get rusty. They remain perfect for decades!
Suhr Locking Tuners: Each Suhr guitar is furnished with a set of Suhr's own proprietary-design locking tuners. These promote easier, quicker string changes, and of course improve tuning stability significantly.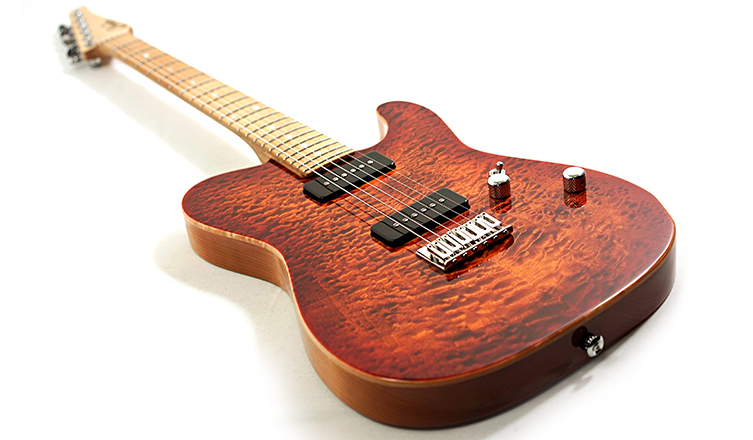 So, Suhr make a few styles of guitar. There are Modern, Standard and Classic Suhr models, with a few special subdivisions. Let's begin with the Standard.
Suhr Standard
The Suhr Standard is a contemporary take on the S-type. The body is a little smaller, the horns a little sharper, but otherwise it is still a recognisable S-type. Many have figured Maple tops (with natural binding!) whilst the top itself is flat with or without a pickguard.
One popular iteration is for an H-H model, no pickguard and, more often than not, an eye-poppingly stunning top. Rather like this one...
Those pickups are Thornbuckers, the signature models of Pete Thorn, whose own signature model is based on the Suhr Standard. As for that gorgeous neck, Roasted Maple is big with Suhr guitars: you'll see that on many of the Suhrs available from us.
The Suhr Standard is anything but 'standard'. Function and beauty, elegantly combined.
It's worth pointing out that the Standard, as with all Suhr guitars, is available with a large range of options that include finishes, pickups and hardware. 'Standard' refers to the shape more than the spec, so there is often room to create something quite unique, which you'll sometimes find on our site as 'Guitarguitar Select' models and suchlike. This is the beauty of fostering a long association with Suhr and a thrill to anticipate, as new one-off models arrive in the store!
Modern
The Suhr Modern takes the sleek lines of the Standard and evolves them a little. Ostensibly, this is Suhr's 'Superstrat', but that description is a little unfair to the Modern's beautifully angled, offset body. As with the Standard, you can find the Modern with all kinds of stunning Figured tops (called the Modern Plus these days), with a choice of pickup configurations that includes the versatile H-S-H arrangement. Suitably, this is also the Suhr model that often has a Floyd Rose tremolo, making it the premier choice for players who like flexing their shred chops! Suhr use high quality Gotoh parts for the tremolo bridges (both Floyd-style and 'vintage'-style), which are well-known in the industry for their strength, tolerance and performance.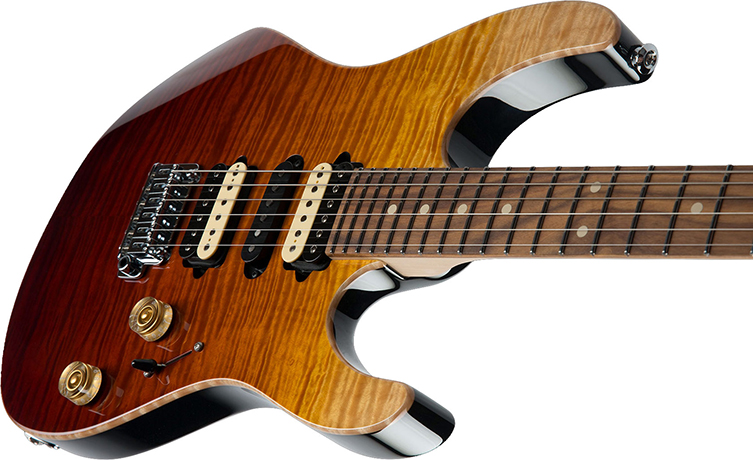 The Suhr Satin is a stripped-back, lean and mean Rock machine with understated tone woods like Okoume being used to make the body. The thin Satin finish allows extra-clear and resonant sounds!

The Suhr Modern's typical neck is a good indication of what you can expect with all Suhr necks. The profile, found on many Suhr guitars, is their own Modern Elliptical profile. This is sculpted to follow the contours of the player's hand. The fingerboard uses a compound radius, so that it flattens out gradually as it ascends towards the body. Chording is comfortable at the headstock end, with a radius of 10", whilst wide-bends in solos are a breeze up at the upper octave area with a radius of 14". It's the best of both worlds, for sure.

The Modern can be as understated or as flamboyant as you like. Take a look at this White HSH model and compare it with the Pink Magenta model! Express your personality with a world-class Suhr Modern.

Classic
The Suhr Classic is an umbrella term for three general body styles: S, T and JM. The S and T are relatively self-explanatory, whilst the JM is an updated take on the 'offset surf' style. The idea behind the Classic guitars is to take timeless designs beloved of all and update them for the modern player. Neck pockets, electronics, fret choice, dimensions...every element has been reassessed within the framework of a classic instrument, in order to operate and function better than prized vintage instruments, whilst retaining the tone and charm of such guitars. They have a vintage vibe but contemporary spec and performance, basically.

Suhr Classic guitars all feature C-shaped necks, a range of colour options and, significantly, the SSCII hum cancelling system. This is a passive circuit that allows single coil pickups to operate without any annoying background hum, and with no compromise to your tone. You'll find this great feature on most Classic Suhrs, including Classic S and Classic T guitars.
Classic S and T Suhrs are available also as 'Antique' models, which adds a delicately aged nitrocellulose lacquer finish instead of the usual polyurethane. Nitro changes the look and feel of a guitar, whilst also generally being thinner than a ply finish and hence letting the timber underneath resonate more. It's all about personal preference with finishes, and it's good to be able to choose a nitro-finished Suhr Classic if you so desire.

The Classic T is also available in an 'Alt' version, bringing to life that late 70s thinline vibe. This fabulous re-imagining has proven to be enormously successful, with vintage voiced Suhr humbuckers, brass three-saddle bridge and frankly fantastic '60s C Vintage Medium' neck profile all combining to make the Alt T a real hit with seasoned guitarists. The semi-hollow chambered Swamp Ash body adds extra resonance and character to the sound, too, which is partly while they are so popular!

The Classic JM is a more recent addition to the Suhr catalogue. Available with humbuckers or P90s, this original take on the classic Offset is a fresh concept for Suhr. The same playability and comfort upgrades relative to all Suhrs are present here, with a body shape and style that offers a distinct alternative to other Suhr guitars. Big Wreck frontman Ian Thornley has made the JM his signature model, with an extra pickup added in addition to some bold finishes!

Suhr Pickups
As mentioned, Suhr make their own pickups, both for installing in their guitars and for selling as after-market upgrades.

Humbuckers and single coil pickups are made in a wide variety of styles and strengths. One popular model is the SSV Bridge humbucker, which is available in open coil and nickel-covered varieties. This pickup uses an Alnico V magnet and delivers a tone that has slightly more output and clarity than a PAF-style vintage humbucker, whilst retaining that warmth and bloom of a classic pickup.
A popular single coil choice is the ML, or Mike Landau set. These are wound for chime and expression, with a beautiful sound that is an instant tonal upgrade for lifeless stock pickups.

Amplifiers
A large part of the Suhr story is amplification. As previously mentioned, John Suhr spent years focusing on amp design and amp building. During his years in between Pensa-Suhr and Fender, he worked with Bob Bradshaw from Custom Audio Electronics on many amp designs. This work has borne fruit in Suhr's wonderful range of hand-built, all-tube amplifiers.
The range consists of heads, cabs and combos. A defining example is the Hedgehog 50 head. This is a single channel, 50-watt tube head with bags of tone and character. The overdrive is of the cascading type, which stacks gain on top of gain (in series) to multiply the effect. This means you can achieve a pretty intense high gain sound, but with the ability to dial in a selection of gain tones. This amp has a defiantly USA sound, but if you like your tone a touch more British, you can check out Suhr's other amps like the SL series.

Like their guitars, Suhr amps are meticulous in their design, built and detail. The Badger 35 amp has a MOSFET Boost for pedal-style lead tones. Suhr amps with the Power Scaling feature allow you to attenuate the volume of your playing without sacrificing any tone, touch or feel. Suhr amps behave like living, breathing instruments: changing settings for one part of the sound will have a cause and effect on other areas. It's quite a thrill to work with equipment that truly reacts.
Pedals
Lastly, an area in which Suhr have been excelling in the last decade is effects pedals. Since they released the massively successful Riot distortion pedal, Suhr have been a consistent hit, and a mainstay on well-informed pedalboards. Their Rufus fuzz is gargantuan to the point of extreme, whilst their Shiba Drive is one of those overdrive that you switch on and leave on.
Suhr are most noted for their drive and boost pedals, but their Alexa Chorus is a high-quality, comprehensive approach to adding space to your tone, and the Koji Compressor fills that enticing space that exists between the subtly of a Keeley compressor and the pleasing Squash of an MXR Dynacomp.
Final Thoughts
Though Suhr's focus is very much on electric guitars, it's the electric guitar experience that matters to them. A guitar is only as good as the amp and effects it's plugged into! Suhr know that, and their successful forays into these other markets is testament to their holistic attitude to the electric guitar.
They are by no means a 'jack of all trades' brand: indeed, they make some of the very finest products we as a company have ever handled. We've established a long and healthy relationship with Suhr precisely for this reason! We love what they do and feel that their guitars, amps and pedals are among the best in the planet.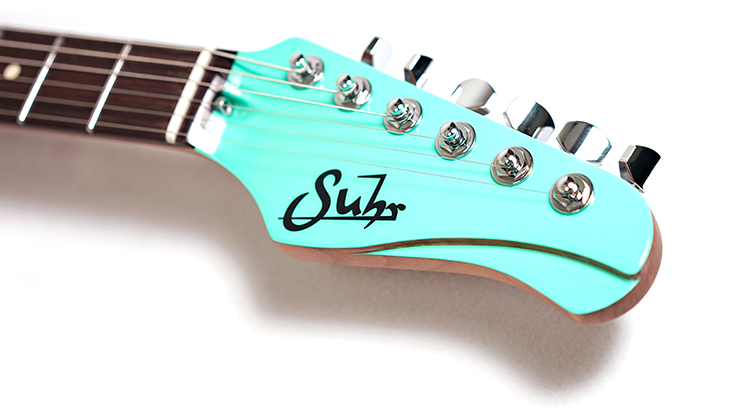 We hope this quick tour around some of the different aspects of Suhr has been helpful, and perhaps provided some context for those looking to buy a new Suhr guitar. It's a purchase that you will forgive congratulate yourself on! It's just a matter of picking which to buy...
Thanks for reading.
Ray McClelland