Gear of the Year
Published on 09 December 2019
2019 has been a fantastic year for music gear. Some of the very biggest names in the industry have shaken up their brands significantly, resulting in a lot of heavy competition for your attention and hard-earned cash.
Every market, from budget to super high-end, has seen a vast range of quality products emerge. Choice is great, but too much choice often leads to confusion and uncertainty!
With this in mind, we've decided to offer a quick shout out to all of the gear that turned our heads this year, with some honourable mentions alongside. The following selection is our choice of the best, most exciting stuff that's come our way this year. It's entirely personal and subjective! Please comment at the end with the gear you loved the best in 2019, we'd love to hear your thoughts!
Our only caveat is that the instrument or product had to have been released in 2019, but other than that, the gates are wide open! You'll find guitars, of course, but also amps, pedals, synths and keyboards. It's been a good year! Let's check out what it brought!
Acoustic Guitar of the Year – Finlayson 100 Series 000-100RS Vintage Sunburst
We tend to think that a great acoustic guitar makes its presence known pretty quickly: one or two brief strums is often enough to tell whether you have something special in your arms.
This was certainly the case when we first took delivery of the Finlayson 000-100RS. Landing with us at the beginning of the year, this superb Concert-sized guitar wowed us with its clear, balanced tone that brought strength and depth to our idle picking. Designed and built as a collaboration between luthiers Billy Finlayson and Robert Godin, the 000-100RS is one of the flagship models of a range that impresses overall.
The Finlayson 000-100RS is made with solid Spruce, solid Rosewood and has a slotted headstock. It's a beautiful, light guitar to play, with a slightly more substantial neck profile and projection for days. For us, it was love at first sight.
Guitarist magazine evidently agreed with us, awarding the guitar their 'Guitarist Choice' award. Well-deserved, we'd say!

Electric Guitar of the Year – Fender American Ultra Stratocaster HSS
The notion of a Strat being a good idea to own for most guitarists is hardly a revelation, but the new Ultra range brings some serious quality and performance! It's the premium USA-made line, and is, for our money, the star of the line.
The new generation of Noiseless pickups brings a more vintage Strat voice, and we personally always have more fun when we see a humbucker loaded into the bridge position! A new slinky neck profile and a host of stunning new finishes (not least this 'Cobra' blue) make American Ultra Stratocaster HSS one of the most handsome Strats we've seen in a while!
This guitar can do it all: from the lushest, poppiest chords, through an authentic Blues twang and right into riffy Hard Rock, this is one stylish Swiss Army Knife indeed!

Best Beginner Electric: EastCoast GT100 Blonde
EastCoast get full marks for this inspired – and quite original – take on the enduring T-Style. A few deft re-draws on the upper horn and pickguard render this design fresh and unique. In a market flooded by carbon copies, this slight trundle off the beaten path is most welcome!
Not to say that the EastCoast GT100 is a bold new concept. Hardly: the layout, controls, hardware and overall aesthetic (who do you think of when you hear 'blonde guitar with a black pickguard'?) are 'vintage T' incarnate. It's just that it feels different and exciting, which, for a £99 beginner's guitar, is not insignificant. On top of the vibe, there's a super solid, simply designed guitar here, for everyone to enjoy. Potential for home-modding? Huge.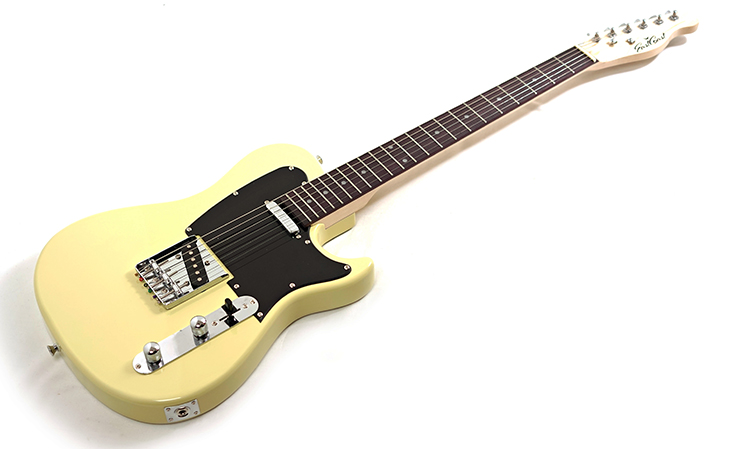 High-End Guitar of the Year: EVH 1979 Bumblebee Tribute
Now, this is how to put out a tribute! As one of the possibly three or four most influential guitar players who have ever lived, Edward Van Halen is an artist who deserves special recognition. His famous 'striped' guitars – achieved by the man himself via DIY gaffer tape and cans of car spray paint – became instantly iconic and have remained a trademark of the man and his music. Each fan has their own preference between the red 'Frankenstein', the white 'Van Halen I' and the Black and Yellow 'Bumblebee', but they all bear the classic Van Halen vibe equally.
This replica model is a minutely detailed recreation of the Van Halen II-era guitar, right down to the industrial metal loops for strap buttons, the 'fag burns' on the headstock, the tape 'n' spray paintjob and, more importantly, a perfect reconstruction of the neck profile and pickup.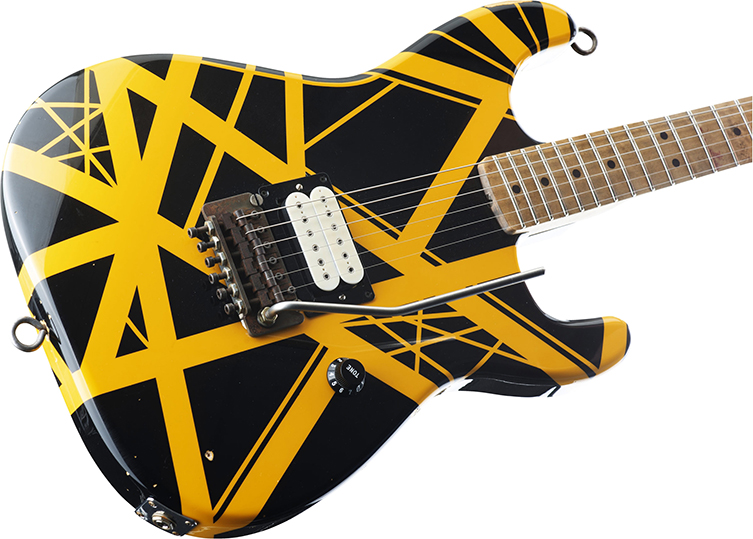 It's a pretty spectacular instrument, full of response, dynamics and unadulterated tone. We regret to inform you that no amount of money will make you play or write like Ed, but deep down you already knew that.
The case candy (importantly overlooked in so many cases) is stunning too: apart from retro 70s Fender strings and picks with old 70s VH logos, you get an autographed copy of Van Halen II on vinyl, a certificate of authenticity, a signed photo of the great man and two collector's books! AND a massive Anvil case! There were only 50 of these made, and the overused epithet of 'hen's teeth' very much applies already. We have one available. Treat yourself!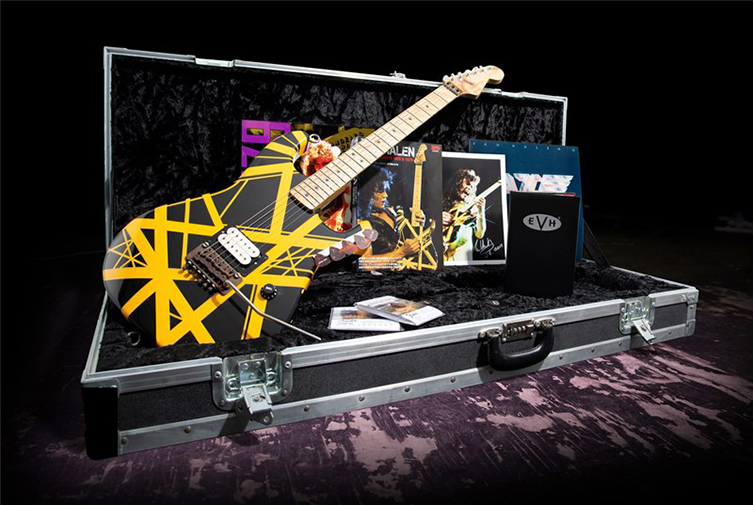 Bass of the Year - Rickenbacker 4003AC Ltd Edition Al Cisneros
How often do you see a signature Ricky bass? With green inlays?
Yeah, it's pretty bold. This is for Al Cisneros, bassist (or, as the marketing literature would have it, Low-End High-Priest) for influential Stoner-Metallers Sleep. This bass is a lot of fun: it's a mean ol' through-body bass with a serious looking pair of chrome-covered humbuckers to capture Sleep's immense low end. This is like a 4003 but with a slightly mad and reckless attitude. It's full of charm, full of tone and totally refreshing. If you want to stand out with authority on stage, the Rickenbacker 4003AC Ltd Edition is for you.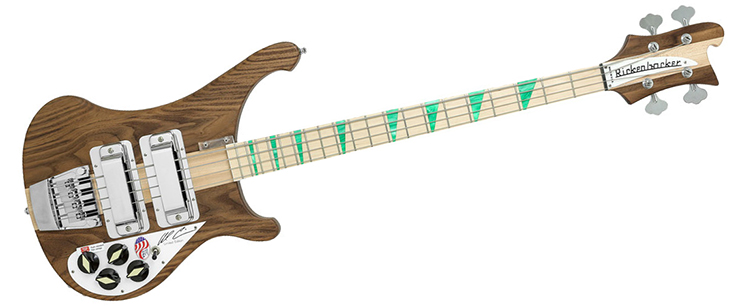 Synthesizer of the Year – Arturia Microfreak
In a year of great synth products, we've decided to champion the company pushing ahead and breaking new ground over those who are providing some much-wanted but inherently less creative re-issues of old classics.
Arturia have, over the last few years, led the way in powerful, super-powerful analog synths. The Minibrute was a bit of a gauntlet through by Arturia to other manufacturers who maybe weren't bringing the goods as much as they could. It sparked a bit of a revolution.
Since then, Arturia have steadily released more and more pieces of synth hardware, from the tiny Microbrute to the colossal Matrixbrute. New this year was the Microfreak, an exciting digital hybrid synth which utilised a mixture of wavetable synthesis with analog filters to produce sounds that could be played on the uniquely flat keyboard (stull with aftertouch!) or triggered as a sequence.
We'd never seen anything like it, certainly not this size and at this price! Because of its unique sound-creating opportunities, this is one synth you can more than justify spending on, especially when it is as affordable as it is. Arturia score a significant hit for synth lovers everywhere.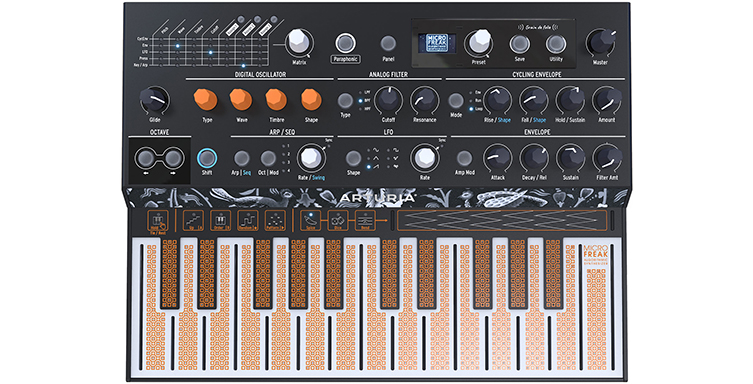 Piano/Keyboard of the Year – Nord Grand
Clavia's unstoppable hold on the world of live keys performance continues with this superlative digital take on the grand piano. The Nord Grand is a delight to play, with the same familiar what-you-see-is-what-you-get interface that has helped propel Nord into pole position for a great many professional players.
Triple sensors help detect faster notes, meaning that technically demanding piano solos and concertos will not be slowed down by technology! The keys themselves are from Kawai and help make the Nord Grand effortless to play.
It goes without saying that this piano is exceptional sounding. As with other Nord pianos, there is also a 'Sample Synth' section, which really opens the possibilities of this wonderful instrument.
There is a lot to say about the Nord Grand: suffice to say that it, by quite some margin, is our favourite piano of 2019.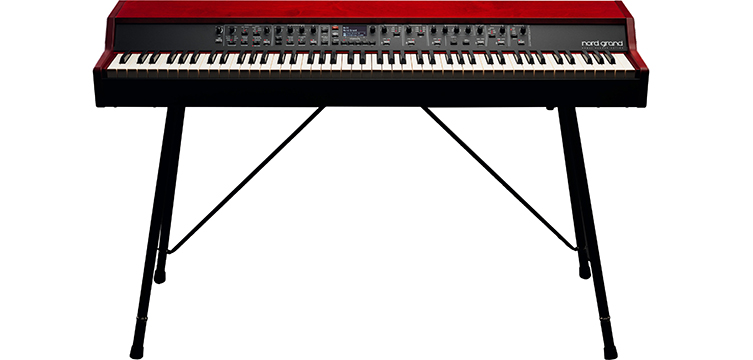 Amplifier of the Year – Yamaha THR30II Wireless
Realistic tube tone, you want? Wireless, is it? In a small, convenient package?
Of course such a thing exists! The Yamaha THR30II Wireless is hear for all of your house-playing needs! This great-looking box is a pleasure to plug into, with a full spread of excellent amp tones and accompanying FX available. A wealth of control knobs allow you to sculpt the sounds you want, which is usually something of a luxury with these smaller 'lunchbox' amps!
The features continue: you can plug devices into this for music playback, plus it runs on a rechargeable battery! Rock out in the gaaarden! Also, buy a Line 6 Relay G10T Transmitter and you'll be able to do away with your guitar lead, too. It's a fantastic device that ticks boxes on all levels, most importantly in the tone and feel departments. Brilliant!
FX of the Year – Kemper Digital Profiler Stage
Take one of the world's most convincing modelling units, reshape it into a sturdy unit and fill it with footswitches. What do you have? The best idea this year!
Taking the game-changing Kemper Profiler and putting it into a floor pedal chassis was a complete no brainer: grab this and your favourite electric guitar and you can arrive at any gig, fully ready to play, using world-class sounds! No backline required! Everywhere you go, you can have your sound, chosen from literally endless possibilities, all of superb quality.
Kemper have added a looper with its own dedicated on-off footswitch, too, along with a very user-friendly laying out of the familiar Kemper controls. The same earth-shattering tones remain.
Whilst quality never does come cheap, we think that, for what you get out of this set up in terms of sound, feel, choice and practicality, the Kemper Stage is a bargain.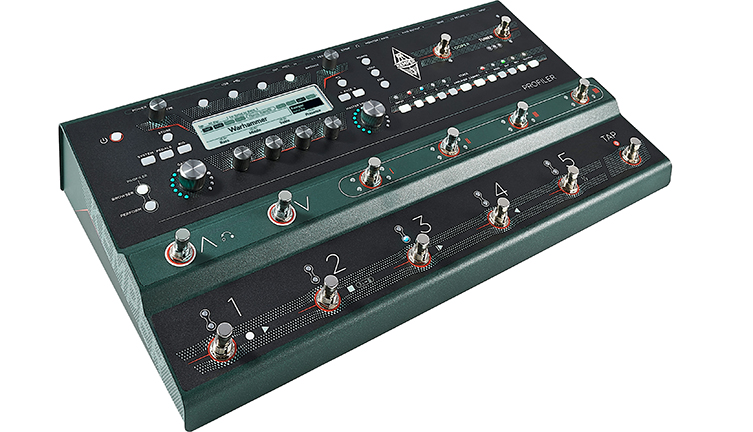 Honourable Mentions
This year brought with it a great many fantastic bits of gear. This last section is a small toot of the horn to other amazing gear additions to our world, in no particular order....
Gibson New Collection Les Paul Standard 60s
Roland Jupiter XM
Fender Jimmy Page 'Dragon' Telecaster
BOSS SY-1
EastCoast GSM Koa
PRS SE Custom 22 Sand Blasted
Alvarez AF30CE
There were loads more, but these few really left an impression!
What did you love in 2019? Did some of your choices tally up with ours, or are your tastes completely different? Let us know in the comments section!