A Closer Look: Alvarez Acoustics
Published on 09 December 2019
An acoustic guitar is for life, not just for Christmas.
Choose wisely!
In the affordable acoustic guitar stakes, there is perhaps more competition than anywhere else in our business. Manufacturers are all fiercely competing to get that all important 1st or 2nd guitar from players who are either upgrading from their first guitar, or indeed beginning to learn with a higher quality instrument.
In addition to that £2-300 area, another significant area is the mid-priced £5-700 zone. This is where some serious professional quality begins to show up, and the wise guitar buyer can grab some inspired choices!
The other area that has seen massive growth in the acoustic guitar market is the 'travel guitar' area. Smaller and more portable than standard sized guitars, these instruments are none the less aimed at 'full-sized' players. Sitting on the sofa, bringing with you in the car or train, travel acoustics are ready to play anywhere and are particularly 'more-ish' in terms of their addictive playability.
We've been very impressed by Alvarez acoustics this year, and feel that, since lots of guitars are sold around this season of the year, it may helpful to maybe highlight some models in particular. We've chosen four models to focus on here, which are all available at the moment and are great buys. Let's get introduced to them...
Alvarez AF30/AF30CE
Our first choices are effectively variations on the same guitar. The Alvarez AF30 is a folk-sized (otherwise referred to as an 'OM' or Orchestral Model) acoustic with a solid Spruce top. As you may already know, solid top construction refers to the guitar's soundboard (the 'face') bring made with a solid piece of timber as opposed to a layered piece of wood or plywood. Solid wood 'moves' more when frequencies pass through. More movement means more resonance and therefore a livelier, more detailed tone. Moreover, the more one plays a solid-topped guitar, the more the guitar 'seasons', improving the sound further.
The AF30 uses Spruce for this task, which is by far the most popular choice. Spruce is a tight, strong wood that also vibrates well, resulting in bright, percussive tones. The Folk body size is slightly smaller than a typical dreadnought, making it a good choice for fingerpickers as well as strummers. Guitars with a Folk body shape tend to have a natural midrange cut, making them good as accompaniment instruments for singers.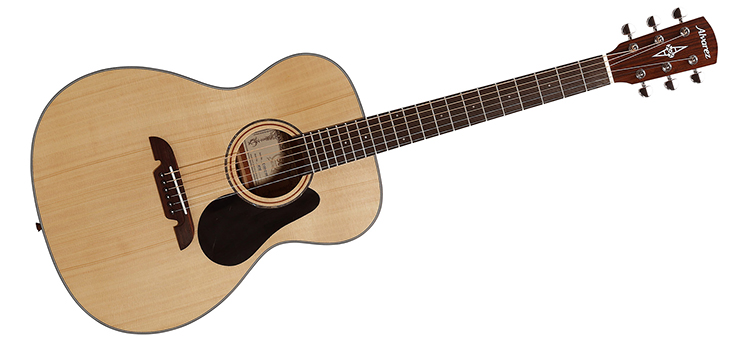 The Alvarez AF30 is a very comfortable instrument to play and brings a sound and playing experience that is quite the revelation at this price!
The AF30CE takes the formula and expands on it for the benefit of gigging performers. As seems to be the case with nearly all 'electro' models, Alvarez include a cutaway in the body shape. We call this type of rounded cutaway a 'Venetian' style cutaway and it allows for easier access to the upper frets. It's a very attractive look, too!
The other significant change is, of course, the addition of a pickup system. This is made up of the pickup itself, which sits underneath the bridge saddle, and a preamp control section. This part is located on the side shoulder and gives you access to some handy features, not least an onboard tuner! You also have access to sliders for controlling volume and EQ. It's a feature that's on most electro acoustics and makes your live guitar playing much more controllable and enjoyable. The battery compartment is found here, too, so it's an easy 30 job to swap out a dud 9v for a fresh one!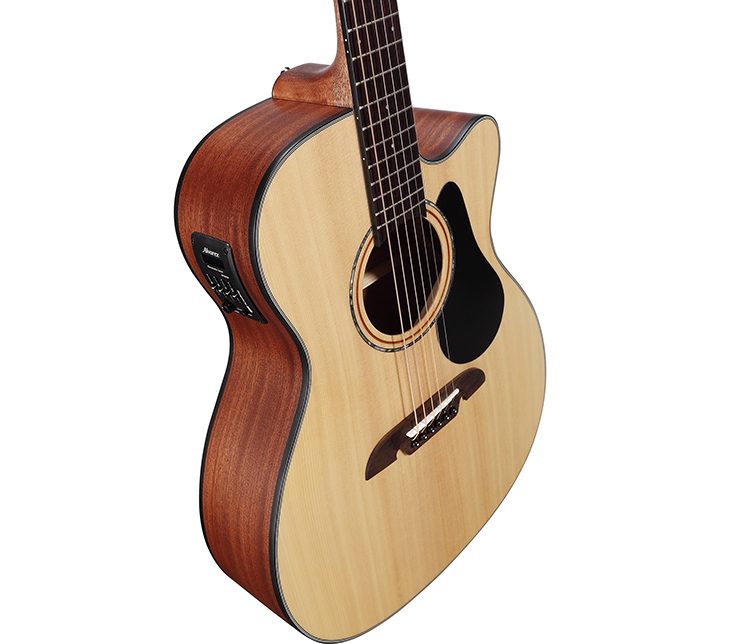 The idea of being able to enjoy this level of quality for under £300 is something we could only have dreamt of years ago. These guitars will be faithful workhorses for many years, sounding better and better as they age!
Alvarez LJ2E
Alvarez's 'Mini Jumbo' is a very charming, playable and great sounding travel guitar. Using the dimensions of a Jumbo but shrinking them, Alvarez keep plenty of body and richness to the guitar's tone but make it small enough to be portable.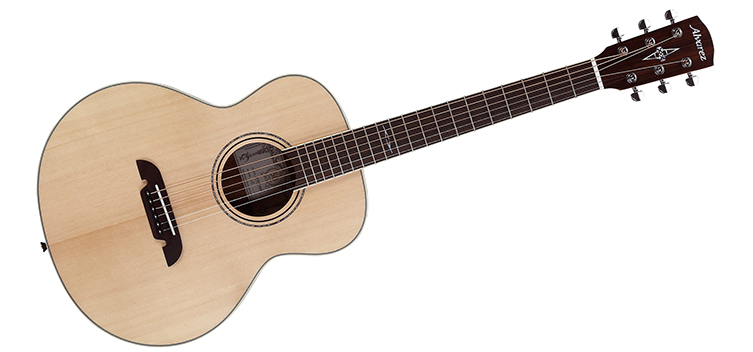 Part if this is also down to the solid A+ grade Sitka Spruce top. Sitka is an area in Alaska famous for its quality timber. Sitka Spruce is a sign of quality!
The style of the Alvarez LJ2E is stylish and understated. You get multi-ply binding, and abalone rosette and a 12th fret inlay, making for a clean and tidy vibe. This is a modern acoustic guitar for modern people. We've picked the electro model today, with the same pickup system fitted as the AF30CE, but it is also available without the pickup. Both versions come with a padded gig bag, promoting the 'go places' attitude and ethos of the model.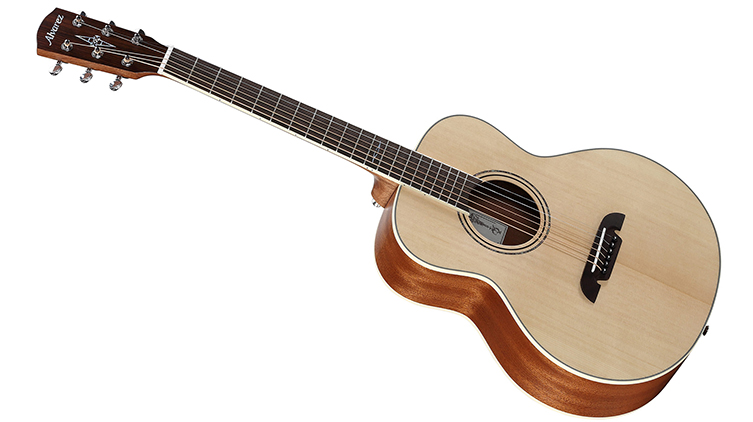 MF60CEOM
At the of the rend of the Alvarez spectrum is the Masterworks range. Whilst a good chunk more expensive than the others we've looked at, this is still an eminently affordable guitar. Once you fully understand what's included, the value becomes exceptional.
The Alvarez MF60CEOM is a professional grade guitar at an unbeatable price. It is made of entirely solid timbers, so it's not only the top that's solid! Adding solid wood to the back and sides means that the entire body will resonate better, meaning your playing will come to life with deeply nuanced, rich notes. An an-solid acoustic is simply the best option for tone.
This beautiful guitar uses solid AA Sitka Spruce for the top and solid African Mahogany for the back and sides. The Folk/OM body shape form before is preserved here, alongside that tasty venetian cutaway. Unusually for an acoustic guitar, the MF60CEOM feature 22 frets, allowing you to be more adventurous and creative with your playing.
LR Baggs are known as one of the best pickup creators in the business, and their VTX Element system is included on this model. That means that your 'live' guitar sound will be absolutely top notch, with all of the depth and dynamic range of your instrument preserved at gigs.
All in all, this is a deeply impressive instrument. It is beautiful to look at, rewarding to play and exceptional sounding. At twice the price, it would be a good buy. If you are in the market for a quality gigging workhorse acoustic guitar, this simply must be on your list of guitars to consider.

Final Thoughts
Hopefully this focus on Alvarez has demonstrated just what lies out there waiting for you, at all price points! Alvarez are packing features and quality into all of their instruments, and the results are both satisfying and rewarding.
There is a lot of choice out there, so do visit us and chat to our sales teams! They are there to listen, help and guide you to your next amazing guitar experience.
Thanks for reading.