NAMM 2020: Fender Roundup
Published on 16 January 2020
It would be fair to expect lots from Fender at this time of year. Arguably the world's most successful guitar maker, Fender should be unveiling some special stuff at NAMM, the world's biggest musical instrument trade show.
You'd be right! There's loads!
In fact, there is too much for any one blog. Today, we'll highlight some of our favourites from Fender's main camp and from their other brands, including Jackson, EVH and Charvel. Squier have their own thing going, so we'll look at them separately.
First of all, the Fender brand itself...
New Parallel Universe Models
Fender's Parallel Universe range is an inventive and fun selection of new guitars that trade off the 'what if...?' premise to bring us strange and startling combinations of features that normally never share space on the same guitar. For example, previous Parallel Universe guitars have given us Jaguars with Strat bodies (should that be Strats with Jaguar hardware?) and Strat layouts on Tele bodies. They are fun, crazy and occasionally very inspired!

2020 sees some serious cool things coming from this corner. The one that caught our attention first was this sublime (and rather on-the-nose) 'Black Beauty' Troublemaker Custom Telecaster, with three gold pickups, four controls, a bound 12" radius neck (with block markers, of course!) and a fantastic black, gold and cream 'tuxedo' colour scheme. One wonders about the inspiration here...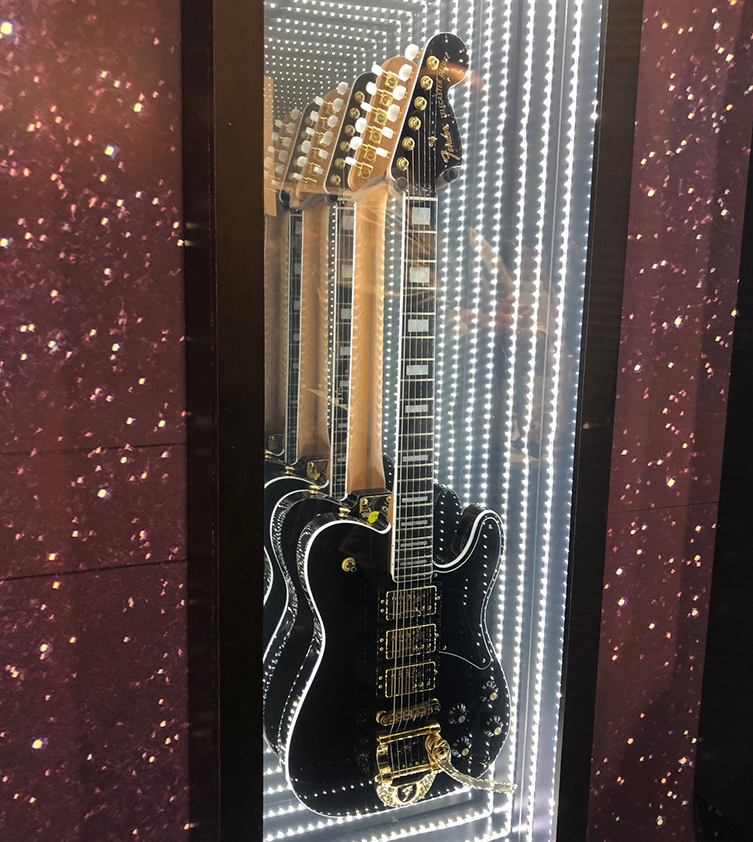 The Strat Jazz Deluxe matches a gorgeous 4A flame top to a double bound Alder body and a solid Rosewood neck! It's both refined and bold! Good work!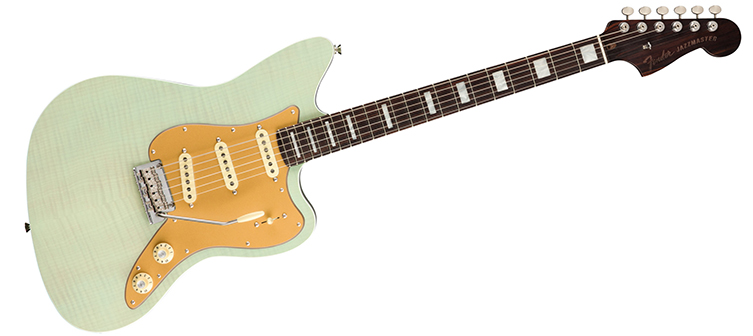 Another one we like is the Maverick Dorado, which comes across like a demented pawn shop smasher! It's an original design to say the least, with its hockey headstock, Bigsby trem and Filtertron pickups. We think it has tons of swaggering, Tarantino-esque charm.

Fender Player
As you'll see pretty soon, Fender and its family of brands are going relatively heavy on the 'retro shred' style this year. First up is a reissue of the Player Lead Series from 1979. They have unique shapes, cool finishes and are available with either two slanted single coils or two humbuckers.

Our money is on the neon green single coil model and the Metallic Purple humbucker'ed number. Very cool!
Elsewhere within the Fender Player umbrella, Fender bring us the Player Offset Duo Sonic. Choose between two single coils or an H-S configuration and pick form a swathe of lovely finishes that includes Seafoam Green and Desert Sand. The 24" scale length is what gives the Duo-Sonic its unique feel. Fender have proven the quality of the Player series, so this is a good shout! New Mustang models are available too, with a choice of P90 or single coil pickups and more great finishes.

HM Strat
Moving away from the Player Series but heading back to Retro Metal, Fender bring us the well-remembered HM Strat from the late 80s! Remember, with the black headstock and graffiti 'Strat' logo?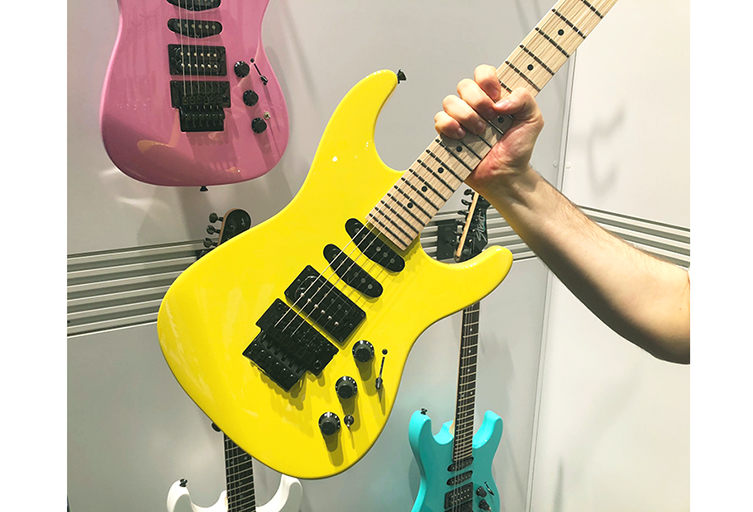 These are definitely for a select audience, but for those who love spandex and hairspray, they are quite special! 4 colours are available – including Flash Pink and Frozen Yellow - and there will only be 150 made of each colour! If you love loud 'n' proud gunslinging geetars, these Floyd Rose equipped speed machines are for you!

Fender's Artist roster increases this year too, with one very overlooked and highly influential guitarist finally getting some respect. Let us introduce you to...
Tom Morello 'Soul Power' Signature Stratocaster
Rage Against the Machine's main man must be one of the most significant guitar-weilders of recent decades. Let's face it: nobody plays like him! Whether his anti-establishment stance has prevented him from signing a deal for a signature guitar in the past or not, 2020 marks the introduction of Fender's Soul Power guitar. Fans will know this more form his Audioslave days than any other, but it's Tom through-and-through: a Floyd Rose trem, Seymour Duncan Hot Rails bridge pickup and that all-important kill switch are all included here, with hthe same 'bound and mirrored' vibe from Tom's original Aerodyne Strat.

Jim Root Jazzmaster
Slipknot's Jim Root has managed to hit on a very successful formula for his signature Fenders. Now into his fourth generation of guitars, all of his models have made a virtue of simplicity: his truly utilitarian take on Telecasters, Stratocastes and now Jazzmasters (this is his second Jazzmaster sig) have been huge sellers. Hugely powerful pickups, flat fingerboards and minimal (read: none) decoration provide a guitar that means business. The fact that they sound monstrous may also help.

This new Jazzmaster adds block position inlays to the Ebony fingerboard and updates the pickups with Jim's new EMG Daemonium units.
Acoustasonic Stratocaster
Fender's gamble last year with the release of the Acoustasonic Tele paid off: though maybe were unsure on this bold new concept, many more voted with their wallets, making the guitar a considerable success. So it follows that players of a more 'Stratty' disposition can now enjoy the same hybrid benefits with the Acoustasonic Stratocaster.

Hardware-wise, the story is the same as with the Tele models: all of the fresh Fishman collaboration work under the hood remains, so you have a body sensor, a piezo pickup and a Fender Noiseless single coil to work with. Those on the fence should give this a try, it's pretty game-changing stuff.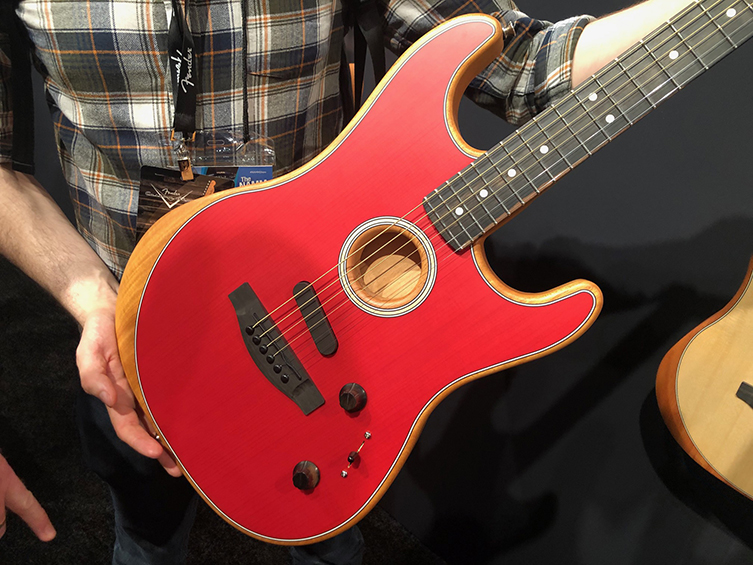 EVH
Talking of collaborations, EVH are of course Fender's collaborative brand with Eddie Van Halen. 2020 sees the release of some gorgeous new finishes for the Wolfgang Standard and Wolfgang Special, adding to the current climate of bright-coloured Hard Rock axes.

The real excitement, however, is focused on this lil' beast...
EVH Striped Series Frankie
Yep, it's an affordbale, relic'd Frankenstein guitar! And it looks great! It has the stripes, the Floyd, the dummy pickup, the volume pot labelled 'tone'...it's all here! The neck has a 12-16" compound radius and the pickup is a Wolfgang model. If you've lusted after the megabucks Custom Shop Van Halen guitars, this may be the one for you! Road worn and ready to Rock, this is quite a sensation. Get your order in early!

Jackson
The trend for retro shredding continues with Jackson's NAMM offerings. Their iconic headstock will always be synonymous with Sunset Strip-era tunes, and some of the new models here look like they've time-warped directly from 1987! For starters, how about crackle finish X-Series Dinkies? Sharkfin inlays? Of course!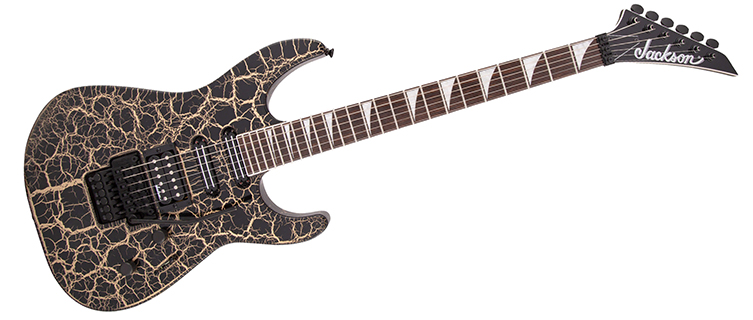 How about a little satin Swirl? With matching headstock? Yes, we thought you'd like those...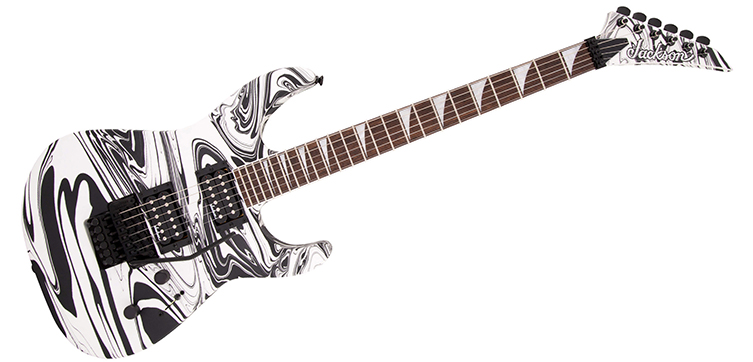 The Pro Series DK2 Dinky models are coming our way in Neon Pink and Slime Green too, with Seymour Duncan pickups and tons of Hard Rock attitude! There are less over-the-top colours available too, but who cares?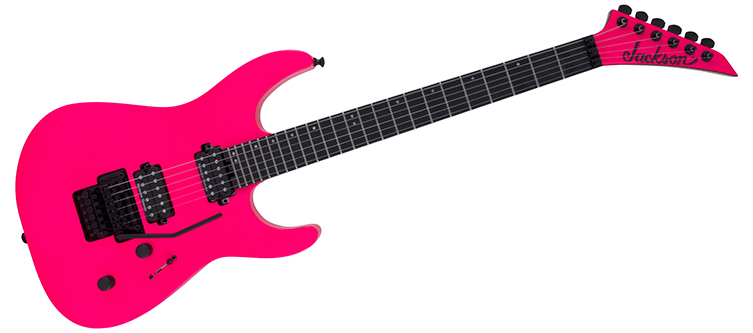 The trend for sandblasted finishes continues with the Pro DK 6 and 7 string guitars in in a range of blasted Ash finishes, with and without Floyd. It is nice to have the choice!

...while the Pro SL3m Soloist wins the prize for most bonkers finish of the entire show with its Rainbow Crackle finish. Superb!

Charvel
Fellow Shred-Rockers Charvel have a brace of new finishes and updates to their already pretty awesome roster of guitars. We spotted a deliriously OTT purple camouflage (unlikely to be effective for real-life concealment) Satchel Signature model. Satchel is Steel Panther's guitarist, which explains everything.

Gojira's Joe Duplantier gets a powerful refresh of his signature T-type and Angel Vivaldi's signature 7 string is now pretty beautiful in this new black 'n' gold iteration. Glorious!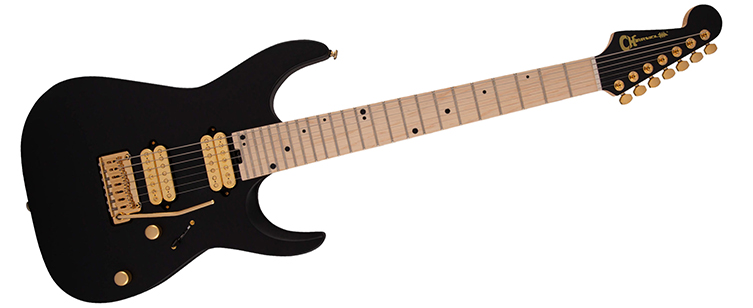 Tons More!
Fender have brought out tons and tons of exciting models for this year's NAMM. We just can't fit it all in here! Don't worry, we'll be bringing you the latest new guitars and gear as it happens, so keeping checking back to our News section for fresh NAMM blogs! What are your favourites? What are you looking forward to trying out? Let us know!
Ray McClelland