NAMM 2020: Gibson Roundup
Published on 16 January 2020
Gibson NAMM 2020 Highlights
NAMM 2020 is bringing us a great treasure trove of treats from all manufacturers, not least Gibson! Gibson have been rather proactive in terms of their release schedule, debuting many of their 2020 range at the tail-end of last year.
Looking through their 2020 Original Collection, it's satisfying to see so many desirable guitars being made available, including many instruments that have been beguilingly left out in the rain in previous years' release schedules. The aim of the game from Gibson is obviously to make up for some of their recent missteps and to generally give the people what they want. This year seems to be all about re-establishing the brand and showing off their strengths.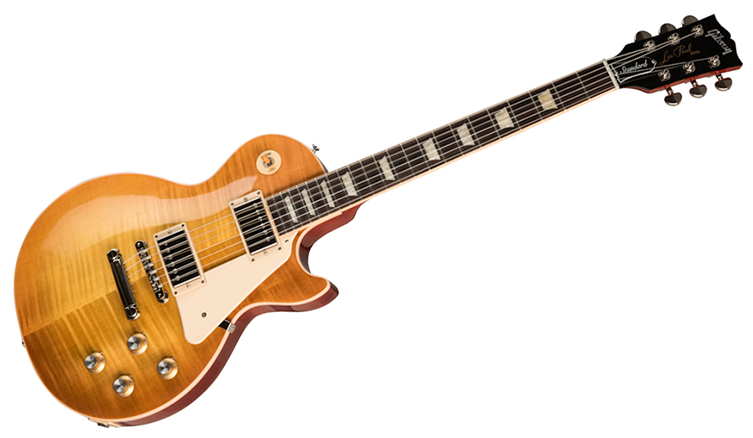 What are those strengths? Put simply, a large number of the most recognisable, coveted and copied guitar designs in history! Out of Fender, Gibson have the most iconic guitars in the world, and they arguably have more classics than any other brand.
Need convincing? Then have a gander through this brief selection of guitars. We have a few Original Collection electrics and acoustics here, so nothing even from the Custom Shop! There will be more to come, but in the meantime, gaze at this horde of amazing axes...
70s Flying V
Gibson's Flying V remains the ultimate Rock-poser's axe, and Gibson have wisely understood that Flying V players want them as visible as possible and so have brought back Classic White as a colour! A slim neck, specially wound pickups and Orange Drop capacitors bring class to this lively, evergreen design.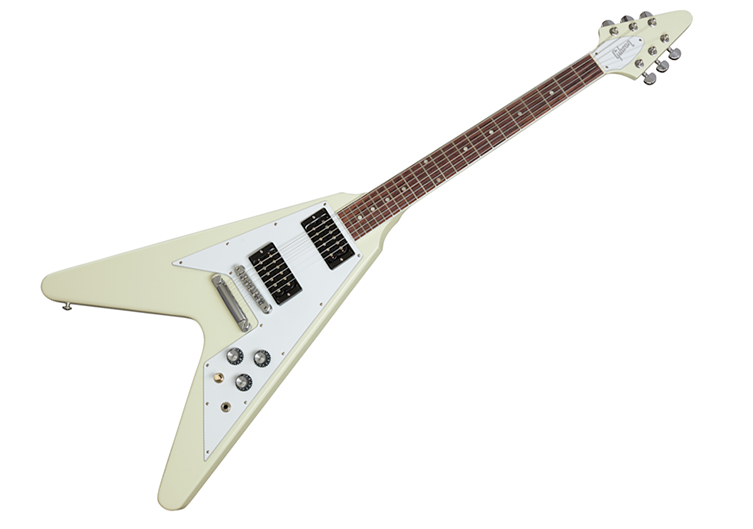 ES-335 Figured
One of Gibson's most desirable guitars, not to mention one of its most versatile, is the 'Three Thirty-five' and this time, you can have it with a triple A Maple top! It's tasteful, not garish, and has aged binding and small block inlays to help make it even more special. Not only that, the Maple centre block and Spruce bracing has been thermally engineered (torrefied, or 'baked' basically) for more volume, tone and strength.
Best ES-335 yet? The odds are good!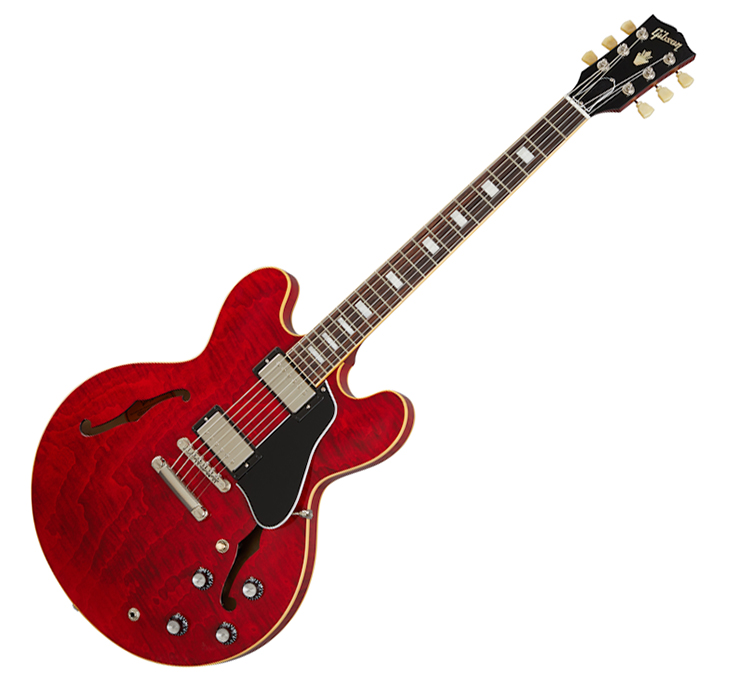 We are looking forward to seeing and hearing more about the new ES guitars. Stick with us while the news filters in, and in the meantime, here's a cool pic direct from the show...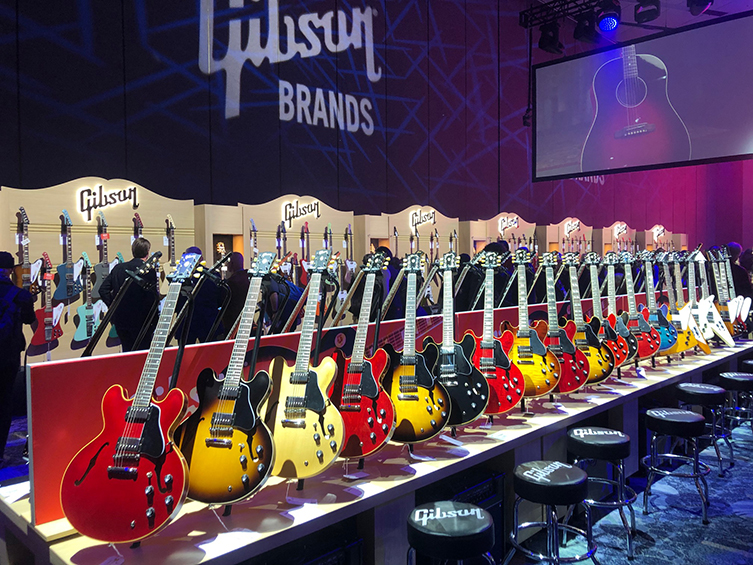 SG
The wonderfully influential SG has already seen plenty of new models released, so Gibson didn't add any to the Original Collection for this NAMM. However, Gibson's Custom SHop had some pretty beautiful looking pieces on the horizon. Details are not massively forthcoming at this point, but let your eyes drink up this wall of Custom SGs!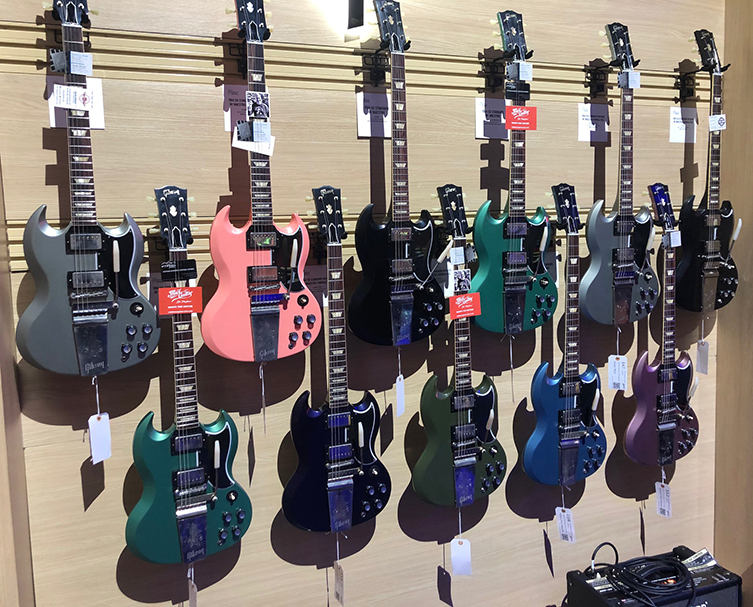 If that veritable SG smorgasbord wasn't enough, here's another special one for you. Proudly displayed in it's own case, this tribute to GG-fave Tony Iommi is pretty excellent...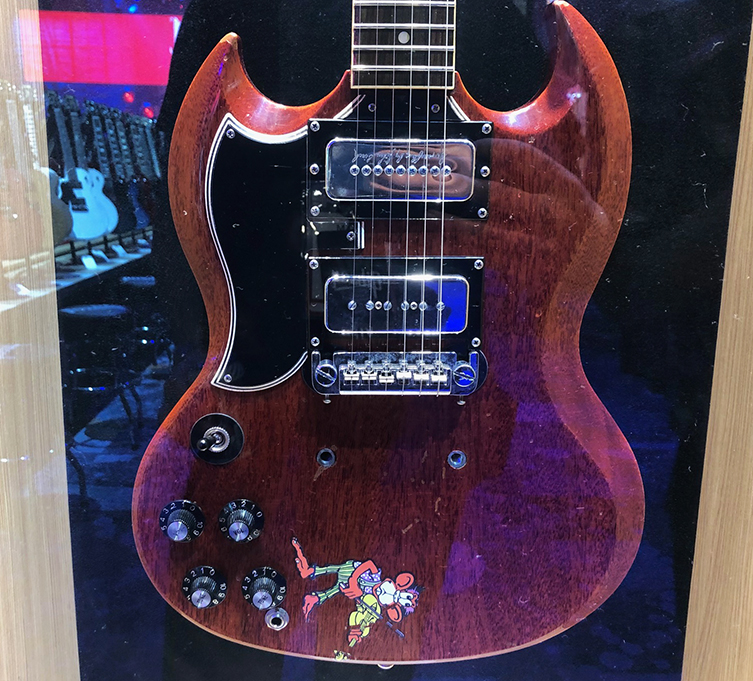 Not much news on it as yet, but we certainly like what we see!
Les Paul Standard
Gibson's Magnum Opus is wisely available in 50s and 60s iterations again. As most of us will understand, 50s means 'bigger neck' and 60s means 'slightly thinner neck', but there is more going on here. Burstbucker pickups are installed, along with Orange Drop capacitors under the hood. Neither model has weight relief (head to the Modern Les Paul for that) and the 50s model is even available with as a Goldtop with P90s!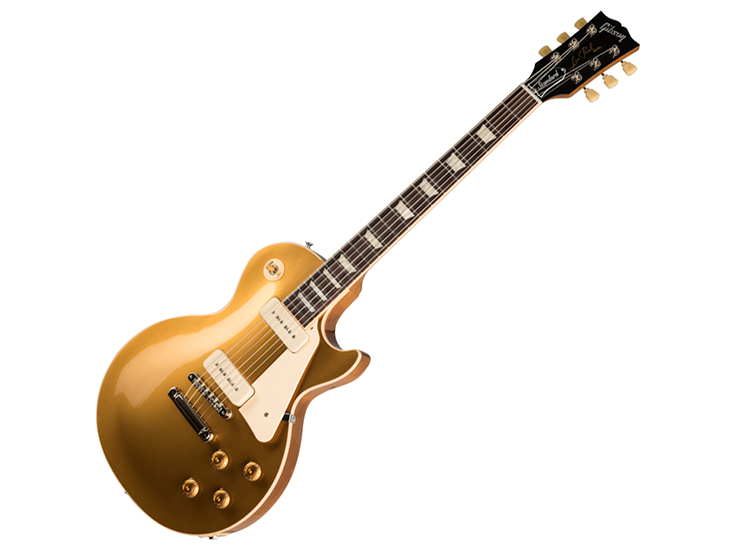 Of course, the allure of a 'Tiger top' Les Paul Standard is never going to fade. Gibson understand this and have sensibly offered four burst finishes, two per style. We can't take our eyes off the 50s style Heritage Cherry Sunburst.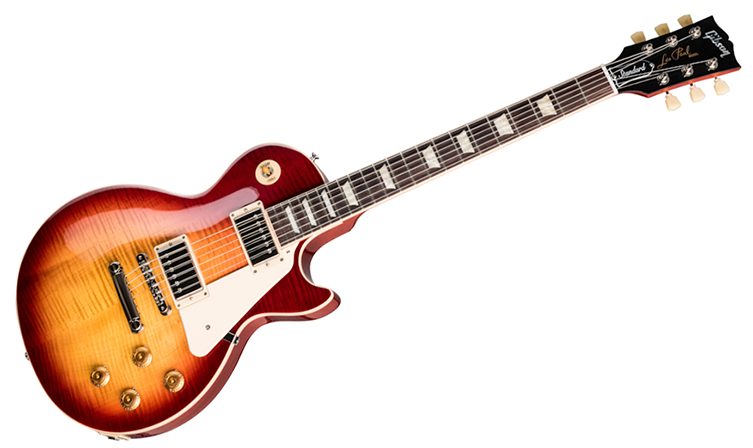 The Modern Les Paul is weight relieved, and has push/pull functionality as well as a range of excellent metallic finishes. Check them out in this pic from the show...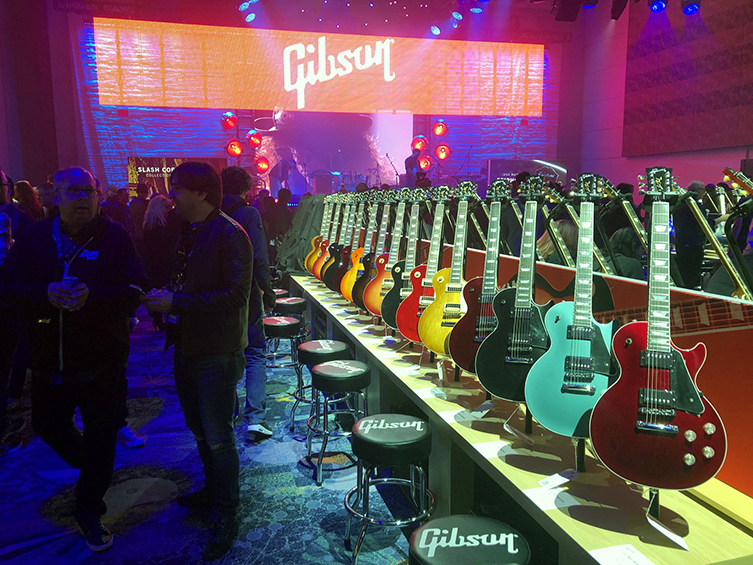 Slash Collection
Gibson's brand ambassador serves up a tasty selection of dishes with a new Les Paul, in all of the best Slash-related finishes, and a J-45. Both are tastefully done, meaning you can choose these without being a Slash fan (though why wouldn't you be?) and really enjoy what they have to offer. We have a separate blog for these actually, (click here) but in short, the Les Paul have 'Slashbucker' pickups, triple A tops and 50s Vintage profile necks.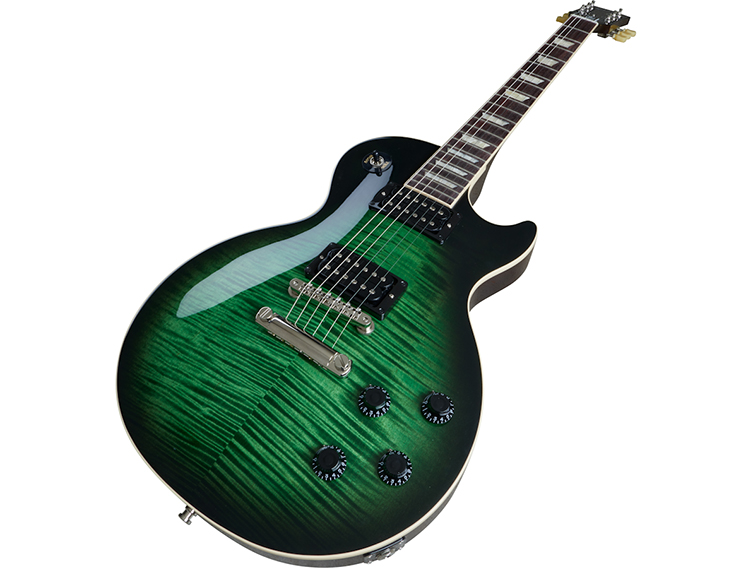 The J-45 models have 16" radius fingerboards and LR Baggs pickups as well as two gorgeous finishes. Vintage brown cases and some subtle Slash 'branding' complete the tasty serving.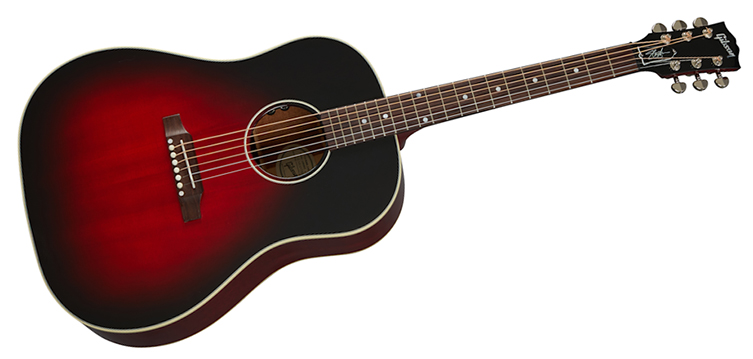 Acoustics
Staying on acoustics, Gibson have released a swathe of classics! Chief of these is the 'King of the Flattops' itself, the SJ-200! Resplendant in Natural or Vintage Sunburst, it's the classic combo of Spruce top with Flame Maple back and sides: this handsome beast is as timelessly beautiful as ever. An LR Baggs VTC pickup makes this instantly stageworthy.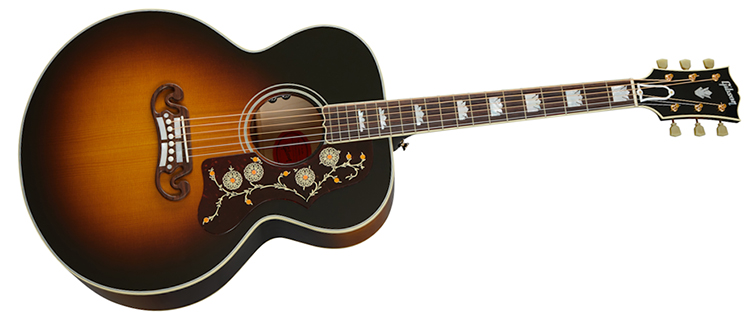 There are lots of acoustics, from the J-185 to multiple iterations of the J-45, but what caught our eye were a few smaller guitars. The narrow-hipped L-00 is back on the menu, in Ebony and Vintage Sunburst. A vintage script logo and 'Golden Age' tuners add some old-world charm.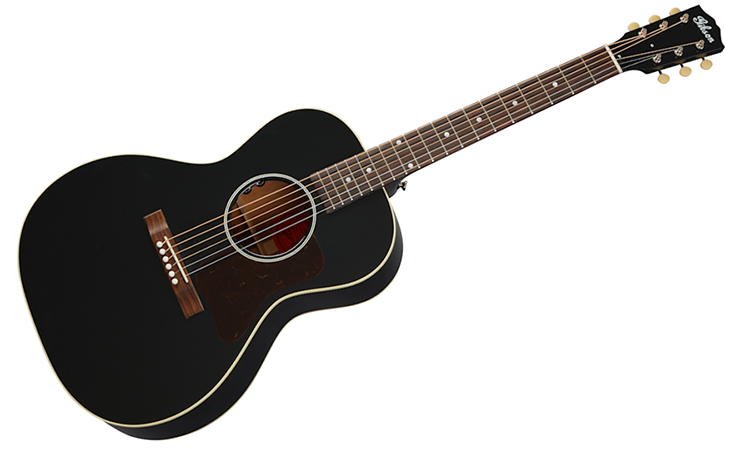 Hummingbirds are back, Southern Jumbos too, as is the LG-2. It's going to be a great year for acoustic guitar aficionados.
Final Thoughts
In fact, it's going to be a great year for fans of Gibson guitars in general. There are a ton of cool Custom Shop guitars coming out too, so much so that we'll deal with them separately! It seems to us that we are entering into a real renaissance period with Gibson: thye understand themselves, their customers and, most importantly, what makes their brand great. You'll be seeing all of these guitars at your nearest guitarguitar, so don't be a stranger!
More NAMM news as it comes!
Until then, thanks for reading
Ray McClelland