NAMM 2020: Our Synth Highlights
Published on 16 January 2020
It's that time of year again noisemakers, NAMM is well and truly underway and there have been some seriously exciting releases already. While the guitars sometimes steal the spotlight, there have been loads of awesome announcements from our favourite tech brands so we thought we'd take a look at some of our highlights. Let's dig in shall we?
First up, we're checking out the latest in a family that we simply cannot fault; the Moog Subsequent 25. Taking over from the acclaimed Sub Phatty, the brand new Subsequent 25 has had some really interesting upgrades that build upon the platform we've already fallen in love with. One that appealed to us, in particular, is the re-tuned Multidrive circuit to give this synth even more of a nasty bite than it's predecessors (which had plenty of grit to begin with!). On top of that, reshaped gain staging in the Ladder Filter gives it more depth and low-end power than ever and this unit even has twice the headroom as the Phatty for access to a new range of lush tones in mono and duo modes. Also featured is an upgraded keyboard thanks to a dedicated editor that allows you to store an infinite number of patches.
Essentially taking all the features we already loved from the Subsequent range and making some clever tweaks and improvements while redesigning the aesthetics by adding some lovely looking wooden cheeks, we reckon Moog have hit the nail on the head here and we can't wait to get our hands on one of these little beasts.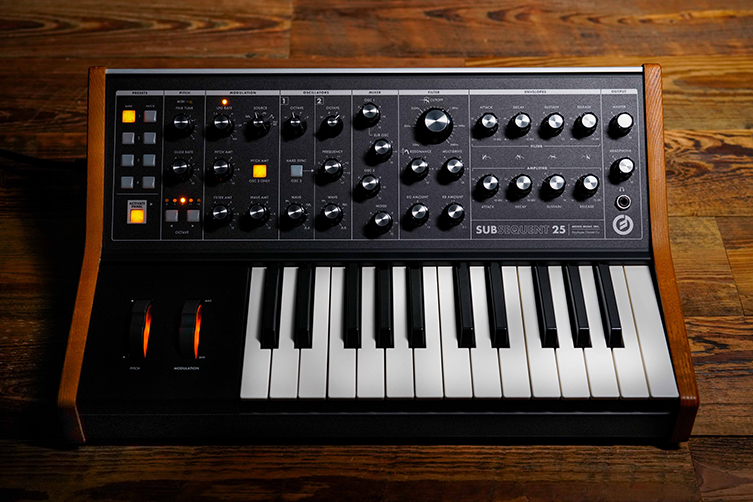 The Korg Wavestate and ARP2600 probably need no introduction as they were announced slightly before NAMM kicked off but we've been so impressed by the releases we simply couldn't miss them out. In fact, despite the colossally powerful ARP2600 costing round about £3500, we've already sold all the models we could get our hands on. Resurrecting the iconic synth in a limited run, this is one of the most impressive looking pieces of gear we've seen in a long time... Our only regret is that we don't have one left to play with!
The far more compact Wavestate also brings a classic synth back to the modern production world. This sample-based synth has tons of options for modulation with a huge array of onboard controls, alongside some really interesting sequencing options. It essentially works by allowing the player to layer up sequences and manipulate them to create totally unique patterns and sounds that continue to evolve as you play. With a whopping 64 stereo voices, an unthinkably large sample library and loads of onboard effects, this is a seriously exciting release that we can see being a huge product for KORG. I mean, any synth that features the MS-20's awesome Lowpass/Highpass filters along with the distinctive Polysix Lowpass gets our attention straight away but the patterns that can be drawn from this sound so otherworldly and ethereal that we can't stop checking out the demos and are counting down the days till it arrives.
Read more about the ARP2600 or Wavestate.
It wouldn't be NAMM if Nord weren't dropping some killer gear and 2020 is no different - next up is the Nord Wave 2. We were pretty blown away when we first caught wind of this because it is essentially 4 synths in one unit. Giving you access to Virtual Analog, Samples, FM and Wavetable synthesis in the one unit, along with 48 voice polyphony, we're not really sure that we've come across anything quite like this before, particularly for the price! These can each be layered on top of each other, giving you not only an insanely powerful platform for sound design but also for creating full patterns and textures. It features no less than 6 filter types onboard and has advanced sampling capabilities with an editor that allows you to add, map and loop your own samples.
With a wealth of effects and morphing options which are all easily accessible, alongside an intuitive arpeggiator, this is one of the most advanced and well thought out synths we've seen this year and we can see it absolutely storming the NAMM show.
Our last choice is a relative newcomer in comparison to the other tech giants we've mentioned but it most definitely deserves its place on this list, the Ashun Sound Machines Hydrasynth. Available in both a keyboard and desktop format, this 3 Oscillator synth has loads of options for sound design with dual Wave Mutators and 2 filters that can be configured in series or parallel. Designed to give players a user-friendly and versatile platform that's capable of distinctive and deep sounds, this is a very modern take on synthesis and we love how many features they've crammed into it! Despite how contemporary its design is, the keyboard model features a proprietary Polytouch™ keybed that offers polyphonic aftertouch over each note to give it the feel of a classic synth, which is a seriously appealing feature for a set of keys at this price. Getting back to the more modern features, the keyboard model also features a 4-octave ribbon controller along with Pitch and Mod wheels to allow you for really expressive playing.
A little out of the box and different, the advanced features of the Hydrasynth appealed to us right away and we see this as one of the hottest products of this year's show!
So there it is folks, our roundup of the synths that had us salivating. We're sure there are plenty more to come but in the meantime, why don't you let us know what your favourite releases are in the comments below?