NAMM picks...so far
Published on 16 January 2020
It's day one at NAMM, and you've probably seen a bunch of stuff already! What are you thinking? Have you found some amazing stuff that you're excited about getting your hands on?
We have!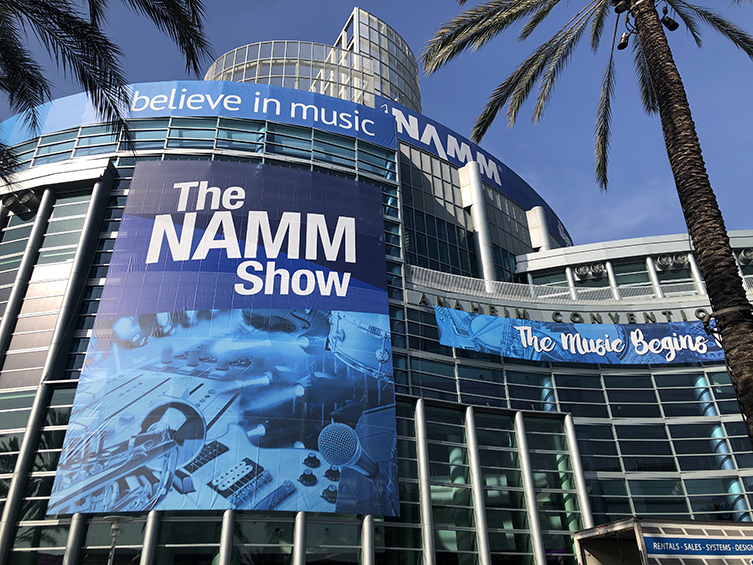 There have been truckloads of announcements online, and we've sifted through those to find some early favourites. Our staff members over there have been getting stuck in too, and have gamely sent over some exclusive pics from their hands-on experience!
There will be lots more to talk about, no doubt, but we wanted to quickly pick out some of the stuff that's getting us hyperventilating here at GG...
Martin SC13e
So tightly guarded that we can find alomost nothing on it, this new Martin SC13e looks like it'll be quite the game-changer, especially for such a traditional brand. Offset acoustic guitars? It's rare, but not unheard of. We've never seen Martin try this type of thing though, and it has us pretty excited!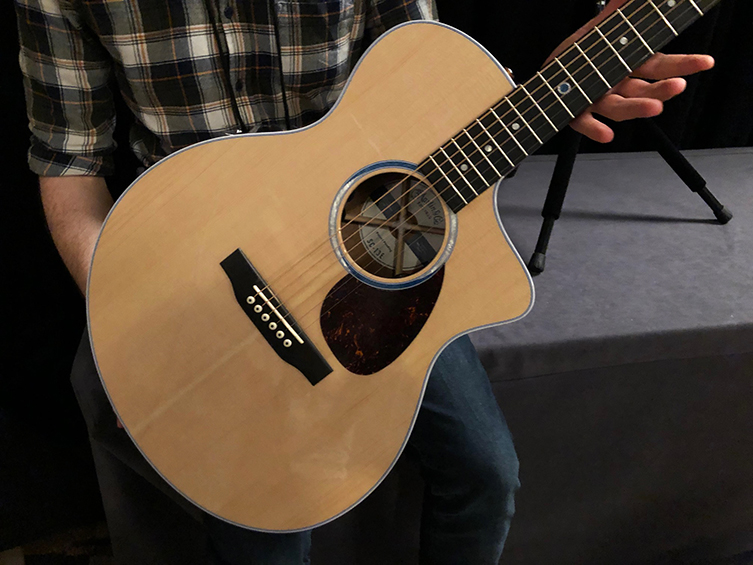 The details that we've uncovered, which may or may not be fact, include news of a removable neck (using Martin's Sure Align joint) with a unique taper profile and an Ebony fingerboard, a body made from solid Khaya and covered with a Koa veneer, and a solid Spruce top. The bracing looks like a new design too, and the electronics are a Fishman MX-T.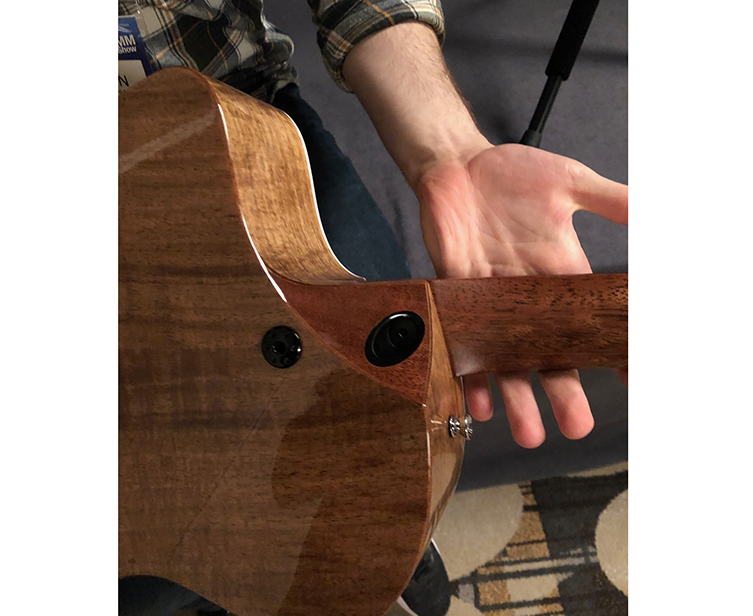 More news as it gets confirmed, but this looks pretty epic so far!
Fender Tom Morello Signature
This should've happened years ago, as far as we're concerned! Tom's mighty 'Soul Power' modified Aerodyne Strat gets the official treatment from Fender. The has the Hot Rails, the Floyd Rose and the killswitch, so you can buzz and beep your way to Morello heaven! A 'Soul Power' graphic decal is included for true likeness. We can't wait for the Fender Tom Morello Strat.

Reverend Robin Finck Signature
Another influential and overlooked guitarist is Nine Inch Nails' Robin Finck. Happily, Reverend have noticed this error and rectified it with a blistering new take on their Sensei model, complete with Railhammer pickups and Bass Contour. The Reverend Robin Finck Signature is pretty vicious looking, in a completely awesome way.

Jackson Pro Series SL3M Soloist Rainbow Crackle
An emerging trend in this year's NAMM seems to be retro 80s shred machines. There are a lot of pointy headstocked, Floyd Rose tremolo'd, neon finished guitars dropping left, right and centre, but this is the wildest we've seen!

The Jackson SL3 Soloist in Rainbow Crackle is a quality axe, with Seymour Duncan pickups and the Soloist's through-neck construction. Talking about necks, get a load of the finish on the back...

Friedman
Friedman have a fantastic selection of new battle-ready models on display at NAMM, including a gorgeous white double humbucker T-style! Expect to see lots of these beauties at your local guitarguitar store very soon!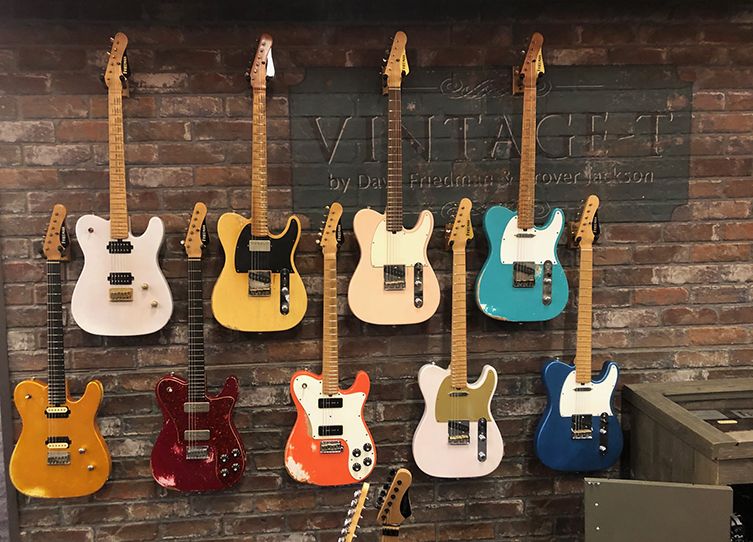 Gibson Slash Les Paul
The G'n'R guitar hero has some great new Gibson models, including a Les Paul that's being made available in four colours (two of which are limited edition) with new pickups and a ton of charisma.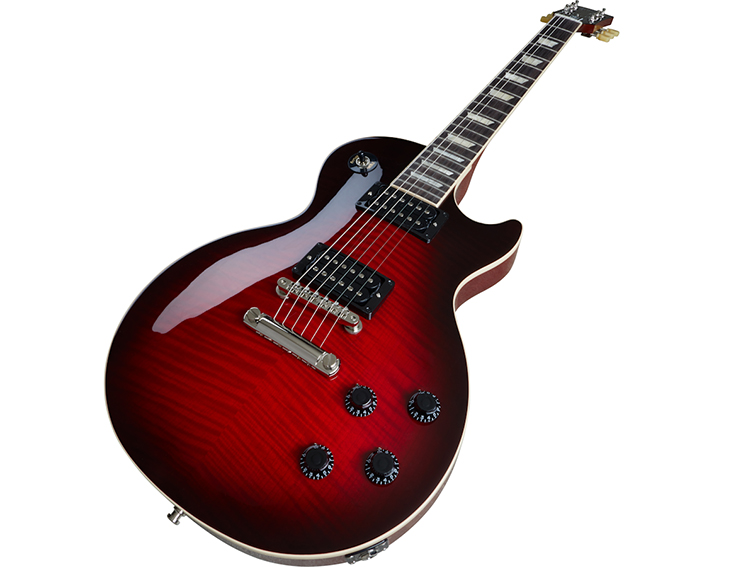 Gibson Custom Shop
We are still getting news regarding much of Gibson's Custom Shop output, but we had to share this tantalising pic from our guys over there: that is some collection of SGs! Why can't we have them all? Now!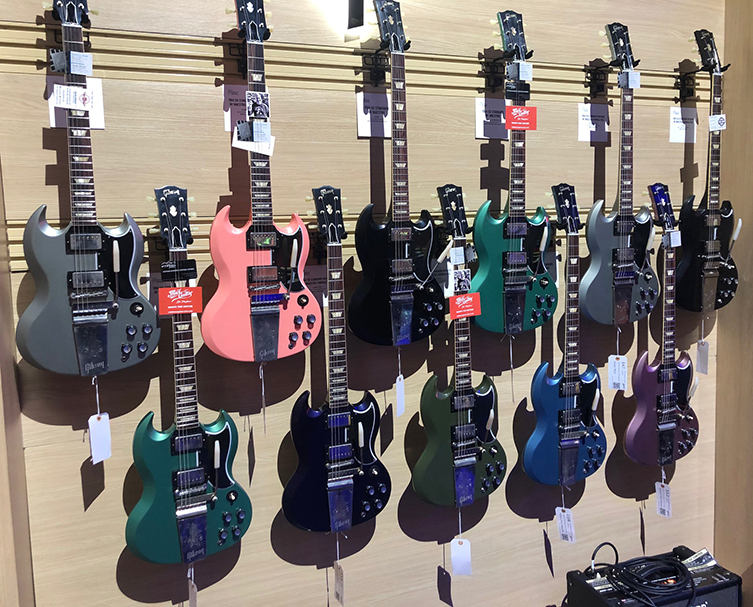 Fender Acoustasonic Strat
Hot on the heels of Fender's runaway success of last year, the Acoustasonic, comes a fresh take in Stratocaster form! Those who loved the original Telecaster model (and there were a lot of you!) will love this equally, whilst those who are yet to be swayed should have a shot of one when they land on our stores!

The Acoustasonic Strat is available in a range of finishes. Our man in NAMM liked the look of the Dakota Red one: We think he has good taste!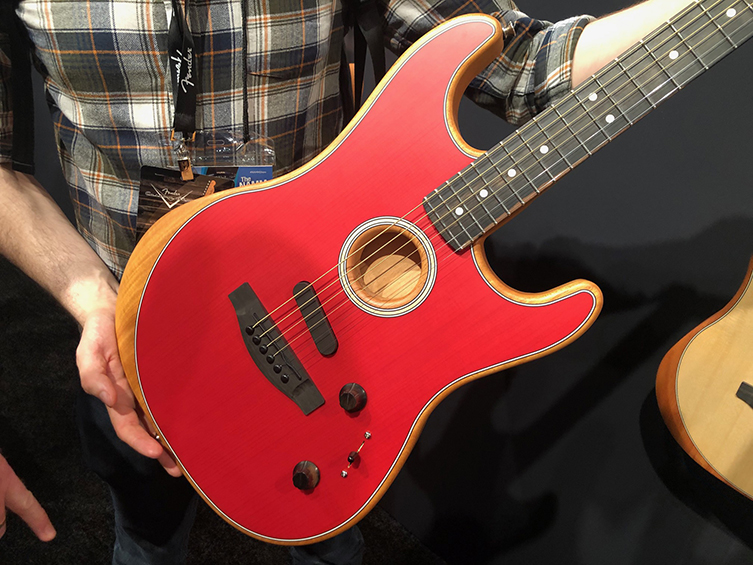 Manson Matt Bellamy
It's a collaboration between Manson Guitar Works (now owned by the Muse frontman) and Cort, and is a highly affordable distillation of the style Bellamy uses on stage night after night. Special pickups, a kill-switch and a style that's both OTT and discreet at the same time make this a possible destroyer of worlds. Look for the Manson MBM-1 soon!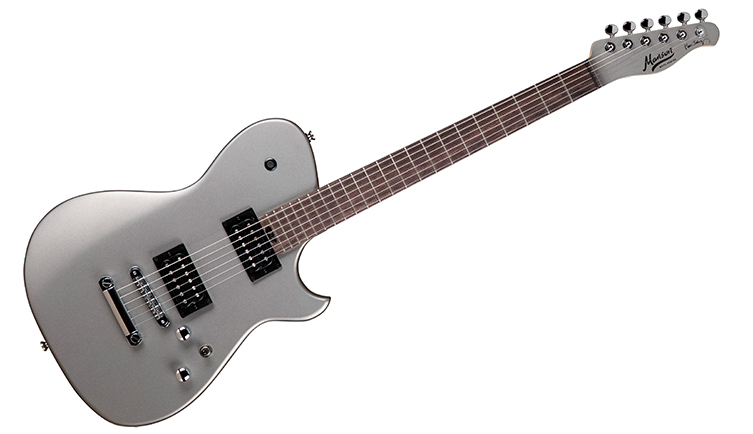 EVH Frankie
It's definitely Year of the Affordable Rockstar Axe, as you've no doubt noted! EVH have pulled a cracker and released a relic'd, pretty affordable take of Eddie's favourite Frankenstein guitar! It's immense. All fans of rock music will recognise this one. The level of detail is impressive, and there's no way this won't be a best-seller.

Nord Wave 2
The original Nord Wave was a bit of a game-changer. This new iteration, the Nord Wave 2, brings together Nord's Sample Library, FM synthesis, Wavetables and the same virtual analog tech used in the Nord Leads to make a powerful synth that is full of potential for sonic sculpting and performance.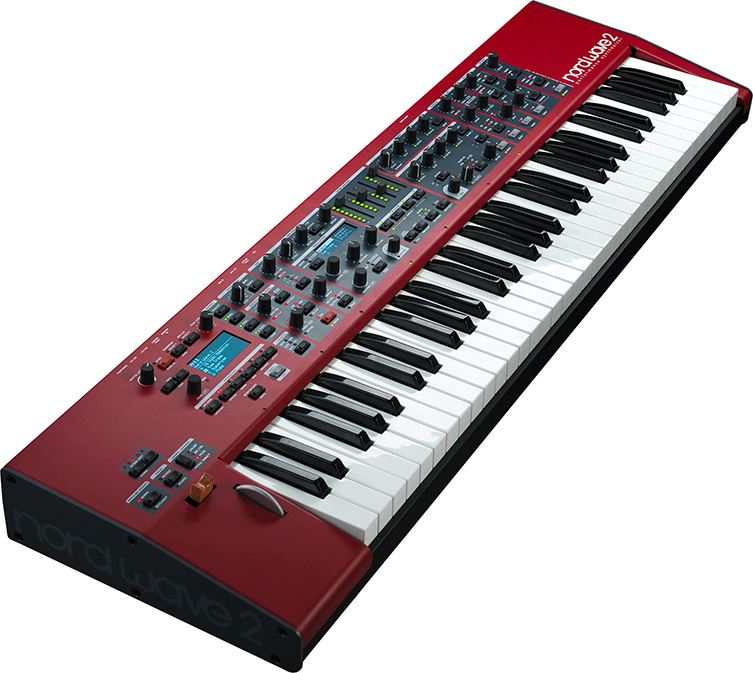 Amazing Epiphones
Epiphone have unleashed a huge range of new guitars and fresh finishes this year. The biggest news is probably regarding the new USA-made guitars. It's a Casino and the Texan acoustic at the moment, but maybe there will be more? These look great anyway!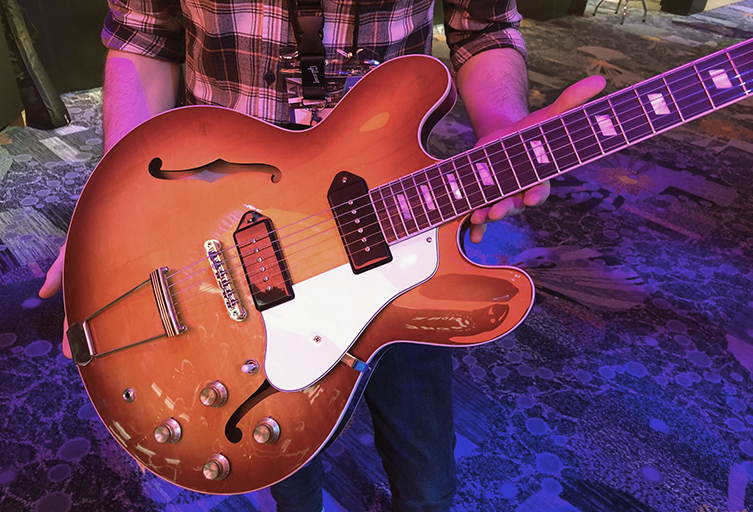 There's more! The entire line was been given a reboot, including new headstock shapes for most of the three-a-side headstock models. There's a bunch of new stuff, including this extremely charismatic SG with a Maestro trem! Goodness gracious! This pic is hot off the NAMM floor!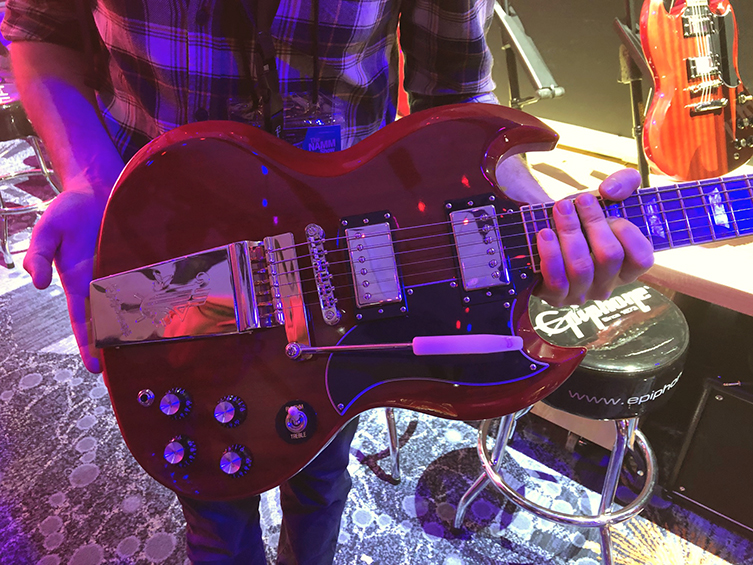 As is this pic, showing some of the bold and beautiful new finishes. It's going to be a very exciting year for Epiphone fans...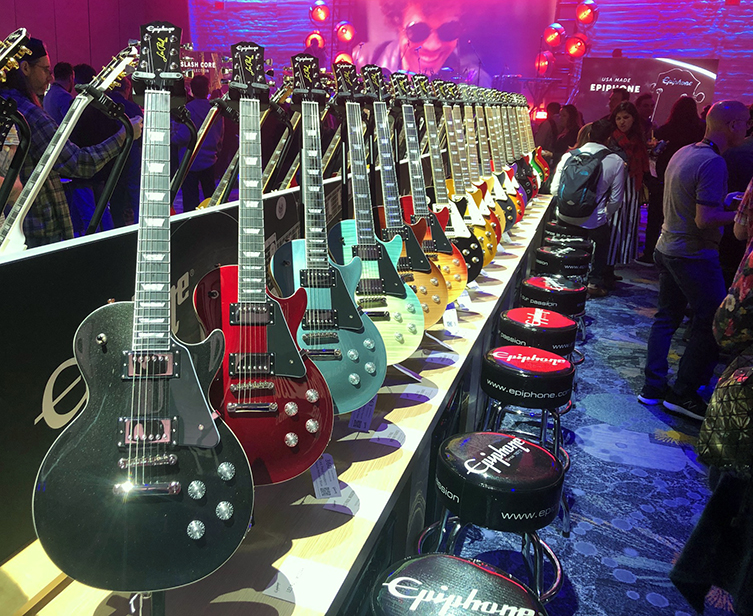 Roland VAD Drums
This newest concept from Roland's V-Drum stable is a pioneering new way of combining traditional acoustic drums with electronics. Basically, it looks and feels like a 'proper' kit and is made with wooden shells and mesh heads. The sensors live under the mesh heads and give you all of the obvious benefits of digital drums with a physical kit that all drummers can quickly get to grips with. Impressive.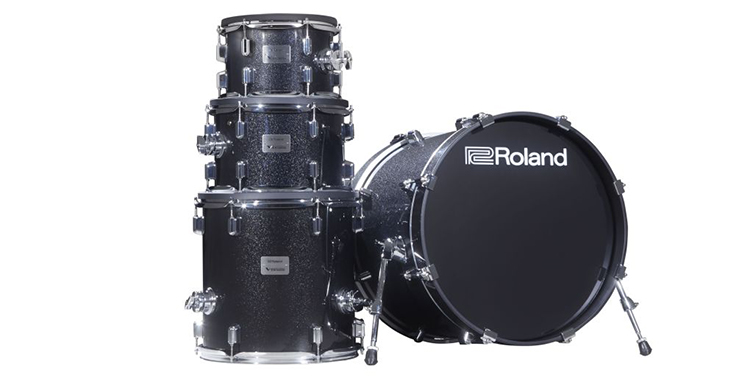 Roland always put on a grand display at NAMM and this year seems to be no different...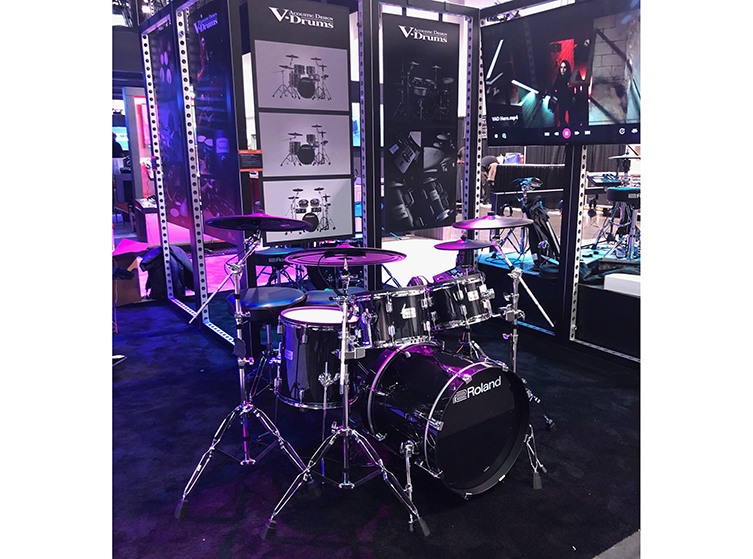 These new kits could be the next step in hybrid drum evolution. We are itching to get behind one of these kits and start smashing away!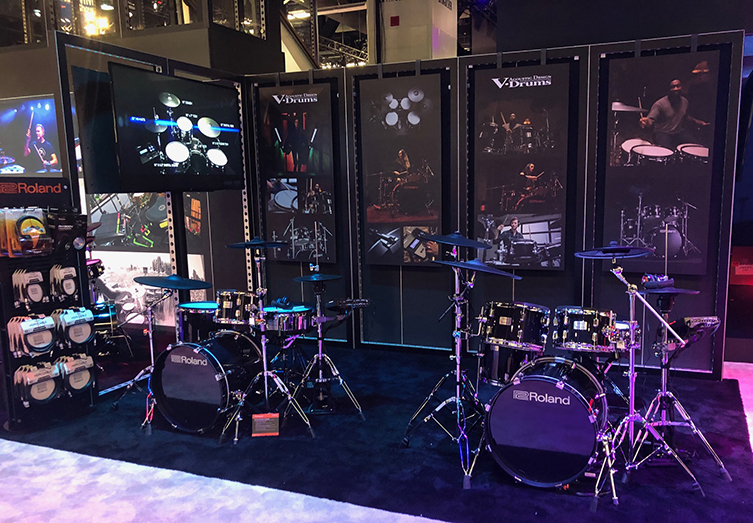 Fender Troublemaker Tele Custom
It's just too cool! Part of Fender's Parallel Universe camp, the Troublemaker Tele Custom (available in Black and White) is quite directly referencing a famous guitar from a major competitor. Cheeky! But it's far too brilliant not to draw attention to.

Fender are obviously thinking this is pretty special too, since they've encased it behind glass for the NAMM show! Here's a sneak pic directly from the show: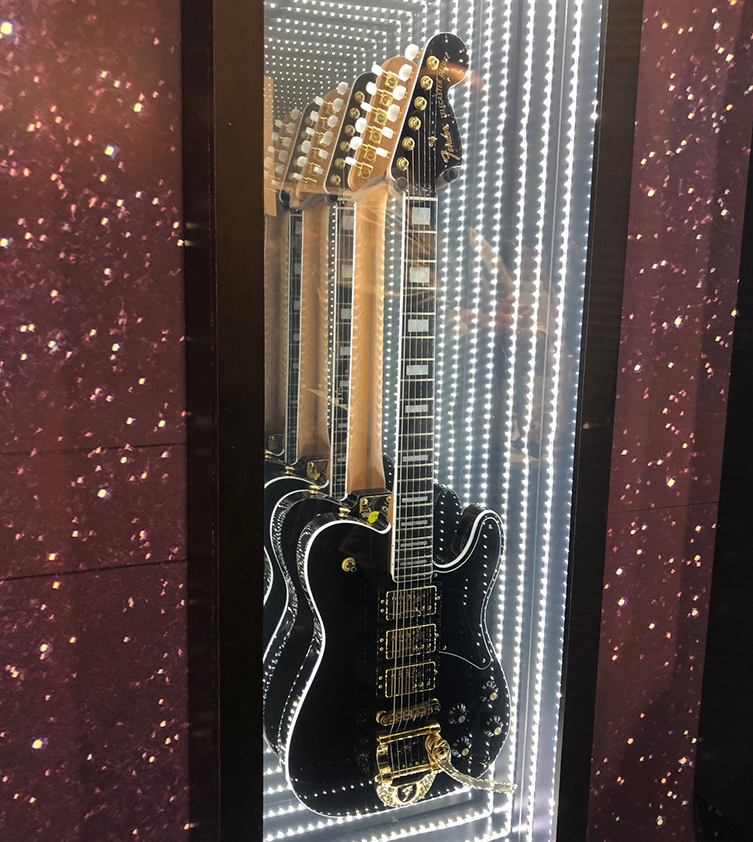 Final Thoughts
What do you think of this lot? We think 2020 is shaping up to be one of the best shows in years! There is so much to get excited about and the great thing is, there's more to come! We are getting news back from the show constantly, so we'll be adding new updates, pics and rundowns as we get them. Keep checking in!