NAMM 2020: Day Two
Published on 17 January 2020
It's day two at 2020's Winter NAMM, and whilst our intrepid Road Team are journeying through the endless booths and stalls at Anaheim, we are here to share the reports as we get them!
It's been a bit of a brilliant year already, with a slew of genuinely exciting products being released for the first time. Yesterday we picked through some highlights and today we thought we'd give you a taste of what it's like form the show itself! Every one of these images is directly from our team, who are getting their hands on these instruments and talking to the people who made them!
It's an exciting time for sure. Forgive us if we repeat certain guitars form yesterday: we figure that if it's cool to us, it's cool to you and you'll want to see it! So, in no particular order, here are some photographic dispatches from the Front Line...
Fender Custom Shop George Harrison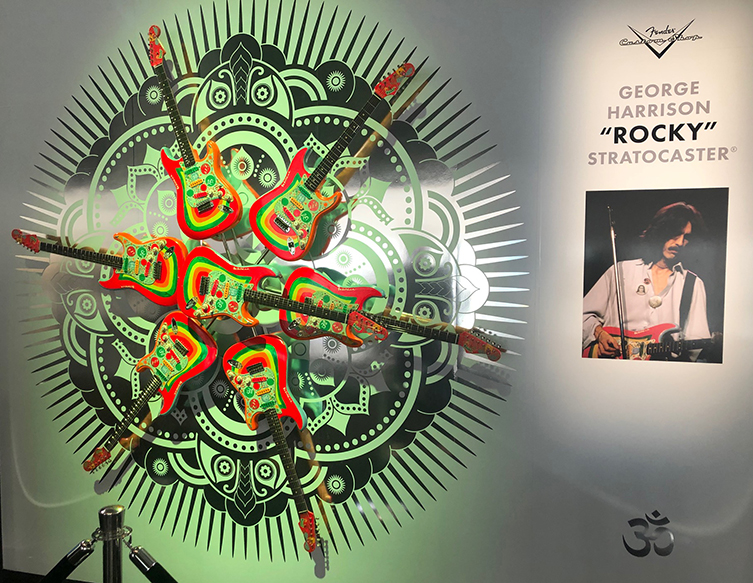 Fender's Custom Shop guys have gone full-psychedelia in this tripped-out tribute to the late Beatle and peace-lover. These 'Rocky' Strats are based on Harrison's 1961 Strat, which became a favourite for him as the Fab Four became increasingly 'esoteric' in their career. You'll hear it on Rubber Soul, and from then onwards. We think it was originally Sonic Blue, before ol' George got busy with the Day-Glo paint. Fender have followed suit, and the result is very agreeable indeed!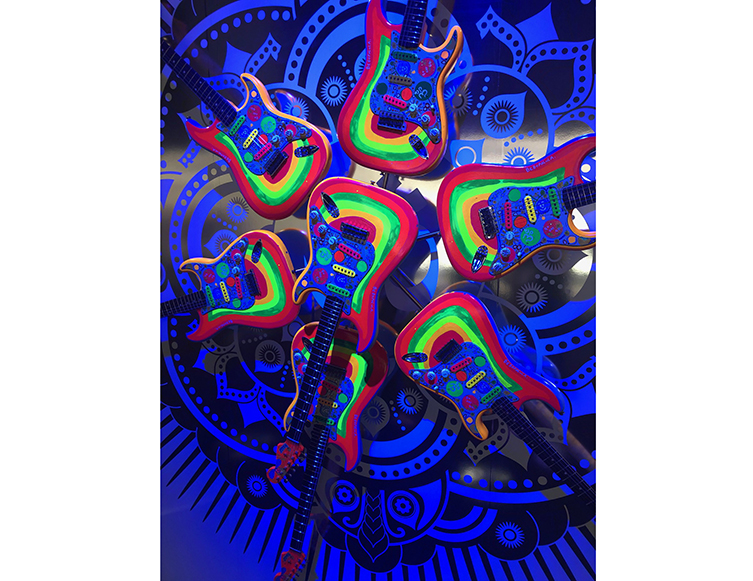 ESP Custom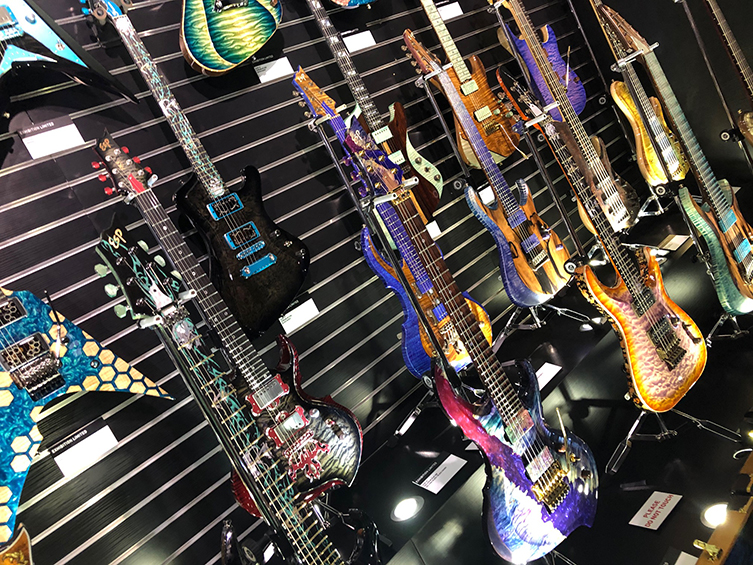 ESP are always an exciting brand to follow. Even their standard guitar models are pretty flamboyant, so when their Custom Shop staff let loose, spectacular results can be had! We don't know too much about these models, but felt that they collectively looked far too awesome not to share...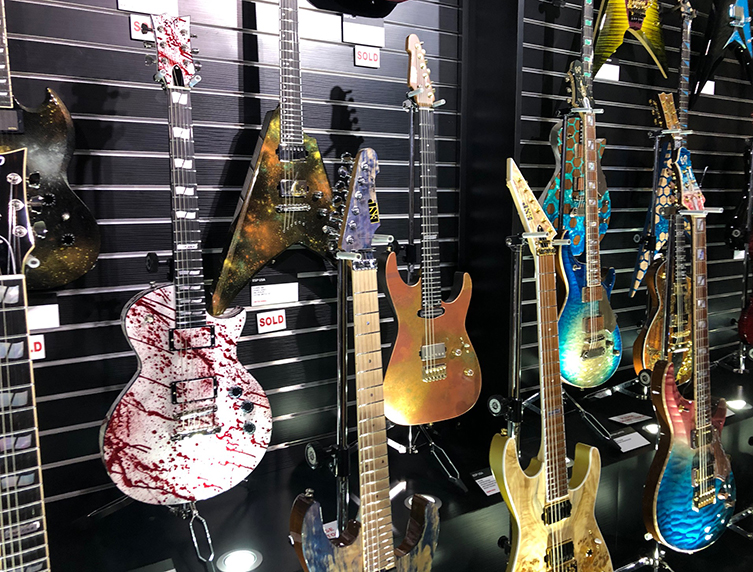 Some of these may well be for NAMM display only, but you can be sure that others will be gearing themselves for a proper release.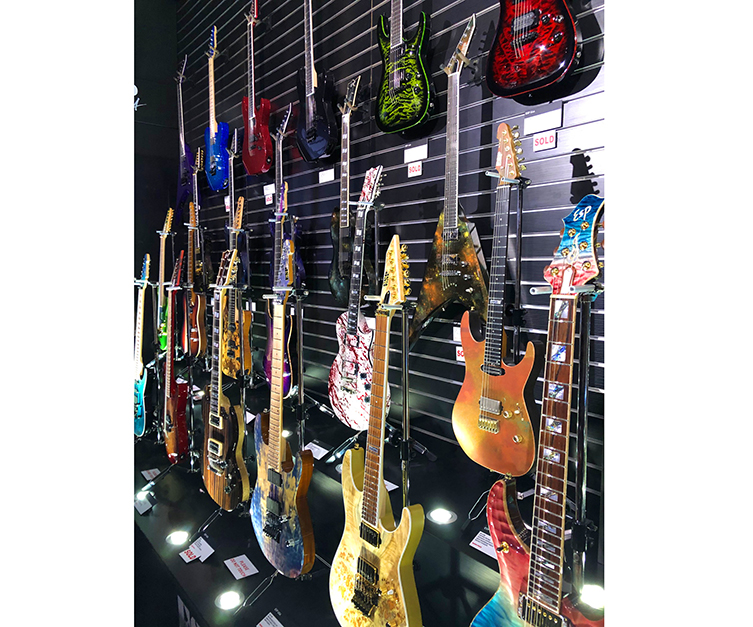 Long-time ESP endorsee George Lynch returns with another day-glow blast of colour and noise. His guitars are always easy to spot!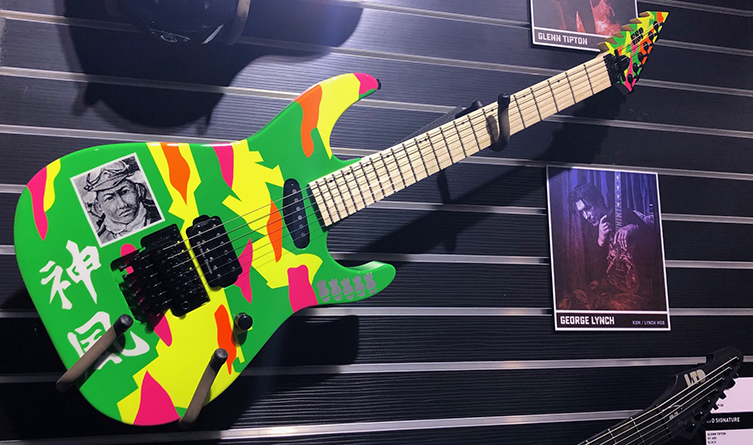 Fender Artists
You know you've really made it, not when Fender build you a signature guitar, but when Fender do that and also cover a massive wall with your likeness and nothing else! So it is for these two modern-day legends: one, a long-time Fender endorsee and the other a most overdue first-timer...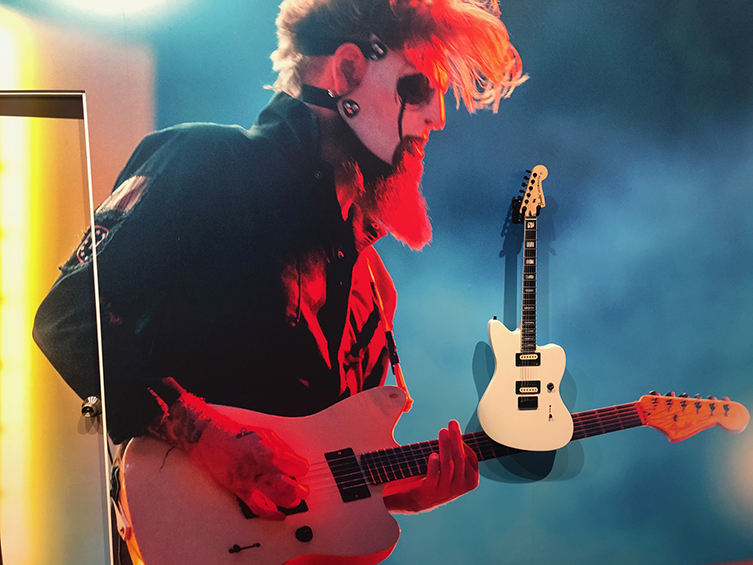 Slipknot's Jim Root has done much to define 21st Century metal. His iconoclastic Jazzmaster is powered by his brand-new EMG set of pickups. No accompanying mask, sadly., but still a real monster of a guitar!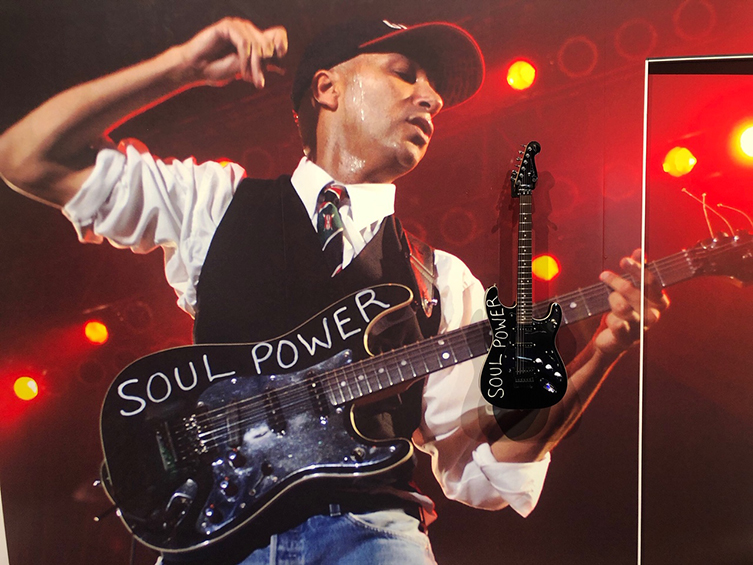 Tom Morello is one of the most singular players of the last two decades. His repertoire of sounds and scratches can't even be written down in musical notation! He is entirely worthy of this new recreation of the 'Soul Power' guitar, used mainly during his Audioslave years with Chris Cornell.
Sparkly Gretsch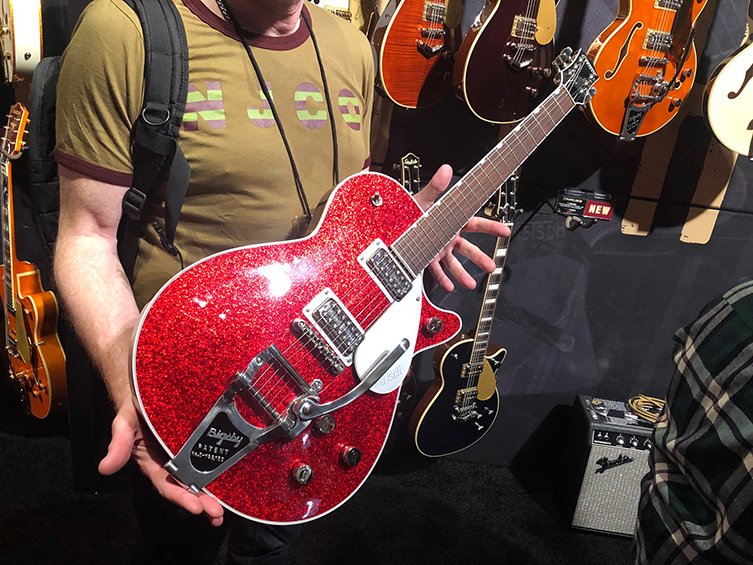 We'll look into Gretsch's new releases elsewhere, but this is a great place to show a brief glimpse of the stunning G6129T. That finish is just too cool to be true, even by Gretsch's own suave standards! We can't wait to see this one in the UK. What's that? It's so amazing that you want to see it again? OK!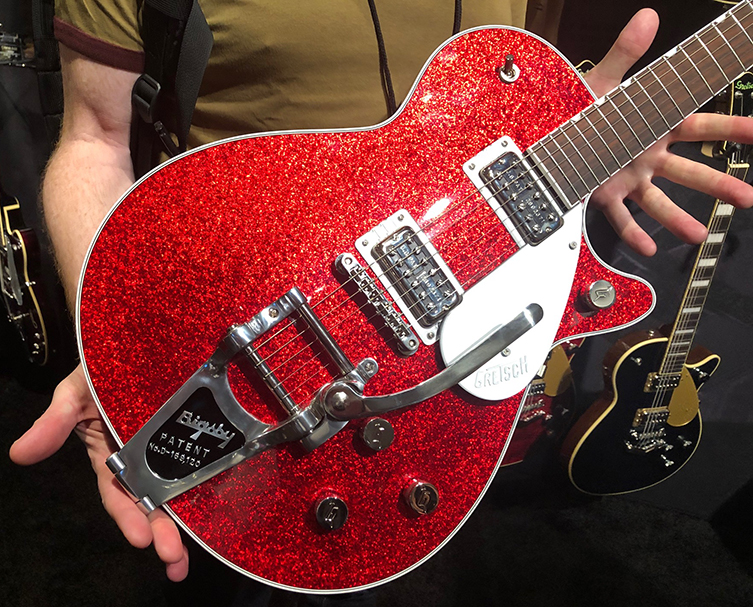 Look at those sparkles! It's ridiculously cool! No, we won't calm down!
Ibanez
One of the great things about Ibanez is that their production guitars often rival other manufacturers' one-off special editions! The big news, of course, is Steve Vai's PIA (see our PIA blog), but other Ibanez releases are kicking ass too! How about this incredible RG6PPBFX-TSR? It has Bare Knuckle Aftermath pickups, Gotoh tuners, and one fo the most gorgeous finishes we've seen all show: Tropical Seafloor. Feel that ocean breeze...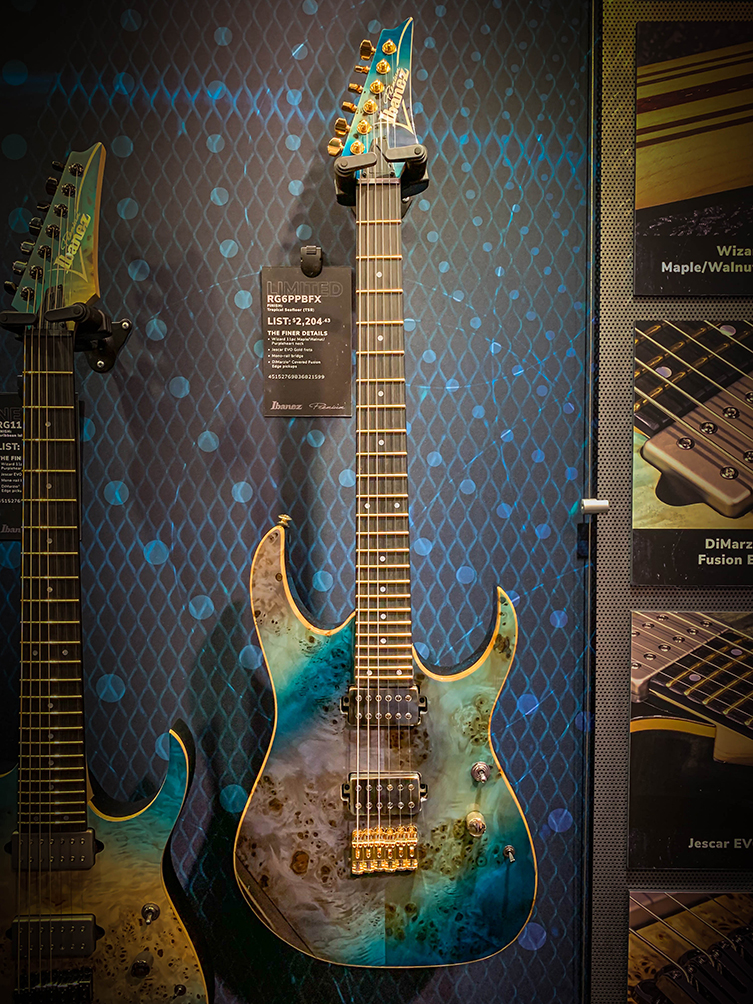 Here is another beautiful new model that we'll have on our stores as soon as they are available. A bold gradient visual and a locking tailpiece give this a bit of a Slipknot on Holiday vibe! We love the Fluence pickups too!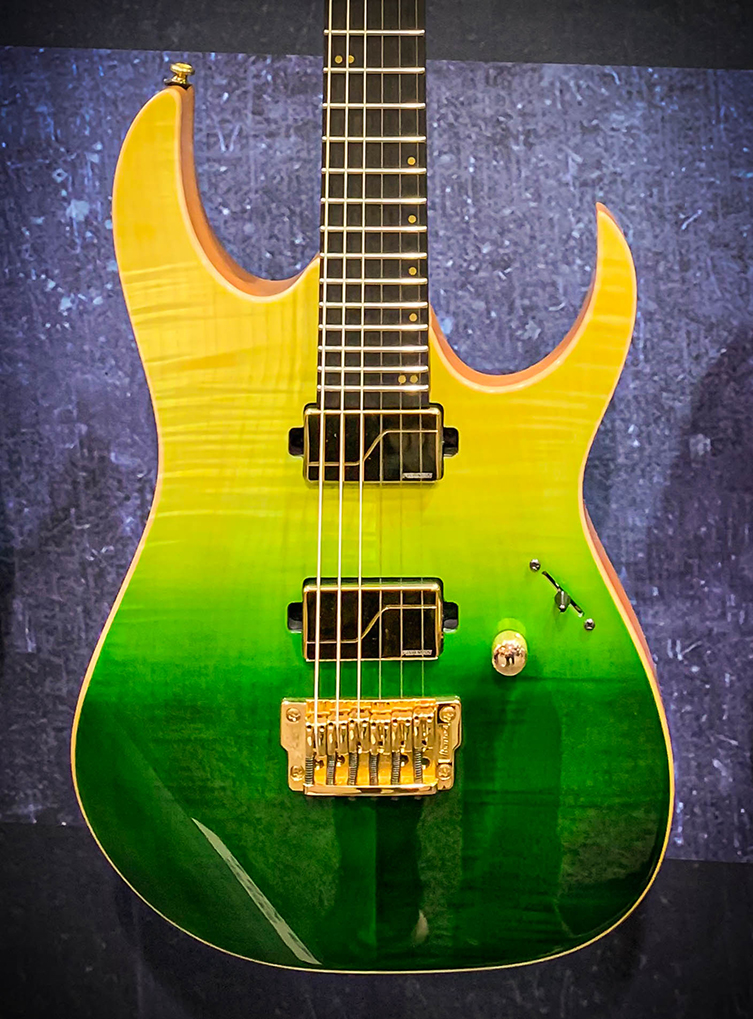 Bassists were not left in the dust: check out these new EHB models! Ibanez basses never disappoint...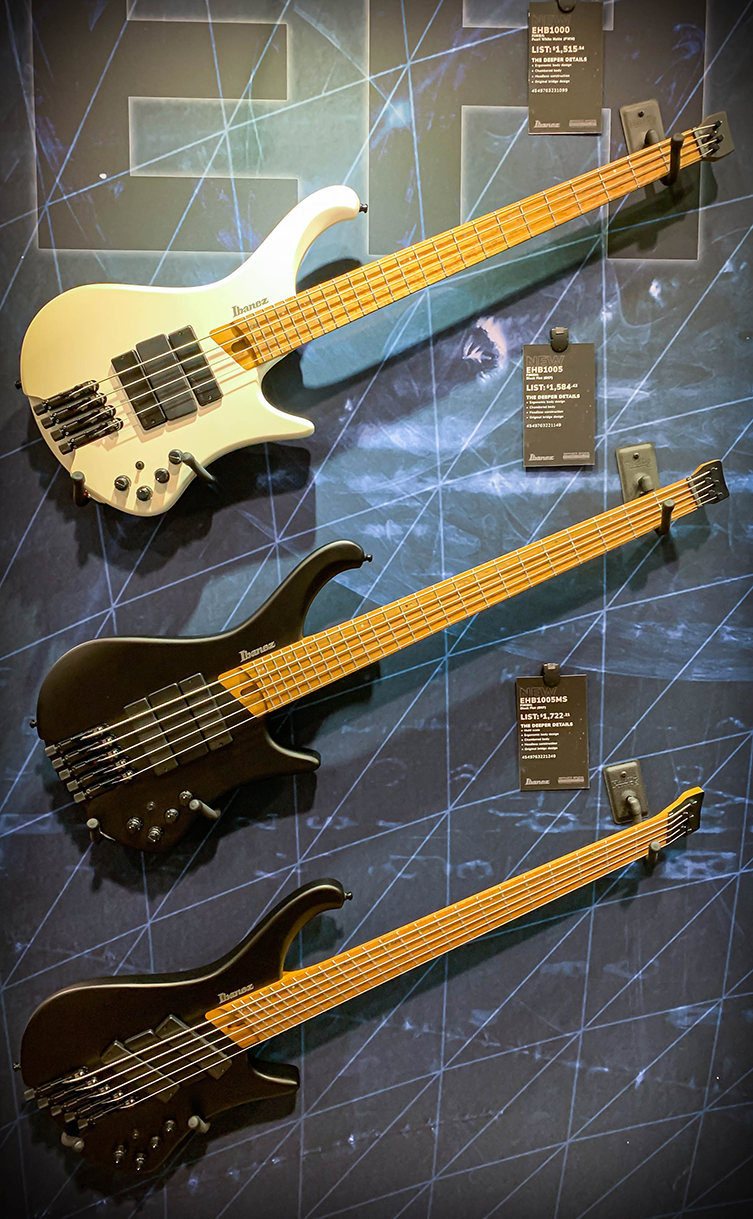 Fender Parallel Universe
We did see some of these yesterday, but here are some fresh shots straight from the floor! We think Fender have gotten the balance between weird and accessible just right, what do you guys think?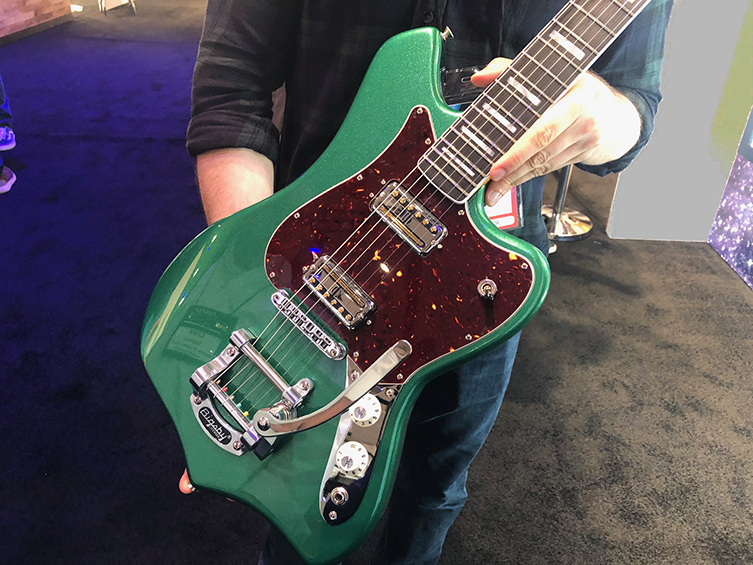 It's good to see Fender adding these less mainstream, more adventurous instruments to their catalogue. We'll definitely be getting these in stock, so keep an eye out for them!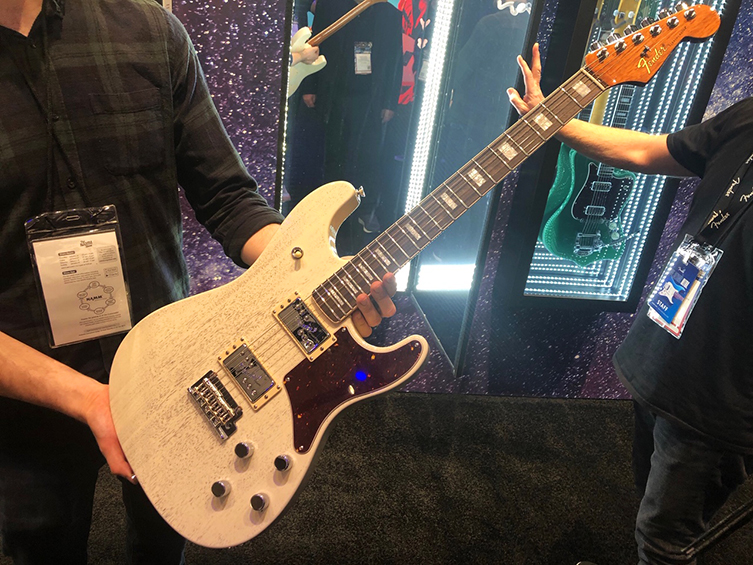 ZOOM G1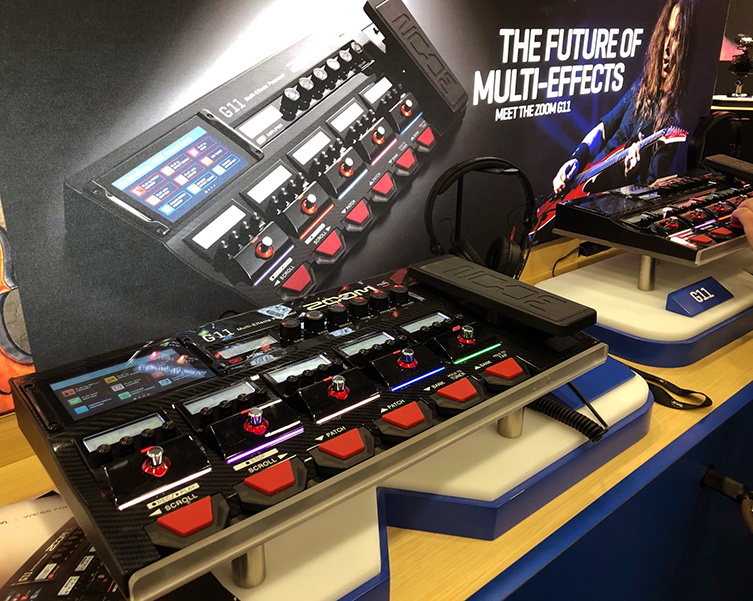 Zoom are a far more innovative brand than most people give them credit for. Their commitment to making affordable products means that they are sometimes overlooked by some players. This new processor, the G11, seeks to rectify that. Word on the street is that this is 'Zoom's Helix'. That's fighting talk! We can't wait to find out! It looks great though, and very solid, if that chassis is indeed carbon fibre! We'll see soon!

PRS
It was quite the talking point last year, and the PRS Silver Sky is back in 2020, this time with new finishes like this gorgeous purple...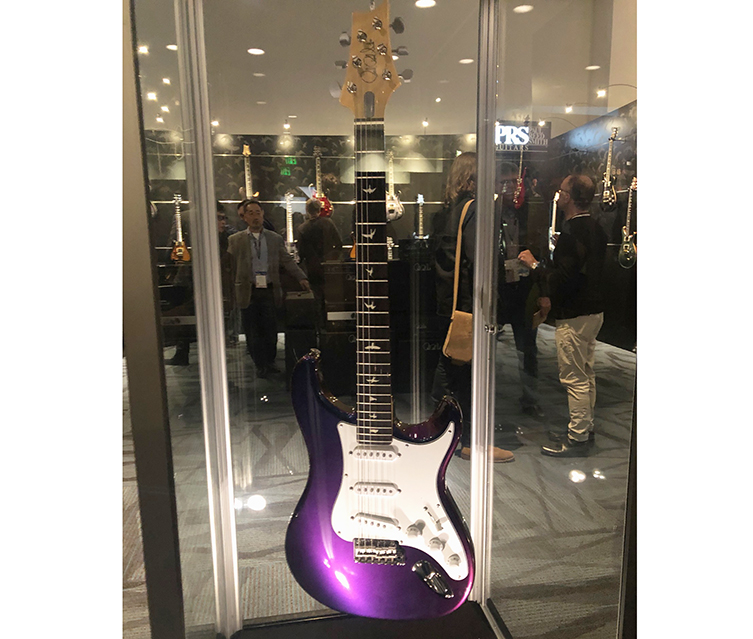 ...and also in a new version with a Maple fingerboard.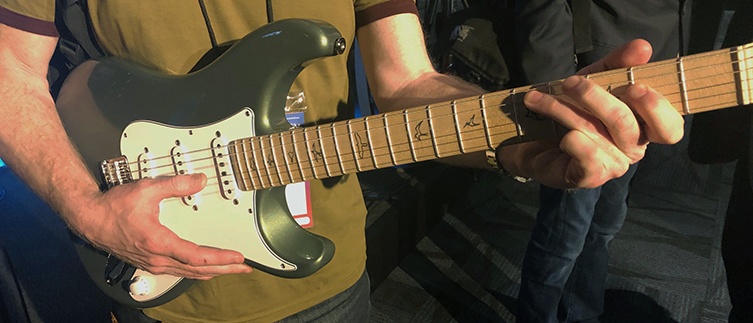 PRS' tradition for making astounding Dragon guitars continues with this lovely beast! This one celebrates 35 years of PRS and is frankly stunning. This one's too good for the likes of you! (and us...)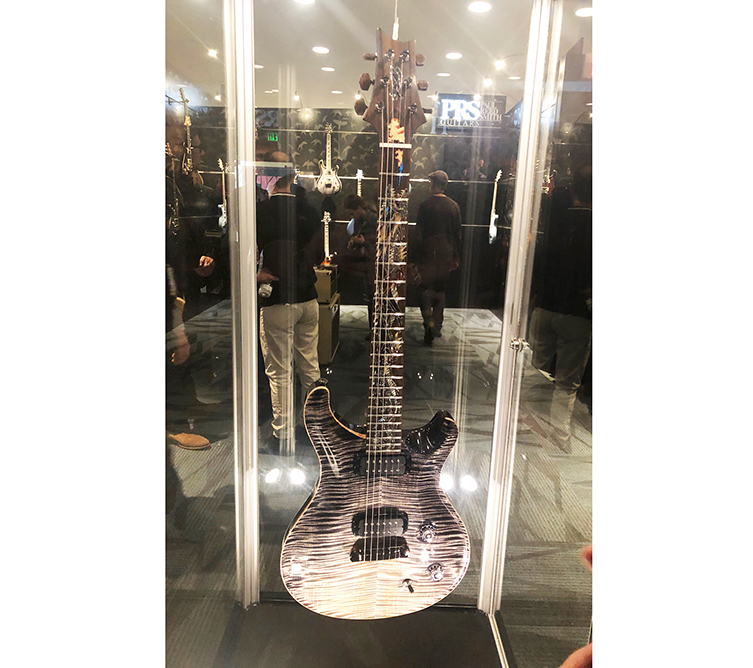 Charvel DK22
Charvel's DK range have been a real hit with technique-based players who maybe like more refined styling overt overtly 'Shred' instruments. Did Guthrie Govan have something to do with the popularity of this style? Who knows, but this Pharaoh Gold DK22 is so damn cool, we want it NOW! It's simple, elegant and looks like it'll perform like a Lamborghini.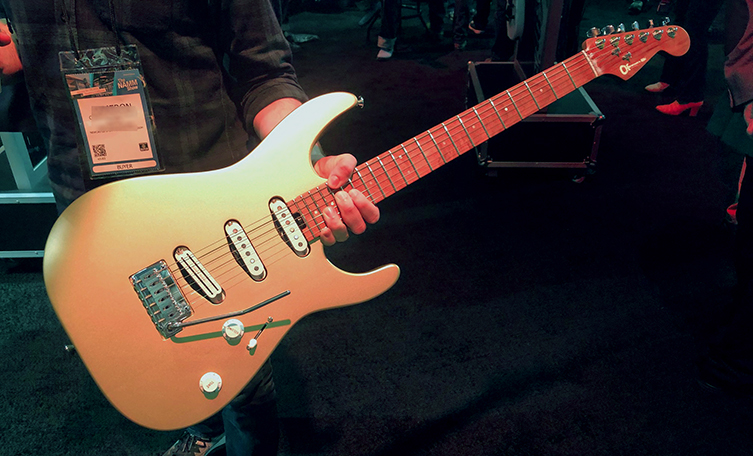 Charvel are bringing us lots of fresh colours and specs this year. More on that soon too!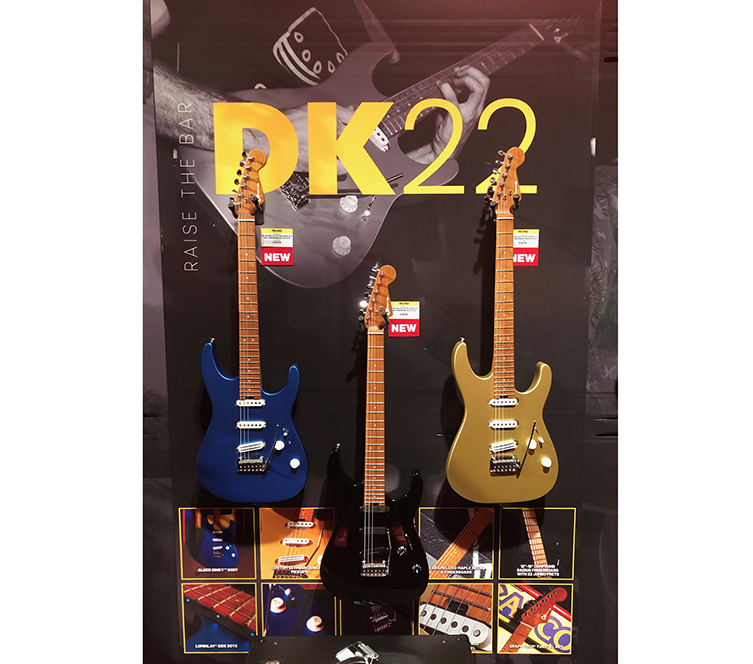 Gibson Custom Shop
Do you want to see some of the most gobsmacking Gibsons of the whole show? Here you go!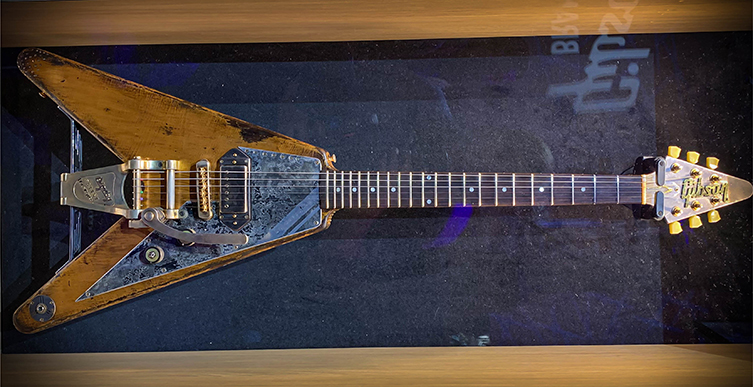 These ridiculously amazing Flying V's are a collaboration between Gibson and LA-based luthier Leo Scala. We'd say it was a pretty successful collaboration. In fact, we'd be happy to see more!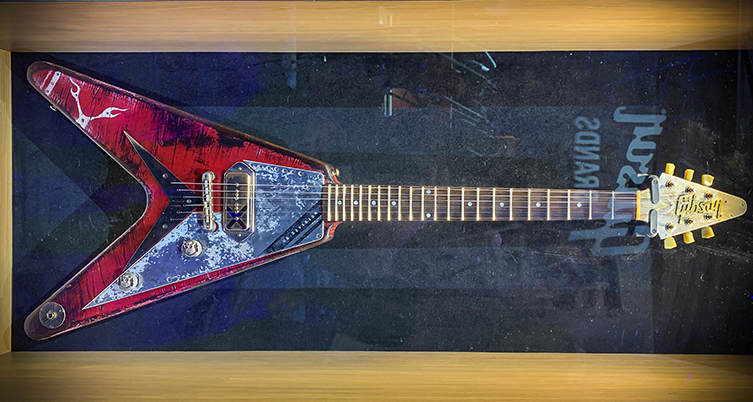 The bad news is that these are not for sale. These were specially made for NAMM, something that's a bit of a tradition at the show. Who knows though? Maybe somethng similar will go into production?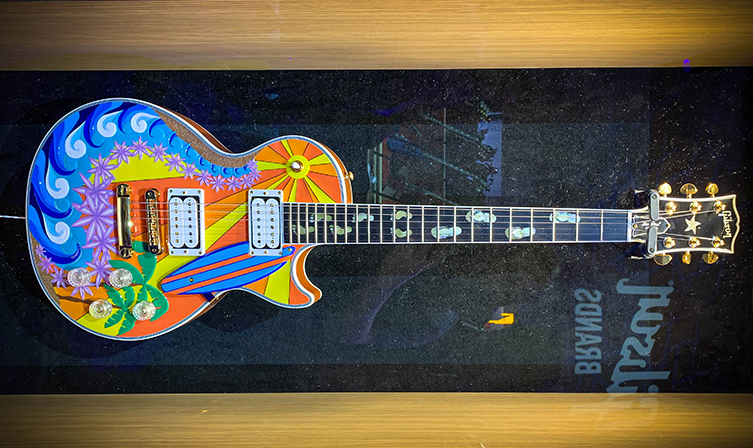 EVH Striped Series Frankie
Did we almost get to the end of a blog without mentioning Ed? Sacre Bleu! Let us correct that immediately with these shots of the new Mexican-made Frankie! We showed you this yesterday but we already know you love it AT LEAST as much as we do...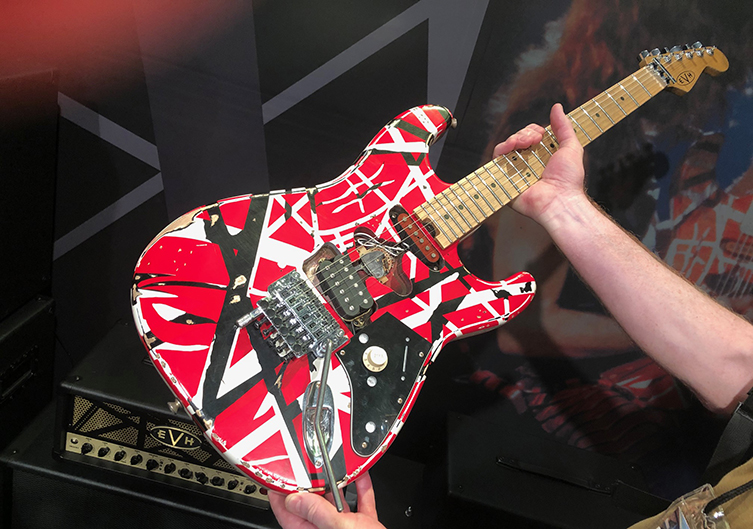 Yes, Ed gets a wall graphic, too. Of course he does!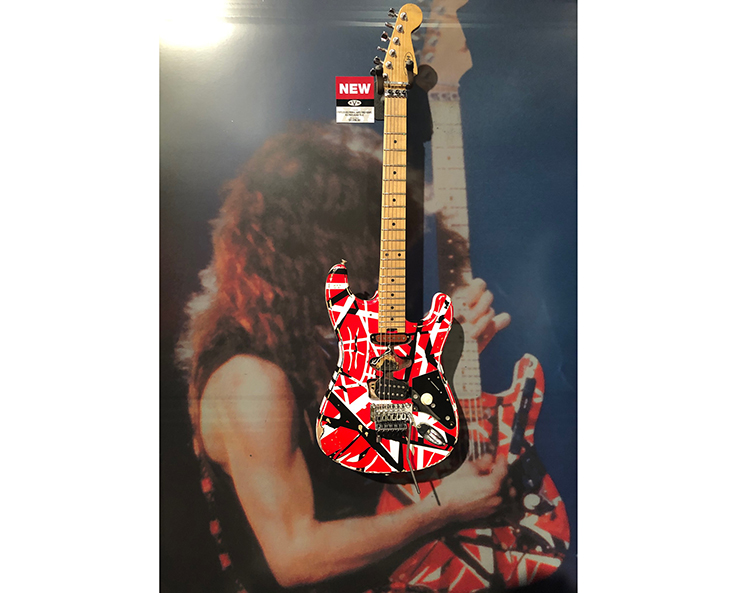 Conclusion
Again, we are receiving news, pics and confirmed rumours all the time, so this little roundup is to keep you eager gear-monsters satiated until more stuff comes in! It's been a great year so far: are you seeing stuff that's exciting you? We hope so!
Thanks for reading and remember to keep checking in with us!
Ray McClelland